If you don't know what to serve with chicken a la king, I've made a list of tasty side dish recipes that pair well with this comforting chicken dish! Pasta, potatoes, veggies, or bread, this list has a bit of everything so you can make a perfect meal!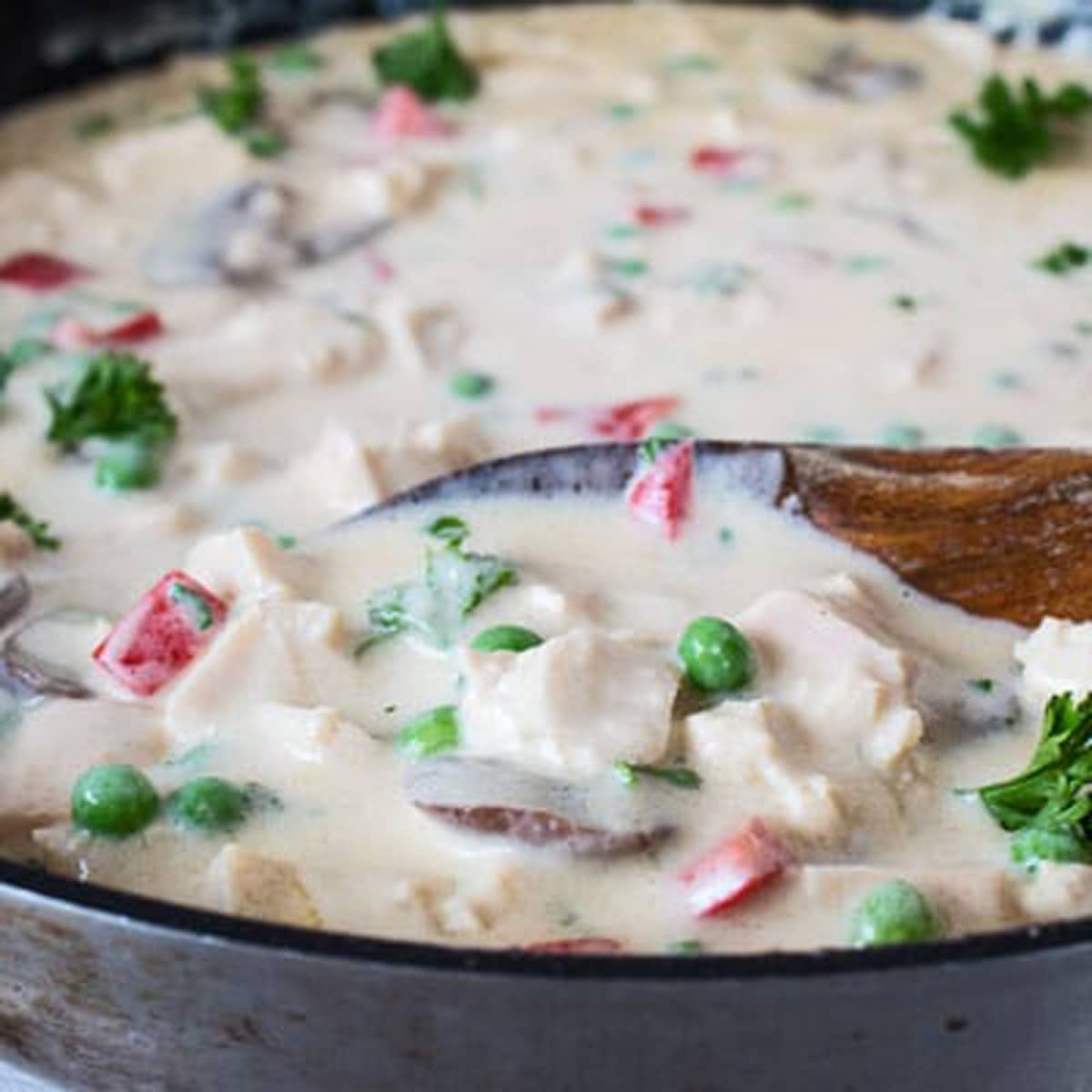 Satisfying and delicious dishes you can serve as a side or a base for chicken a la king!
Chicken a la king is one of my favorite childhood comfort meals. It made a regular appearance at our house, so we switched up the sides frequently to keep it interesting.
No matter how many times we had it, you never heard anyone complain. The savory, rich sauce is so indulgent that we didn't mind it one bit.
Jump to:
As delicious as it is, chicken a la king is one of those dinner recipes that needs to be served with a little something else. While you can find many suggestions for side dishes, there is no true standard.
That means you have room to try out different combinations until you find your family favorite! Check out the list below and choose which you want to serve up with your chicken a la king!
1. Buttered Noodles
My personal favorite base for some delicious chicken a la king is buttered noodles! Egg noodles are wide and flat, so they really get coated in all the delicious sauce.
The pasta is mild in flavor on its own, so it really takes on the flavor of the dish. Best of all, this recipe is fuss-free and quick to throw together!
2. Biscuits
Biscuits are a great option to serve alongside, or better yet, underneath chicken a la king. Fluffy biscuits soak up all the sauce, and as long as you eat it right away, they don't get soggy.
Biscuits make this dish almost chicken-pot-pie-esque, and the flavors go perfectly together. If you have picky eaters, this is a great easy option.
3. Mashed Potatoes
I am a firm believer that anything on top of mashed potatoes is delicious. You could serve it to the side if you really want, but be sure to mix it into all the sauce.
The chicken a la king acts like a delicious gravy full of tender chicken and mushrooms, perfect for ladling on top of potatoes.
4. Roasted Vegetable Medley
A healthy yet hearty option, roasted veggies are great for anyone concerned about carbs. Plus, they'll taste pretty good if a little sauce makes its way to their side of the plate.
The assortment of veggies adds a welcome splash of color while being flavorful and filling. You could also serve a second side from this list with a vegetable medley if you want a more well-rounded meal.
5. Basmati Rice
Basmati is a long-grain white rice that is just delightful when in something saucy. This rice will take on the flavor of whatever it's topped with.
I like basmati because if you have any leftovers, the rice will absorb the flavor of the dish and taste even better the next day! Also, it's quick and easy to make!
6. Garlic Green Beans
Some tender-crisp garlic green beans would add a nice textural element to your dish. Not to mention the crispy bacon and how delicious it would taste with the chickens, peas, and mushrooms.
These cook in about 20 minutes and are very easy to put together. This is a great opportunity to get the family to eat some veggies that they won't complain about.
7. Cheese Rolls
The name says it all, rolls covered in delicious melty cheese! Cheesy bread is delicious all on its own, but it's even better when used to sop up a tasty sauce!
You haven't really tried cheese rolls until you've had them homemade. Make your own at home and show everyone else what real cheese rolls should taste like!
8. Stuffing
Stuffing shouldn't be reserved for Thanksgiving, it's good year-round! If it tastes delicious next to turkey and gravy, then you know it will be equally as tasty with chicken a la king.
This easy stuffing recipe is full of classic ingredients, and you can have it ready to serve in 45 minutes!
9. Naan Bread
If you haven't tried naan bread, this is your chance! Less fluffy than a biscuit or rolls, naan is a pillowy Indian flatbread.
Naan is wonderful because you can tear off bite-sized pieces and use them to scoop up some chicken a la king. It may not be what's expected, but I guarantee you won't get any complaints.
10. Oven Roasted Potatoes
Crispy on the outside, fluffy on the inside, oven-roasted potatoes go great with just about anything. The crisp, golden-brown exterior prevents the potatoes from getting mushy.
With these, you could serve them to the side of your main course or in a bowl underneath, it's totally a personal preference.
11. Roasted Broccoli With Garlic And Parmesan
Broccoli is a popular substitution for pasta when people are eating carb-free. That's because broccoli can be eaten as firm, or as tender as you want.
This roasted broccoli with garlic and Parmesan is the perfect compromise for the heavy chicken a la king. It's roasted until fork-tender and there is no shortage of flavor.
Eat it on its own or mix it with the main dish. Either way will be delicious!
12. Brussel Sprouts
Some tasty, oven-roasted Brussel sprouts are so easy to make. They are a great choice if you are wanting to add more greens to your meal.
When roasted, Brussel sprouts get a nice crispy caramelization on the outside that gives them a wonderful flavor. They are also extremely filling!
13. Garlic Bread
If you haven't noticed yet, chicken a la king pairs well with carbs. Bread, pasta, potatoes- and garlic bread is one of my favorite choices.
You can make your own garlic bread in a flash using the air fryer. The crispy outside makes it perfect for soaking up sauce without becoming mushy!
14. Garlic Parmesan Angel Hair Pasta
If egg noodles are out of the question, angel hair pasta is another great choice! Angel hair pasta is delicate and thin- a lighter pasta option if you believe in such a thing.
Though the buttery garlic and Parmesan sauce will taste wonderful with the chicken a la king, you could eat it off to the side if you want. Angel hair pasta cooks quickly, so you can have this ready in 20 minutes!
15. Zucchini Squash Casserole
Zucchini squash casserole is a flavorful side dish that you don't have to feel guilty about eating. It's full of a creamy, cheesy sauce and tender summer squash!
This dish is a great way to get kids to eat some veggies, it's so delicious they won't think twice. The crunchy Panko topping is key!
This casserole is rich and comforting, just like chicken a la king. Serve them together as the ultimate comfort food meal!
Chicken a la king can be eaten as is or spooned on top of a delicious side dish, it's really up to you how you enjoy it! Let us know what combination you chose by dropping a comment below!
📋 Recipe