If you're looking for what to serve with Italian sausage, this list is full of options that will pair perfectly with your sausage dinner! Whether you are looking for a healthy side or something indulgent, there are plenty of options to choose from!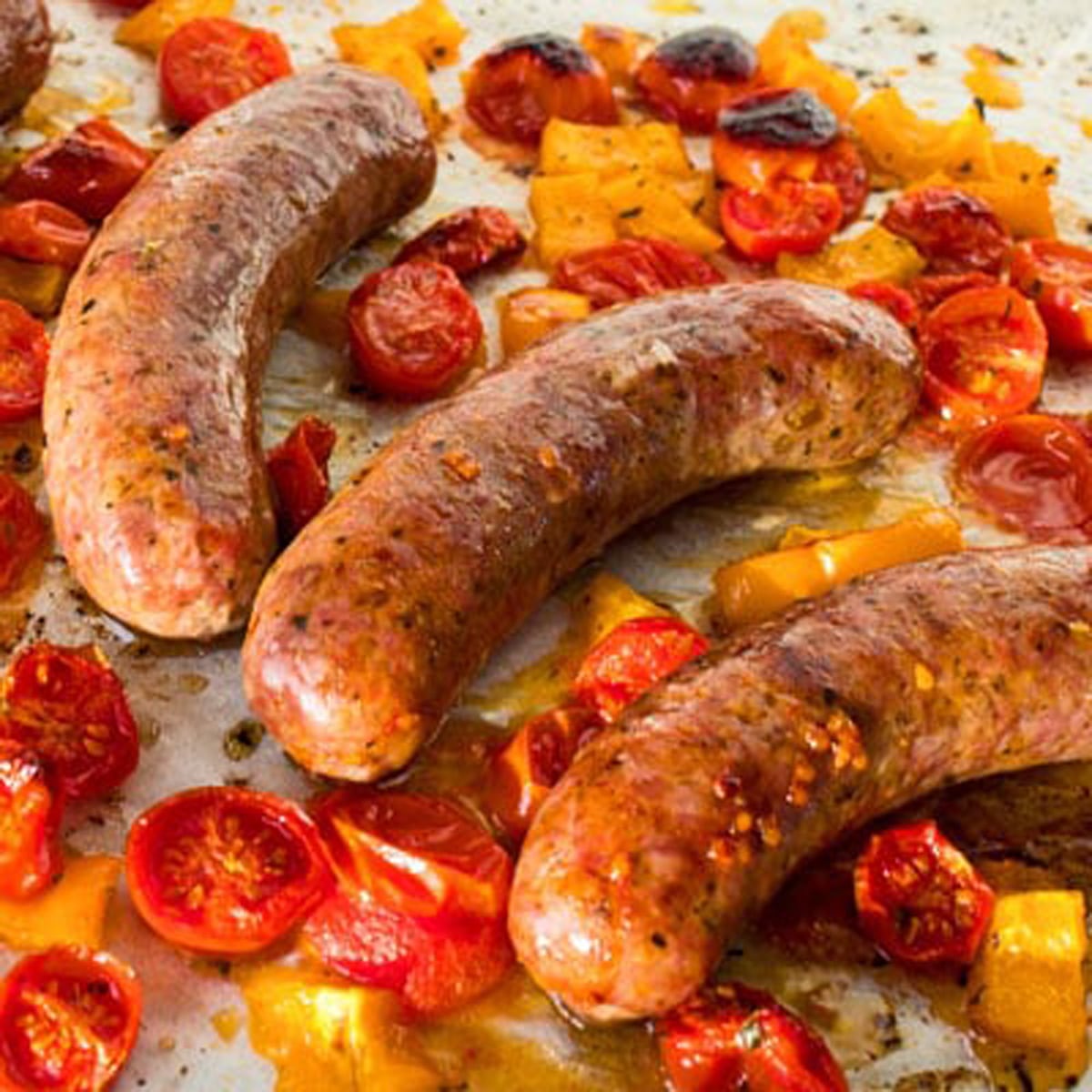 Easy, delicious side dishes that compliment Italian sausage perfectly!
Despite its unassuming appearance, Italian sausage is the best-tasting food on the planet. It's one of the most popular meats on the market, especially during the grilling season, because it is smokey and flavorful.
However, the best part about sausage is that it goes well with many different flavors! There's literally a ton of combinations to enjoy for a satisfying lunch or dinner!
Jump to:
Side dishes often elevate even the most basic of meals to a whole new level. Here are some wonderful sausage side dishes that will make every bite of your meal a memorable experience.
1. Parmesan Risotto
Risotto is an Italian rice dish that's full of flavor and bursting with aroma. Arborio rice soaked in a rich broth with butter, wine, Parmesan cheese, and mushrooms is enough for a satisfying and savory dinner.
A wide variety of meals pair well with Parmesan Risotto! Hearty Italian sausages are no exception!
Parmesan Risotto
This super rich and creamy Parmesan Risotto (How To Make Perfect Risotto) is a base for making a variety of wonderful risotto dishes! Perfect the risotto method of cooking this rice and enjoy gourmet appetizers and risotto dinners at home!!
Check out this recipe
2. Zucchini and Squash Casserole
It's easy to feed a large group of people with a zucchini and squash casserole. It's both healthy and filling, making it an excellent choice for any meal.
Although there are several different ways to prepare zucchini casserole, the most popular cream-based version. It's a hit with kids and adults alike because of its vibrant color and creamy texture.
Zucchini Squash Casserole
This easy-to-make zucchini squash casserole is a flavorful combination of tender, tasty summer squash and creamy, cheesy sauce! Top it all off with crunchy Panko breadcrumbs for an incredible veggie side dish everyone loves!
Check out this recipe
3. Sauteed Broccolini
Sauteed broccolini is a wonderful vegetable side dish that you can feel good about eating. It is occasionally difficult to find , but it's worth snatching up as many as possible once you do.
The combination of crisp, fresh broccolini and lemony, salty Parmesan cheese is a delightful addition to any family supper.
Sauteed Broccolini
Incredibly easy sauteed broccolini is a vegetable side dish that everyone in the family will love to have with dinners! The tasty, tender veggie can be hard to find in stores but is totally worth grabbing every bunch on the shelves when you do find it!
Check out this recipe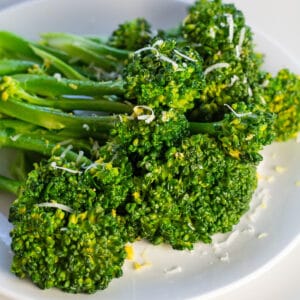 4. Buttered Noodles
Everyone can agree that buttered noodles are a delicious dish any time of year. Butter and herbs coat the egg noodles to create an ideal pasta side dish for everyone!
Buttered noodles are a favorite of ours because of their simplicity and ease. Everyone will enjoy these savory, adaptable side dishes, that's great for parties and potlucks.
Buttered Noodles
Classic, easy buttered noodles are a staple favorite that the whole family can enjoy with practically any dinner or meal! Egg noodles are perfectly coated in butter and seasonings to make a versatile pasta side dish that everyone will love.
Check out this recipe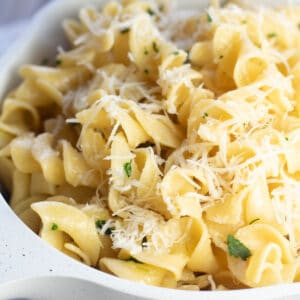 5. Oat Rolls
You can serve oat rolls with almost anything, whether it's for a weeknight dinner with the family or a holiday gathering. They're a great appetizer or side dish for lunch or dinner time.
Ground oats and brown sugar give these rolls their unique flavor. So whether it's for Sunday supper or any time you need a warm, tasty roll to soak up a good meal, these are a must.
Oat Rolls
My soft, tender, and fluffy Oat Rolls are just as perfect with any weeknight family meal as they are with a Thanksgiving turkey dinner! These delicious yeast rolls have ground oats & brown sugar, making them a perfect sweet snack or awesome side for lunch or dinner!
Check out this recipe
6. Marinara Sauce
In addition to being quick and easy, marinara sauce has several use! Tomatoes, garlic, herbs, and onions are commonly used to prepare marinara sauce.
Capers, olives, spices, and wine can all be included in marinara sauce, but the best way to enjoy it is with some Italian sausage.
Classic Marinara Sauce Recipe
This hearty marinara sauce is versatile in many ways...from what you add to it to make it your own, to the many ways it can be used.
Check out this recipe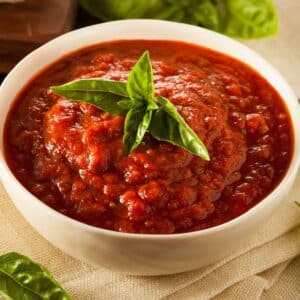 7. Roasted Potatoes
Roasted potatoes are an excellent accompaniment to any meal. When potatoes are roasted, the skin becomes incredibly crispy, and the inside becomes wonderfully soft and fluffy.
Thanks to a simple mixture of herbs and spices, they're very flavorful. The best is that it is ridiculously simple to make.
Peeling isn't necessary as the oven handles the bulk of the work here.
Oven Roasted Potatoes
These super easy Oven Roasted Potatoes are delightfully crispy on the outside and melt-in-your-mouth fluffy and tender inside! They're super versatile from adding your favorite seasoning and herbs, to what to serve them alongside to round out an amazing family meal!
Check out this recipe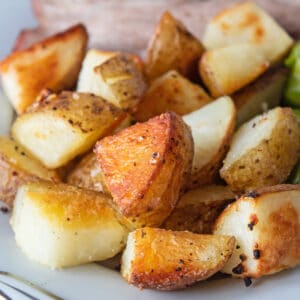 8. Mac and Cheese
Macaroni and cheese is a versatile side dish that goes well with just about anything. Isn't it wonderful that mac and cheese always tastes delicious no matter what recipe you use?
The combination of the pasta's richness and cheesiness with the smoky flavor of Italian sausage gives the most amazing flavor. This combination is indulgent and heavenly!
White Cheddar Mac and Cheese
My white cheddar mac and cheese is loaded with delicious sharp white cheddar in a creamy sauce that's in every tender bit of the macaroni pasta! It's also incredibly easy to make with this simple stove top method that everyone is sure to love!!
Check out this recipe
9. Easy Stuffing
Stuffing, whether for Thanksgiving or any other occasion, is a side dish that goes with almost anything. With the use of flavorful herbs and classic components such as celery, onion, and ready-to-use stuffing cubes, this recipe complements a variety of cuisines.
Stuffing is unquestionably a crowd favorite. Additionally, you don't need to wait for the holidays to feel festive when you make this recipe. If you'd like, serve it alongside some Italian sausage!
Easy Stuffing
This easy stuffing is a cornerstone recipe to Thanksgiving dinner, holiday meals, and amazingly tasty family dinners all year long! Classic ingredients including celery, onion, and ready-to-use stuffing cubes combine with tasty herbs to compliment so many dishes!
Check out this recipe
10. Cornbread
Cornbread is both sweet and savory. It is crunchy on the outside while remaining moist and crumbly on the inside.
Cornbread is certainly a work of art, thanks to its contrasting textures and flavorful corn filling. Despite the fact that it is a staple of southern cuisine, there are numerous methods to prepare it.
A good slice of cornbread goes nicely with a variety of foods, including Italian sausage!
Jiffy Jalapeno Cornbread
This easy Jiffy jalapeno cornbread is a tasty Mexican-inspired cornbread combining the convenience of Jiffy corn muffin mix with jalapenos and more! Mix everything up in one bowl and transfer it into a baking dish or cast-iron skillet for perfect cornbread in no time at all!
Check out this recipe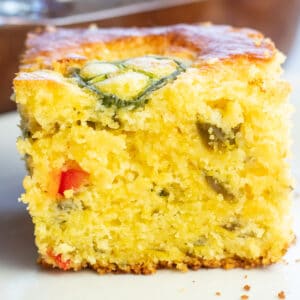 11. Green Salad
Many people consider salads to be dull, yet a nice green salad is one of the best salads is fresh and satisfying with a heavy meal. If you're trying to look for a way to add more nutrients to your diet, salads are a terrific option!
Serve it before the meal, or alongside it! Pick your favorite dressing and serve it with some delicious Italian sausage!
12. Steamed Rice
Steamed rice is a simple and versatile side dish that can be prepared quickly and easily. You can make it in a rice cooker, an Instant Pot, or on the stove.
The best thing about rice is it soaks up all the sauce and seasonings you use on your meal. Fluffy steamed rice makes a great base for many sausage dishes.
Instant Pot Basmati Rice
This Instant Pot Basmati Rice is the easiest way ever to turn out perfect, fluffy basmati rice each and every time!! A quick cold water rinse and a few minutes cooking is all it takes to have your rice ready to serve!
Check out this recipe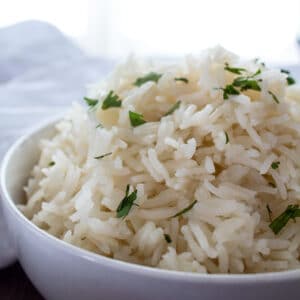 13. Polenta
Imagine a mouthwatering combination of Italian sausage and sweet polenta. Polenta is a quick and easy side dish that is served with many Italian meals. Best of all, it can be ready in under an hour.
Flavorful and hearty, polenta is a perfect side dish for your Italian sausage!
14. Caprese Salad
Sliced fresh mozzarella, thick-cut tomatoes, and sweet basil are all you need to make Caprese salad. It's ridiculously simple to create, with only a few basic ingredients.
Depending on your preference, you can serve it as an entrée or a side dish. Caprese salads are a wonderful example of how even basic ingredients and processes can yield some of the most delectable results!
Serve up a fresh, light Caprese salad with your Italian sausage!
15. Garlic Bread
Garlic bread is simply French bread that has been covered with garlic, olive oil, butter, and other herbs such as oregano or chives, among others.
Afterward, it's either grilled, toasted, or baked in an oven until golden brown and crispy. Serving it as a side dish with Italian sausage makes for a delicious evening meal.
Serve your sausage in a sauce and use your garlic bread to sop it up!
Air Fryer Garlic Bread
This easy air fryer garlic bread is perfectly crispy, crazy delicious, and done in no time at all! It's as easy as mixing your garlic butter spread and popping the slices into your air fryer - and voila! You have the best garlic bread ever!
Check out this recipe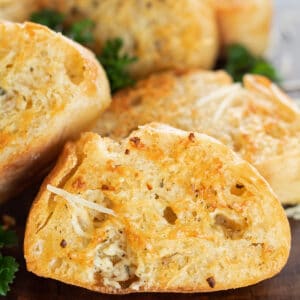 For the most filling and well-rounded meal, you can serve your Italian sausage with one of these delicious side dishes. Let us know how you serve Italian sausage, and if we named any of your favorites tell us about it by dropping a comment below!
Do you love a recipe you tried? Please leave a 5-star 🌟rating in the recipe card below and/or a review in the comments section further down the page.

Stay in touch with me through social media @ Pinterest, Facebook, Instagram, or Twitter! Don't forget to tag me when you try one of my recipes!
📋 Recipe
Print Recipe
Leave A Comment
Love This Recipe?
Click On A Star To Rate It!
What To Serve With Italian Sausage: Potatoes O'Brien (+More Great Recipes!)
If you're looking for what to serve with Italian sausage, this list is full of options that will pair perfectly with your sausage dinner! Whether you are looking for a healthy side or something indulgent, there are plenty of options to choose from!
Pin Recipe
Share on Facebook
Ingredients
3

large

russet potatoes

(washed and diced into ½-inch cubes)

2

tablespoon

vegetable oil

½

large

green bell pepper

(de-seeded and diced)

½

large

red bell pepper

(de-seeded and diced)

¼

cup

onion

(white or yellow onion, diced)

¼

teaspoon

each, salt & pepper

(to taste)
Instructions
Wash and dice the potatoes into ½-inch cubes and transfer them into a large pot of salted water. Bring the potatoes to a boil then reduce heat to medium-low, cover, and simmer for 8-10 minutes. The potatoes should be slightly tender, but not falling apart.

Drain the cubed potatoes and rinse in cold water. Set aside.

Heat a large skillet or frying pan with the vegetable oil to medium-high heat. Once the oil begins to shimmer and is just starting to smoke, add the diced potatoes, green bell peppers, red bell peppers, and onion.

2 tablespoon vegetable oil,

½ large green bell pepper,

½ large red bell pepper,

¼ cup onion

Stir to mix, season with salt and pepper, then fry until crisped and golden brown, about 20 minutes. Be sure to occasionally flip or stir your potatoes O'Brien as they cook. Serve immediately when done.

¼ teaspoon each, salt & pepper
Equipment You May Need
Nutrition
Calories:
293
kcal
(15%)
|
Carbohydrates:
53
g
(18%)
|
Protein:
6
g
(12%)
|
Fat:
7
g
(11%)
|
Saturated Fat:
1
g
(6%)
|
Polyunsaturated Fat:
4
g
|
Monounsaturated Fat:
2
g
|
Trans Fat:
1
g
|
Sodium:
161
mg
(7%)
|
Potassium:
1248
mg
(36%)
|
Fiber:
5
g
(21%)
|
Sugar:
3
g
(3%)
|
Vitamin A:
721
IU
(14%)
|
Vitamin C:
59
mg
(72%)
|
Calcium:
42
mg
(4%)
|
Iron:
3
mg
(17%)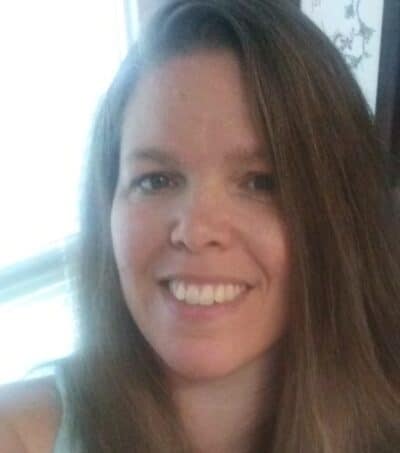 Angela is an at home chef that developed a passion for all things cooking and baking at a young age in her Grandma's kitchen. After many years in the food service industry, she now enjoys sharing all of her family favorite recipes and creating tasty dinner and amazing dessert recipes here at Bake It With Love!