If you're looking for what to serve with Italian sausage, this list is full of options that will pair perfectly with your sausage dinner! Whether you are looking for a healthy side or something indulgent, there are plenty of options to choose from!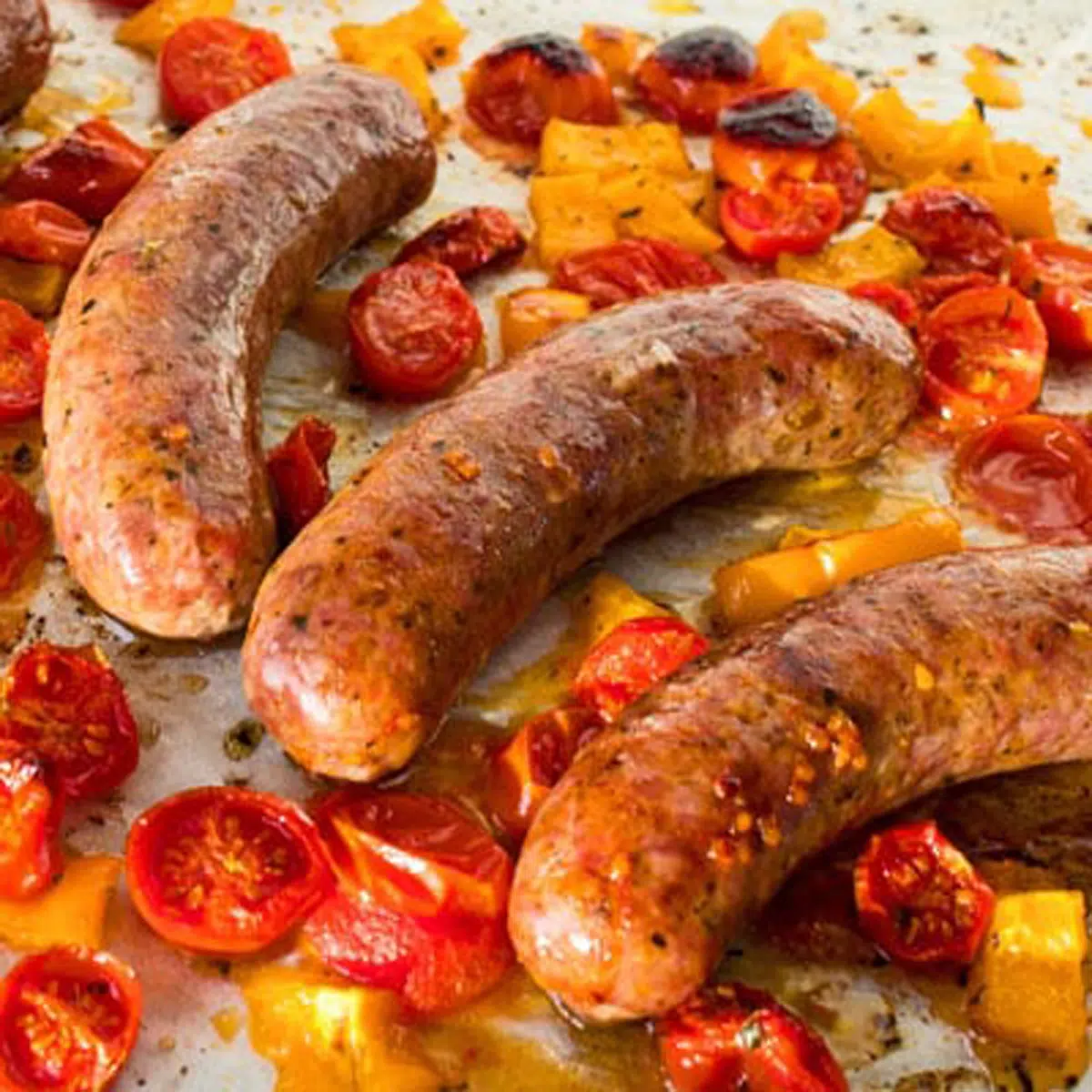 Easy, delicious side dishes that compliment Italian sausage perfectly!
Despite its unassuming appearance, Italian sausage is the best-tasting food on the planet. It's one of the most popular meats on the market, especially during the grilling season, because it is smokey and flavorful.
However, the best part about sausage is that it goes well with many different flavors! There's literally a ton of combinations to enjoy for a satisfying lunch or dinner!
Jump to:
Side dishes often elevate even the most basic of meals to a whole new level. Here are some wonderful sausage side dishes that will make every bite of your meal a memorable experience.
1. Parmesan Risotto
Risotto is an Italian rice dish that's full of flavor and bursting with aroma. Arborio rice soaked in a rich broth with butter, wine, Parmesan cheese, and mushrooms is enough for a satisfying and savory dinner.
A wide variety of meals pair well with Parmesan Risotto! Hearty Italian sausages are no exception!
2. Zucchini and Squash Casserole
It's easy to feed a large group of people with a zucchini and squash casserole. It's both healthy and filling, making it an excellent choice for any meal.
Although there are several different ways to prepare zucchini casserole, the most popular cream-based version. It's a hit with kids and adults alike because of its vibrant color and creamy texture.
3. Sauteed Broccolini
Sauteed broccolini is a wonderful vegetable side dish that you can feel good about eating. It is occasionally difficult to find , but it's worth snatching up as many as possible once you do.
The combination of crisp, fresh broccolini and lemony, salty Parmesan cheese is a delightful addition to any family supper.
4. Buttered Noodles
Everyone can agree that buttered noodles are a delicious dish any time of year. Butter and herbs coat the egg noodles to create an ideal pasta side dish for everyone!
Buttered noodles are a favorite of ours because of their simplicity and ease. Everyone will enjoy these savory, adaptable side dishes, that's great for parties and potlucks.
5. Oat Rolls
You can serve oat rolls with almost anything, whether it's for a weeknight dinner with the family or a holiday gathering. They're a great appetizer or side dish for lunch or dinner time.
Ground oats and brown sugar give these rolls their unique flavor. So whether it's for Sunday supper or any time you need a warm, tasty roll to soak up a good meal, these are a must.
6. Marinara Sauce
In addition to being quick and easy, marinara sauce has several use! Tomatoes, garlic, herbs, and onions are commonly used to prepare marinara sauce.
Capers, olives, spices, and wine can all be included in marinara sauce, but the best way to enjoy it is with some Italian sausage.
7. Roasted Potatoes
Roasted potatoes are an excellent accompaniment to any meal. When potatoes are roasted, the skin becomes incredibly crispy, and the inside becomes wonderfully soft and fluffy.
Thanks to a simple mixture of herbs and spices, they're very flavorful. The best is that it is ridiculously simple to make.
Peeling isn't necessary as the oven handles the bulk of the work here.
8. Mac and Cheese
Macaroni and cheese is a versatile side dish that goes well with just about anything. Isn't it wonderful that mac and cheese always tastes delicious no matter what recipe you use?
The combination of the pasta's richness and cheesiness with the smoky flavor of Italian sausage gives the most amazing flavor. This combination is indulgent and heavenly!
9. Easy Stuffing
Stuffing, whether for Thanksgiving or any other occasion, is a side dish that goes with almost anything. With the use of flavorful herbs and classic components such as celery, onion, and ready-to-use stuffing cubes, this recipe complements a variety of cuisines.
Stuffing is unquestionably a crowd favorite. Additionally, you don't need to wait for the holidays to feel festive when you make this recipe. If you'd like, serve it alongside some Italian sausage!
10. Cornbread
Cornbread is both sweet and savory. It is crunchy on the outside while remaining moist and crumbly on the inside.
Cornbread is certainly a work of art, thanks to its contrasting textures and flavorful corn filling. Despite the fact that it is a staple of southern cuisine, there are numerous methods to prepare it.
A good slice of cornbread goes nicely with a variety of foods, including Italian sausage!
11. Green Salad
Many people consider salads to be dull, yet a nice green salad is one of the best salads is fresh and satisfying with a heavy meal. If you're trying to look for a way to add more nutrients to your diet, salads are a terrific option!
Serve it before the meal, or alongside it! Pick your favorite dressing and serve it with some delicious Italian sausage!
12. Steamed Rice
Steamed rice is a simple and versatile side dish that can be prepared quickly and easily. You can make it in a rice cooker, an Instant Pot, or on the stove.
The best thing about rice is it soaks up all the sauce and seasonings you use on your meal. Fluffy steamed rice makes a great base for many sausage dishes.
13. Polenta
Imagine a mouthwatering combination of Italian sausage and sweet polenta. Polenta is a quick and easy side dish that is served with many Italian meals. Best of all, it can be ready in under an hour.
Flavorful and hearty, polenta is a perfect side dish for your Italian sausage!
14. Caprese Salad
Sliced fresh mozzarella, thick-cut tomatoes, and sweet basil are all you need to make Caprese salad. It's ridiculously simple to create, with only a few basic ingredients.
Depending on your preference, you can serve it as an entrée or a side dish. Caprese salads are a wonderful example of how even basic ingredients and processes can yield some of the most delectable results!
Serve up a fresh, light Caprese salad with your Italian sausage!
15. Garlic Bread
Garlic bread is simply French bread that has been covered with garlic, olive oil, butter, and other herbs such as oregano or chives, among others.
Afterward, it's either grilled, toasted, or baked in an oven until golden brown and crispy. Serving it as a side dish with Italian sausage makes for a delicious evening meal.
Serve your sausage in a sauce and use your garlic bread to sop it up!
For the most filling and well-rounded meal, you can serve your Italian sausage with one of these delicious side dishes. Let us know how you serve Italian sausage, and if we named any of your favorites tell us about it by dropping a comment below!
📋 Recipe