These easy air fryer biscuits are delightfully golden, crispy on the outside, and tender on the inside! They're perfect for piling some tasty gravy onto, serving alongside scrambled eggs, or just slathering with a tasty jam or jelly!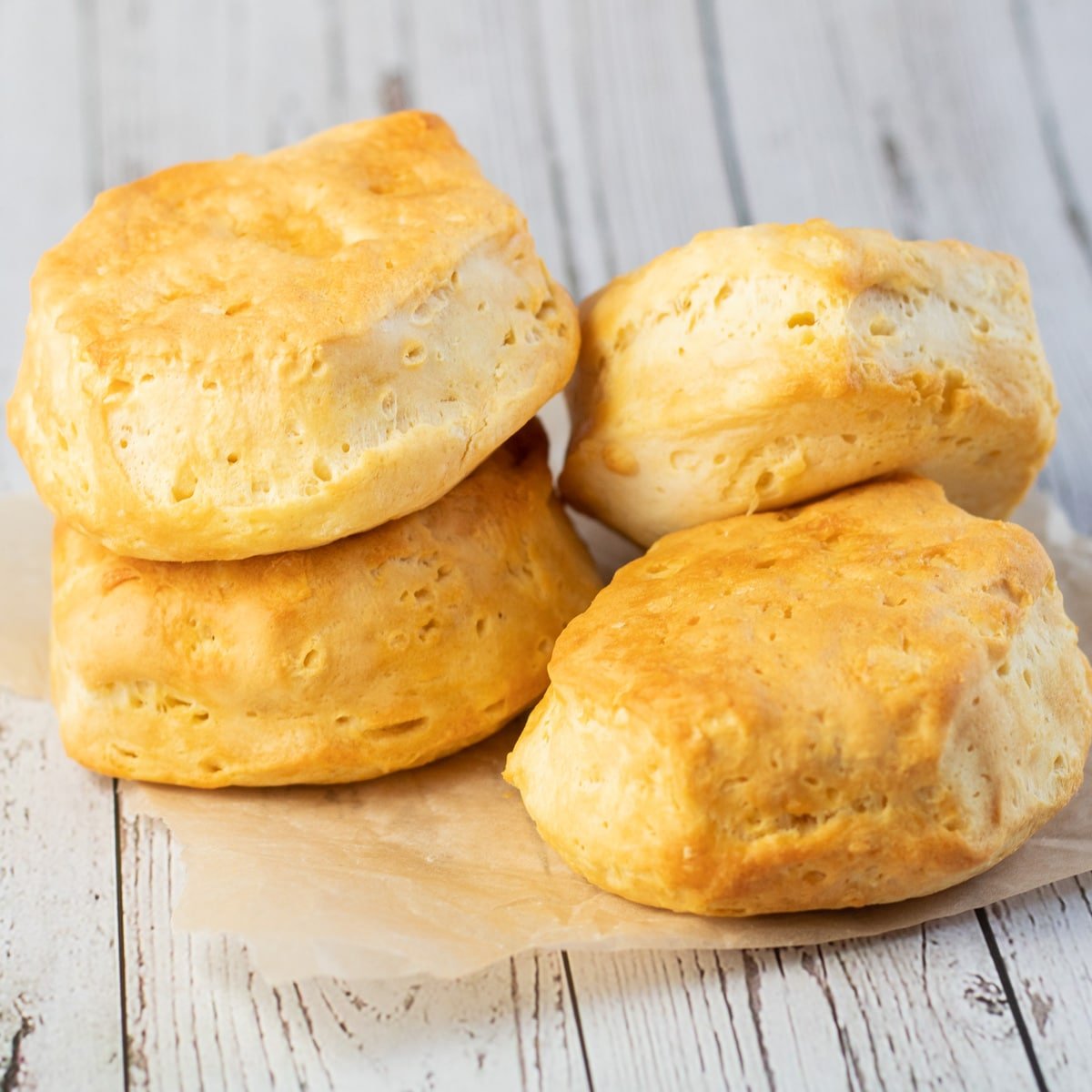 The easiest biscuits you'll ever make are these air fryer biscuits!
Americans love our biscuits. After all, they're uniquely ours. From biscuits and gravy to butter and jam-covered biscuits, they're one of the most diversely used foods in our cuisine. And I've never met someone who didn't love them.
Whether you're making biscuit breakfast sandwiches, biscuits and gravy, or chicken biscuits, this recipe will have you finished and sitting at the table faster than most.
Jump to:
Using an air fryer creates a delightfully crisp on the outside and pillowy on the inside biscuit. Just the way I like them!
It's a crowd-pleasing bread that can be used as a side dish or part of the main course. No one will ever tire of these, even if you serve them for breakfast, lunch, and dinner. Definitely make extras. You're going to need them!
❤️ Why You'll Love This Recipe!
It's versatile! Not only can you easily adjust the number of biscuits you make, but you can make them sweet or savory to add to any meal of the day!
It's easy! There's no kneading or pastry cutter necessary. Just pop the canned tube open and pull apart the biscuit dough!
It's delicious! It's hard to beat the salty, buttery taste of biscuits fresh from the oven - or air fryer in this case!
🥘 Ingredients
There are only two ingredients for this recipe. It just doesn't get any easier!
Refrigerated Biscuits - Any brand will do! Pillsbury Grands, Trader Joe's, Annie's, Mason Dixie's, Immaculate Baking Co., plus any of the popular generic brands like Great Value and Signature Select.
Olive Oil - Unrefined extra virgin olive oil (EVOO) is full of antioxidants and great flavor too!
🔪 Step-By-Step Instructions
This is an excellent example of how well air fryers can cook something as precise as bread. You might never go back to oven-baked biscuits after this!
Coat your basket. Spray or wipe your air fryer basket or tray with olive oil to eliminate sticking. 
Prepare the biscuits. Place each individual biscuit of 1 refrigerated tube of dough in the basket or tray. Make sure to spread them evenly and in a single layer (photo 1). There should be space in between them to expand.
Cook and flip. Set your air fryer to 330℉ (165℃). Transfer your biscuits to the fryer and cook for 5 minutes. Then, take them out and use a spatula to turn each biscuit around (photo 2). This loosens any spots they might be sticking. Flip the biscuits over, if desired. They may not look as nice, but they will cook more evenly.
Finish until golden. If using Grands or Jumbo biscuits, add 2-5 minutes, cooking them until they are golden brown or cooked all the way through (photo 3). For smaller biscuits, only add 2-4 minutes, pulling them out when they're golden brown and crisped.
*Note that the cooking times only change slightly between jumbo and small-sized options.
Cool and serve. Don't burn your mouth! Let these cool on a wire rack for 5-10 minutes before eating.
These make a popular side for any meal of the day. Add a pat of butter, honey, jam, Parmesan, cream cheese, etc. to finish them off! Enjoy!
💭 Angela's Tips & Recipe Notes
Aerosol sprays should never be used in air fryers when greasing the basket.
Aerosolized sprays damage the non-stick air fryer coating. Instead, use a spritz bottle like a Misto that you fill with oil, or simply use a pastry brush to brush on the oil.
The instructions listed apply to any and all refrigerated biscuit types.
Varieties with flaky layers, Southern homestyle buttermilk, or honey butter biscuits can all be made with this recipe.
Biscuits feel soft right after they've been cooked. They firm up as they cool.
Keep this in mind when you are estimating how much time to add in the last step of the recipe. Sometimes they can seem under-cooked when they aren't.
For a rich, savory treat, brush the tops of the biscuits with butter or garlic butter and sprinkle with a bit of salt when they come out of the air fryer. It's hard to overstate how amazing they are.
🥡 Storing & Reheating
Air fryer biscuits can be stored at room temperature for 1-2 days or in the fridge for up to a week. After that, they will begin to dry out. Be sure to let them cool completely before wrapping them in foil or cling wrap and putting them into an airtight container.
Freezing
Biscuits freeze well. Once again, wait for them to cool completely before wrapping them in foil and putting them in a plastic freezer bag. Squeeze out as much air as possible when sealing.
Your biscuits are best if used within the first 2-4 weeks. However, they are safe to consume after (they just won't be as tasty) up until the 3-month mark.
Reheating
For best results, reheat your leftover biscuits in the air fryer. Heat at 350℉ (175℃) for 2-3 minutes.
To reheat biscuits from the freezer, spread them out in your air fryer basket and cook at 350℉ (175℃) for 5-7 minutes. There is no need to thaw them first.
Are your biscuits slightly stale? Wrap the individual biscuits in a damp paper towel and place on a microwave safe plate. Heat in 15-20 second increments at medium to high power until warmed to your satisfaction.
❓ FAQ
How do I keep my biscuits from getting soft?
Biscuits are great with a bit of crunch on the outside and a soft inside, but how do you keep leftovers from going soft? One way to prevent this is to eliminate any water in the air when they are stored.
Make sure the biscuits are cooled completely before storing them. If the steam gets trapped in the bread, it will create moisture that will lead to mold. You can do this by putting them unwrapped in an airtight container with a paper towel or a layer of uncooked rice in the bottom. Either will soak up any moisture in the air.
What is the best kind of canned biscuits?
There are a lot of great ones out there! My personal favorites are Trader Joe's Buttermilk Biscuits, Pillsbury Grands Homestyle Southern Style or Homestyle Original.
The Trader Joe's brand has those classic, flaky layers that I love. The other two from Pillsbury are more fluffy than flaky but equally delicious. It's hard to go wrong with biscuits!
What is the difference between biscuit types?
Traditionally, southern style biscuits are made with buttermilk and raised with baking soda or powder. They have a chunkier look and texture.
Flaky biscuits are made so that there are layers that come apart after they're cooked. These are easy to pull apart if you're making sandwiches.
Homestyle biscuits use yeast as a leavening agent.
And buttermilk biscuits are anything that uses buttermilk instead of milk or water. Southern style would be a type of buttermilk biscuit. They all taste fantastic, so don't stress too much about what kind to make.
📋 Recipe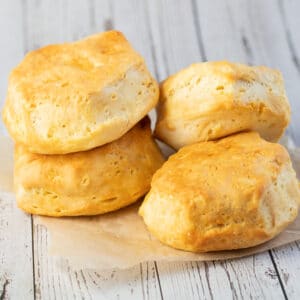 Print Recipe
Leave A Comment
Love This Recipe?
Click On A Star To Rate It!
Air Fryer Biscuits (Canned & Refrigerated)
These easy air fryer biscuits are delightfully golden, crispy on the outside, and tender on the inside! They're perfect for piling some tasty gravy onto, serving alongside scrambled eggs, or just slathering with a tasty jam or jelly!
Pin Recipe
Share on Facebook
Ingredients
1

can

refrigerated biscuits

olive oil

(extra virgin)
Instructions
Lightly coat your air fryer basket or trays with oil to prevent sticking.

Set your biscuits in the basket or on the tray in a single layer leaving spacing between each biscuit for them to expand while cooking.

1 can refrigerated biscuits

Set your air fryer to 330°F (165°C) and cook the biscuits for 5 minutes. Remove from the air fryer at this point and turn each biscuit gently to loosen any spots that may be sticking.*I suggest flipping the biscuits at this point for even cooking, although your biscuits may not turn out as pretty (the biscuits on this page were flipped and still look great).

Finish cooking the biscuits:

For Grands and Jumbo biscuits - an additional 2-5 minutes or until the biscuits are golden and cooked through.For smaller biscuits - an additional 2-4 minutes or until the biscuits are a golden brown, crisped, and cooked through.
Equipment You May Need
Notes
The cooking times vary only slightly between the larger biscuits such as Pillsbury Grands or any other 'jumbo' biscuit, and the smaller canned refrigerated biscuits.
The instructions apply to all flavors and varieties like flaky layers, butter tastin', Southern homestyle buttermilk, or honey butter biscuits.
If your biscuits end up touching, turn them gently to separate. This spot that was touching is a great place to check to see if the biscuits are still doughy inside.
Nutrition
Calories:
211
kcal
(11%)
|
Carbohydrates:
28
g
(9%)
|
Protein:
4
g
(8%)
|
Fat:
10
g
(15%)
|
Saturated Fat:
1
g
(6%)
|
Polyunsaturated Fat:
4
g
|
Monounsaturated Fat:
4
g
|
Cholesterol:
1
mg
|
Sodium:
544
mg
(24%)
|
Potassium:
129
mg
(4%)
|
Fiber:
1
g
(4%)
|
Sugar:
2
g
(2%)
|
Vitamin A:
1
IU
|
Calcium:
28
mg
(3%)
|
Iron:
2
mg
(11%)
Air Fryer Biscuits, canned biscuits, Grands biscuits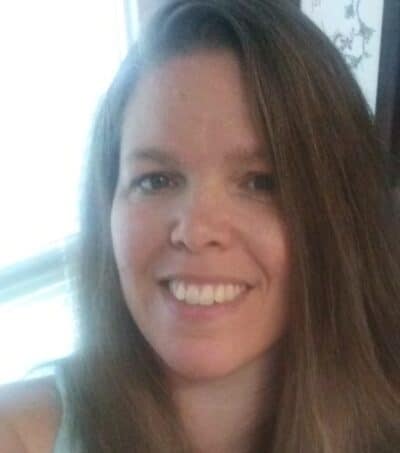 Angela is an at home chef that developed a passion for all things cooking and baking at a young age in her Grandma's kitchen. After many years in the food service industry, she now enjoys sharing all of her family favorite recipes and creating tasty dinner and amazing dessert recipes here at Bake It With Love!