Buttered noodles are a Southern favorite that the whole family can enjoy with practically any dinner or meal! Egg noodles coated in butter. Perfectly seasoned to make a versatile pasta side dish that everyone will love!
Buttered Egg Noodles Recipe
I love the delicious simplicity of buttered noodles! They're a tasty, versatile side dish that almost everyone can enjoy!
I make my buttered noodles with tender, al dente egg noodles, lots of butter, and seasonings. You can also add Parmesan cheese for a cheesy twist!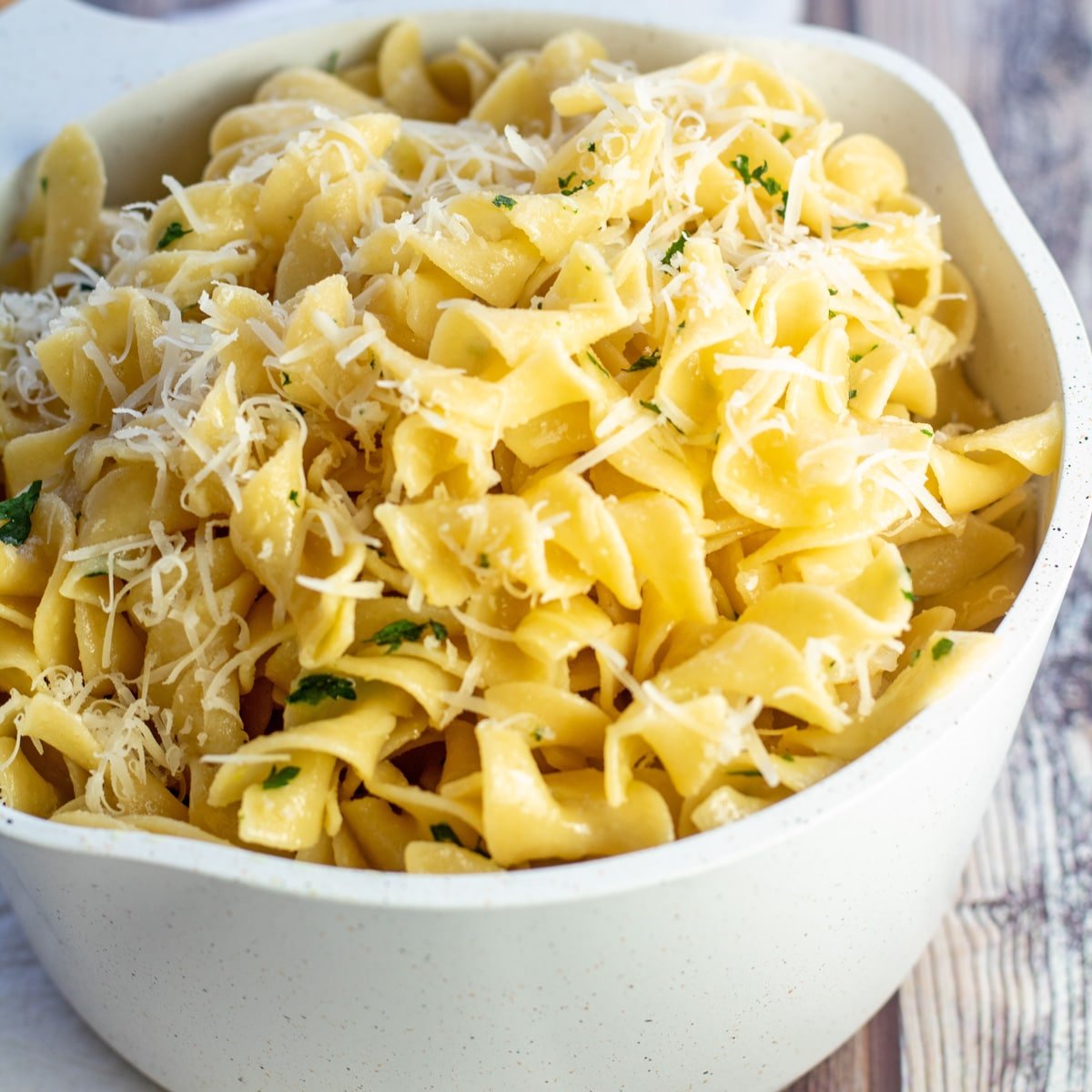 Buttered noodles are savory, rich, and simple – they're such a classic!
Jump to:
Buttered noodles aren't just simple—they're super easy too! This recipe is just two steps and is done in 15 minutes! It uses simple ingredients that might already be in your pantry, so no extra grocery trips are needed!
I also love recipes that are good for picky eaters! Buttered noodles are so tasty but simple and mild enough that kiddos and adults alike will love them.
The best part is you can keep a side of the buttered noodles for kids and serve the rest with a more adventurous main course!
❤️ Why You'll Love This Recipe!
So Kid-Friendly! Kids are guaranteed to love simple, classic buttered noodles! There's a reason it's on every kid's menu!
So Simple! Tender, seasoned pasta, and rich butter—what's not to love? It takes no time to make and goes with everything!
So Fast! It just takes 15 minutes from start to finish to complete this delicious, buttered noodle recipe. You can even make it ahead of time and reheat the buttered noodles whenever you want a fast meal!
🥘 Ingredients
Super easy, classic buttered noodles use ingredients that you probably already have around the kitchen! You can easily adjust this recipe to fit dietary restrictions too (See Substitutions).
*Be sure to see the free printable recipe card below for ingredients, exact amounts & instructions with tips!*
16 ounces Egg Noodles – You can also use whatever your preferred pasta shape is here. I prefer pasta with large or longer shapes because they're best for being coated with butter.
¼ cup Butter – I like to use a salted European butter for this recipe! It has much more flavor than regular American butter!
¼ teaspoon Each Salt & Pepper – You want to salt the pasta water well, then season the noodles to taste after coating with butter.
1 teaspoon Parsley – I love fresh, chopped parsley as a garnish on the buttered noodles!
🧂 Substitutions
If you're gluten-free, you can easily substitute gluten-free noodles for egg noodles. I would recommend under-cooking the gluten-free noodles just slightly to ensure they don't break apart when you coat them with the butter.
If you're vegan or dairy-free, try making this but with a vegan butter like Earth Balance! Make sure you select a good brand that will impart that delicious butter flavor without the dairy!
🔪 Step-By-Step Instructions
Buttered noodles are quite possibly the easiest side dish you could make! This classic side dish is done in just 15 minutes!
Boil Noodles. In a large stockpot, bring generously salted water to a boil over high heat. When it's reached a rolling boil, add 16 ounces of egg noodles or preferred pasta. Then, cook until it's reached an al dente texture (firm to the bite). When the noodles are done, drain well and return to the pot.
Coat with Butter. To the pot, add ¼ cup (½ a stick) of butter and gently toss until butter is melted and pasta is coated. It's easiest if the butter is soft when you add it. Next, season the butter-coated noodles with ¼ teaspoon each of salt and pepper (or to taste) and then mix in 1 teaspoon of fresh chopped parsley if desired. Serve immediately when done.
Easy buttered noodles go perfectly with nearly any main course! Try it with my creamy Swedish meatballs, hearty Instant Pot beef stew, rich and savory Beef Stroganoff, or so many other main courses! Enjoy!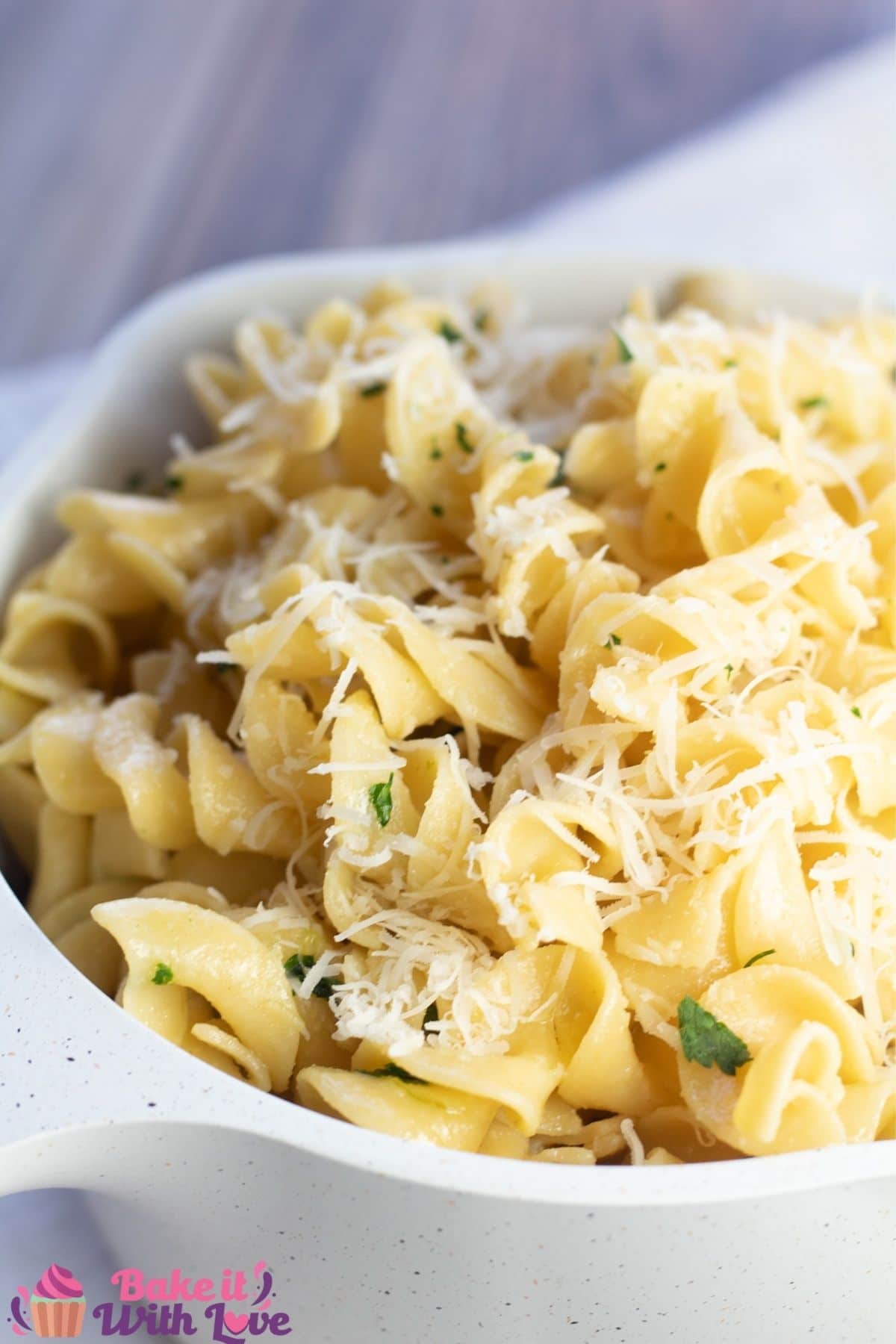 💭 Angela's Tips & Recipe Notes
Serve the finished noodles with freshly grated Parmesan if desired! I love the extra flavor that Parmesan provides! Use a good, aged Parmesan that you can freshly grate for the best results.
I prefer to salt my noodles when coating with butter, then top with pepper at serving! This way, if there are any folks who want more or less ground pepper, they can customize it to their preference!
You can use as much or as little butter as you prefer for this dish! It's entirely up to you how much butter you use! I don't recommend using over a ½ cup (1 stick) of butter, otherwise the noodles might be too greasy!
Generously salt the water for the pasta noodles before boiling! This will help to season the noodles from the inside out, so every bite is full of lots of flavor! The pasta water should be salty, but not overwhelming! About 1 tablespoon per pound of pasta you're boiling should be plenty!
🥡 Storing & Reheating
It's so easy to store buttered noodles in the fridge! Just make sure they're cooled, then put them in an airtight container or storage bag. They'll keep this way for 2 to 3 days!
Making these creamy noodles is already so easy, but if you'd like you can freeze them for a later date! Make sure they're al dente (or even better, slightly under al dente), then toss with the butter/seasonings and let cool.
When fully cooled, transfer to an airtight container or storage bag and freeze for up to 3 months! Let the buttered noodles defrost overnight in the fridge before reheating!
Reheating Buttered Noodles
You can easily reheat your cooked noodles in the microwave to warm them! Just add the noodles to a microwave-safe bowl and splash with a little water. Then, cover with a paper towel and reheat in 30-second intervals until fully heated.
If you prefer, you can reheat the noodles on the stove-top! Heat over low-medium heat, and splash with a little water to keep them from sticking. Stir until steaming and fully reheated!
😋 More Great Recipes
❓ FAQ
How can I tell if noodles are al dente?
Al dente is the perfect level of doneness for my classic buttered noodles! Follow your package directions for specifics, but it typically takes about 6 to 10 minutes.
Tasting the noodle is the best way to make sure it's the right texture! Carefully remove a piece of pasta, then when it's cooled enough taste the noodle. It should be mostly cooked through with a slight firm bite. This "firm to the bite" finish shouldn't be unpleasant to eat—just slightly toothsome!
What's the best way to butter noodles?
For buttered noodles, my only recommendation is that you don't use cold butter! Cold butter will bring down the temperature of the noodles and make them less evenly coated. I recommend using softened, room temperature butter or even melted butter! This way, the butter will evenly coat each noodle to perfection!
Should you add oil to pasta water?
I don't recommend adding oil to the pasta water! Adding oil to the water will coat the noodles too much, which will prevent the butter from absorbing and coating the pasta as we want. If you are sure to stir the noodles while cooking them, this should keep them separated and not clumpy.
So, skip the oil and stick to just boiling the noodles in salted water!
📋 Recipe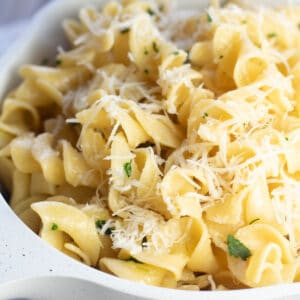 Print Recipe
Leave A Comment
Love This Recipe?
Click On A Star To Rate It!
Buttered Noodles
Buttered noodles are a Southern favorite that the whole family can enjoy with practically any dinner or meal! Egg noodles coated in butter. Perfectly seasoned to make a versatile pasta side dish that everyone will love!
Pin Recipe
Share on Facebook
Ingredients
Instructions
In a large pot bring salted water to a boil over high heat. Cook to al dente texture (firm to the bite) according to the package instructions. Drain well, then return to the pot.

Add butter and gently toss until the butter is melted and the pasta is coated. Season with salt and pepper and mix in parsley if desired. Serve immediately.

¼ cup butter,

¼ teaspoon each, salt & pepper,

1 teaspoon parsley
Notes
Use your favorite pasta variety. Large noodles are best for coating with butter.
Serve with freshly grated Parmesan cheese if desired.
I prefer to salt my noodles, then top with freshly grated black pepper at serving.
Use more butter if desired.
Nutrition
Calories:
537
kcal
(27%)
|
Carbohydrates:
81
g
(27%)
|
Protein:
16
g
(32%)
|
Fat:
17
g
(26%)
|
Saturated Fat:
9
g
(56%)
|
Polyunsaturated Fat:
2
g
|
Monounsaturated Fat:
4
g
|
Trans Fat:
1
g
|
Cholesterol:
126
mg
(42%)
|
Sodium:
270
mg
(12%)
|
Potassium:
280
mg
(8%)
|
Fiber:
4
g
(17%)
|
Sugar:
2
g
(2%)
|
Vitamin A:
427
IU
(9%)
|
Vitamin C:
1
mg
(1%)
|
Calcium:
43
mg
(4%)
|
Iron:
2
mg
(11%)
Buttered Noodles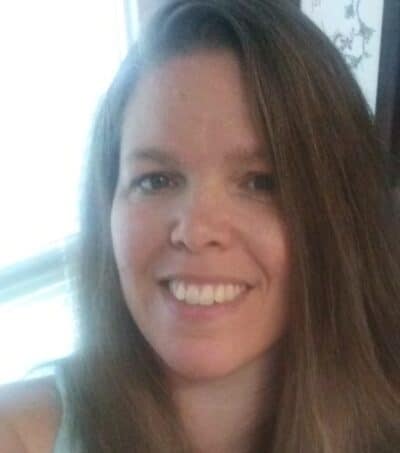 Angela is an at home chef that developed a passion for all things cooking and baking at a young age in her Grandma's kitchen. After many years in the food service industry, she now enjoys sharing all of her family favorite recipes and creating tasty dinner and amazing dessert recipes here at Bake It With Love!