These incredibly tasty Swedish Meatballs (Svenska Köttbullar with Lingonberries) pack so much flavor in that they have always been a family favorite!! 'Mom's Meatballs', as they are called in their native country, are a go-to dinner made with staple ingredients and a whole lot of love!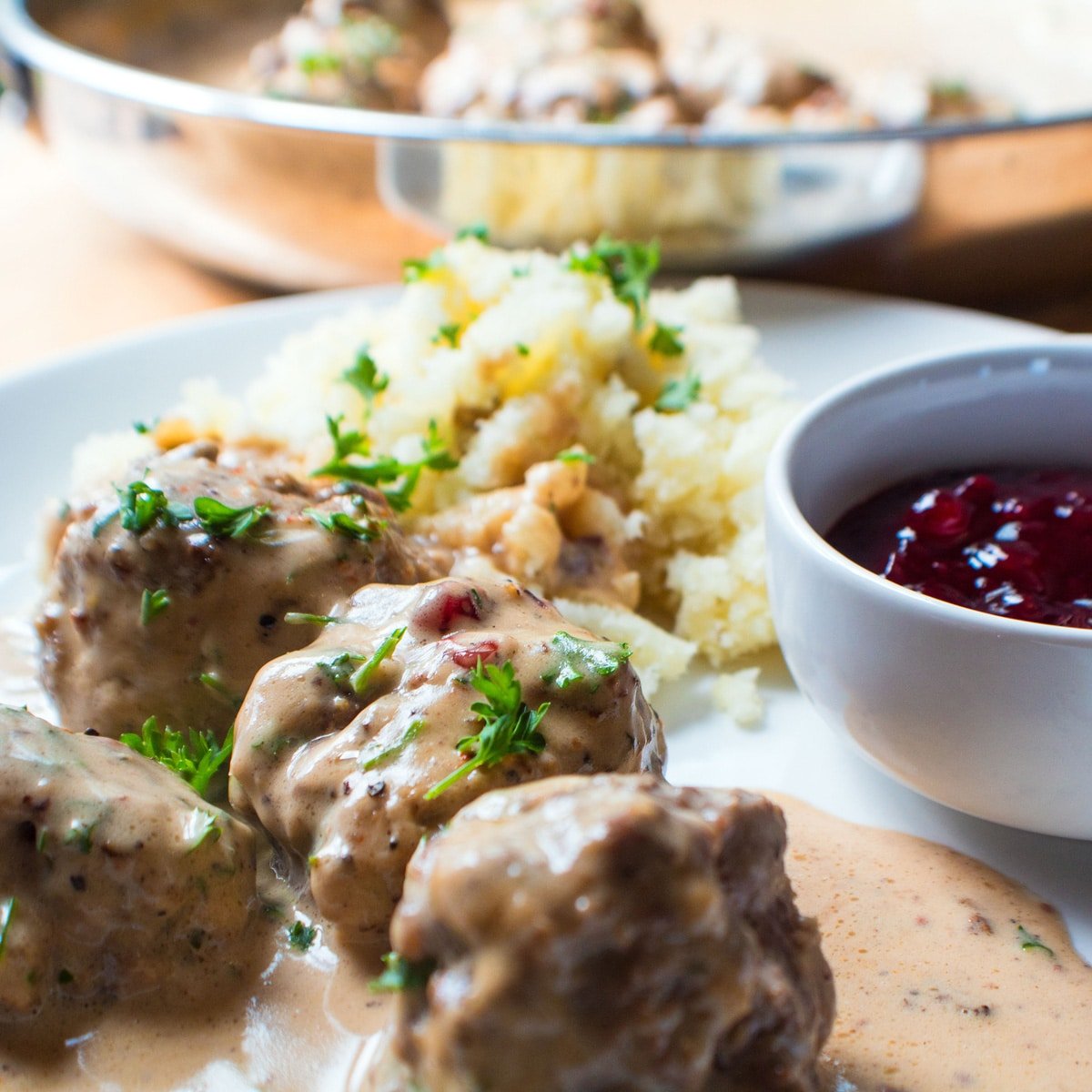 The classic Swedish meatball dinner needs no improvements with it's flavor-packed meatballs and hearty, creamy gravy!
A classic beefy dish with rich, creamy gravy is always a hit in my home! This traditional recipe is no exception, and it never disappoints no matter how hungry everyone is!
Even though everyone is now in love with the IKEA Swedish meatballs, there is everything to LOVE about these tasty meatballs - and they're so easy to make!
Jump to:
🥘 Ingredients
Over the years of making my best and favorite Swedish Meatballs, I have tried many different tweaks in the ingredient quantities and methodology. Still, I have found that the best results have come from staying true to some of the traditional ingredients and methods of making these flavor-packed meatballs!
Meatballs
Ground Beef - Lean ground beef is best in this recipe, especially when used in combination with ground pork.
Bread Slices - Two white bread slices, breadcrumbs, or Panko can also be used.
Milk - A ½ cup of milk to soak the bread with and add moisture to the meatballs. Skim milk, 2% milk, whole milk all work, the higher the fat content, the richer the flavor!
Onion - White onion, or yellow onion, grated right into your meat mixture so that you capture the onion juice while grating. Diced onion can also be sauteed for use in your meatballs.
Egg - One large egg to help bind the meatballs together while cooking.
Salt & Pepper - Season to taste with these basic spices that highlight all of your ingredient flavors.
Nutmeg - Trust me on this, the nutmeg is an amazing flavor component in Swedish meatballs! Use ground nutmeg, or freshly grated nutmeg (my personal fave!).
Allspice - Just a touch of ground allspice is a flavor essential in this recipe!
Garlic Powder - Adds that wonderfully unique garlic taste without the addition of potentially raw chunks to bite into. By all means, if you want to thinly slice or crush fresh garlic and add it in, go right ahead! Use a full teaspoon of fresh, minced garlic when substituting for garlic powder.
Olive Oil - Extra virgin olive oil adds a touch of flavor and keeps your meatballs from burning or sticking while cooking.
Butter - The butter is divided between sauteing the meatballs and making the roux in the following steps of combining your gravy.
Gravy Sauce
Broth - Hearty beef broth combines with your gravy ingredients to make this delightful, savory gravy.
All-Purpose Flour - Start with 2 tablespoons of all-purpose flour to thicken the gravy to the right consistency. More can be used to make a quick slurry to thicken the gravy to your preference, as needed.
Drippings - Leave the pan juices as-is after removing the meatballs. Combined with the second portion of butter, the drippings will be the base of your roux.
Heavy Cream - Thick, rich heavy cream is the perfect dairy product for your Swedish meatballs gravy. You can use half & half, whole milk, or 2% milk as well, however, you may need to make adjustments using the slurry mentioned above to thicken your gravy more.
Worcestershire Sauce - 1 tablespoon of Worcestershire sauce adds a tangy flavor. Note that different brands of Worcestershire sauce have differing flavor profiles - Lea & Perrins is stronger than say, Heinz, which is sweeter with a more subtle vinegar taste. Start with less Worcestershire if you frequently find it to have an overpowering taste.
Dijon - I love course ground or stone ground Dijon for my gravy sauce!
Lingonberries - the PERFECT addition to Swedish meatballs and part of a really good authentic recipe. However, cranberries or cranberry sauce work great as a 'next best' option.
*Be sure to see the recipe card below for ingredients, amounts & instructions!*
If you love great ground beef recipes, be sure to try my Ground Beef Stroganoff and Bacon Wrapped Meatloaf too! They're both wonderfully easy family dinners to make!
💭 Angela's Tips & Recipe Notes
Be sure that there is enough room between your meatballs when pan frying so that they fry up correctly (cook in batches, if necessary). If there are too many meatballs packed into your skillet or frying pan, they end up steamed rather than fried!
The larger the meatballs, the longer they will take to cook when pan-frying. Keep the meatballs between 1-2 inches in diameter, with 2 inches being the max size.
Once you remove your cooked meatballs from the pan, keep them covered to retain moisture. Place a pan lid over them, or cover loosely with a square of aluminum foil.
🔪 Step-By-Step Instructions
My tasty Swedish meatballs are easy to make and come together for a great family dinner in about 30 minutes! Plus, you're only using one pan for cooking both the meatballs and the gravy!
Combine & Cook the Meatballs
Prep your ingredients and place the pound of ground beef (or ground beef and ground pork combo) in a medium to large-sized mixing bowl. Start soaking the two white bread slices in a ½ cup of milk in a separate bowl. Leave the bread to soak for about a minute then gently squeeze and tear the bread into chunks. Place the torn, soaked bread into the bowl with the meat.
Grate your ¼ cup white onion (about ½ of a small onion) directly into the bowl with the bread and meat. Then, add the seasoning including nutmeg, allspice, salt, pepper, garlic powder, and fresh, chopped parsley. Add the large egg and combine thoroughly.
Divide the meatball mixture out and roll into meatballs. Be sure to press them together gently so that they hold their shape well during cooking. *Makes roughly 12 2" meatballs, or up to 24 1" meatballs.
Heat a large skillet, non-stick frying pan, or ceramic-coated Dutch oven to medium high heat with a tablespoon of olive oil and the first 1 tablespoon of butter. The oil should be shimmering and just beginning to smoke when it is heated and ready to add the meatballs for frying.
Cook the meatballs, turning to brown all sides, until they are cooked through completely. Your meatballs are fully cooked when they have an internal temperature of 160 degrees F (71 degrees C) as read by a digital meat thermometer. *This is true of both ground beef meatballs and combo beef/pork meatballs.
Transfer the cooked meatballs to a damp plate and cover them so they stay warm and moist. Leave the drippings in the pan for making the gravy sauce.
Make the Gravy
Reduce your heat to medium then add the remaining 4 tablespoons of butter. Add the all-purpose flour, stir, then whisk the beef broth into the roux gradually. Once the beef broth base is well combined and smooth, whisk in the heavy cream followed by the course Dijon mustard and Worcestershire sauce.
Season to taste with salt and pepper, then add your lingonberries, lingonberry jam, cranberries, or cranberry sauce to the gravy. Whisk to combine.
Return the cooked meatballs to your gravy sauce and adjust the heat if necessary to bring the gravy to a simmer. Top with more fresh, chopped parsley if desired and simmer for 2-3 minutes.
Turn the meatballs in the sauce to coat while the sauce thickens. Once your gravy has thickened, remove from heat and serve immediately.
This dish is traditionally served with potato puree or boiled potatoes, with fresh lingonberries on the side. I like to serve our Swedish meatballs with mashed potatoes or one of my awesome side dishes and some lingonberry jam!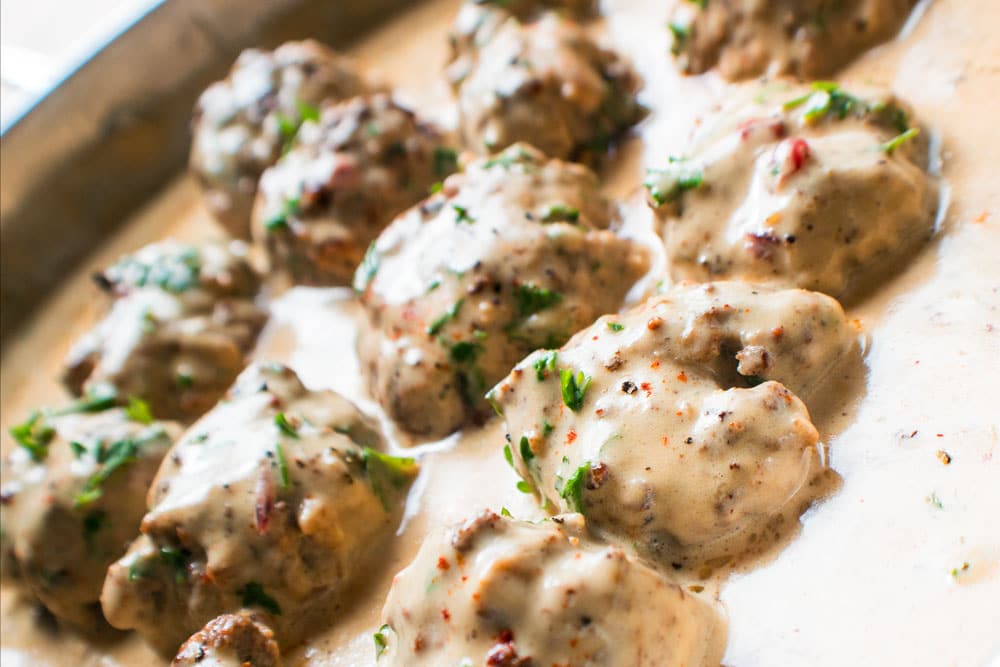 Even in Sweden, these meatballs (aka Köttbullar med gräddsås - or, meatballs with cream sauce) are made with varying recipes anywhere you go. However, there are a few things that are a common theme among Mom's best meatball recipes.
🤔 Keys To Traditional Swedish Meatballs
Here are several of the key items that make traditional Swedish Meatballs (Svenska Köttbullar with Lingonberries) so darn yummy!
A blend of both pork and beef are used for the 'meat' in Swedish meatballs. I only used beef the day of my video.
The pork and beef blend tastes better, in my opinion, but I happened to get hold of some lingonberries and knew I needed to make these meatballs right now despite having only ground beef on hand and ready to use.
Veal or venison are also used in some recipes.
Grated onion is used in the meatball ingredients, rather than chopped, diced, or minced onion. I say it all the time, that I prefer not to bite into raw portions of onion but in this case it's not just about my preferences.
This method of grating the onion is preferred for making the best Swedish meatballs ever!
Alternatively, if grated onion isn't used, the chopped onion is usually sauteed in butter (an extra step that I like to skip and another reason to love grating the onion instead).
Milk soaked white bread or white breadcrumbs is one of the core components of authentic Swedish meatballs. Bread crumbs are a popular substitute, but if available do use the real deal.
The milk soaked bread adds moisture and gives the Swedish meatball it's trademark soft consistency.
Don't forget the allspice! One of the flavor essentials in making traditional Swedish meatballs is the seasoning. You can't get these meatballs right without a touch of allspice.
A few interesting facts: Köttbullar is Sweden's national dish! Swedish Meatballs became in international hit thanks the the 'Swedish Chef' on the Muppets!
Do you love a recipe you tried? Please leave a 5-star 🌟rating in the recipe card below and/or a review in the comments section further down the page.

Stay in touch with me through social media @ Pinterest, Facebook, Instagram, or Twitter! Don't forget to tag me when you try one of my recipes!
📋 Recipe
Print Recipe
Leave A Comment
Love This Recipe?
Click On A Star To Rate It!
Swedish Meatballs (Svenska Köttbullar with Lingonberries)
There's a reason these soft and tasty meatballs are the national dish of their home country! While there are as many ways to make an authentic Swedish meatball as there are Swedish moms, this is my best and favorite version based on many of the 'most used' traditional methods!
Pin Recipe
Share on Facebook
Ingredients
Swedish Meatballs
1

lb

lean ground beef

(recommend a blend of 50/50 pork and beef)

2

slices

white bread

(hand torn, or use white breadcrumbs or panko)

½

cup

milk

¼

teaspoon

ground nutmeg

¼

teaspoon

ground allspice

¼

cup

white onion

(grated is best - if using chopped onion, saute with a teaspoon of butter until translucent before adding to meatball mixture)

2

tablespoon

fresh parsley

(chopped)

¼

teaspoon

each, salt & pepper

(to taste)

½

teaspoon

garlic powder

1

large

egg

1

tablespoon

olive oil

(extra virgin)

5

tablespoon

butter

(divided - 1 tablespoon & 4 tablespoon portions)
Instructions
Place the ground beef (or both beef and pork) in a medium mixing bowl. Next, place white bread slices in a small bowl and cover with milk, then allow to soak briefly (about a minute).

Squeeze excess milk out of soaked bread - gently, don't squeeze all of the moisture out! Hand tear the bread slices into chunks, placing the pieces into the mixing bowl with the ground beef.

Add freshly grated nutmeg and crushed whole allspice. Grate the onion into the bowl. *I like to let any of the onion juice drip into the bowl, which is why I grate directly into my meatball mixture.

Add the chopped fresh parsley and remaining seasoning (salt, pepper, garlic powder) and the egg. Combine thoroughly.

Divide meat into 12 portions (for larger 2" meatballs) and roll in your palms until well rounded. Be sure to press together gently so that the meatballs hold up well during cooking. Place formed meatballs on a damp plate (to prevent sticking to the plate).

Fry the meatballs in a large skillet or frying pan. Bring the olive oil and the one tablespoon pat of butter to medium high heat and place the meatballs in the frying pan (leaving room between the meatballs).

Cook the meatballs, turning until all sides are browned and they are cooked completely through. Remove from the frying pan and transfer to a plate (cover with aluminum foil, or transfer to a bowl with a lid - keep the meatballs covered so they retain their moisture).

Reduce heat to medium and melt the remaining 4 tablespoon of butter and add the all-purpose flour, whisking the flour mixture while the liquids are added. Add the beef broth in small amounts, whisking into the pan drippings and flour mixture until all of the beef broth is added and the gravy is smooth.

Whisk in the heavy cream, then the coarse ground Dijon mustard and Worcestershire sauce. Add salt and pepper, if needed. Finally, add the lingonberry jam (or fresh lingonberries - cranberries have a similar taste and can work almost as well) and whisk to combine.

Return the cooked meatballs to the gravy in your frying pan or skillet, top with additional fresh chopped parsley (if desired) and bring the sauce to a simmer. Turn the meatballs while sauce simmers and thickens. Allow to simmer 2-3 minutes. Serve immediately.
Video
Notes
*Be sure that there is enough room between your meatballs when pan frying so that they fry up correctly (fry in batches, if necessary). If there are too many meatballs packed into your skillet or frying pan, they end up steamed rather than fried! **Traditionally served with potato puree or boiled potatoes, with fresh lingonberries on the side, we like to serve our Swedish meatballs with mashed potatoes and some lingonberry jam!
Nutrition
Calories:
633
kcal
(32%)
|
Carbohydrates:
17
g
(6%)
|
Protein:
31
g
(62%)
|
Fat:
48
g
(74%)
|
Saturated Fat:
27
g
(169%)
|
Cholesterol:
239
mg
(80%)
|
Sodium:
836
mg
(36%)
|
Potassium:
632
mg
(18%)
|
Sugar:
5
g
(6%)
|
Vitamin A:
1595
IU
(32%)
|
Vitamin C:
4.2
mg
(5%)
|
Calcium:
141
mg
(14%)
|
Iron:
4.1
mg
(23%)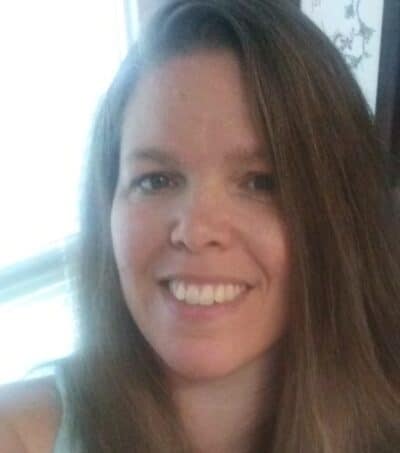 Angela is an at home chef that developed a passion for all things cooking and baking at a young age in her Grandma's kitchen. After many years in the food service industry, she now enjoys sharing all of her family favorite recipes and creating tasty dinner and amazing dessert recipes here at Bake It With Love!