For what to serve with chicken pot pie, check out this extensive list of delicious side dishes that are perfect in any scenario! If you're looking for some veggies or something a little sweet, you name it and there's a side that will compliment your chicken pot pie!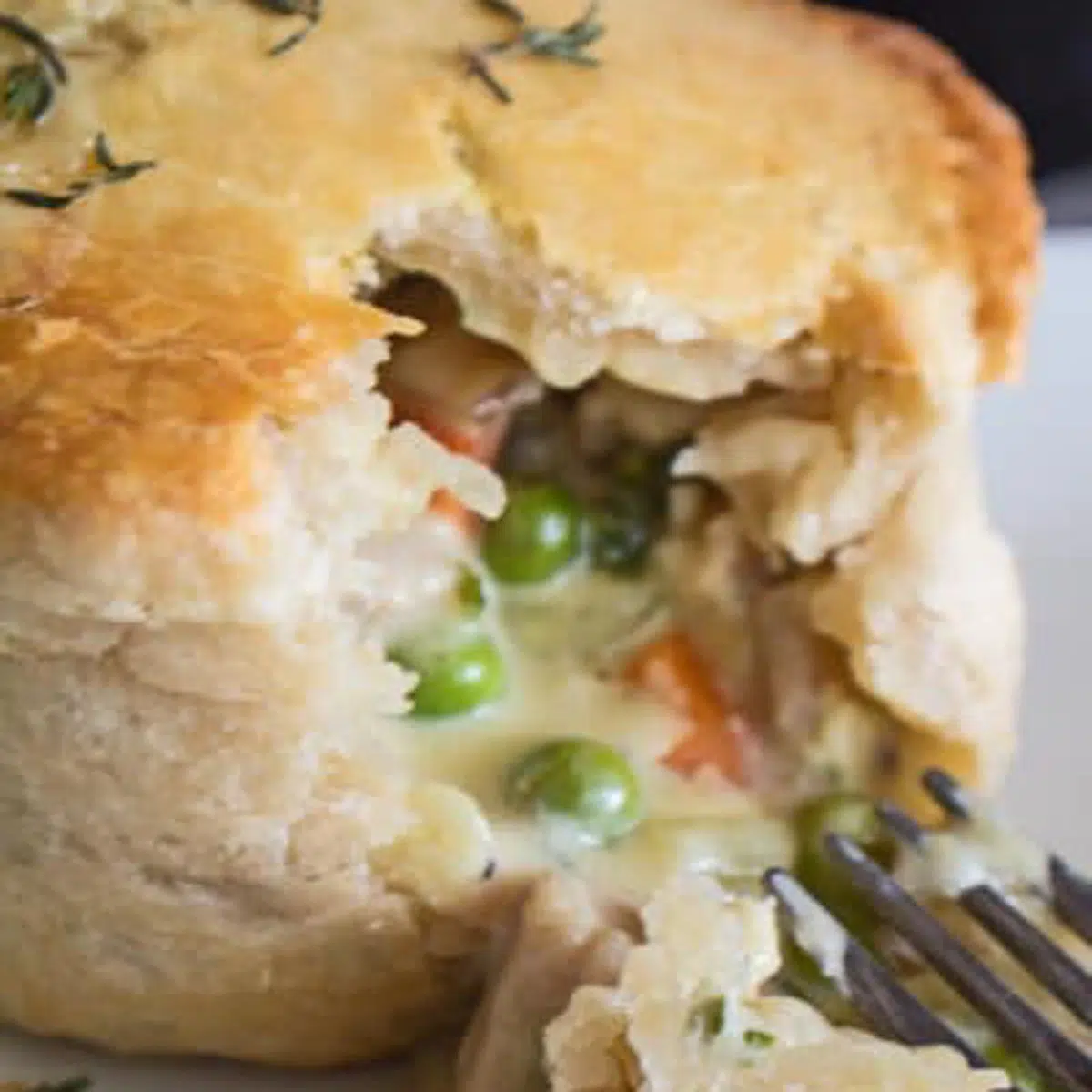 A variety of delicious side dishes that will make a wonderful meal when served with chicken pot pie!
It's difficult to imagine anything that is absolutely more comforting than a homemade chicken pot pie. This delicious dish can be made in a matter of minutes and is sure to please.
It has a flaky golden pie crust topped with a hearty filling of chicken, vegetables, and a creamy sauce baked until golden brown. Then, it only takes just a few minutes in the oven to prepare this traditional family meal.
Jump to:
Even though chicken pot pie is delicious on its own, you can take it to the next level by serving it with some delectable side dishes. There are many side dishes you can serve next to this already delightful meal, some of my favorites are listed below!
1. Mashed Potatoes
Homemade mashed potatoes are rich, creamy, flavorful, and simple to prepare, making them a crowd-pleaser every time. If you're planning on serving mashed potatoes to a big group, we recommend doubling the recipe.
When served with chicken pot pie, these creamy mashed potatoes will disappear in a flash.
2. Roasted Vegetables
As a side dish for dinner, roasting a bunch of vegetables is the healthiest and most convenient option. Roasted vegetables are incredibly delicious, but they are often underrated.
With the right seasoning, veggies can hold their own next to a chicken pot pie. Roasted veggies can be served with various dishes and never fail to impress.
3. Baked Sweet Potato
Baked sweet potatoes that are perfectly crispy on the outside and soft on the inside are a wonderful side dish. In addition, there are numerous possibilities for creative baked sweet potato toppings.
Serve it up with savory toppings, or a touch of cinnamon! Whatever the case, it will be delicious.
4. Glazed Carrots
Carrots are readily available all year long and can make an easy, quick side dish. The simple act of roasting them in a honey glaze truly elevates their flavor.
Carrots go well with chicken pot pie because there are carrots in chicken pot pie! The sweet glaze perfectly contrasts the pot pie's savory flavors and makes a well-rounded meal.
5. Cauliflower Mac N Cheese
You can eat this healthy version of Mac N Cheese on its own or as a side dish. It's cheesy and comforting, but guilt-free all at the same time.
Whether you're trying to get your picky kids to eat cauliflower or want to enjoy mac and cheese without all the carbs, this dish is sure to be a hit.
If you pair it with chicken pot pie, you've got a weeknight meal that everyone will enjoy!
6. Roasted Broccoli
Roasted broccoli is another healthy but tasty dish that you can make all year. It complements a wide range of dishes without being overpowering.
All you need is fresh broccoli, Parmesan, and seasoning, to create an impressively delicious dish! It's a veggie that goes with everything, and chicken pot pie is no different!
7. Corn on the Cob
We always look forward to corn during the summer because it's fresh, delicious, and can be prepared in many different ways. It can be boiled, roasted, baked, or microwaved.
You can corn on the cob plain, with various delicious toppings, or with the classic butter and salt. This method of boiling corn in milk and butter makes for such buttery-rich corn on the cob, you'll never make it any other way.
8. Southern Coleslaw
A classic homemade Southern Coleslaw is the ideal summer side dish. Cabbage and carrots are mixed with a simple mayonnaise and Dijon mustard dressing for the perfect creamy-yet-tangy side.
You can prepare this coleslaw ahead of time, and it is a great dish to bring to potlucks and barbecues! The crunchy, fresh flavor of coleslaw complements the savory chicken flavor of the pot pie perfectly.
9. Cheesy Bacon Ranch Potatoes
Cheesy bacon ranch potatoes are an easy, comforting side dish that you can't get enough of. Cheese, sour cream, and crispy bacon are all mixed into chunks of baked potato, and baked!
It's indulgent and hearty, but best of all, it tastes great with chicken pot pie! Serving the two side by side would be the ultimate comfort meal.
10. Southern Fried Corn
The flavors of the South shine through in this dish! For those times when you've had enough corn on the cob, fried corn with all the right seasonings is another great option.
Sweet and buttery corn is sautéed fried with onion, garlic, and other seasonings. As a result, the dish is both sweet and slightly smokey.
Corn goes great with chicken pot pie and pairs well with the peas and carrots inside!
11. Fried Cabbage
Fried cabbage cooks quickly, making it ideal for weeknights when you're in a hurry but still want a quality dinner. It's worth trying, even if you're not a fan of cabbage.
When cooked until tender with bacon, cabbage takes on a whole new flavor profile. It's a quick and easy meal that's sure to convert you to the cabbage-loving crowd.
12. Balsamic Roasted Brussel Sprouts
Roasted Brussel sprouts might not be everyone's first thought when thinking of chicken pot pie, but they pair surprisingly well. Balsamic adds enough of a vinegar kick but is cooked down until the sweetness becomes prominent.
They are healthy and very filling! Brussel sprouts are a great choice if you are wanting some more greens with your chicken pot pie.
13. Green Bean Casserole With Bacon
Even though Green Bean Casserole is often thought of as a Thanksgiving staple, it's a simple side dish that's appropriate for any occasion.
Cheddar, bacon, and a crunchy topping make this green bean casserole savory and delicious. It's the perfect southern side dish to serve with some chicken pot pie!
14. Sauteed Asparagus With Cherry Tomatoes
The bright flavor of fresh cherry tomatoes enhances the simplicity of this sautéed asparagus dish. It's easy, it's fresh, and it is full of flavor.
The texture and flavor of the sauteed tomatoes and asparagus complement a creamy chicken pot pie very well. This delicious dish works for weeknight dinners, holiday sides, and special occasions!
15. Crockpot Applesauce
If you are looking for a side dish that you can prepare ahead of time, this is the dish for you. Applesauce is not only a delicious snack when you have a sweet tooth, but it is also a great side dish to serve with chicken pot pie.
Combining these two flavors gives you a fantastic sweet and savory combination that is hard to beat!
Quick and easy chicken pot pie is a surefire way to please anyone you are cooking for. With so many choices, you can find a side dish that will work for any scenario!
Which dish will you try first? Let us know which sides you loved enjoying with your chicken pot pie dinner in the comments below!
📖 Recipe Card