This incredibly easy-to-make Crock Pot Applesauce combines apples with only a few ingredients for the best ever homemade applesauce! All you need is your crockpot, some apples, water, lemon juice, and cinnamon plus a few spare minutes for washing and slicing your apples (because peeling is totally optional)!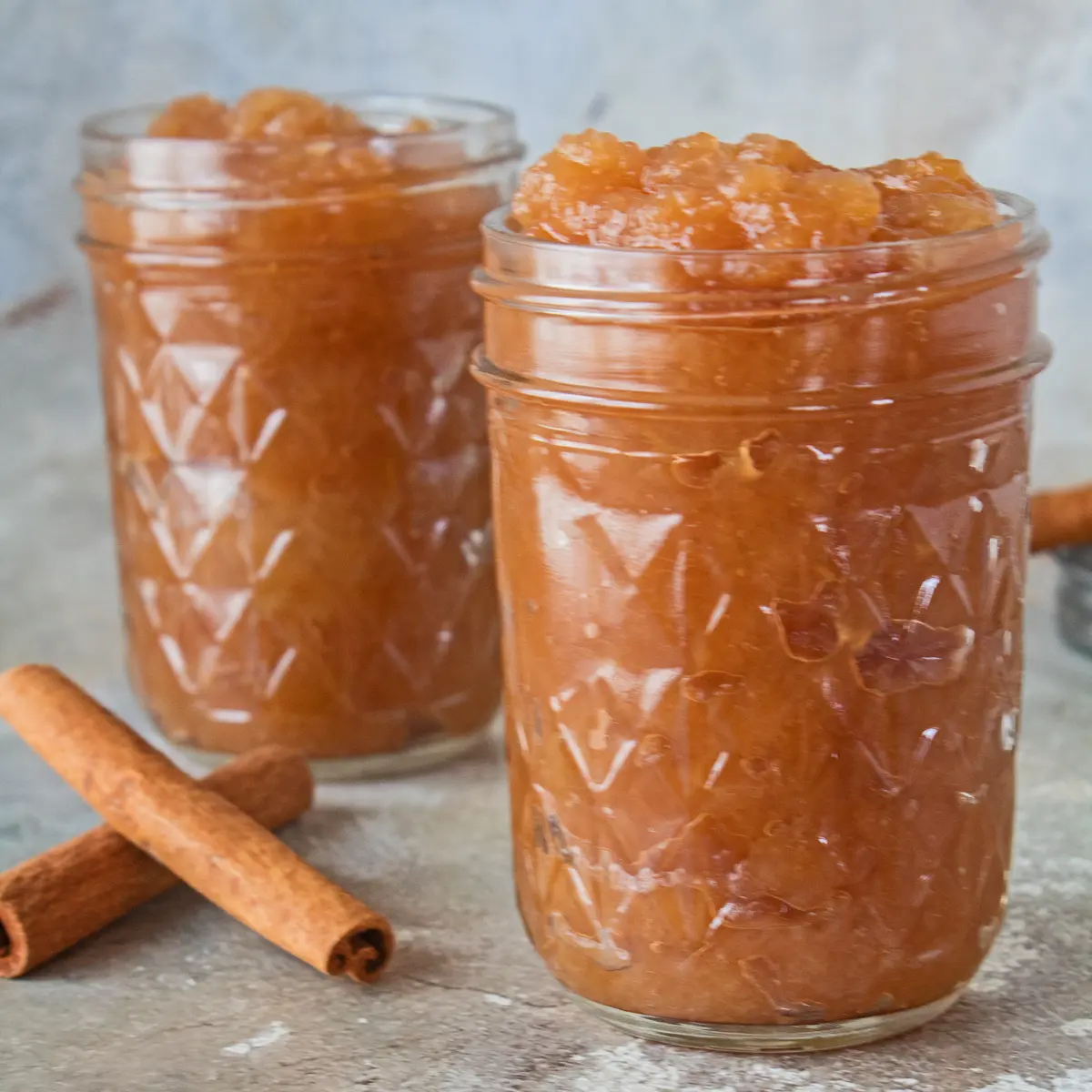 Incredibly Easy Homemade Crockpot Applesauce
Homemade applesauce is SO much better than any kind you might find in a jar at the grocery store and my crockpot recipe makes it incredibly simple! The best part about making applesauce yourself is that will never have to throw away those apples that don't get eaten.
Slightly older and bruised apples are perfect for this recipe and because the ingredients are so simple, you will probably have everything on hand! You know, like those old apples buried in the back of the refrigerator. 🙂
Jump to:
Plus, crockpot applesauce is a great low-calorie, low sugar treat any time of year! My family loves to eat this applesauce warm, right out of the pot, sometimes throwing some extra cinnamon on top. And I definitely don't feel bad about letting everyone enjoy some!
Besides that, if you love baking as much as I do you know that applesauce can add moisture to your baked goods. When I'm going for a healthier baked treat, I like to sub the applesauce in to reduce sugar too!
What You'll Need
This simple 5-ingredient recipe comes together so easily it's practically effortless! For a fun change, try swapping out the cinnamon sticks with apple pie spice or pumpkin pie spice. Both can be added at the end to taste as well (in addition to the cinnamon sticks)!
Apples – Absolutely ANY kind of apple works, but the softer varieties like Golden Delicious, Fuji, or McIntosh will break down a bit faster. You can read more about the very best apples for applesauce ( and more uses ) here!
Brown sugar – You can use light brown sugar, dark brown sugar for a more robust flavor, or even substitute white sugar if it's all you have.
Cinnamon sticks – Ground cinnamon is a fine substitute, but it is more potent. Use ½ teaspoon for each cinnamon stick ( or one teaspoon total in this case ).
Water - You'll need a touch of water to keep your applesauce from burning. If the liquid in your applesauce cooks down too much, you can add a drizzle more water as you go.
Lemon juice – Helps preserve the natural color of the apples. Use the juice and zest from an actual lemon, or use the bottled lemon juice if you are missing fresh lemons.
*To make Quince Applesauce, use a balance of ¼ quince fruit and ¾ apples.
**To make Pear Applesauce, use an even 50/50 blend of pears and apples.
How to Make Applesauce in Your Slow Cooker
I know, I know, I start out with saying to wash the apples but I suppose if you're peeling them that may be an extra and unnecessary step?! Either way, get a cutting board out along with a good paring knife, your zester, and a hand juicer. Your crock pot applesauce will be under way in no time!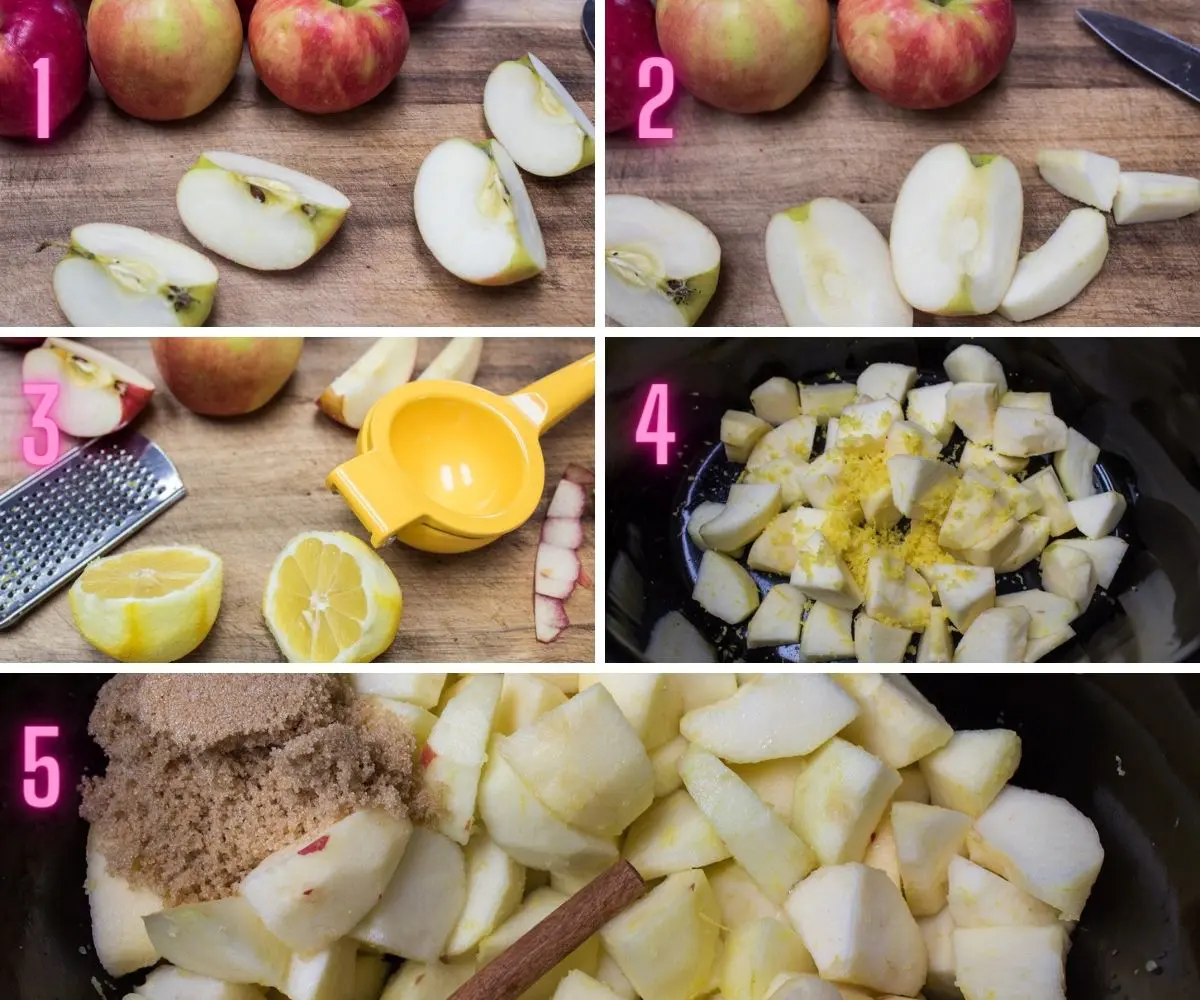 Wash the apples well, core, and then peel your apples if desired. FUN FACT!!! Peeling your apples is optional- but if you leave the peels on, the fiber in them will help slow down your body's absorption of the natural sugars, reducing the glycemic load! It will also save time!
Cut the apples into slices or chunks, keeping the pieces roughly the same size.
Add the apples to the crockpot, along with brown sugar, cinnamon sticks, water, and lemon juice.
Cover the pot with the lid and cook on high for 3 - 4 hours.
When the apples are fully broken down, use a fork or a whisk to stir to desired consistency. An immersion blender would also do the trick if you like your applesauce super smooth!
Serve your applesauce warm or chilled, with an extra pinch of cinnamon on top! Better yet, save a bit to use in some delicious baking like my super moist carrot cake or these tasty protein powder chocolate banana muffins!
Can I Make This on the Stovetop?
Yes, follow along with the directions but place your apple chunks into a saucepan or stockpot that your apples fit into easily. Cook for approximately 20 minutes at medium heat.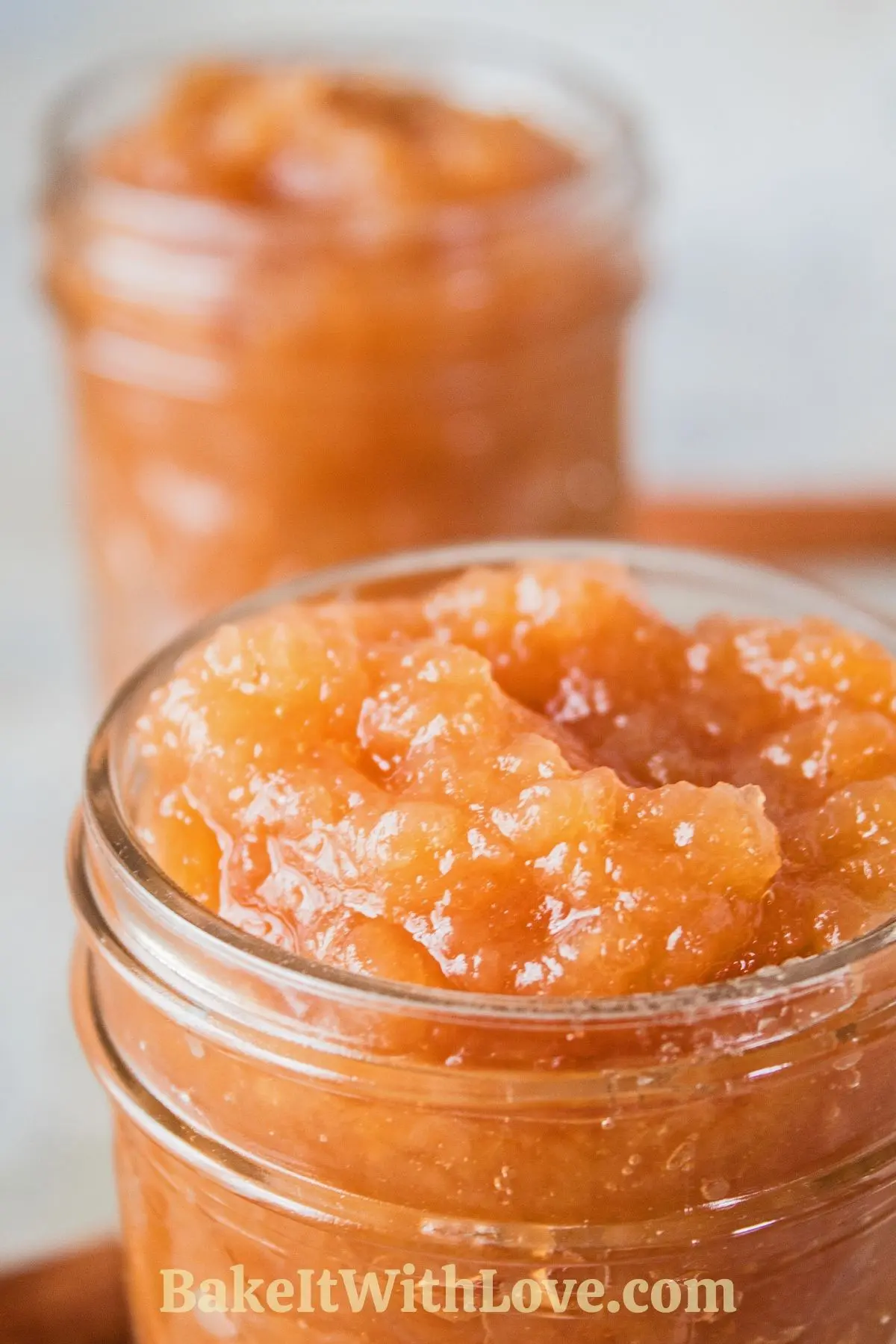 Storing Your Homemade Applesauce
Once your crock pot applesauce is fully cooled, transfer it into airtight storage containers. The homemade applesauce can be stored in the refrigerator for up to 10 days. It is important to note that once the sealed container has been opened the applesauce is good for 3 - 4 days. *This is true of freezer containers once thawed, and it is true for applesauce that has been canned.
Properly sealed canned applesauce is best stored in a cool dark place. Applesauce will last up to a year when canned and stored properly (and still sealed). Throw a bow around the jars for a great fall gift!
Freezing Homemade Applesauce
To freeze your applesauce, it is important to choose the correct container. Applesauce can be frozen in many containers including plastic freezer containers, plastic freezer storage bags, an ice cube tray (great for baby food - once frozen transfer to an appropriate container), or glass jars.
Your glass jars should be designed for freezing! This includes most canning jars and jars made of tempered glass. Make sure that the shape of the jars is best suited for freezing as well. You want straight-neck jars as anything with a tapered neck is more prone to breaking.
Leave room for expansion during freezing when preparing your canned applesauce. You will need at least a ½-inch of clearance between the top of the applesauce and the lid. The crockpot applesauce will stay fresh for up to a year when frozen.
📖 Recipe Card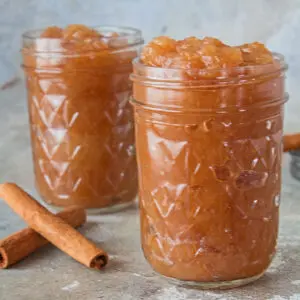 Print Recipe
Leave A Comment
Love This Recipe?
Click On A Star To Rate It!
Crock Pot Applesauce
This incredibly easy-to-make Crock Pot Applesauce combines apples with only a few ingredients for the best ever homemade applesauce! All you need is your crockpot, some apples, water, lemon juice, and cinnamon plus a few spare minutes for washing and slicing your apples (because peeling is totally optional)!
Total Time
4

hours
10

minutes
Pin Recipe
Share on Facebook
Ingredients
6

lbs

apples

(roughly 12 apples cored - peeling optional - sliced or chunked)

⅔

cup

brown sugar

2

cinnamon sticks

1

cup

water

2

tablespoon

lemon juice

(or zest and juice of 1 lemon)
Help Us Out!
If you love a recipe, be sure to come back and share your ratings. This helps future users, and allows me to continue sharing free recipes! Angela
Instructions
Wash, peel, and core your apples. Slice or chunk the apples up, either way will work as long as the pieces are relatively uniform in size. *Peeling is optional!

Add the apples, brown sugar, cinnamon sticks, water, and lemon juice plus the optional lemon zest to your crock pot.

Place the lid on your crock pot and cook on high for 3-4 hours.

When the time is up use a wire whisk and stir to desired consistency. (Or for ultra smooth applesauce use an immersion blender.)

Serve warm if desired or allow to cool and refrigerate for up to 10 days. Or freeze for later!
Nutrition
Calories:
166
kcal
(8%)
|
Carbohydrates:
44
g
(15%)
|
Protein:
1
g
(2%)
|
Fat:
1
g
(2%)
|
Saturated Fat:
1
g
(6%)
|
Sodium:
7
mg
|
Potassium:
264
mg
(8%)
|
Fiber:
6
g
(25%)
|
Sugar:
35
g
(39%)
|
Vitamin A:
124
IU
(2%)
|
Vitamin C:
11
mg
(13%)
|
Calcium:
30
mg
(3%)
|
Iron:
1
mg
(6%)
apple recipes, Crockpot Applesauce, slow cooker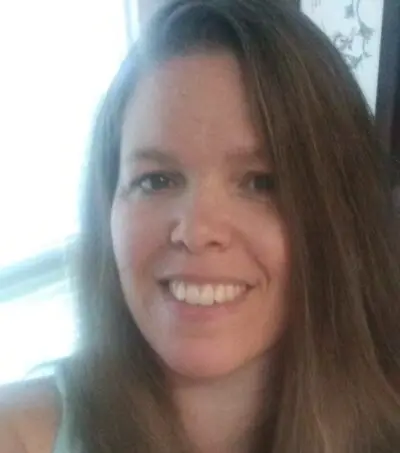 Angela is an at home chef that developed a passion for all things cooking and baking at a young age in her Grandma's kitchen. After many years in the food service industry, she now enjoys sharing all of her family favorite recipes and creating tasty dinner and amazing dessert recipes here at Bake It With Love!