My practically effortless Bisquick chicken and dumplings are perfect for when you need good old-fashioned comfort food in a flash! Tender, juicy chicken in a deliciously warm and hearty broth with fluffy biscuit dumplings- what's not to love!
Chicken & Dumplings With Bisquick
If you love delightfully tender chicken with a light and fluffy dumpling, you're in the right place. With just 10 minutes of prep time, you'll be well on your way to an amazing meal. This is a surprisingly easy recipe you can make any night of the week!
Sauteed vegetables and fresh herbs like chives, rosemary, and thyme add loads of flavor to this dish. As usual, garlic is also a star. The garlicky, creamy chicken broth is a classic that will leave you thinking about this meal well after dinner.
Deceptively easy Bisquick chicken and dumplings to help you get your comfort food fix!
Jump to:
Also, with just Bisquick and milk in the dumplings, it's so much easier than the traditional recipes out there!
It's a perfect end to a cold winter day and a great way to bring everyone together for a good meal. I think diners of all ages will agree that this is absolutely delicious. But don't take my word for it. Try it out!
❤️ Why You'll Love This Recipe!
Heavenly flavor! For an elevated take on chicken noodle soup, try this!
Cold Weather Winner! This is a recipe you'll especially love when the temperature starts to drop.
It's comfort food! Sometimes you just need something rich and flavorful that reminds you of home.
🥘 Ingredients
These are all pretty common ingredients, but you might need to make a stop in the produce aisle. There are lots of fresh vegetables and herbs in this recipe.
Chicken Soup Base
1 tablespoon Olive Oil - Extra virgin olive oil is perfect for helping release the flavor of garlic when heated up.
3 Chicken Breasts - You'll need boneless, skinless breasts cut into chunks.
1 Russet Potato - Peel and slice it up. Use 1 large or 2 medium potatoes.
3 Carrots - Carrots are a sweet vegetable that enhances the flavors around it.
4 Celery Ribs - Sliced celery adds a subtle flavor to any soup it's added to and tastes completely different than when it's raw.
½ Yellow Onion - Yellow onions are strong but become sweet as they're cooked. Mince or finely chop these for this recipe.
2 cloves Garlic - This is about equal to 2 teaspoons if you're using the kind that comes in a jar.
1 15.25-ounce can Sweet Whole Kernel Corn - In a pinch, frozen corn will also do well to add sweetness to the soup.
2 cups Chicken Broth- Reduced sodium broth can also be used.
1 cup Heavy Cream - This makes the already-flavorful soup rich, creamy, and filling.
2 tablespoons Chives - Chives aren't just for baked potatoes!
1 teaspoon each or Rosemary & Thyme - Rosemary is one of my favorite herbs, and combined with the earthy taste of thyme, they make this soup amazing.
Salt & Pepper - Salt and pepper can be added to your taste!
Dumpling Dough
2 cups Biscuit Baking Mix (Bisquick) - Bisquick makes perfect dumplings in half the time!
⅔ cup Milk -

Whole milk will make your dumplings richer, but any kind can be used.
*Be sure to see the recipe card below for ingredients, amounts & instructions!*
🔪 Step-By-Step Instructions
This recipe only takes 40 minutes from start to finish, but dinner guests will think you cooked all day! All you'll need is a large cooking pot, a metal whisk or fork, a small mixing bowl, and a scoop to measure the dumplings.
Cook the vegetables. First, put a large stock pot over medium-high heat. When it's hot, add 1 tablespoon of olive oil, ½ minced or chopped yellow onion, 1 sliced russet potato, 3 sliced carrots, and 4 sliced celery ribs. Stir frequently until the vegetables begin to soften, approximately 5 minutes. Add 2 cloves minced garlic about a minute before the vegetables are fully cooked.
Add the seasoning and chicken. Next, add 2 tablespoons chives, 1 teaspoon rosemary, and 1 teaspoon thyme to the pot. Use salt and pepper to your own taste. Stir to combine. Then, pour in 2 cups chicken broth, 1 cup heavy cream, 1-15.25 ounce can of sweet whole kernel corn, and 3 chicken breasts cut into chunks. Mix well and bring to a boil. Turn the heat down to low and simmer for 10 minutes. Prepare the dumplings while you wait.
Make the dumplings. Then, combine 2 cups biscuit baking mix (Bisquick) and ⅔ cup milk in a small mixing bowl, using a metal whisk or fork. Mix until a dough forms.
Cook the dumplings. Using a spoon, portion out tablespoon-sized pieces of dough, and carefully drop them in the soup. Make sure to leave a bit of room for them to expand. Simmer them over low heat, uncovered, for 10 minutes before putting the lid on and simmering for another 10 minutes. Check the dumplings towards the end of the time. Everyone's stoves are a bit different, and everyone has different preferences for dumpling texture.
Remove from heat and serve. Let everything cool off for a few minutes before serving. Enjoy! You've earned it.
Chicken and dumplings is a crowd-pleaser by itself but is also great served with cornbread or a side of garlic butter mushrooms. Garnish with fresh herbs for a bit of added color, if desired.
💭 Angela's Tips & Recipe Notes
Use a large cookie scoop for dividing up the dumplings. It's an unexpected kitchen tool that works wonderfully when portioning out the dumpling dough for cooking.
Cut a dumpling in half to tell if it's cooked. Remove a dumpling from the soup and inspect the middle. If it's doughy on the inside, keep them cooking for another few minutes. You also have to be careful about not overcooking them. When left on the heat for too long, dumplings will start to disintegrate.
Don't over-mix the dough. Stir the milk and Bisquick until the ingredients are just combined and there are no dry spots. This will keep the finished product light, fluffy, and delicious.
🥡 Storing & Reheating
If you know you're going to have too much food, lean on the side of caution. Store the uncooked dumplings separately from the soup and cook them when reheating.
To store chicken and dumplings that have already been combined and cooked, put them in an airtight container and eat them within 3 to 4 days.
To freeze leftovers, put them in airtight containers or large freezer bags, leaving a bit of space to allow for expansion. They will be good for up to 4 months.
Reheating Chicken And Dumplings
Thaw overnight before reheating. In a pinch, submerge freezer bags in cool water for 15 minutes or until the soup can be removed from the bag. Remove from the fridge and put in a pot over low heat until the desired temperature.
🍲 More Easy Soup Recipes!
---
❓ FAQ
Why are my dumplings tough?
Sometimes, when the dough is overworked, it can lead to tough dumplings. It's less likely when using this recipe, but to be safe, don't stir the dough more than needed. Stop when the ingredients are just combined.
How can I thicken my soup?
Cornstarch is perfect for this, but you'll want to add it before you drop in the dumplings. This thickener can't be added directly to the pot. Instead, take about ⅓ cup of the liquid from the soup and put it in a bowl. Mix in 2 teaspoons of cornstarch. When it's smooth, pour the mix back into the soup pot and continue on with the recipe.
📋 Recipe
Print Recipe
Leave A Comment
Love This Recipe?
Click On A Star To Rate It!
Bisquick™ Chicken and Dumplings Recipe
My practically effortless Bisquick chicken and dumplings are perfect for when you need good old-fashioned comfort food in a flash! Tender, juicy chicken in a deliciously warm and hearty broth with fluffy biscuit dumplings- what's not to love!
Pin Recipe
Share on Facebook
Ingredients
Chicken Soup Base
1

tablespoon

olive oil

extra virgin

1

lb

chicken breasts

(boneless, skinless, cubed into chunks)

1

large

russet potato

(sliced, use 2 if medium sized)

3

medium

carrots

(sliced)

4

ribs

celery

(sliced)

½

cup

yellow onion

(minced or finely chopped)

1

teaspoon

garlic

(minced or finely chopped)

15.25

oz

sweet whole kernel corn

(15.25-ounce can, drained)

2

cups

chicken broth

1

cup

heavy cream

(or heavy whipping cream, or use half & half)

2

tablespoon

chives

(freeze dried or use 1 tablespoon fresh)

1

teaspoon

each, rosemary & thyme

½

teaspoon

salt & pepper

(to taste)
Dumpling Batter
2

cups

Bisquick

(or ready-made biscuit baking mix)

⅔

cup

milk
Instructions
Heat a large stock pot on the stove over medium-high heat. Add in the olive oil, onion, potato, carrots, and celery. Cook until the vegetables are softened (about 5 minutes), stirring frequently. Add the garlic 1 minute before vegetables are fully softened.

1 tablespoon olive oil,

1 large russet potato,

3 medium carrots,

4 ribs celery,

½ cup yellow onion,

1 teaspoon garlic

Next, add in the seasonings (chives, rosemary, thyme, salt & pepper to taste), chicken broth, heavy cream, sweet corn, and chunks of chicken. Stir to combine. Bring the mixture to a full boil, then reduce to low heat and allow it to simmer for 10 minutes while preparing your biscuits.

15.25 oz sweet whole kernel corn,

2 cups chicken broth,

1 cup heavy cream,

2 tablespoon chives,

1 teaspoon each, rosemary & thyme,

½ teaspoon salt & pepper,

1 lb chicken breasts

In a small mixing bowl, combine milk and Bisquick. Use a metal whisk or fork to mix until dough forms.

2 cups Bisquick,

⅔ cup milk

Drop heaping tablespoon-sized portions of the dough into the simmering liquid, leaving space for the dumplings to expand. Allow it to simmer on low temp uncovered for 10 minutes, then cover with a tight-fitting lid and allow it to simmer for 10 additional minutes. Remove from heat and serve.
Notes
A large cookie scoop works well for portioning the dough before dropping it in the soup.
The easiest way to tell if the dumplings are done cooking is to take a dumpling from the soup and cut it in half.
Be careful not to over-mix the dough or it will become dense. Mix the Bisquick and milk just until it is well integrated and there are no dry spots.
Nutrition
Calories:
422
kcal
(21%)
|
Carbohydrates:
43
g
(14%)
|
Protein:
19
g
(38%)
|
Fat:
20
g
(31%)
|
Saturated Fat:
9
g
(56%)
|
Polyunsaturated Fat:
2
g
|
Monounsaturated Fat:
8
g
|
Trans Fat:
1
g
|
Cholesterol:
80
mg
(27%)
|
Sodium:
819
mg
(36%)
|
Potassium:
763
mg
(22%)
|
Fiber:
3
g
(13%)
|
Sugar:
8
g
(9%)
|
Vitamin A:
4459
IU
(89%)
|
Vitamin C:
12
mg
(15%)
|
Calcium:
129
mg
(13%)
|
Iron:
2
mg
(11%)
chicken and dumplings, chicken soups and stews, Dinner, easy dinners, Soups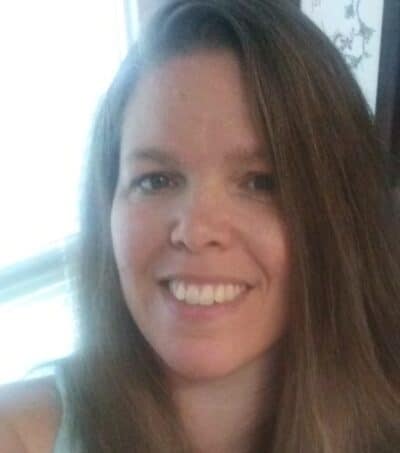 Angela is an at home chef that developed a passion for all things cooking and baking at a young age in her Grandma's kitchen. After many years in the food service industry, she now enjoys sharing all of her family favorite recipes and creating tasty dinner and amazing dessert recipes here at Bake It With Love!