If you don't know what to serve with duck, I've comprised a list of tasty appetizers and satisfying sides that can complete your meal! Whether cooking for company or making weekday dinner, there are sides to choose from for any occasion!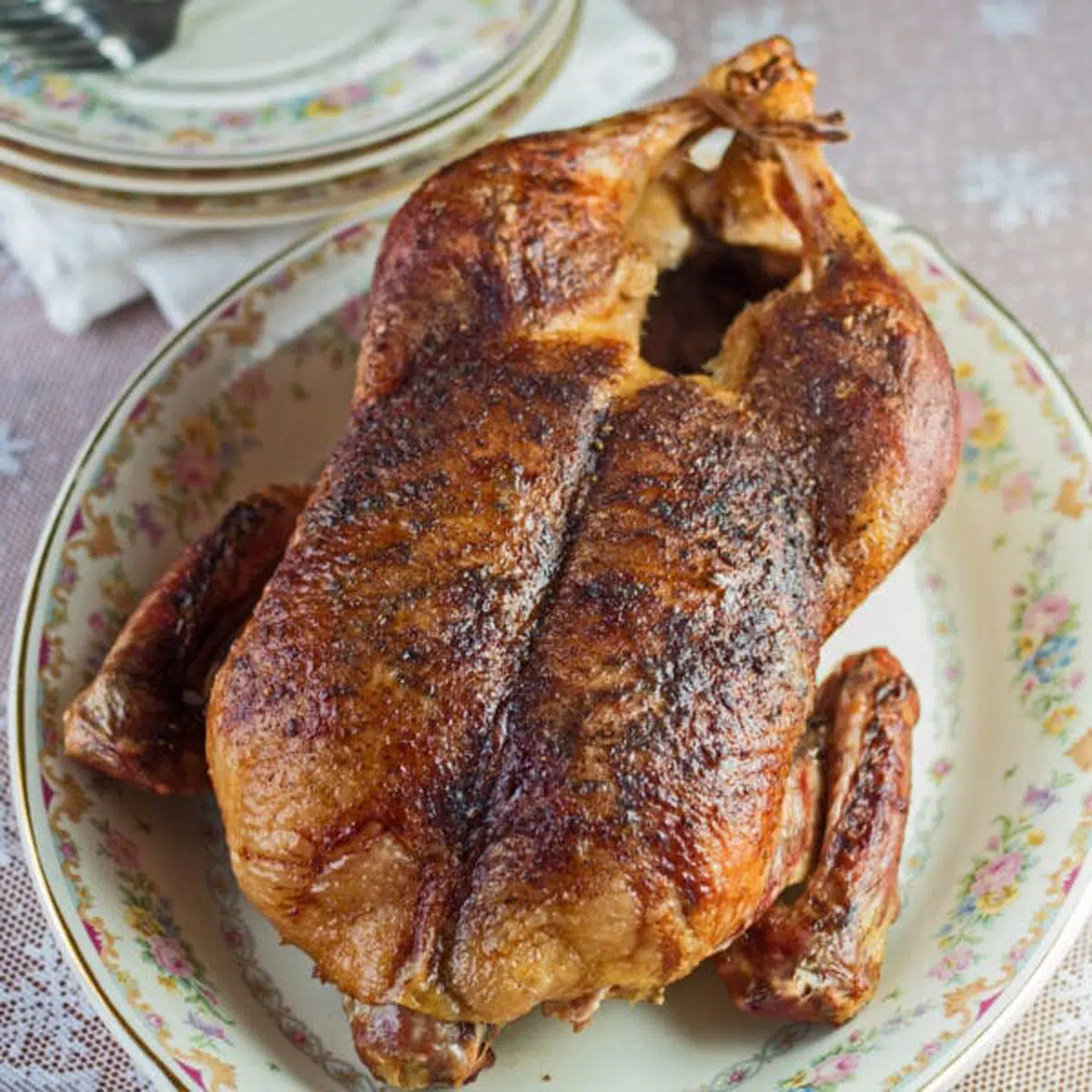 From casual to gourmet, I've gathered a list of great sides and appetizers to serve with your duck dinner!

No matter how it's served, duck always ends up being the unforgettable star of the show at any meal. Duck is rich, tender, and juicy. Whether you pan-sear duck breast or serve a whole roasted duck, the side dishes to go with it are endless.
Duck is a meaty main dish, and as such, it goes with many different sides. The succulent, rich flavor of duck pairs well with everything from citrus to savory and anything in between.
Jump to:
Another reason duck goes with a variety of sides is its versatility. A nice duck dinner can be a treat on the holidays, a family dinner, a popular dish at gourmet restaurants, or simply a spontaneous meal because the duck was on sale at the market.
To make your life easier, we have rounded up 15 side dishes and appetizers that will complement the duck you serve in any form.
1. Garlic Mashed Potatoes
What is better than the classic buttery mashed potatoes? Buttery mashed potatoes with garlic! These silky mashed potatoes have the right amount of garlicky flavor.
Along with their creaminess, they are the perfect complement to any meat but especially duck.
2. Noodles
For those who aren't big fans of potatoes, these buttered noodles are also a great option to serve with some juicy duck meat. These buttery eggs noodles are rich and flavorful.
When mixed with the juices from the duck, they become a tasty staple on the dinner table. Kids and adults love them equally, and for us, these buttered noodles are a family favorite.
3. Vermicelli Rice
Get your forks ready because this vermicelli rice is going to have you reaching for seconds and thirds. Toasted vermicelli cooked together with fluffy basmati rice is a wonderful, hearty combination.
The addition of toasted pine nuts enhances the dish and ties in well with your juicy, flavorful duck. It is easy to make and even easier to eat!
4. Sauteed Mushrooms And Onions
These sautéed mushrooms and onions are semi-sweet, salty, tangy, and earthy. They are simple to prepare and add a premium touch to a duck roast. This side dish is one of our go-to dishes to prepare with duck.
5. Asparagus And Cherry Tomatoes
If you are a fan of green vegetables, this sautéed asparagus and cherry tomatoes are for you. Just imagine biting into a combination of sautéed asparagus and juicy, tangy cherry tomato.
The combination of these fresh flavors is a fine pairing to duck, cooked in any form!
6. Garlic Butter Mushrooms
If you are in need of an appetizer, these garlic butter mushrooms are perfect. Light, buttery, and garlicky mushrooms are a great precursor to the main dish. They are just what you need to make your taste buds anticipate the rich, juicy flavors or the duck that is yet to be served.
7. Roasted Carrots
Whether you are serving your duck for a casual weeknight dinner or a Sunday lunch, these honey-glazed oven-roasted carrots will be a great addition to the meal. They are light, tender, sweet, and fragrant.
The rosemary and thyme they are tossed in will go well with duck meat and elevate your lunch or dinner to a restaurant-quality meal.
8. Green Beans
Green beans have always been a great complement to hearty meat like a duck. These garlic green beans are no exception. Sautéed in butter and garlic and tossed in with bits of bacon, this dish combines well with duck to add an element of freshness.
Nobody at our table has ever turned down these classic green beans!
9. Deviled Eggs
As long as we are talking about classics, we cannot go without mentioning these deviled eggs. If you are serving duck on a special occasion, both the presentation and tastiness of these eggs will amp up your meal.
Their tangy flavor that is a result of mayo, mustard, and vinegar makes these eggs irresistible. At our events, they are a cult favorite and serve as a great appetizer.
10. Zucchini Rounds
If you are looking for an easy vegetable dish to go with your duck, then look no further because these baked Parmesan zucchini rounds are just what you need! Sprinkled with garlic and generously topped with Parmesan cheese, these zucchini rounds are a great light option.
If you have any duck juices on your plate, they will mesh well with the cheesy, garlic flavors.
11. Broccolini
Fresh and with a touch of Parmesan, this sautéed broccolini will be the perfect pairing to go with your duck. It has a wonderful zesty flavor and is just what you need to lighten your dinner.
Not to mention how beautiful and inviting the bright green vegetable will look in contrast to the golden-brown duck.
12. Baked Parmesan Yellow Squash
These oven-roasted golden rounds are tender and subtly sweet. When generously topped with Parmesan cheese, they become irresistible to anyone at the table.
They are a perfect way to start your meal or to even compliment the duck as a side dish.
13. Brussel Sprouts
If you are serving duck for a weeknight dinner and are in need of a quick side dish, we recommend these air fryer brussel sprouts. They are very simple to prepare - toss with olive oil and some garlic seasonings and throw into the air fryer for 10 minutes.
They are the perfectly seasoned and perfectly crunchy vegetable to enhance duck meat. Don't have an air fryer? We got you covered with this recipe for oven roasted brussel sprouts. They are just as delicious and easy to whip up.
14. Roasted Vegetable Medley
If you are a fan of roasted vegetables, this roasted vegetable medley is for you. Tender and caramelized carrots, beets, and brussel sprouts roasted in fragrant herbs bring a sweet, healthy variety to the table.
They are just what you need to mix in with all those duck juices!
15. Lemon Orzo Asparagus
This dish combines simple ingredients like lemon, orzo, and asparagus to provide a light and fresh accompaniment to your duck dinner. The orzo and asparagus themselves are a light duo.
The zesty flavors paired with garlic and Parmesan come together to make this simple dish a premium addition to your meal.
We hope with our help you were able to find the most suitable sides for your delicious duck dinner! Drop us a comment below telling us your favorite sides to serve with duck, and come back later to let us know if you gave any of these a try!
📋 Recipe