This delightfully rich and tasty creamy Roasted Tomato Basil Soup is the best ever way to enjoy your homemade tomato soup! The flavor combination is absolutely divine and it's an incredibly easy soup to make as a hearty lunch or part of a weeknight family dinner!
Creamy Roasted Tomato Basil Soup
I grew up in the Northwest eating tomato soup from a can at least once a week, and I thought I liked it. That is until I first tasted a creamy, homemade tomato bisque in my 20's.
It was a serious "where have you been all my life?" moment! The combination of fresh herbs, cream, and smoky roasted tomatoes was heavenly and rich – Obviously, I never went back to the can!
Super Tasty Roasted Tomato Soup
Jump to:
Here is my simple, creamy roasted tomato basil soup recipe that my family adores in every season! The best part? You can enjoy this amazing tomato soup in no time at all!
🥘 Ingredients
The freshest ingredients make an amazing difference in this creamy soup!
Roma Tomatoes - These tomatoes have fewer seeds than other varieties, and also have a low moisture content, which makes them perfect for sauce or soup. If they aren't in season, you can substitute with a can of fire-roasted tomatoes – you'll barely be able to tell the difference!
Heavy Cream - There is no real substitute for heavy cream in a bisque. It gives the soup a velvety smooth texture. Half & half or milk can be used instead, but you will be giving up some of the creaminess.
Chicken Broth - Broth is like the secret ingredient of this tomato soup. It really adds depth to the flavor and makes the soup taste hearty, even though it's a fairly light dish. Vegetarians can use vegetable broth instead, but it's not quite as tasty.
Carrot - Be sure to use a large carrot, not baby carrots in a bag. Those tiny carrots are convenient, but they really lack the combo of sweet and slightly bitter, found in big carrots that haven't been processed. Even better, is a large carrot pulled from your own garden or a farmers market stand!
Basil - You can use fresh or dried basil, but as always, FRESH IS BEST! I love having basil in my garden – my daughter and I love to pick it fresh for several recipes a week during the summer.
Shallot - An onion will work in a pinch, but shallots have a milder and sweeter flavor which is perfect for creamy tomato soup. Dice the shallot into small pieces.
Garlic - Use fresh and mince it up or use a garlic press to really pulverize for maximum flavor! The jarred minced garlic works equally well, although it imparts slightly less flavor.
Olive Oil - Extra virgin olive oil is best for sauteing shallots and garlic. The taste is light and mild and really lets your ingredient flavors shine.
Salt & Pepper - Always amazing flavor enhancers!
Extra tomatoes? Try my nachos or one of my favorite side dish macaroni & tomatoes.
*Be sure to see the recipe card below for ingredients, amounts & instructions!*
🔪 Step-By-Step Instructions
Begin with slicing each Roma tomato in half and arranging the tomatoes on a baking sheet. Place them under the broiler for 15 - 20 minutes, turning the tomatoes periodically with tongs to make sure all sides are roasted.
Put the olive oil in a stockpot or large saucepan and turn the heat to medium-high. When the oil begins to smoke slightly, throw in the diced shallot and garlic. Sauté until shallots are translucent and fragrant and garlic is a golden color. Garlic burns easily, so stir continuously and keep an eye on it.
Transfer the roasted tomatoes into the pan with garlic and shallots and mix well while still on the burner. Be sure to break up the tomatoes with a spatula. *Or use canned fire-roasted tomatoes.
Grate half of a large carrot and add it to the pan, sautéing until the grated carrot softens which is typically about 2 - 3 minutes.
Next, add the fresh basil and chicken broth and stir with all of the vegetables to combine. You'll want to bring it to a boil and then simmer on low for 10 - 15 minutes.
It's time to blend! An immersion blender works wonderfully for soup puree, but you can also use a blender (just be extra careful when dealing with hot liquid!!). Blend until the tomato soup is a consistency that you like. If you want your soup to be super smooth and silky, take an extra step and strain it through a fine-mesh sieve or cheesecloth.
Season to taste with salt and pepper and add the heavy cream. Stir very well, then cover the pan and simmer for just 2 - 3 minutes. You want the cream to warm up and combine with the vegetables, but don't overheat or boil.
Serve straight from the pot with a garnish of cheese (Parmesan, Asiago, or Romano) and fresh basil or parsley!
This creamy roasted tomato basil soup can be served as an appetizer, but is also great as the main dish! Serve with a nice, big leafy green salad or some crusty French bread, rustic bread, or oat rolls to make a meal!
Another option is to pair your soup with a gooey grilled cheese sandwich - a nostalgic and classic combo straight from childhood but kicked up a notch. YES PLEASE!
🥡 Storing & Reheating
Tomato basil soup, even with the cream, will store for up to 3 - 4 days in the refrigerator. Make sure to transfer your soup to a plastic or glass airtight storage container and allow it to cool completely before refrigerating.
This is an easy soup to freeze, as any tomato soup freezes very well. However, it is best to hold off on adding your cream until your frozen roasted tomato basil soup is thawed and reheated.
Freeze your tomato soup portion of this tasty tomato bisque for up to 3 months. To thaw, place your frozen soup in the refrigerator overnight or use the defrost setting on your microwave.
Reheating Roasted Tomato Basil Soup
For best reheating, place your portion into a small saucepan and heat at medium until warmed to your desired level. You can, of course, microwave your tomato soup too.
Cover your microwave-safe bowl with a paper towel to prevent splatter. Heat for 1 minute on high, stir, then continue heating in 30-second increments until fully heated and ready to serve.
📋 Recipe
Print Recipe
Leave A Comment
Love This Recipe?
Click On A Star To Rate It!
Creamy Roasted Tomato Basil Soup
This delightfully rich and tasty Creamy Roasted Tomato Basil Soup is the best ever way to enjoy your homemade tomato soup! The flavor combination is absolutely divine and it's an incredibly easy soup to make as a hearty lunch or part of a weeknight family dinner!
Roasting Tomatoes
15
minutes
Pin Recipe
Share on Facebook
Ingredients
1

tablespoon

olive oil

(extra virgin)

1

large

shallot

(diced)

½

tablespoon

garlic

(minced)

10

Roma tomatoes

(halved and roasted, or use 2 cans of fire-roasted tomatoes)

½

large

carrot

(grated)

1

tablespoon

basil

(or use 1 ½ tablespoons of dried basil)

2 ½

cups

chicken broth

½

cup

heavy cream

each, salt & pepper

(to taste)
Instructions
Place your sliced Roma tomatoes onto a baking sheet and use a broiler to blacken the tomatoes. Turn to get all sides nicely browned, about 15-20 minutes.

Heat a large saucepan or stockpot to medium-high heat with the olive oil. Once the oil is shimmering or slightly smoking, add the diced shallot and minced garlic. Saute until the shallot becomes translucent and it is beginning the get tender and fragrant.

Transfer the roasted tomatoes into the saucepan with the shallots and garlic. Stir to combine and break apart the pieces with a spoon or spatula while cooking. *You can also use the canned fire-roasted tomatoes with excellent results.

Add the grated carrot and saute until the carrots soften or about 2-3 minutes.

Add the broth and fresh basil, then stir to mix with the sauteed vegetables and tomatoes. Bring the soup to a boil, then reduce heat to low and simmer for 10-15 minutes.

Use an immersion blender to puree the soup until you reach your desired consistency. For a super smooth soup, strain the blended tomato soup through a fine-mesh sieve or cheesecloth.

Taste and season with salt and pepper, then add the heavy cream. Stir until well combined, then cover and simmer for 2-3 minutes to fully heat cream and combine flavors.

Serve immediately with freshly grated Parmesan, Romano, or Asiago cheese. Fresh basil or parsley, croutons, and cubed grilled cheese or crusty French bread are also great with this tasty soup!
Video
Nutrition
Calories:
179
kcal
(9%)
|
Carbohydrates:
10
g
(3%)
|
Protein:
3
g
(6%)
|
Fat:
15
g
(23%)
|
Saturated Fat:
7
g
(44%)
|
Cholesterol:
41
mg
(14%)
|
Sodium:
564
mg
(25%)
|
Potassium:
562
mg
(16%)
|
Fiber:
2
g
(8%)
|
Sugar:
5
g
(6%)
|
Vitamin A:
3262
IU
(65%)
|
Vitamin C:
33
mg
(40%)
|
Calcium:
52
mg
(5%)
|
Iron:
1
mg
(6%)
Creamy Roasted Tomato Basil Soup, hearty soups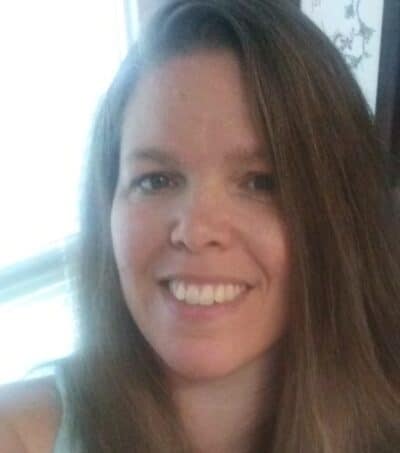 Angela is an at home chef that developed a passion for all things cooking and baking at a young age in her Grandma's kitchen. After many years in the food service industry, she now enjoys sharing all of her family favorite recipes and creating tasty dinner and amazing dessert recipes here at Bake It With Love!