Quick chicken recipes are an easy family dinner for busy weeknights so you can focus on spending time together instead of in the kitchen! Each of these family favorite chicken recipes calls for simple ingredients and they are all kid-approved!
Quick & Easy Chicken Recipes
While chicken has endless possibilities when it comes to making culinary magic, the fact is we don't have all day to cook in the kitchen or think up new recipes. So, we've rounded up our favorite quick-and-easy chicken recipes.
There is something for everyone here from tacos, to casseroles, to your favorite restaurant meals, and everything between. These recipes will have you screaming, winner, chicken dinner all in under 40 minutes!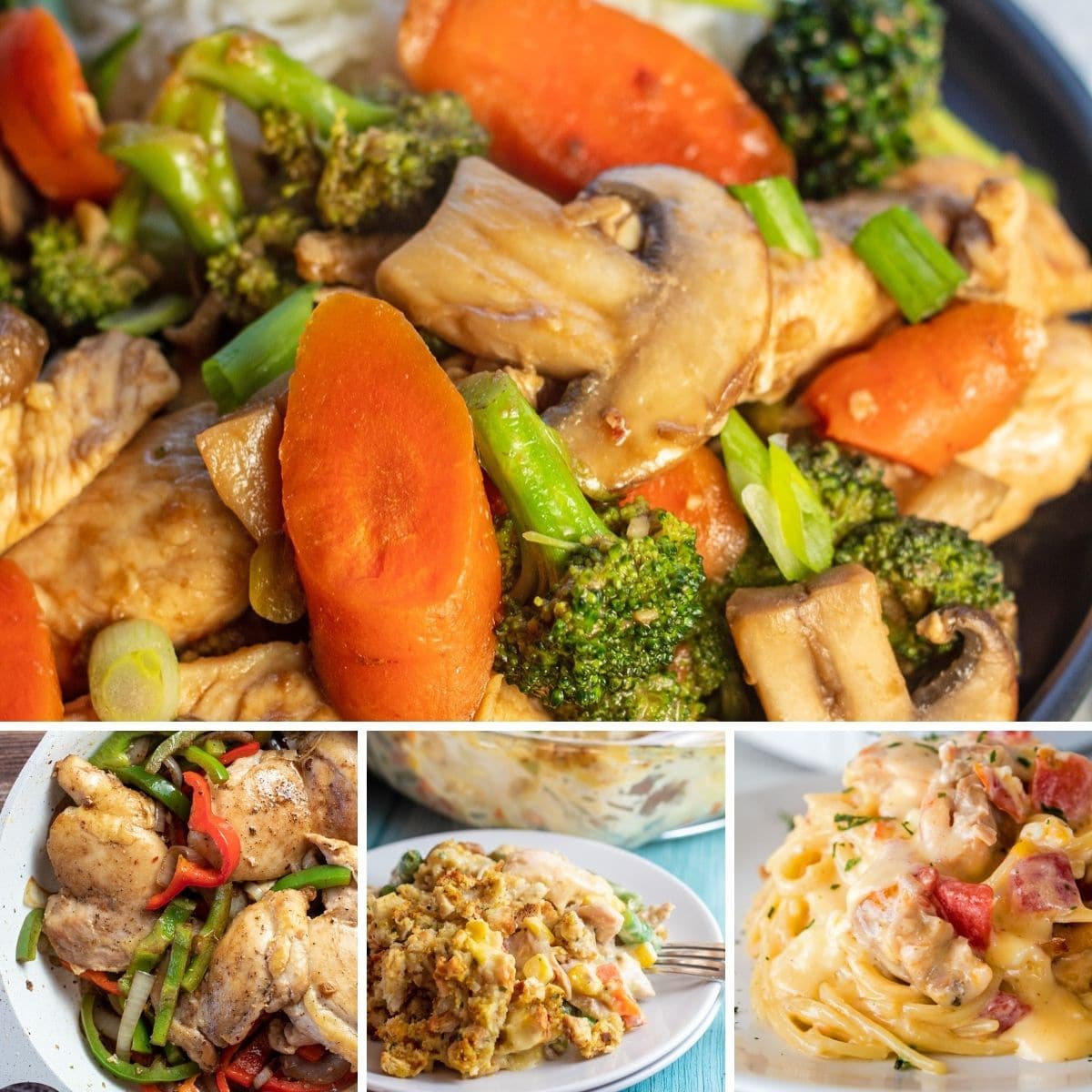 Some of our favorite family dinners center around this versatile protein!
Jump to:
1. Million Dollar Baked Chicken Breasts
You've hit the jackpot with this million-dollar recipe. Bacon and cheese (which make everything better) elevate these tender, juicy chicken breasts.
The creamy, cheesy topping with crunchy bacon adds mountains of flavor to a perfectly juicy chicken breast. You'll be feeling like a million bucks serving this recipe up to your friends and family
2. Shredded Chicken Tacos
Tacos are a quintessential fun and beloved dinner for everyone. This recipe is easy-peasy and oh-so-flavorful!
Tender chicken is shredded and combined with taco seasonings, salsa, and onion to make a delicious Pollo Asada filling for your tacos. Add your favorite toppings and enjoy!
3. Baked Chicken Thighs
With only 3-ingredients you've got juicy, tender chicken in a flash. This recipe is so easy and pairs with almost any side dish.
The skin is seasoned to perfection and has a nice crisp to it. Ready in just 40 minutes, it's a meal ready in a flash!
4. Chicken & Peppers
One of my family's favorite quick chicken recipes, chicken and peppers are versatile, healthy, and can be seasoned to your liking.
The balsamic vinegar is the star of the show adding depth of tangy flavor to the peppers as they cook, while all the right seasonings bring about a dish that is restaurant-quality. Simple and quick to make, it's a great dish to keep in your weeknight culinary rotation.
5. Air Fryer BBQ Bacon Wrapped Drumsticks
These easy air fryer drumsticks are lip-smacking, finger-licking good! Wrapped in delicious crispy bacon and then slathered in your favorite BBQ sauce, these chicken legs are almost too good to be true.
The air fryer does all the heavy lifting so this recipe is practically hands-off and can have dinner on the table in under 30 minutes! Plus, you don't have to worry about what to serve with BBQ chicken because there are so many options!
6. Baked Avocado Chicken
What's better than bacon, cheese, and chicken? Adding avocado into the mix! The avocado and cheese add a creamy texture while the smokey bacon adds a nice little crunch.
The chicken is perfectly cooked and juicy. Seriously, you'll love this recipe. It's so delicious and is a great meal to add to your weeknight rotation!
7. Rotisserie Chicken Salad
Rotisserie chickens are a convenient way to get juicy, flavorful chicken with a perfectly seasoned skin on the go. This chicken salad is a great way to utilize rotisserie chicken if you have leftovers, or you're looking for something light and cool on a hot day.
It has an irresistible creamy dressing, crunchy veggies, and it is equally delicious on its own as it is in a sandwich! Rotisserie chicken salad is great for an on-the-go lunch! As far as quick chicken recipes go, this one is a keeper!
8. Instant Pot Shredded Chicken
It doesn't get any easier than this, folks. The instant pot does all of the work for you (yay!). This recipe is so simple and fast.
It only takes four ingredients and 20 minutes until you have perfectly cooked succulent chicken. This is great for meal prep or to get dinner on the table in a flash!
9. Baked Huli Huli Chicken
Huli Huli chicken is a Hawaiian BBQ dish that will have you doing the luau dance for dinner. After marinating in the sauce, the chicken is baked until perfectly tender.
It's a tasty, delightful recipe that will have everyone asking for seconds!
10. Doritos Chicken Casserole
This dreamy, creamy casserole is one that will make Dorito lovers will jump for joy. Nacho cheese Doritos top this deliciously easy casserole and add the perfect crunch.
Full of delicious ingredients, you'll want to indulge in this family favorite caserole at least once a week.
11. Air Fryer Chicken Thighs
With two ingredients and an air fryer, you may be shocked to learn you can make the most incredible chicken thighs. The air fryer gets the skin nice and crispy without drying it out.
When you require a fast and simple dish, this one saves the day.
12. Chicken a la King
This recipe is a real treat and a family favorite. It's rich and creamy without taking too long to cook.
It's full of veggies and protein with the sauce being the star of the show. The indulgent cream sauce and chunks of tender chicken are delicious on potatoes, pasta, rice, you name it!
Check out my page on what to serve with chicken a la king for more inspiration!
13. Cream Cheese Chicken
Cream cheese chicken is an irresistible pleasure. The creamy cheese sauce is so velvety smooth and full of rich flavors.
With a slight tang, this recipe delivers the taste. The best part is, it's ready in 35 minutes and rivals any restaurant meal.
14. Teriyaki Chicken Stir Fry
Don't be shy and make this stir-fry tonight! Seriously, it's a quick and easy dinner that comes together in under 30 minutes. It's healthy, full of veggies, and packed with flavor.
The secret is the homemade teriyaki sauce that makes this dish better than any takeout!
15. Instant Pot Crack Chicken
There's a reason this is named crack chicken. It's oh-so-good and addicting!
Ranch, bacon, and cheese all meld together with shredded chicken creating an explosion of flavor. The wonderful thing about it is you can eat it on a sandwich, use it as a dip, or just enjoy it on its own in all its mouthwatering glory.
16. Chicken Stuffing Casserole
This chicken stuffing casserole is a wonderful one-pot dishes perfect for pot-lucks, holidays, and easy weeknight meals. It's like a giant dish of comfort food.
Stuffing, chicken, veggies, and seasonings bake together for a delectable casserole the whole family loves. Especially cozy to enjoy during chilly nights, this dish is an enjoyable 30-minute meal.
17. Creamy Parmesan Garlic Mushroom Chicken
You'd never know this elegant meal only takes 25 minutes to cook unless you made it. Wow your family and friends with this elevated one-pot masterpiece.
Creamy parmesan and garlic sauce coat the chicken, mushrooms, and spinach. A rich, earthy, nutty, and garlic flavor all blend together creating an unforgettable dinner!
18. Bisquick Chicken & Dumplings
Chicken and dumplings is comfort food at its best. This version is quick and easy so you can enjoy it any day of the week!
Perfect for rainy days, you'll want to curl up with a bowl of this tasty goodness. Even better, it's a one-pot meal. It doesn't get any better than this cozy, delicious bowl full of yummy chicken, veggies, and fluffy dumplings.
19. Chicken with Garlic Sauce
This is a fun, quick, and simple weeknight meal that comes together in 20 minutes. It's healthy, full of savory, crunchy veggies and tender wok-fried chicken.
The chicken is combined with an amazing, rich, and tangy garlic sauce. This dish is a wonderfully balanced and flavorful meal the whole family will love.
20. Baked BBQ Chicken Breast
BBQ chicken is a classic summertime favorite. Now you can enjoy that smokey sweet flavor we all know and love any time of the year!
No grill needed, simply season your chicken and bake and you'll be in BBQ heaven.
21. Stuffing Stuffed Chicken Breast
The flavors of the holidays are a favorite in our house, so I created this recipe to enjoy all year round. Full of the delicious flavors we love, chicken is stuffed with stuffing mix, onions, celery, and cranberries, then baked.
It's a sweet, savory, juicy, delectable dish that can be enjoyed any night of the year.
22. Instant Pot Chicken Thighs
This is a simple, no-nonsense recipe. The Instant Pot cooks the seasoned chicken thighs in a flash resulting in perfectly cooked, tender, moist, and flavorful chicken. You can use this recipe to meal prep chicken to use in salads, pasta, or sandwiches.
It's also perfect to impress a date or whip up a healthy protein in a flash for lunch or dinner. However you use it, it's a definite crowd-pleaser.
23. Chicken Parmesan Pizza
Forget cheese or pepperoni pizza, take your at-home pizza-making skills to the next level with this wonderfully flavorful and family favorite pizza. Gourmet pizzas are all the rage and you can make your very own quickly and easily at home with this fun, zesty pizza.
Parmesan-crusted chicken breasts adorn a traditional pizza dough and tangy sauce then topped with mozzarella! A unique, fun pizza the whole family loves.
24. Shake And Bake Chicken
A homemade shake and bake seasoning is made to coat your chicken before you bake it. The breadcrumbs and seasonings create a tantalizing crunch while the chicken maintains its moist, juicy goodness.
A kid-approved chicken everyone can't get enough of. Even better, we have a whole list of what to serve with shake and bake chicken to make dinner even easier!
25. Sweet and Sour Chicken
Skip the takeout and make this delicious meal at home instead. In under 30 minutes, you can have a healthier version of this takeout classic.
Pineapple, bell peppers, and onions are combined with crispy chicken pieces and doused in savory, sweet, and sour sauce. Served over rice, it's so good you won't want takeout again!
26. Grilled Chicken Fettuccine Alfredo
Admittedly, this is one of my all-time favorite meals to make. Rich, creamy, garlicky, it's everything I love about Italian food.
Alfredo sauce is mixed with fettuccine pasta and topped with grilled chicken. This list of quick chicken recipes wouldn't be complete without it.
27. Coconut Chicken
This is a fabulous take on the takeout version of coconut chicken. The battered tempura chicken is fried until golden and has a perfect crunch. Then it's bathed in the creamy coconut sauce that is sweet and tangy.
The chicken is tender and juicy and the wonderful batter soaks up the tasty coconut sauce. Serve over rice and enjoy!
28. Chicken Parmesan
This Italian classic is a beloved dish in our house. Tender chicken breasts are parmesan-crusted and fried until golden brown.
The fried chicken is topped with marinara and melted mozzarella that ties it all together. Traditionally served with pasta, you can easily swap it out and serve it with potatoes or rice.
29. Hibachi Chicken
Hibachi chicken is a Japanese steakhouse classic. No need to go to the restaurant though when you can whip up this appetizing dish in 15 minutes at home.
The chicken is cooked in a heated skillet with mushrooms until tender and juicy, then add butter, lemon, and sesame seeds. Boom, you've got a delicious restaurant-style meal ready to eat.
30. Panda Express Kung Pao Chicken
This is another takeout recipe that you can easily make at home. Even better, it's ready in under 30 minutes!
Tender, juicy chicken is wok-fried with an array of veggies including zucchini, bell peppers, and onions. It all comes together in a savory, tangy, and spicy ginger garlic sauce that is out-of-this-world delicious.
31. Chicken Spaghetti with Rotel
Don't be fooled, this is an indulgent, cheesy, lavishly flavorful dish. It's chicken and spaghetti loaded with cream cheese, Velveeta cheese, and cheddar cheese.
Seasonings and Rotel diced tomatoes with green chilies add to the depth of flavor and balance out all the cheesy goodness. It's sure to be a new family favorite.
These quick chicken recipes are so easy and delicious that you will want to add them to your rotating menu of last-minute dinner ideas! Let us know which of these incredible family favorites were a hit in your house by commenting below!
📋 Recipe