An amazingly rich, creamy Grilled Chicken Fettuccine Alfredo dinner combines fettuccine pasta, ridiculously delicious alfredo sauce, and just-grilled chicken breast! This homemade alfredo sauce takes your dinner to a better-than-restaurant quality meal for all of your pasta lovers in the family!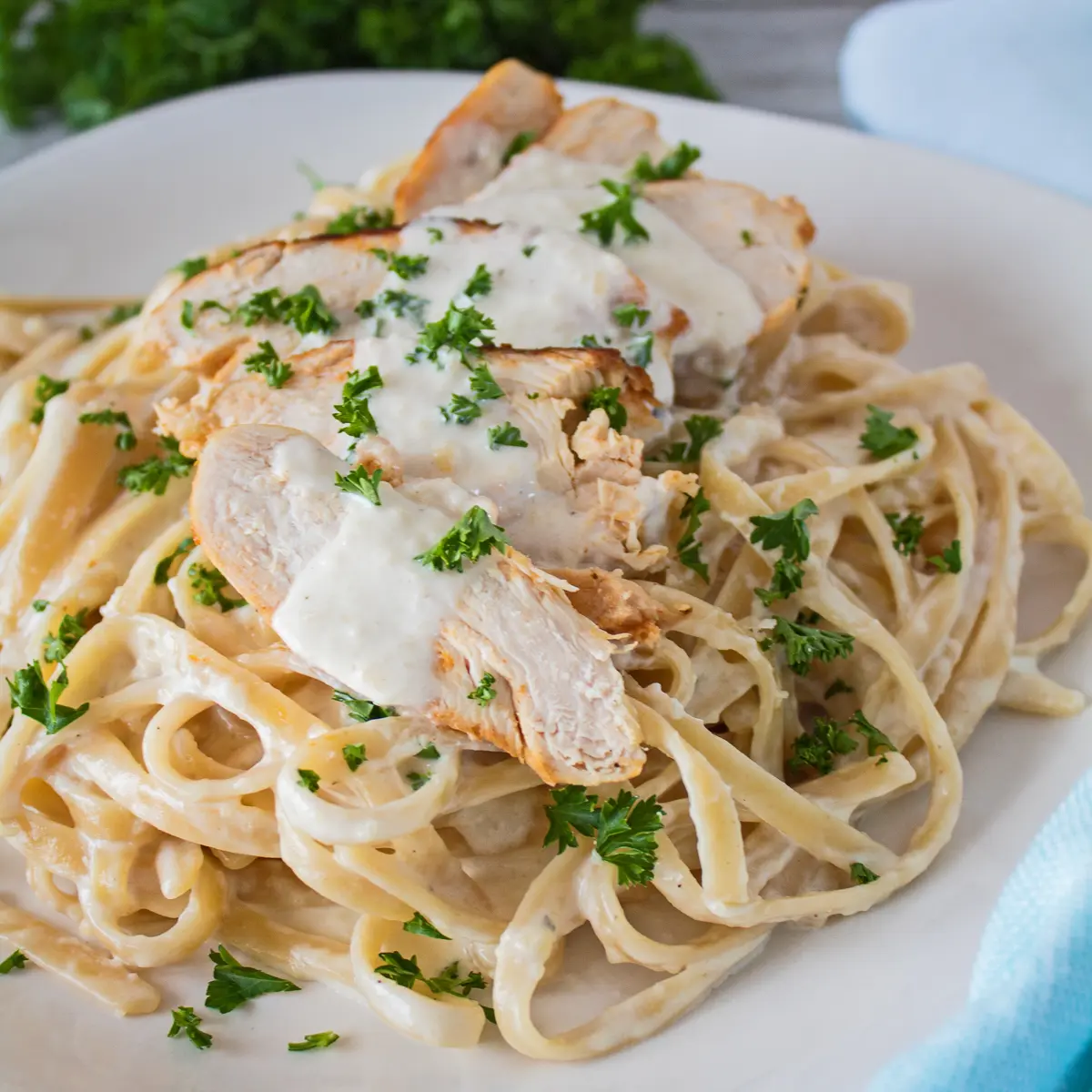 Rich & Creamy Fettuccine Alfredo with Grilled Chicken
I have never met a pasta lover who does not ADORE Fettuccine Alfredo! It really is one of the simplest Italian pasta recipes to create, and quite possibly the richest and most decadent!
You simply won't need to use alfredo from a jar once you've made homemade alfredo sauce! It's quick and easy – and store-bought just can never come close to this homemade version.
Jump to:
The prep work takes only five minutes, but the creamy, luscious end result looks and tastes pretty fancy. The garlic and parmesan flavors are heavenly!
I'm adding some healthy grilled chicken, to offset the indulgent butter, cheese, and cream. Plus, it's better than the Olive Garden chicken alfredo! This is quite possibly where my obsession with this addictive dish came from!!
What You'll Need
You will probably have most of these ingredients on hand in your kitchen – just be sure to choose your favorite fettuccine noodles (or any shape of pasta) and chicken to grill!
Chicken – if you are using thick chicken breasts, cut the width in half lengthwise so that your chicken breast is no more than 1 inch in thickness. Chicken thighs also taste amazing in this pasta dish!
Fettuccine - these are traditional for this recipe, but you can use ANY pasta with this sauce. Other long varieties that work well are linguine, tagliatelle, pappardelle ribbon pasta, angel hair, and spaghetti noodles. However, shorter kinds of pasta like penne or your favorite short pasta can be used too.
Heavy cream – This is super important for the rich alfredo sauce! You can substitute with half & half or milk if necessary, but know that it won't be as thick and creamy.
Butter – salted or unsalted works fine, but DON'T use a butter substitute. Anything that can sit on the counter in humid, 90-degree weather and NOT melt, will not work here 😊
Olive Oil – just for greasing the grill or grill pan before cooking the chicken.
Garlic powder – you can also use minced garlic, but I find that the garlic powder spreads more easily throughout the sauce. Plus, any picky eaters won't notice bits of garlic in this family-favorite meal!
Salt and pepper – to taste, or just some freshly ground coarse black pepper for serving.
Parmesan and Romano cheese – this classic combo of grated hard cheeses is so flavorful and has a delicious, slightly sharp, and nutty flavor. If you only have Parmesan cheese on hand, go with it!
How to Make Your Homemade Chicken Alfredo
Alfredo is a great classic base sauce recipe to master, and it's incredibly easy to make from scratch! Give it a try and see just how much more amazing homemade can be!!
Start with greasing your grill or grill pan and preheat to medium-high temperature. Season the chicken breasts to taste with salt and pepper on the first side. Then grill the seasoned side for 5 - 6 minutes. Season the upward-facing side and flip to grill for another 4 - 5 minutes. If you are an experienced grill master, you will know when the chicken is perfectly cooked, but you can also just make sure the internal temperature reaches 165ºF (74ºC). Set the cooked chicken aside while you prepare the sauce.
Get a big pot of salted water boiling for the pasta and cook it according to the package instructions. Al dente pasta is best with this recipe, so check the noodles about 1 - 2 minutes before the full cooking time (as recommended on the package instructions). They should feel firm, but chewy and not mushy. Drain the pasta and set it aside.
In a large pan or skillet, begin making the sauce by pouring in the cream and warming over medium heat. Once the cream has formed a thin skin on the top, add the butter and let it fully melt into the cream.
Add the blend of grated Parmesan and Romano cheese, stirring continuously until completely melted. Then add the garlic powder, salt, and pepper to taste.
Simmer the sauce for about two minutes, or until it thickens slightly, and remove from the stove.
Now it's time to toss the pasta with the sauce. I like to pour the alfredo right into the pot of noodles and then add the chicken on top after it's plated. It also works fine to put the pasta and chicken on a plate first, then pour the sauce over each plate – just make sure the noodles have enough alfredo sauce to be fully coated.
Some delicious garnishes for your grilled chicken fettuccine alfredo are basil and parsley, and of course, fresh cracked black pepper!
This incredible alfredo sauce is super easy, and did you notice that you don't even need to use flour to thicken? A short simmer and lots of cheese are all you need.
Fettuccine alfredo looks and tastes elegant, but it is also a true comfort food that your family will ask for repeatedly. Serve with a big green salad and breadsticks to mimic your Olive Garden lunches.
I think my sautéed balsamic mushrooms are a perfect appetizer for this meal too! Buon appetito!!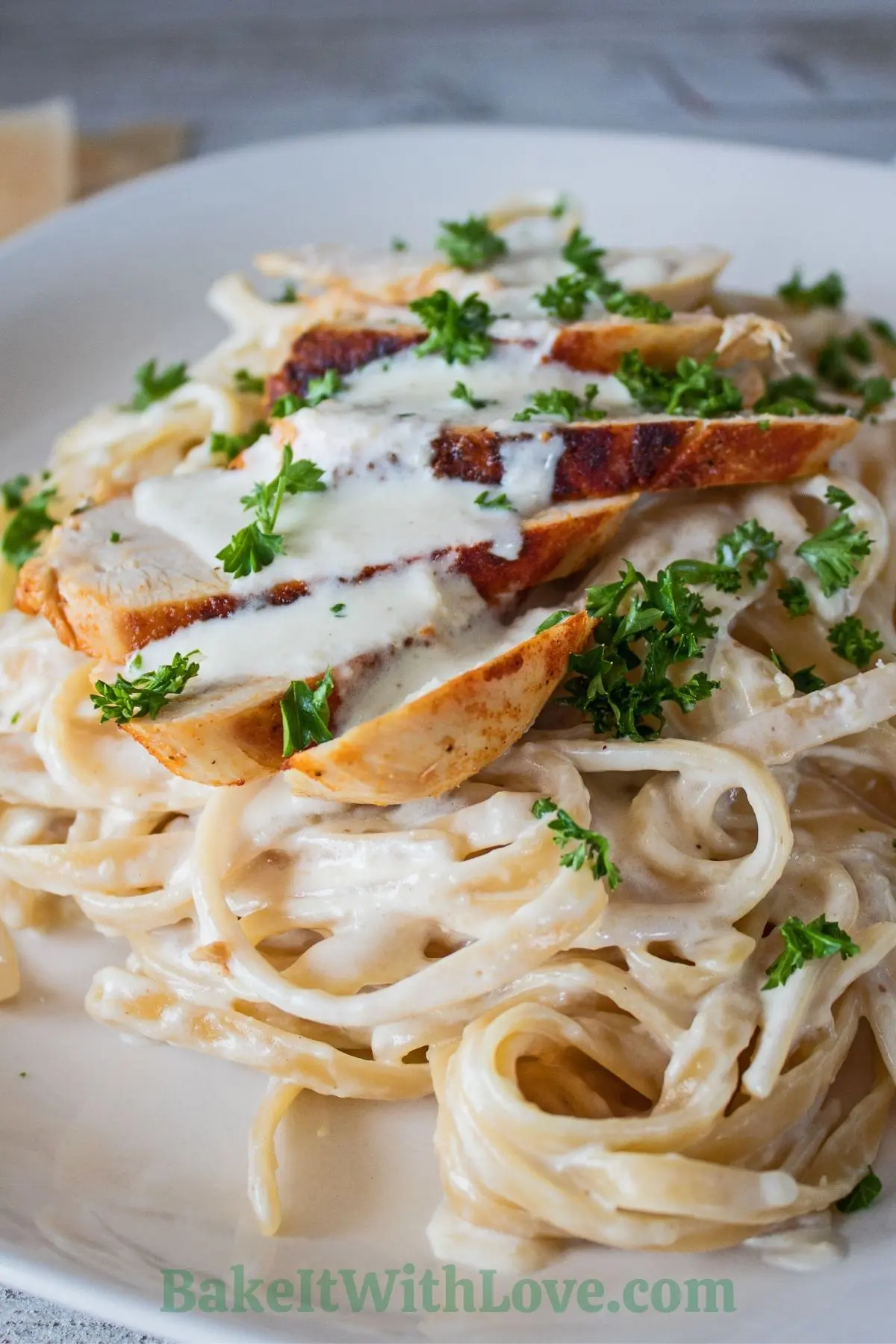 Storing & Reheating Grilled Chicken Alfredo
If you need to feed a crowd or want to have leftovers, this recipe is easy to double or triple. To store the leftovers, it is best to keep the sauce separate from the noodles. Alfredo sauce will keep in a jar for up to six days in the refrigerator, but it is also freezable.
Make sure it is completely cool beforehand. When it is time to serve the leftovers, just make a fresh batch of pasta and heat up the sauce!
If you decide to combine all the sauce and pasta, you should store them in an airtight container in the fridge. The trick is to try and keep the creamy texture of the sauce after reheating. Here is how I do it:
Put the pasta in a glass baking dish and pre-heat the oven to 350ºF (175ºC).
Add a few tablespoons of water, enough to thin it out a bit.
Cover with aluminum foil – this helps create steam, making the pasta juicy if it's a bit dried out or clumpy from the cooled cheese.
Heat the pasta for 10 minutes, stir the entire pan, then heat for 10 more minutes.
Once warmed, you can add a touch more milk or cream if desired for serving.
📋 Recipe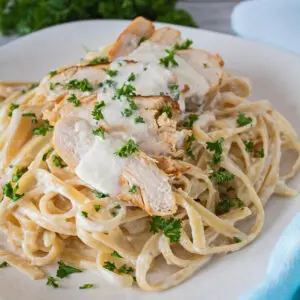 Print Recipe
Leave A Comment
Love This Recipe?
Click On A Star To Rate It!
Grilled Chicken Fettuccine Alfredo
An amazingly rich, creamy Grilled Chicken Fettuccine Alfredo dinner combines fettuccine pasta, ridiculously delicious alfredo sauce, and just-grilled chicken breast! This homemade alfredo sauce takes your dinner to a better-than-restaurant quality meal for all of your pasta lovers in the family!
Pin Recipe
Share on Facebook
Ingredients
1

lb

chicken breast

(cut thick breasts into half lengthwise, butterfly style)

½

teaspoon

each, salt & pepper

½

tablespoon

olive oil

8

oz

fettuccine pasta

2

cups

heavy cream

½

cup

butter

(1 stick butter or 8 tablespoons)

½

teaspoon

garlic powder

1

cup

Parmesan cheese

(grated)

¼

cup

Romano cheese

(grated)
Instructions
Preheat grill or grill pan to medium-high heat and grease with olive oil. Season chicken with salt and pepper, then place seasoned side down onto the grill. Season the upward-facing side of your chicken breasts and grill for 5-6 minutes. Flip and cook the second side for 4-5 minutes or until no longer pink inside and the chicken has an internal temperature of 165 degrees F (74 degrees F). Remove chicken from grill and set aside to rest while cooking the sauce.

Boil the pasta in a large saucepan or pot of salted water according to the package instructions. For perfectly al dente pasta, check the pasta texture 1-2 minutes before the full cooking time (per boxed instructions). Remove from heat when done, drain pasta, and set aside.

In a large frying pan or non-stick skillet, warm the heavy cream over medium heat. Add the butter once the cream is warmed (and has formed a skin over the top) to melt into the cream.

Add the Parmesan and Romano cheese (or just Parmesan, or a Parmesan/Romano blend) stirring until the cheese is melted. Add the garlic powder, taste, and add salt and pepper if desired.

Simmer for 2 minutes, or until the sauce thickens slightly, then remove from heat.

At this point, you can toss the pasta and sauce or plate the pasta with grilled chicken and serve the sauce over both. I prefer to pour the majority of my creamy alfredo sauce into the saucepan with the cooked pasta. Toss the pasta to coat thoroughly.

Plate the pasta portions with the grilled chicken sliced and portioned onto the pasta. Drizzle more sauce if desired. Garnish with fresh chopped basil or parsley and freshly ground coarse black pepper.
Nutrition
Calories:
1093
kcal
(55%)
|
Carbohydrates:
47
g
(16%)
|
Protein:
45
g
(90%)
|
Fat:
81
g
(125%)
|
Saturated Fat:
48
g
(300%)
|
Trans Fat:
1
g
|
Cholesterol:
320
mg
(107%)
|
Sodium:
1149
mg
(50%)
|
Potassium:
675
mg
(19%)
|
Fiber:
2
g
(8%)
|
Sugar:
2
g
(2%)
|
Vitamin A:
2714
IU
(54%)
|
Vitamin C:
2
mg
(2%)
|
Calcium:
465
mg
(47%)
|
Iron:
1
mg
(6%)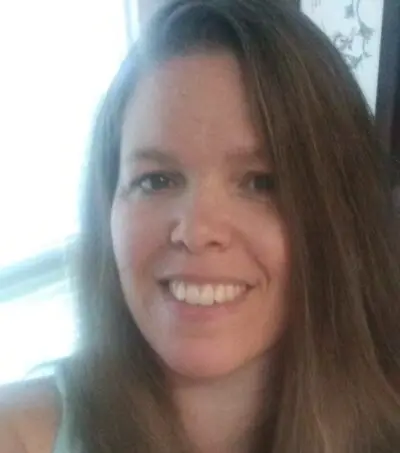 Angela is an at home chef that developed a passion for all things cooking and baking at a young age in her Grandma's kitchen. After many years in the food service industry, she now enjoys sharing all of her family favorite recipes and creating tasty dinner and amazing dessert recipes here at Bake It With Love!