This hearty Bechamel Pasta Bake, or Macarona Bechamel or Pastitsio, is an amazing casserole layering rigatoni with a seasoned ground beef filling and rich bechamel sauce! It's an addictive flavor combination that you'll be making over and over again after trying!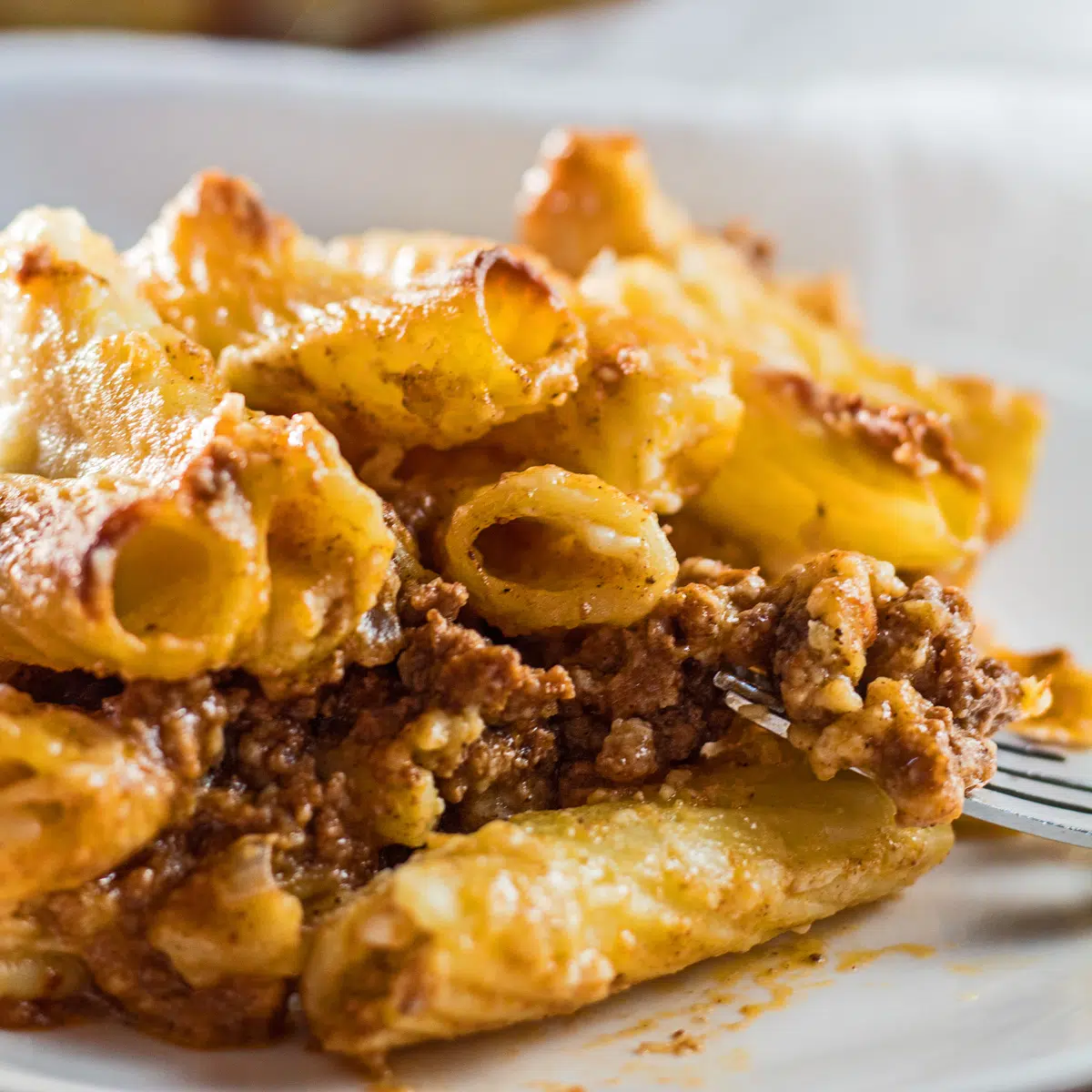 Incredibly Tasty Comfort Food The Whole Family Will Love!
There is something so comforting about a homemade pasta bake. The warmth and richness make this hearty casserole irresistible! Plus, it's perfect for feeding a crowd!!
And why would you? Pasta bakes, like my macarona bechamel or Italian sausage bake, are so tempting, there's no reason not to indulge!
Jump to:
The meat mixture and bechamel sauce combine like they were always meant to be together. The rigatoni, spices, and seasonings, make for a meaty, creamy pasta bake that is unique.
The resulting pasta bake is delectable, pleasing your palate with pasta perfection. Get ready to serve second helpings!
❔ What Is
This pasta bake is a cuisine with Arabic, Egyptian, and Mediterranean influences. The flavors are different than the Italian pasta fare you may be accustomed to, but just as delicious.
Throughout the Mediterranean, different countries have their own versions including Turkey, Greece, Cyprus, Egypt, and the Middle East. This Egyptian macarona bechamel recipe is very closely related to the Greek pastitsio and possibly based upon the Greek recipe.
🥘 Ingredients
Be sure to have a pan and stockpot on hand, as well as all of the below ingredients set up and ready. You can also choose to use a Dutch oven, as you'll see in the directions below.
Pasta
Rigatoni – The large shape and size of this style of pasta has a robust quality to hold up to the meaty sauce.
Meat Mixture
Olive Oil – Use a good quality extra virgin olive oil for the best flavor. I find it does make a difference.
Yellow Onion – Get a large one so there's plenty of tasty onion in every bite. A white onion will work in a pinch, but the sweeter yellow varieties taste best.
Ground Beef – I go for an 85% lean ground beef for just the right amount of fat for taste and texture.
Tomato Sauce – The fresh tomato flavor is a must for this Mediterranean meal.
Allspice – The aromatic spice is full of sweetness but adds that special something to savory dishes.
Cinnamon – The zesty taste enhances the allspice and adds warmth to the sauce.
Salt & Pepper – The seasoning staples nearly any dish can't do without. Used in both the meat and white sauce (below).
Bechamel Sauce
Butter – No skimping on the creamy richness. Salted or unsalted both work, but a rich European butter is best!
All-Purpose Flour – Thicken up the sauce for that crave-worthy, rich consistency that makes bechamel so wonderful!
Milk – Like the real butter, use full-fat whole milk for the most decadent results.
Chicken Broth – The salty goodness of chicken broth or chicken stock add flavor to your sauce.
Nutmeg – Sweet, spicy, and a little nutty, this spice rack regular brings savory dishes to the next level.
💭 Angela's Tips & Recipe Notes
While rigatoni is my go-to pasta for this pasta bake, you can substitute another kind if you desire. I do recommend something hearty, such as ziti or even orecchiette, as a pasta like angel hair may not match well with this style of sauce.
Use room temperature, or even slightly heated milk, for the best bechamel sauce results. You can heat the 4 cups of whole milk in the microwave in 1 minute bursts, stirring between until warmed to the touch.
Be sure to spread the sauces evenly so all the pasta is covered. No piece of pasta should be skipped over. A large spoon will do the trick for spreading from corner to corner.
When cooking the ground beef, get it to a nicely browned (and fully cooked) color. Now's not the time to go for a medium-rare finish like you may prefer for your burgers.
🔪 Step-By-Step Instructions
My recipe for bechamel pasta bake yields 8 generous servings, so feel free to adjust the measurements if you want to make more. Now that you're getting hungry, let's make the pasta bake!
You'll be impressed with how simple it is to make when it tastes like restaurant-level cuisine.
Prepare. Preheat your oven to 350°F (175°). Coat your casserole dish with a light amount of olive oil to make serving easier.
Cook your rigatoni (or pasta of choice). Bring a large pot of salted water to a boil and cook the rigatoni until it is al dente (firm to the bite). *I find that if you take a minute or two off of the package instructions, the texture is perfect!
Drain and rinse. Drain the pasta and rinse with cold water under the faucet. Set it aside for assembly later in the process.
Make the Meat Mixture
Heat your skillet and oil. Add 1 tablespoon extra virgin olive oil to a large pan and bring it to medium-high heat. The oil should shimmer and be at the point of beginning to smoke when ready.
Saute the onion. Add the large diced yellow onion to the pan with the olive oil and cook for approximately 5 minutes, when you see the onions become translucent and soft.
Brown the ground beef. Add 1 ½ pounds lean ground beef to the onions, breaking it up onto small tidbits. Cook until the meat is browned.
Add tomato sauce and spices. Add in 16 ounces of tomato sauce as well as 1 tablespoon each of allspice and cinnamon, along with 1 teaspoon each of salt and ground black pepper. Mix all ingredients.
Bring to a boil then simmer. Bring the meat mixture to a low boil and reduce the heat to simmer for 10 minutes. Remove from heat after 10 minutes and set aside until ready to assemble the casserole.
Make the Bechamel Sauce
Melt butter. Melt one cup of butter (2 sticks, or 16 tablespoons) in a medium saucepan over medium heat.
Make the roux. Once the butter has melted completely, add in 1 cup all-purpose flour a bit at a time until incorporated smoothly. Stir constantly until the flour is combined with the butter. *This should take 2-4 minutes, you want the roux base slightly toasted before adding liquid.
Whisk in the liquids. Reduce the heat to medium low and add 4 cups whole milk and 1 cup chicken stock along with one teaspoon each of salt and pepper. Whisk until you don't see any clumps and the sauce is thick enough that it can coat the back of a spoon without running off.
Set aside. Remove the saucepan from heat. Set aside for assembly.
Assemble the Pasta Bake
Sauce the bottom of your casserole dish. Use a spoonful of sauce to lightly cover the bottom of your baking dish.
Add half the pasta. In a baking pan or large Dutch oven, place half the rigatoni in the bottom and pour in 1 cup of the bechamel sauce over the pasta.
Add the meat layer. Add in all of the meat mixture and use a spoon to spread all over the pasta and bechamel sauce.
Add the remaining pasta and sauce. Add the rest of the pasta and top with the remaining bechamel sauce. Spread the sauce evenly all over the top.
Bake until golden. Put the baking pan or Dutch oven into the oven and bake for 45-55 minutes at 350°F (175°) until the pasta bake is a lovely golden brown.
Allow to cool and set. Remove your bechamel pasta bake from the oven and allow it to cool for about 20 minutes as the bechamel sauce sets.
Enjoy your hearty bechamel pasta with a simple green salad on the side for a wonderful family meal any night of the week!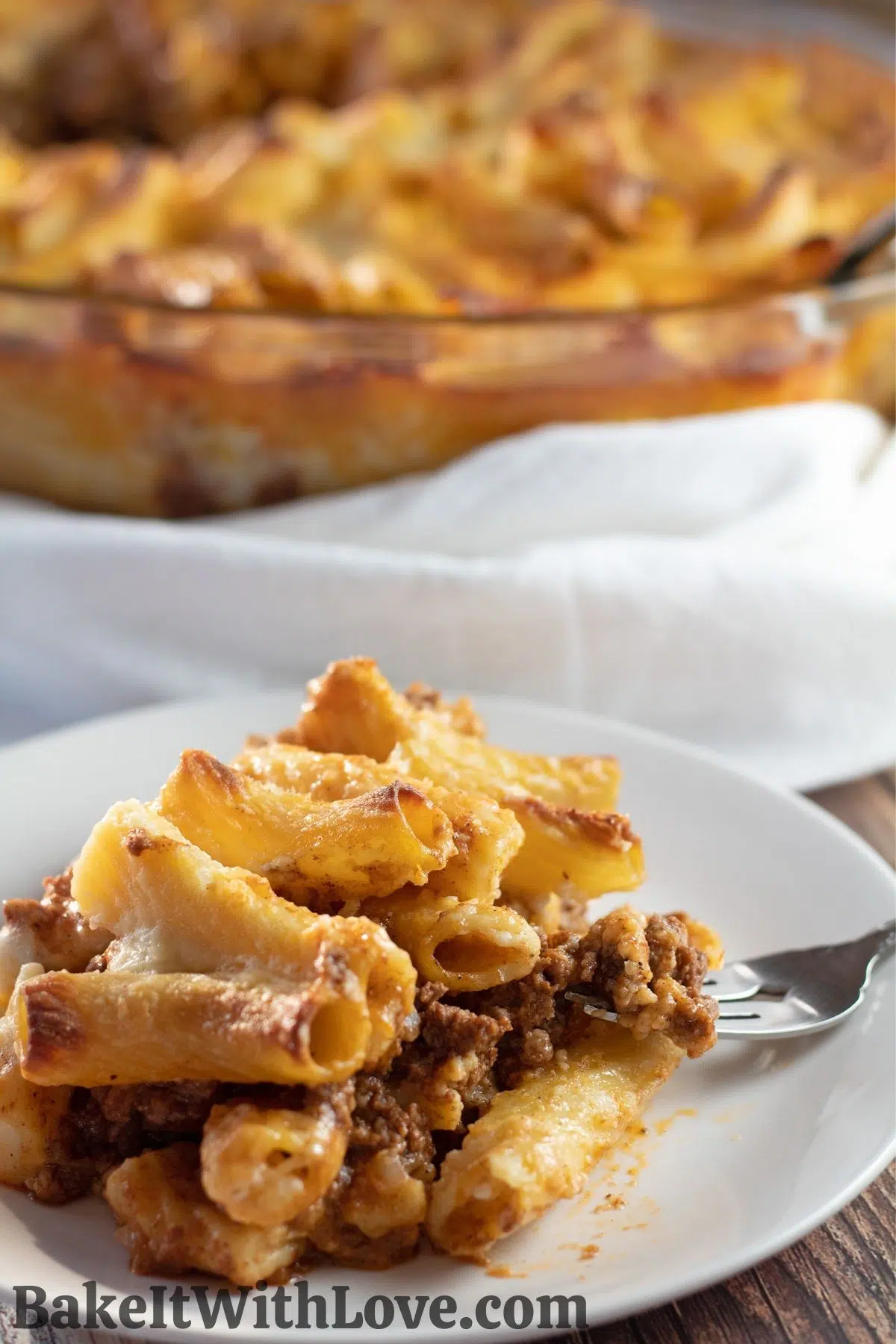 🥡 Storing & Reheating
Refrigerating
Most pasta dishes will stay fresh for about 3-5 days in the refrigerator. I recommend eating your leftovers within 1-2 days for the best results.
Keep the pasta bake covered with plastic wrap, foil, or stored in an airtight container.
Freezing
Store your leftovers in an airtight freezer container if you won't be enjoying them within a few days. Properly stored, the bechamel pasta bake will last up to 3 months.
Reheating
The best way to reheat your casserole is in the oven. Place your desired portion into an oven-safe dish and warm at 350°F (175°C).
Alternatively, reheat in a microwave-safe dish in the microwave until nice and hot, about 2-3 minutes for refrigerated leftovers and 5 minutes or so for frozen.
❓ FAQ
Can I use a lower fat milk or milk substitute such as soymilk or almond milk?
Yes, you can use the same amount of another type of milk, but the sauce will not be as rich.
Which pasta works best in a bechamel pasta bake?
Long, thick noodles like the rigatoni used in this recipe will work best for your bechamel pasta. Other pasta types I would use include ziti, penne, large elbow noodles, or shells.
📋 Recipe
Print Recipe
Leave A Comment
Love This Recipe?
Click On A Star To Rate It!
Bechamel Pasta Bake (Macarona Bechamel or Pastitsio)
This hearty Bechamel Pasta Bake, or Macarona Bechamel or Pastitsio, is an amazing casserole layering rigatoni with a seasoned ground beef filling and rich bechamel sauce! It's an addictive flavor combination that you'll be making over and over again after trying!
Total Time
1
hour
25
minutes
Pin Recipe
Share on Facebook
Ingredients
Meat Sauce
1

tablespoon

olive oil

1

large

yellow onion

(diced)

1.5

lbs

lean ground beef

(85% lean ground beef)

16

oz

tomato sauce

1

teaspoon

ground allspice

1

teaspoon

ground cinnamon

1

teaspoon

salt

1

teaspoon

ground black pepper
Bechamel Sauce
1

cup

butter

(2 sticks or 16 tablespoons)

1

cup

all-purpose flour

4

cups

whole milk

1

cup

chicken stock

1

teaspoon

each, salt & pepper

½

teaspoon

ground nutmeg
Instructions
Preheat your oven to 350°F (175°C ) and lightly oil your baking dish.
Pasta
In a large pot cook the rigatoni (or other pasta) in salted, boiling water until cooked but still firm (al dente). Drain, then rinse with cold water and set aside for later.
Meat Mixture
In a large skillet or frying pan over medium-high heat add in olive oil and heat until shimmering.

Add diced onions to the pan and saute for about 5 minutes until the onions are soft, translucent, and fragrant.

Add in the lean ground beef and mix with the onions. Break up the meat into small pieces and cook till browned.

Pour in the tomato sauce. Stir in the allspice, cinnamon, salt, and pepper.

Mix thoroughly.

16 oz tomato sauce,

1 teaspoon ground allspice,

1 teaspoon ground cinnamon,

1 teaspoon ground black pepper,

1 teaspoon salt

Bring to a low boil, reduce heat and simmer for 10 minutes. Then remove from heat.
Bechamel Sauce
In a medium stockpot melt the butter over medium heat.

After the butter has melted add in the flour a bit at a time stirring constantly.

Reduce heat to medium-low. Add the milk and chicken stock and continue whisking until there are no clumps and the sauce has become thick enough to coat the back of a spoon. Stir in salt, pepper, and nutmeg.

4 cups whole milk,

1 cup chicken stock,

1 teaspoon each, salt & pepper,

½ teaspoon ground nutmeg
Assembly
In a large dutch oven, casserole dish, or baking pan put a spoonful of the bechamel sauce over the bottom of the dish. Arrange half the pasta in the bottom then pour in an additional 1 cup of the white sauce mix.

Next add in all of the meat mixture on top of the pasta, using your spoon to level it end to end on the pasta as the middle layer.

Add the second half of the cooked pasta over the top of the meat mixture and then top with all the remaining bechamel sauce and spread evenly.

Place in the oven and bake for 45-55 minutes at 350°F (175°C ) until golden brown in color.

Remove from your oven and allow to set up and cool for about 20 minutes. Serve and enjoy!
Nutrition
Calories:
784
kcal
(39%)
|
Carbohydrates:
68
g
(23%)
|
Protein:
31
g
(62%)
|
Fat:
43
g
(66%)
|
Saturated Fat:
22
g
(138%)
|
Polyunsaturated Fat:
2
g
|
Monounsaturated Fat:
14
g
|
Trans Fat:
2
g
|
Cholesterol:
132
mg
(44%)
|
Sodium:
659
mg
(29%)
|
Potassium:
838
mg
(24%)
|
Fiber:
4
g
(17%)
|
Sugar:
13
g
(14%)
|
Vitamin A:
1157
IU
(23%)
|
Vitamin C:
6
mg
(7%)
|
Calcium:
194
mg
(19%)
|
Iron:
4
mg
(22%)
Bechamel Pasta Bake, casserole, ground beef recipes, Macarona Bechamel, Pastitsio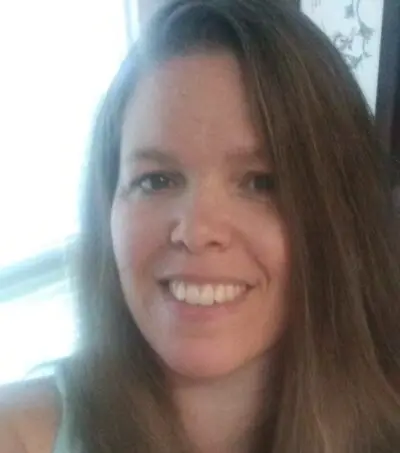 Angela is an at home chef that developed a passion for all things cooking and baking at a young age in her Grandma's kitchen. After many years in the food service industry, she now enjoys sharing all of her family favorite recipes and creating tasty dinner and amazing dessert recipes here at Bake It With Love!