These satisfying pasta recipes may steal the show of your family meal because each one is delicious, hearty, and filling (and everyone loves pasta)! There are plenty of fabulous pasta recipes on this list that can be the star of the show, and many others would pair wonderfully with salmon, steak, Italian food, you name it! So whatever's on your dinner menu, don't forget to start with some pasta (or two)!
Best Pasta Recipes To Make
Pasta is always a main dish favorite, but it can also be an amazing side dish. Whether you're looking for a flavor-packed entree, or a simple side dish, you're sure to find a recipe you'll love!
Here are some of our favorite pasta recipes that will add flavor and variety to your next meal.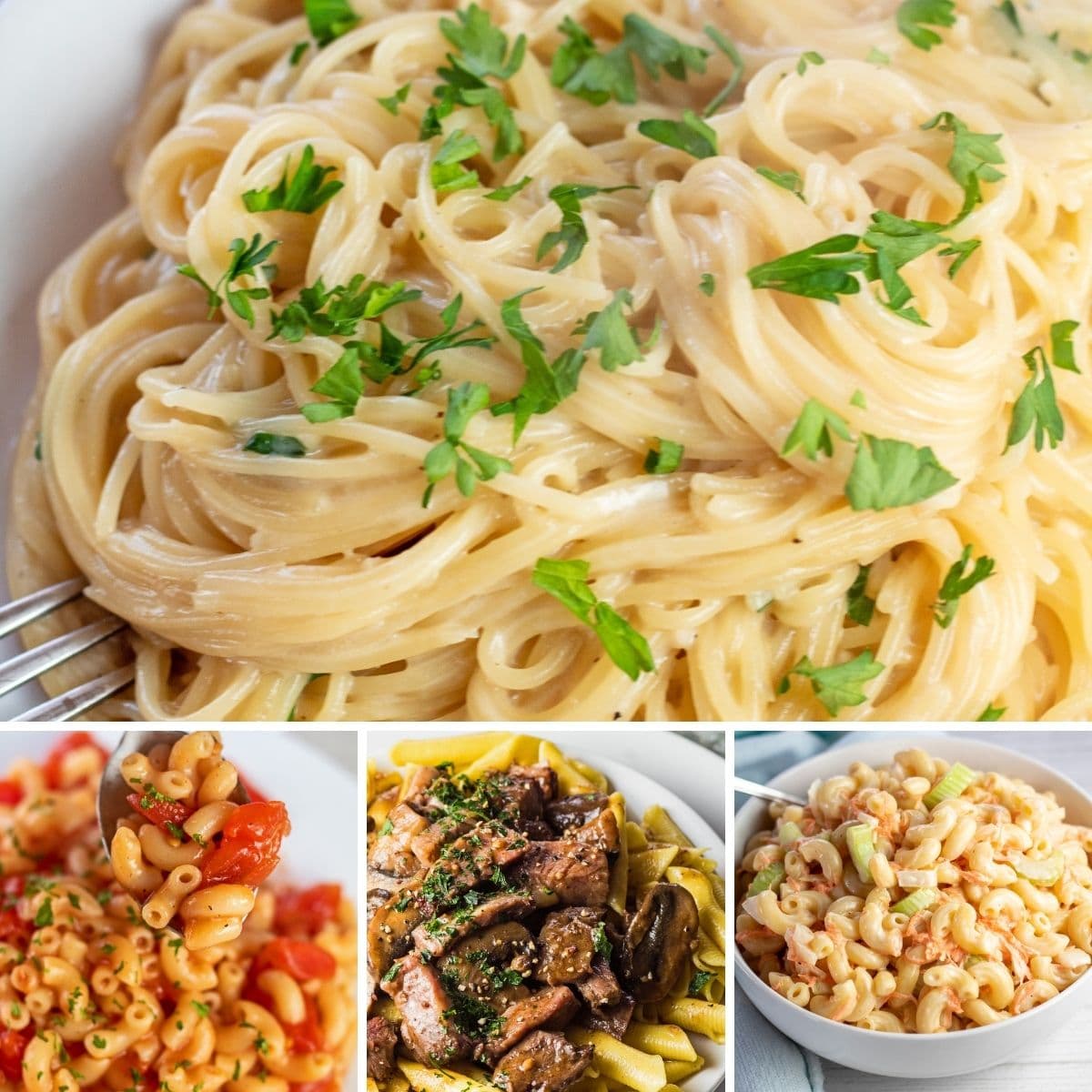 Whether you're looking for something fun and festive or something simple and classic, we've got you covered. So get cooking and impress your friends and family with these fantastic pasta dishes!
Jump to:
1. Cream Cheese Pasta
Do you love creamy pasta dishes? This easy cream cheese pasta recipe is a perfect side dish for a family dinner.
It's simple to make, and the creamy cheese sauce is sure to please everyone.
2. Garlic Shrimp Alfredo Bake
If you love shrimp alfredo, you're going to LOVE this baked version! It's easy to make and SO yummy.
3. Cauliflower Ham Pasta Casserole
If you're looking for an easy and simple way to use up leftover ham, this Cauliflower Ham Pasta Casserole is the perfect dish for you!
This casserole is packed with flavor and is the perfect side for a weeknight dinner.
4. Grilled Chicken Fettuccine Alfredo
Is there anything better than a classic Alfredo pasta dish? It's creamy, cheesy, and comforting — a perfect pasta side for a special night in or a relaxed weekend dinner.
5. Chicken Spaghetti with Rotel
Do you love spaghetti and chicken? Do you love Rotel? If you answered yes to both of those questions, then you are going to adore this Chicken Spaghetti with Rotel recipe.
A family favorite at our house! This pasta side dish is easy to make and it can be tailored to your taste buds.
6. Macaroni and Tomatoes
If you're looking for a tasty and easy summer dish, look no further than Southern Macaroni and Tomatoes. This classic side dish recipe is perfect for a family dinner or cookout, and it's sure to be a hit with everyone!
The combination of macaroni and tomatoes is always a winner, so give this recipe a try today!
7. Garlic Parmesan Angel Hair
Do you love garlic Parmesan pasta? If yes, then this recipe is for you!
This easy angel hair pasta dish comes together in about 20 minutes. The herbaceous garlic flavor pairs perfectly with the nutty Parmesan cheese, making this pasta dish irresistible.
8. Crockpot Mac and Cheese
Mac and cheese makes an excellent pasta side dish to pair with any savory meaty meal.
Try this easy hands-off crockpot version!
9. Pasta e Fagioli
Looking for a scrumptious and hearty pasta soup to pair up with dinner? Look no further than Pasta e Fagioli!
This Italian soup is made with pasta, beans, and vegetables.
10. Creamy Turkey Primavara
Pasta lovers everywhere are will love this recipe. The thick penne pasta, heavy cream, Parmesan cheese, and a plethora of delicious veggies make this dish filling and nutritious.
Don't like tomatoes or mushrooms? Easily customize this dish by omitting one of these veggies and doubling up on one that you love!
11. Cajun Sausage Pasta
Cajun sausage pasta is another amazing pasta dish that will have your family thanking you! This Cajun pasta has chicken broth, heavy cream, and cream cheese that allows it to be creamy and flavorful.
Serve this for lunch or dinner with a side of your favorite Italian bread topped with soft, warm butter!
12. Beef and Cheese Casserole
Beef and cheese casserole is the recipe you never knew you needed! It combines both mozzarella and Parmesan cheese to make it double cheesy and extra scrumptious.
This dish can easily be made ahead of time and frozen or refrigerated to be heated up at a later date.
13. Hawaiian Macaroni Salad
Hawaiian macaroni salad is a unique blend of elbow macaroni, mayonnaise, carrots, celery, onions, and for the tropical vibes and extra creaminess, pineapple juice!
Take this macaroni salad to your next summer barbecue, and you will have everyone asking for the recipe!
14. Prime Rib Beef Stroganoff
Prime rib beef stroganoff is the perfect date night dinner recipe. It has a special appeal to it that makes it a step up from other dishes and will impress your guest!
This recipe is also a great way to use up any prime rib left over from the holidays!
15. Italian Chicken Pastina Soup
This Italian chicken pastina soup is perfect for cool winter evenings. It is warm and savory with just the right amount of flavor.
Serve this soup fresh and piping hot and top with a sprinkle of Parmesan cheese!
16. Creamy Beef and Shells
Creamy beef and shells is the perfect dinner recipe for large families! This recipe can easily be doubled so that you have more than enough for everyone.
Don't have a lot of time to stand in the kitchen and prepare this delicious dinner? Make this in your Instant Pot to free up some time!
17. Baked Spaghetti and Meatballs
Tired of your normal spaghetti recipe? Then try this baked spaghetti and meatballs for your next family dinner.
Want to add a twist to this recipe? Mix in a few veggies like spinach, red peppers, or zucchini.
18. Macarona Bechamel
This bechamel pasta bake full of beef, onion, tomato sauce, and butter. What makes it most unique are the warm spices such as nutmeg and cinnamon that make this dish stand out.
Pair this dish with a glass of wine, light a candle, and you have the perfect ambiance for a date night.
19. Prime Rib Ragu
Prime rib ragu is bold and flavorful! This dish contains crushed red pepper flakes, onion, carrots, fennel, celery, tomatoes, and red wine!
Don't be intimidated by this recipe, while it does use a few more ingredients than others, the step-by-step instructions make it easy to navigate.
20. Italian Sausage Bake
This Italian sausage bake is perfect for Sunday dinners! It's savory and filling with wonderful blends of Italian flavors.
Customize this Italian sausage bake by using your favorite Italian sausage, spice it up with hot Italian sausage or keep down the heat with a mild sausage.
21. Shrimp Scampi
Shrimp scampi is a quick and easy recipe that is great for nights when you don't want to spend too much time on dinner. It's light and filling with a lemony garlic sauce.
This scampi recipe uses white wine and also pairs well with wine. Use some wine for the recipe and the rest can be had with dinner!
22. Hibachi Noodles
Hibachi noodles can be served as the main course for dinner or as a side dish. Sauté some fresh veggies or your favorite cut of meat and make these noodles a full meal.
This recipe allows you to be creative, use lo mein noodles, angel hair pasta, or yakisoba noodles.
23. Lemon Garlic Shrimp Pasta
Lemon garlic shrimp pasta is bold and flavorful. The tangy lemon and robust garlic paired with the juicy shrimp will have your mouth watering.
Sprinkle some Parmesan cheese or an extra dash of lemon on top to enhance the flavor even further.
24. Lasagna
This lasagna uses ground beef and sweet Italian sausage making it perfect for meat lovers.
Tender layers of pasta are topped with a hearty meat sauce then it's all covered in melted cheese. What's not to like?
25. Turkey Tetrazzini
Turkey tetrazzini is a great after holiday recipe when you have leftover turkey to use. The tender turkey paired with cream, chicken broth, and condensed chicken soup allows this pasta dish to be creamy and delicious.
Don't have any leftover turkey? Use rotisserie chicken instead!
26. Chicken Parmesan
This chicken Parmesan recipe will have you going in for seconds, maybe thirds! You won't walk away hungry after a few bites of this hearty dish!
Pair this recipe with angel hair pasta, penne, rigatoni, or oven-roasted potatoes.
27. Buttered Noodles
Buttered noodles are the perfect recipe for picky kids and adults. They are simple and easy to make and will keep you full.
Top these buttered noodles with sautéed asparagus, red peppers, or roasted broccoli to add flavor and texture.
28. Spaghetti Bolognese
Spaghetti bolognese is my go-to recipe for family dinner nights. It's filling, delicious, and something everyone loves and enjoys.
Top it with with extra cheese and you can't go wrong!
29. Ham and Pea Pasta
Ham and pea pasta is a great dish to make if you have leftover ham from Thanksgiving or Christmas. The delicious ham, soft peas, and creamy cheese over fettuccine will make your mouth water.
No leftover ham? Easily use diced or cubed ham from the deli.
30. Frutti di Mare
Frutti di mare is a deluxe seafood recipe, that has muscles, scallops, clams, shrimp, and squid. If you love all the flavors of the ocean you will love this recipe.
Limited time to make a restaurant-quality dish? This recipe only takes 30 minutes to make!
31. Microwave Mac & Cheese
Microwave mac & cheese is perfect for anyone who is short on time! It is creamy, cheesy, and moist with ample amounts of flavor.
Top this Mac and cheese with veggies or crumble your favorite crackers on top for added texture.
32. Bang Bang Shrimp Pasta
Bang bang shrimp pasta is a great way to enjoy the spicier side of life. The added sriracha and chili sauce adds the perfect amount of heat.
Can't handle too much spice? Add a dollop of sour cream to the top to help cut the heat.
33. Smoked Salmon Fettuccine Alfredo
Smoked salmon fettuccine alfredo is a unique take on your ordinary Alfredo recipe. The smoked salmon makes this recipe over the top and extra flavorful.
Pair this recipe with a fresh and crisp salad or your favorite toasted bread.
34. Baked Rigatoni
Baked rigatoni is warm, comforting, and easy to make! It's meaty with ample amounts of sauce and topped with creamy cheese, just like any good recipe should be.
35. Greek Pasta Salad
This addictively delicious Greek pasta salad is loaded with tender bowtie pasta, cherry tomatoes, kalamata olives, artichoke hearts, and red onion. Toss all of the wonderful ingredients in a tangy Greek salad dressing and you have a hit side salad!
Any of these incredible pasta side dishes are guaranteed to be a hit! Make sure to come back and tell us how your meal turns out!
📋 Recipe