When you're wondering what your best tomato sauce substitute could be, you can read all about the alternatives that will work best! Whether you're working around running out, an allergy, or picky eaters we are sharing our easiest ingredients that you can use for great results!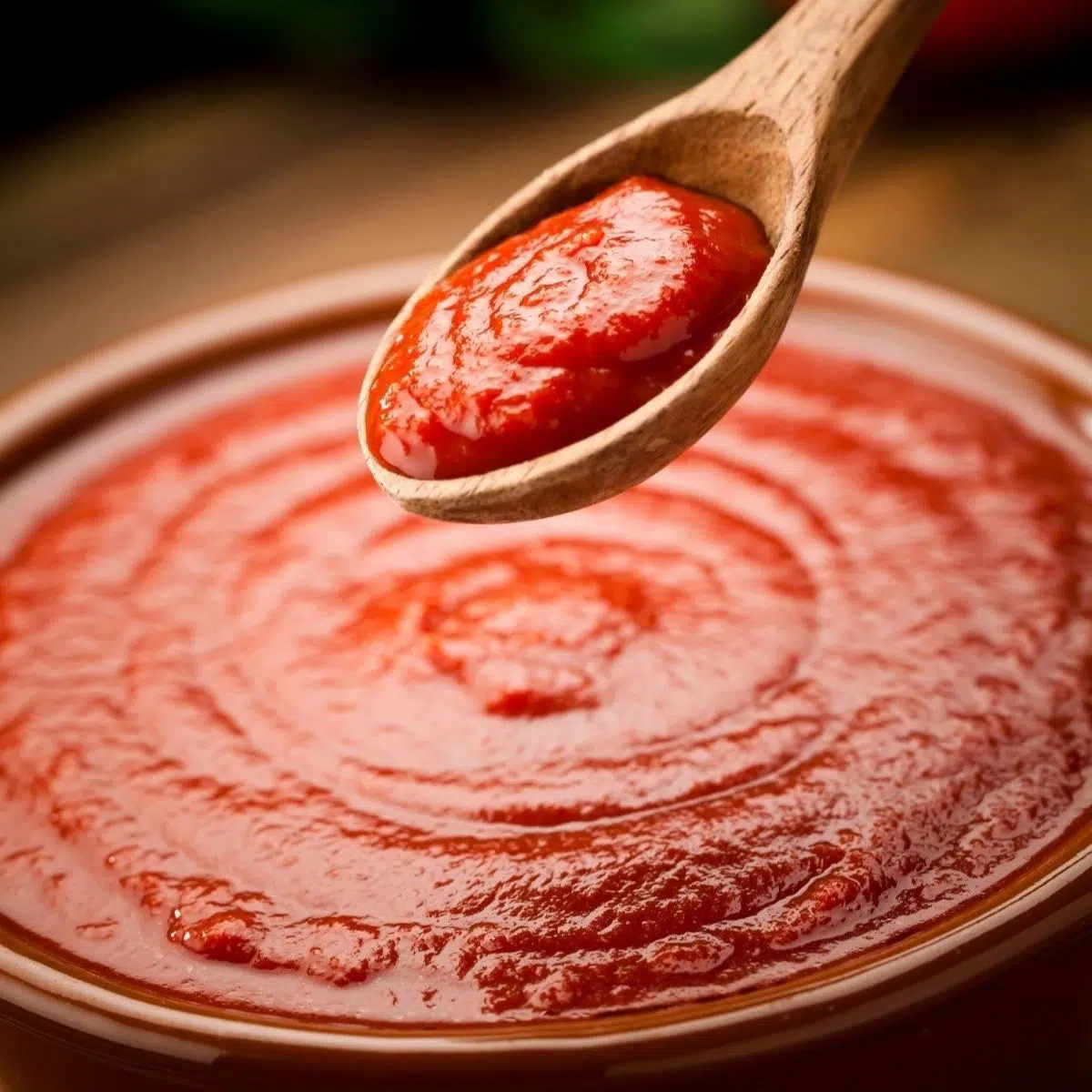 Tangy, slightly sweet, and totally tasty tomato sauce is a base ingredient for classic dishes that we all know and love!
The robust flavor of tomato sauce is a familiar taste for many people worldwide. This versatile sauce is popular choice for pasta dishes and pizza it is commonly associated with Italian food.
However, tomato sauce is used in an assortment of dishes beyond the classic Italian ones many of us love. Many Mexican dishes and so many more recipes from around the world use tomato sauce.
Jump to:
Tomato sauce is also a common base for chili, stews, and other hearty soups. Additionally, tomato sauce also makes a tasty topping.
With so many ways to use this simple ingredient, I highly recommend keeping a couple of cans or jars in your pantry. Even if you do keep a few cans stocked in your pantry staple, you may find yourself needing a great substitute for tomato sauce.
When you do, have no fear - we're sharing our best and favorite swaps here!
Reasons For A Substitute
One of the most common needs for a substitute is simply that you have run out of an ingredient. It happens to all of us!
Rather than running to the store though, you may have another tomato-based staple in your kitchen that you can use.
Beyond running out of tomato sauce, you may find you need a substitute for other reasons. As a member of the nightshade family, you (or someone you are cooking for) may be avoiding foods in this family since they can increase inflammation.
Another reason may be that you are allergic to tomatoes, or you simply do not enjoy them. In this case, there are several non-tomato-based substitutes you can use.
These substitutes will shift the flavor of a dish but still provide a robust and rich flavor.
Best Tomato Based Substitutes
If you want to stay as true to possible to the intended taste of your dish, then another tomato-based substitute is your best bet. Luckily, there are a handful of great choices!
1. Tomato Paste
Tomato paste is an excellent choice to replace tomato sauce in most recipes as it is essentially a concentrated tomato sauce. There are some differences to consider when using this alternative though.
Due to its concentrated form, tomato paste has a pure tomato taste. In contrast, many tomato sauces have a softer tomato taste as they are often mixed with spices.
Some sauces even have sugar added to cut the strong tomato taste. This mild taste difference is easy to replicate in most recipes simply by adding some spices and a touch of sugar.
To prepare the tomato paste to use, mix it with water to create the consistency of the sauce. The ratio of water to paste will vary depending on the consistency you desire - start with a small amount, slowly add more as needed.
When you have reached the desired consistency, measure the diluted tomato paste in a 1:1 exchange for tomato sauce in your recipe.
2. Canned Stewed Tomatoes
Since tomato sauce is essentially pureed tomatoes, you can easily make your own tomato sauce with canned stewed tomatoes. These are tomatoes that have been cooked and then canned in their whole form.
Simply toss a can of tomatoes into a food processor and blend. Blend until you reach your preferred texture (chunky or smooth). Once you have reached the desired consistency, measure in a 1:1 exchange for the tomato sauce in your recipe.
As with tomato paste, you can add sugar or spices to achieve the best matching taste before adding to the recipe.
In addition, be aware that some canned tomatoes are already seasoned (such as fire-roasted canned tomatoes). Therefore, you may not need any additional seasoning.
3. Canned Diced Tomatoes
Diced tomatoes are essentially the same thing as canned stewed tomatoes, they are just cut into smaller pieces. Therefore, you can follow the same directions for canned stewed tomatoes (above) to make your own sauce.
4. Fresh Tomatoes
Even though tomato sauce is made from roasted tomatoes, you can use fresh tomatoes to make your own tomato sauce. Simply toss a couple of tomatoes in a food processor and blend. You can also add a touch of olive oil to create a smoother sauce.
Fresh tomatoes will provide a naturally brighter taste than roasted tomatoes. Therefore, if you want a sauce that has a more authentic taste - roast your tomatoes in the oven before blending.
In addition, add a pinch of sugar and salt to balance the flavor (as well as any other spices you want).
Once you have your sauce, use it in a 1:1 substitution for any recipe.
5. Tomato Soup
Tomato soup is a pantry staple that you may have on hand for cold winter days. Who doesn't love a hot bowl of tomato soup and a grilled cheese sandwich!
While tomato soup is delicious on its own, it can also work as a substitute for tomato sauce in certain recipes. The most important thing to remember when using this as a substitute is that tomato soup has quite a bit of sugar added to it.
That means that you will be using a sweeter base than tomato sauce. In addition to the added sweetness, tomato soup usually has extra water or milk added to it.
This provides a milder tomato flavor and can create too much moisture in certain recipes. It can work quite well for pink sauces, though, that are made by mixing tomato sauce with cream.
When using tomato soup as a substitute, measure it in a 1:1 substitution for tomato sauce. To accommodate for the extra moisture, leave out ¼ cup of any other extra liquids (water, milk, or oils).
To help cut out the sweetness, add additional savory spices and extra salt.
6. Ketchup
Since ketchup is made from tomatoes, it can be used in a pinch as a tomato sauce substitute. However, in addition to tomatoes, ketchup also has vinegar and sugar in it.
This creates a specific flavor profile that is quite different from plain tomato sauce. It is also a different consistency.
Due to the strong flavor differences, ketchup is best used in recipes where tomato sauce is not the primary ingredient or where it is used in small amounts.
It is also suggested that you add additional seasonings to help balance the unique ketchup flavor.
Despite these differences, ketchup can still be used in an easy 1:1 exchange for tomato sauce.
Tomato Free Substitutes
Whether you want to avoid tomatoes for health reasons or because you don't like the taste, there are several tasty tomato-free alternatives. With these substitutes, you can still enjoy delicious tomato-y dishes!
The best tomato-free substitutes are those that are still vegetable-based. In the same way that roasted tomatoes become tomato sauce when pureed, other veggies can achieve a similar consistency.
Other roasted and pureed veggies not only provide their own rich flavor, but often pair well with seasonings commonly used in tomato sauce. Therefore, while it won't taste like tomato, these substitutes will provide a wonderful backdrop for the seasoning flavor combinations you love.
7. Pureed Eggplant
While not everyone loves eggplant it is used in many dishes that pair well with tomato sauce. Therefore, it will naturally pair well with the same seasonings (minus the tomato taste).
Eggplant is also a nightshade vegetable though. So, if you are trying to reduce foods that can cause inflammation, try the beet and carrot substitute below.
To prepare the puree, slice 1-2 eggplants. Then sauté or bake it. Once it is cooked remove the skin. With the skin removed, place the cooked eggplant in a food processor or blender.
Add 1 tablespoon of olive oil (or a neutral-flavored oil like canola or vegetable) and begin blending. In addition to the oil, slowly add water to the mixture as you blend.
Continue to add water (and more oil if you prefer) to the mixture until it resembles the consistency of tomato sauce. You can also add a dash of salt and other seasonings to create a more flavorful sauce.
1 large eggplant will yield about 1 cup of sauce. However, this can vary depending on the size of the eggplant and how much oil and water you add to your sauce.
Once you have a sauce prepared you can measure it in a 1:1 ratio to the tomato sauce in your recipe. This substitution will work best in Italian-inspired dishes, but you may want to choose a different sauce for baked eggplant Parmesan.
8. Pureed Bell Peppers
I like to use red bell peppers for this substitution because it gives the same color as the tomato sauce. Since bell peppers all have similar flavor profiles though, you can use any bell peppers you have on hand.
You can even prepare a nice mixture of red, yellow, and orange bell peppers.
This alternative, however, is another member of the nightshade family. So be sure to avoid it if you are eating an anti-inflammatory diet.
Wash and remove the seeds of the bell peppers. Then cook them (sauté or roast in the oven). Follow the same directions used for pureeing the eggplant. Since bell peppers are less dense than eggplant though, you will need at least 2 bell peppers (maybe more) to yield 1 cup of sauce.
Roasted red bell peppers have a lovely rich flavor that pairs well with an assortment of dishes. It is particularly tasty as a sauce for pasta, sandwiches, and pizza.
Use your pureed bell peppers in a 1:1 ratio as tomato sauce.
9. Pureed Beets & Carrots
These two veggies may seem like an interesting replacement for tomato sauce. When roasted though, beets and carrots have rich earthy flavors that resemble the role of tomato sauce in many recipes.
Peel, chop and toss beets and carrots in olive oil. Place the beets and carrots on a baking sheet and roast in the oven until tender. Once they have cooled, toss them in a blender and follow the same directions as above to puree eggplant.
The texture of these two vegetables combined makes a wonderfully rich sauce that is delightful as a base for soups and stews. It can also work in pasta and even pizza sauce.
As with the other substitutes, adding additional spices will help create a more complex flavor profile.
Use your pureed beets and carrots in a 1:1 ratio as the tomato sauce in your recipe. Note that depending on the recipe, you may want to thin the pureed veggies with water or broth before measuring.
Note on Pureeing Vegetables
While olive oil helps to create a smooth consistency when pureeing vegetables, as well as adds to the flavor, it is not required. If you prefer, you can use water or broth to puree any of the vegetables above.
10. Nomato Sauce
This brand offers nightshade-free, tomato-like products with a ketchup and marinara-style sauce available at many retailers. If you have an allergy, it's an easy swap to make for tomato sauce.
Nomato lists their ingredients as Carrots, Water, Beets, Onion, Garlic, Sea Salt, Lemon Juice Concentrate, Sea Salt, Garlic, Ascorbic Acid, Beet Juice Concentrate, Citric Acid, Basil, Oregano.
Note that the marinara-style sauce would work best in Italian-inspired dishes and the Nomato ketchup can be used in many other recipes (like you would use any other brand of ketchup).
Use either product in an equal 1:1 ratio with the tomato sauce called for inn any recipe.
note
Do you love a recipe you tried? Please leave a 5-star 🌟rating in the recipe card below and/or a review in the comments section further down the page.
Stay in touch with me through social media @ Pinterest, Facebook, Instagram, or Twitter! Subscribe to the newsletter today (no spam, I promise)! Don't forget to tag me when you try one of my recipes!
📖 Recipe Card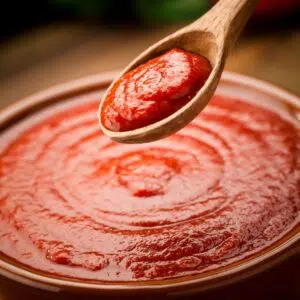 Print Recipe
Leave A Comment
Love This Recipe?
Click On A Star To Rate It!
Best Tomato Sauce Substitute: Tomato Paste, Nomato Sauce (+More Great Alternatives!)
When you're wondering what your best tomato sauce substitute could be, you can read all about the alternatives that will work best! Whether you're working around running out, an allergy, or picky eaters we are sharing our easiest ingredients that you can use for great results!
Pin Recipe
Share on Facebook
Ingredients
Option 2 - Nomato Paste
1

tablespoon

nomato sauce

(use marinara-style or ketchup)
Help Us Out!
If you love a recipe, be sure to come back and share your ratings. This helps future users, and allows me to continue sharing free recipes! Angela
Instructions
Option 1 - Tomato Paste
Use ½ tablespoon of tomato paste, mixed with water to make a similar tomato-sauce like consistency then measure out to match 1 tablespoon of tomato sauce.

½ tablespoon tomato paste
Option 2 - Nomato Paste
Use nomato sauce products (either marinara-style or ketchup) in an equal 1:1 ratio for any recipe.

1 tablespoon nomato sauce
Notes
*Nutritional information is calculated for tomato paste option only.
Nutrition
Calories:
7
kcal
|
Carbohydrates:
2
g
(1%)
|
Protein:
1
g
(2%)
|
Fat:
1
g
(2%)
|
Saturated Fat:
1
g
(6%)
|
Polyunsaturated Fat:
1
g
|
Monounsaturated Fat:
1
g
|
Sodium:
63
mg
(3%)
|
Potassium:
81
mg
(2%)
|
Fiber:
1
g
(4%)
|
Sugar:
1
g
(1%)
|
Vitamin A:
122
IU
(2%)
|
Vitamin C:
2
mg
(2%)
|
Calcium:
3
mg
|
Iron:
1
mg
(6%)
best tomato sauce alternatives, nightshade-free, substitutions, Tomato Sauce Substitute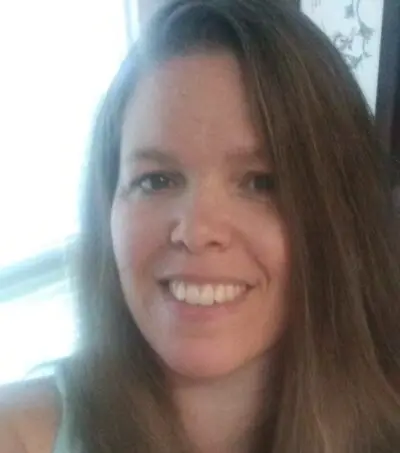 Angela is an at home chef that developed a passion for all things cooking and baking at a young age in her Grandma's kitchen. After many years in the food service industry, she now enjoys sharing all of her family favorite recipes and creating tasty dinner and amazing dessert recipes here at Bake It With Love!