If you've found yourself in need of a tomato paste substitute, I've listed a number of substitutions that can work in a pinch! There are many different ingredients that can replace tomato paste in a recipe, you might have a few on hand without even knowing!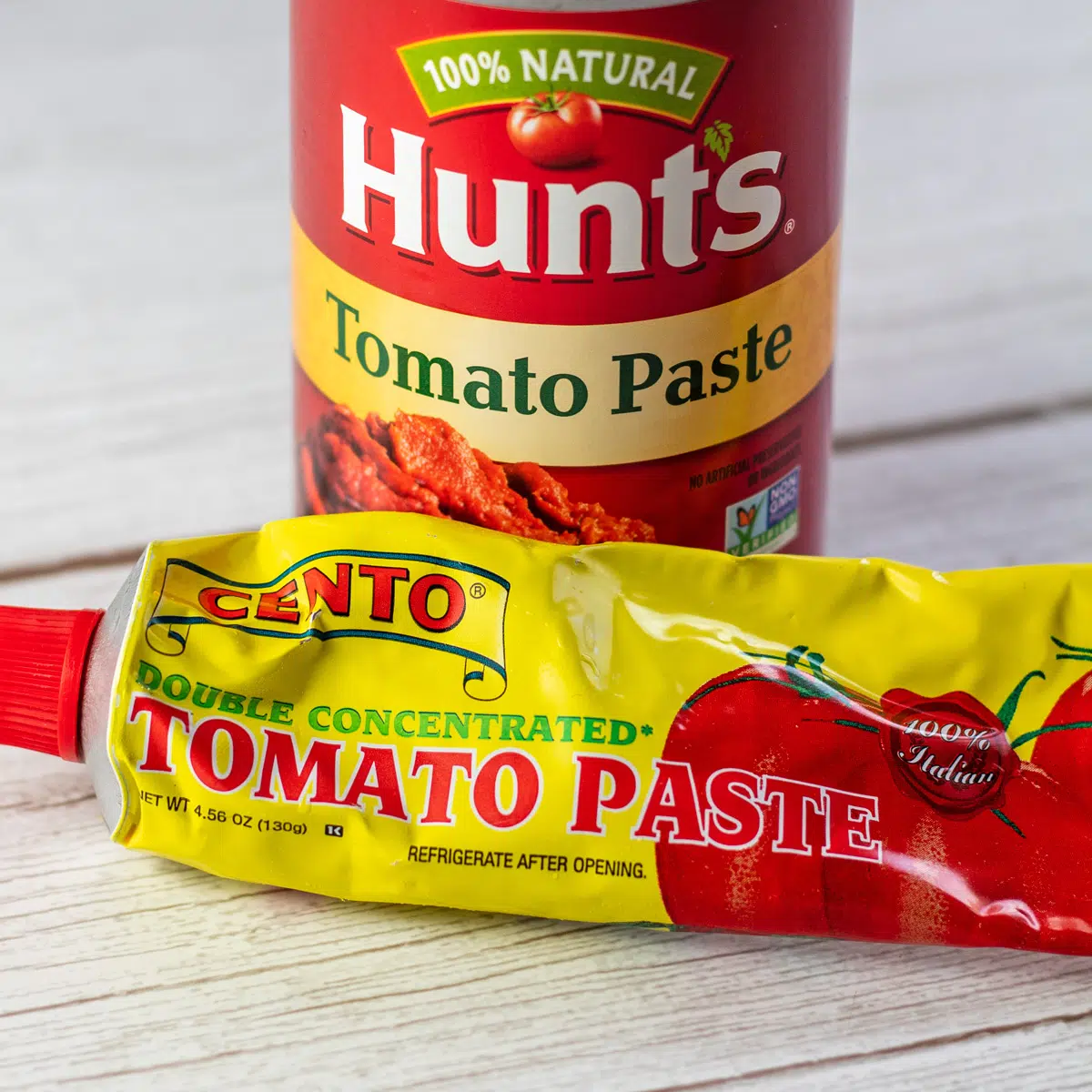 Learn how to replace tomato paste in any recipe if you have the right ingredients!
Tomato paste is often used in Italian dishes, but can also frequently be found in soups, stews, and sauces. The condensed tomato flavor is strong enough that a small amount can make or break a dish.
That being said, things happen in the kitchen and sometimes we realize we are out of a key ingredient mid-recipe. Many times, omitting the tomato flavor completely is simply not an option!
Jump to:
Well, there's no need to panic, you have options! Check your pantry and cabinets for any of the following substitutes!
What is Tomato Paste?
Tomatoes with skin and seeds removed, then cooked until reduced to a dark red paste. In Sicily, Italy, and Malta they put the pulp on a board and dry in the oven until pasty. It takes approximately 10 pounds of tomatoes to produce 20 ounces of paste.
Tomato-Based Substitutes
It's not surprising that the best tomato paste substitutes all feature tomatoes as a primary ingredient!
1. Ketchup
This is probably what you are the most likely to have on hand. Although it is not as thick, it can be cooked down to the same consistency if needed. Because it has sugar, vinegar, and spices added, it can add a little tang to whatever dish you may be preparing.
Ketchup would go well in chili, with just a little extra cook time to reduce the liquid.
2. Tomato Sauce
Tomato sauce can add a very similar flavor to tomato paste, but not the thickness. If you desire the thickness, you could simmer until it is reduced to a paste. This method requires 3 tablespoons of sauce to give you 1 tablespoon of paste.
Other options would be to reduce the other liquids in the dish you are making; keep the lid open so the liquid evaporates; or cook longer.
Tomato sauce is a good choice for salsa, soup, chili, meatloaf, and some pasta sauces. Read the can label to see if it has added oil, salt, and seasonings so you can adjust your recipe accordingly.
3. Tomato Puree
Same great tomato flavor, and while not as thin as tomato sauce, you will still need twice as much to achieve the same amount of flavor as paste. Best if used in soups or stews where a subtle flavor is desired.
If you decide to reduce this down, you will want to keep the heat low, stir frequently, and use a shorter cooking time than reducing tomato sauce. Puree is a good base for sauces.
4. Crushed Tomatoes
Available in either whole or diced. *Strain all liquid from the can, heat/simmer in a saucepan, and mash as it cooks.
This method requires 2 tablespoons of tomatoes to make 1 tablespoon of paste. *you can use the liquid but cooking time will be much longer to achieve the proper consistency.
5. Fresh Chopped Tomatoes
Using fresh tomatoes is labor intensive since you have to remove the skin and seeds by cooking down and straining. But it can be worth the effort in added texture as well as robust flavor.
This would go well in curry, meat stews, or salads.
6. Marinara Sauce
This will have the closest consistency to tomato paste, but already has Italian herbs and spices added so you will need to choose your recipe carefully. Or be aware of any modifications to your own recipe that may be necessary.
7. Green Salsa
If your dish does not require the red of tomatoes, "salsa verde" would be a good option. You will get the tomato flavor from the tomatillos (green tomatoes) but without the red color.
Salsa verde will be thinner so you may need to adjust liquids or cook to reduce it down.
Non-Tomato Based Substitutes
If the particular flavor of tomatoes isn't essential for your dish, there are many worthy alternatives that can fill that void and still provide plenty of flavor!
8. Red Wine and Cornstarch
The wine will add a wonderfully rich flavor and the cornstarch is a good thickening agent. This combo is ideal in spaghetti sauce if you have other forms of tomato flavor in your ingredients.
9. Pureed Red Peppers
Roast fresh peppers yourself, or buy in a jar, then remove the skin, puree in a food processor, add to your dish at a 1:1 ratio in place of tomato paste. It will not be an exact match for tomato flavor, but it may be slightly more exotic.
Also, it has the same red color and can be a thickening agent. Pasta dishes would be the best option for using peppers as your tomato paste substitute.
10. Pureed Butternut Squash
Baked and mashed, squash has a nutty, sweet flavor that works well with Indian recipes. It has the advantage of being high in fiber and full of vitamins and minerals. If you need the acidity of tomatoes you can add a splash of vinegar.
Pureed pumpkins or carrots would also substitute well here.
11. Nomato Sauce
Nightshade free for those with allergies. A combination of carrots with onion, garlic, beets, both balsamic and white vinegar, and sautéed in oil. Once this is simmered until tender, it is pureed in a food processor. Simple and easy - and it tastes surprisingly like tomato paste!
Choosing The Best Substitute
When in doubt, give the ingredient a little taste and determine if that flavor will work in your dish. More than likely, you will have a few options to choose from!
Is it to thicken, for color, or flavor? Consider your needs and choose the substitute that fits!
We hope your meal turns out wonderfully with the assistance of any of these great substitutions! Let us know what you cooked up by leaving us a comment!
Do you love a recipe you tried? Please leave a 5-star 🌟rating in the recipe card below and/or a review in the comments section further down the page.
Stay in touch with me through social media @ Pinterest, Facebook, Instagram, or Twitter! Subscribe to the newsletter today (no spam, I promise)! Don't forget to tag me when you try one of my recipes!
📋 Recipe
Print Recipe
Leave A Comment
Love This Recipe?
Click On A Star To Rate It!
Tomato Paste Substitute: Homemade Tomato Paste (+More Great Alternatives!)
If you've found yourself in need of a tomato paste substitute, I've listed a number of substitutions that can work in a pinch! There are many different ingredients that can replace tomato paste in a recipe, you might have a few on hand without even knowing!
Servings:
32
servings (1 pint)
Cooking
5

hours
10

minutes
Pin Recipe
Share on Facebook
Ingredients
10

lbs

plum tomatoes

(or regular tomatoes, cored)

1

tablespoon

kosher salt

(1-4 tablespoons, to taste)

1

tablespoon

olive oil

(extra virgin, plus more to top off the jar)
Help Us Out!
If you love a recipe, be sure to come back and share your ratings. This helps future users, and allows me to continue sharing free recipes! Angela
Instructions
To start, cut plum tomatoes in half. If using round tomatoes, quarter them.

Use your fingers to remove as many seeds as you can. Then, add all tomatoes to your stockpot and bring them to a boil over high heat, stirring occasionally to release all the juice. Allow them to boil for 30 minutes until the juice has reduced and the tomatoes have softened.

Once softened use a food mill with a fine disk or a large sieve to pass the tomatoes through and remove any remaining seeds and skin.

Return the pureed tomatoes to the stockpot over high heat. Stir in salt to taste. Then reduce the heat to medium and simmer, frequently stirring, until the puree has reduced to about 1 quart (about 45-55 minutes). *As the paste thickens, reduce the heat to prevent it from splattering.

Using the olive oil, lightly grease your baking sheet. Use a rubber spatula to spread an even layer of the tomato puree that covers the whole baking sheet.

Preheat your oven to 200ºF (95ºC). If you have a convection fan, turn it on. Once preheated, place your baking sheet with the thick puree on the middle rack in the oven and bake for 30 minutes.

Pull the baking sheet from the oven and use your spatula to stir the puree to prevent it from forming a crust. Re-spread the tomato puree into a rectangle about ⅛-inch thick. *Be sure it is spread evenly as thin areas will burn. Use a paper towel to remove any puree bits outside of your rectangle and return your baking sheet to the oven.

Continue baking your puree until it is very thick, stiff even, and just a little sticky (about 3 hours). Every 20 minutes carefully stir and re-spread the tomatoes. As water evaporates, the amount of puree will decrease and your rectangle will get smaller. Remove the paste from the oven, taste, and add more salt if necessary.

Allow your tomato paste to cool to room temperature. Then, use a spoon to transfer your tomato paste to a clean jar, lightly pressing down to remove any air bubbles. Use the back of your spoon to level the top, and top it off with enough olive oil that none of the tomato paste is exposed. Close with a tight-fitting lid, and refrigerate for up to 1 year.

Every time you use the tomato paste from your jar, use a spoon to re-level the top and add more oil until the paste is fully submerged.
Equipment You May Need
Notes
Use the ripest (even a bit too ripe) tomatoes you can find for the best results.
If your tomatoes are extra juicy, you may want to help the concentration process by squeezing out excess juice and seeds.
Use tablespoon portions to add depth to your recipes. Always wait until after the paste is added to taste and salt because the tomato paste is quite salty once condensed. 
Nutrition
Calories:
29
kcal
(1%)
|
Carbohydrates:
6
g
(2%)
|
Protein:
1
g
(2%)
|
Fat:
1
g
(2%)
|
Saturated Fat:
1
g
(6%)
|
Polyunsaturated Fat:
1
g
|
Monounsaturated Fat:
1
g
|
Sodium:
7
mg
|
Potassium:
336
mg
(10%)
|
Fiber:
2
g
(8%)
|
Sugar:
4
g
(4%)
|
Vitamin A:
1181
IU
(24%)
|
Vitamin C:
19
mg
(23%)
|
Calcium:
14
mg
(1%)
|
Iron:
1
mg
(6%)
Homemade Tomato Paste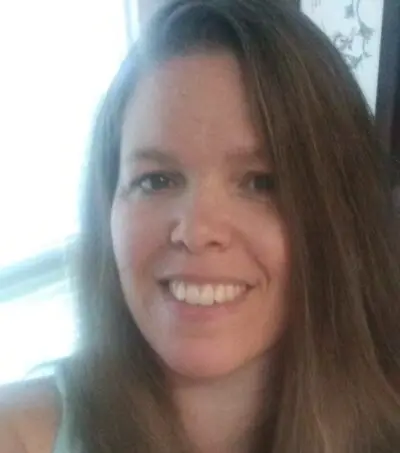 Angela is an at home chef that developed a passion for all things cooking and baking at a young age in her Grandma's kitchen. After many years in the food service industry, she now enjoys sharing all of her family favorite recipes and creating tasty dinner and amazing dessert recipes here at Bake It With Love!