Homemade shake and bake chicken has never been easier (or tastier) than this flavor-packed breadcrumb coating will make your chicken! Mix it up and coat the chicken, then bake, and you're on your way to a chicken dinner that everyone will love!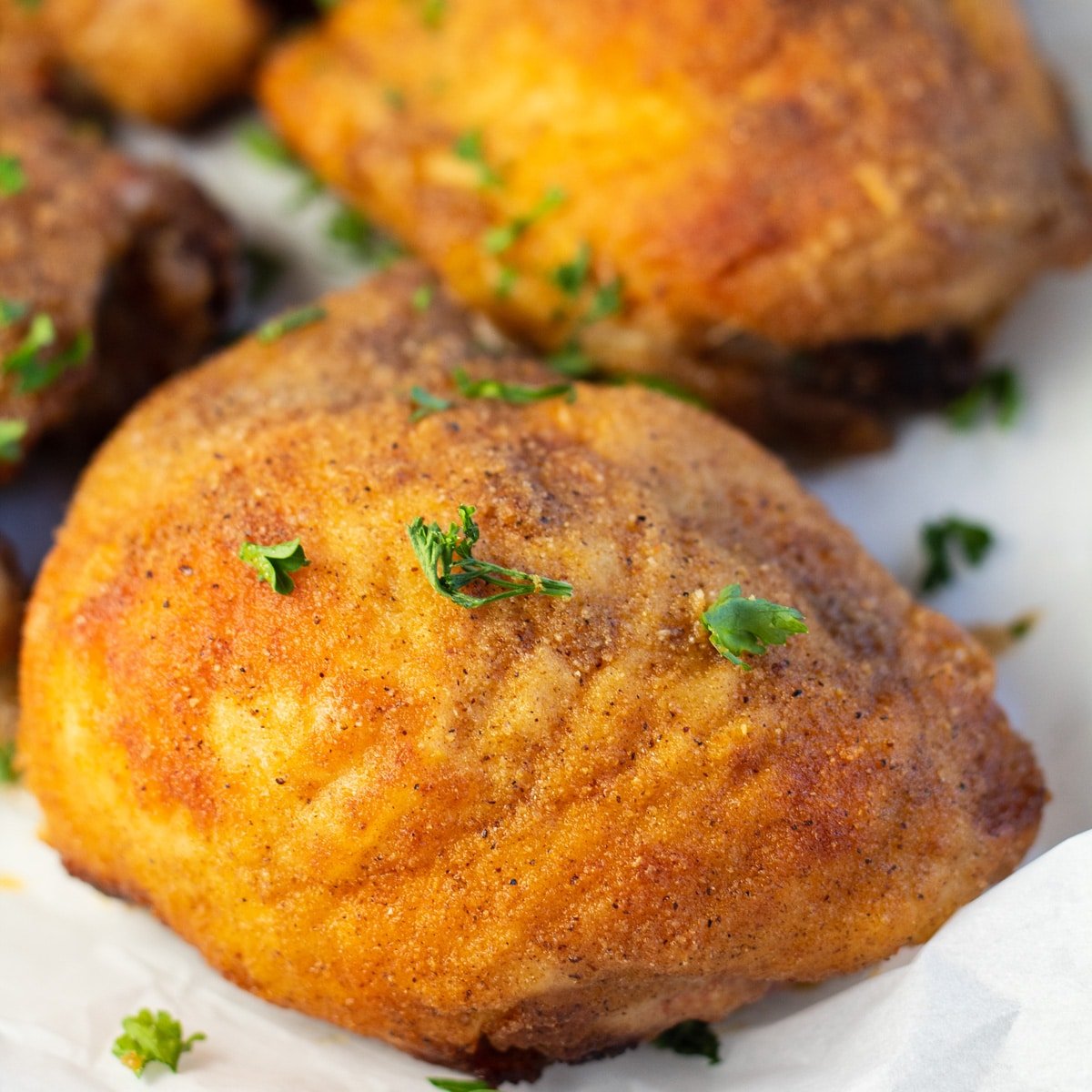 Golden, crispy Shake and Bake Chicken just like you love from the boxed version!
Are you a fan of fried chicken? I certainly am! What better family meal than a platter of salty, crispy, golden brown chicken and all of the amazing sides? I'll tell you. BAKED chicken.
This healthier-than-fried alternative has the amazing color and crunch of its classic counterpart but without all of the oil. Plus, with paprika, celery salt, garlic and onion powders, and black pepper, the breadcrumb coating is out of this world!
Jump to:
The spice-filled coating adds a unique twist to a traditional taste, especially if you opt for smoked paprika. Between the flavor and the texture, you'll be making this recipe again and again.
It's an easy recipe with an even easier cleanup and can be enjoyed by just about everyone coming to dinner. And with less time spent in the kitchen, you can spend more time at the table. Everyone wins!
❤️ Why You'll Love This Recipe!
It's super easy! Just like the original Shake N Bake - mix, shake, bake, and dinner is done! What's not to love about that?!
It's healthier! Forget the deep fryer and skip the calories, not the flavor! I've even noted air fryer directions for super crispy chicken!
Everyone will love it! Even kids will like this classic dish. I sure did as a kid (and so did my siblings)!
🥘 Ingredients
You will likely already have most of these ingredients, but you might have to go spice shopping. Everything here is versatile enough to use across many dishes; you won't regret buying them.
Chicken Thighs - Bone-in thighs with the skin on are ideal for this recipe! You can, of course, use other cuts of chicken as well as pork chops. See the recipe notes for cooking times that are based on the original Shake N Bake directions.
Olive Oil - Grab your trusty bottle of extra virgin olive oil (EVOO) for that boost in flavor!
Breadcrumbs - Plain breadcrumbs or Panko are both excellent in this breading. I like to make my breading extra fine, so pop them into the food processor if you're nutty about texture like me. 🙂
Cornmeal (optional) - Cornmeal helps create that appetizing golden color. It's completely optional, but if you do choose to use it and are also opting to make your breadcrumbs extra fine, then the cornmeal should go into the food processor with your breadcrumbs.
Salt- Regular table salt is all that's needed here to enhance the flavor of everything else!
Paprika - Plain, sweet, or smoked paprika are always a great addition to meat seasoning!
Celery Salt - This adds unique flavor and a bit of saltiness. If you don't have celery salt on hand, you can see all of my celery salt substitute options here!
Garlic Powder - Garlic is amazing in any form and adds unique flavor to everything it's in.
Ground Black Pepper - Freshly ground pepper is the best!
Onion Powder - All the flavor of the real thing with a longer shelf-life.
💭 Angela's Tips & Recipe Notes
Pat the chicken with paper towels until completely dry.
The key to getting the breadcrumbs to stick to the chicken is to thoroughly dry the meat after you rinse it. Then, coating it in oil creates a sticky surface for the breading. Some recipes replace the oil with an egg and flour mixture, ice water, milk or mayo, but I think oil is easy and gets the job done fast!
You can also make this recipe using an air fryer.
Every machine is a bit different, but you can easily cook the prepared chicken thighs in a 380℉ PREHEATED air fryer for 24-28 minutes, flipping halfway through.
Make sure to spray the basket or tray with oil or use a perforated sheet of parchment paper. Also, the pieces shouldn't touch while cooking, or you risk sticking and loss of breading. As well as slowing the cooking process down.
While it's great straight out of the oven, add some dipping sauces to the table for kids or picky eaters. Or just because! BBQ sauce, honey mustard or hot sauce would all be really delicious on this. Sweet and sour sauce also adds an amazing Asian flair.
🔪 Step-By-Step Instructions
There's only a few steps to flavorful, juicy chicken that is sure to have the whole family going back for seconds. This shake and bake chicken is quick, easy, and always a hit!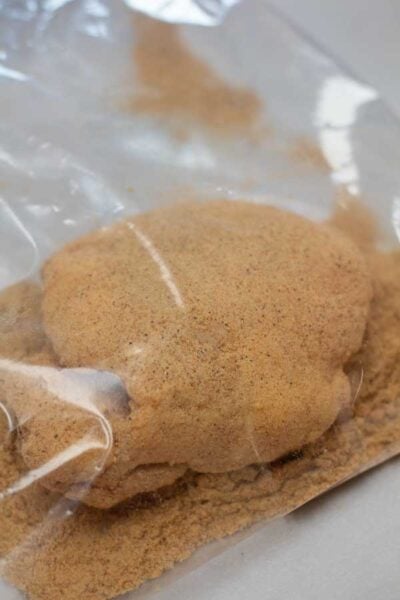 Preheat the oven. Heat up the oven to 400℉ (204℃) and line a baking sheet with parchment paper.
Clean the chicken. Rinse 4 chicken thighs and pat them completely dry with paper towels.
Prepare the chicken. Use a brush to spread 2 tablespoons of olive oil over all surfaces of the chicken.
Mix the breading. Combine 1 ½ cups of breadcrumbs, 2 tablespoons of cornmeal (optional), 2 teaspoons of salt, 2 teaspoons of paprika, ½ teaspoon of celery salt, ¾ teaspoon of garlic powder, ½ teaspoon of ground black pepper, ½ teaspoon onion powder, and ½ teaspoon of chili powder (plus optional oregano and parsley if desired) in a large Ziploc plastic bag. Close it tight and shake to mix.
Shake and... Open the Ziploc bag and drop in one oiled chicken thigh before resealing it. Shake until it's fully coated with crumbs, then place it on your baking sheet. Repeat with the other thighs and throw away any remaining breadcrumbs. Make sure to leave space between each piece of chicken on the pan.
Bake! Slide your baking sheet in the preheated oven for 40-45 minutes. The internal temperature should reach 165℉ (74℃), and the breading should be golden brown when it's cooked.
Serve. Remove from the oven and serve immediately.
Shake and bake chicken is fantastic for any meal! Serve as a crunchy part of chicken and waffles for breakfast. Or, add a salad for lunch!
For a family favorite dinner add some baked mac and cheese with garlic green beans!
🥡 Storing & Reheating
Refrigerating
Wrap with foil or store in an airtight container, and you can indulge in your leftovers for up to four days. Can't be bothered to reheat? Try eating cold chicken on top of a salad for a garden-fresh summer meal!
Freezing
As above, wrap with foil or store in an airtight container. You can keep cooked breaded chicken in the freezer for 1-3 months, though it's likely to disappear before then!
*To best freeze shake and bake chicken, place the chicken thighs on a baking sheet to freeze (about 2-3 hours). Transfer the frozen chicken to an airtight freezer container or storage bag.
Reheating
The best way to reheat shake n bake chicken is to put it in a casserole dish covered in foil and put it in the oven at 350℉ (175℃) for 10 minutes. If pulling out frozen leftovers, increase the temperature to 375℉ (190℃) for 30 minutes.
You can also do this in an air fryer. Cook at 375℉ (190℃) for 4 minutes, shaking the basket halfway through. If reheating from a frozen state, cook at 325℉ (163℃) for 16 minutes.
Reheating using either of these techniques will crisp up the coating after getting soggy in the fridge or freezer.
❓ FAQ
Can I use chicken breast instead of thighs?
While I recommend thighs with the bone in because of the added flavor from the bone and juiciness in the cut, any piece will work. In fact, making chicken tenders from the breast meat will give you more of that tasty breading on each bite. And who doesn't want that?
Is this the original Shake N' Bake recipe?
No, but still a close second! The main differences are the use of water vs. oil to make the coating stick and the spices in the coating. It also suggests using the coating on pork as well as chicken.
I don't have a Ziploc bag. Can I just bread my chicken by hand?
Of course! The original boxes of Kraft's Shake 'n Bake made their debut in 1965 when mom's did most of the cooking but many of whom were starting to hold full-time employment on top of doing traditional household duties. It was an innovative way for working mothers to save some time on cooking and cleanup. The old ads focused on the benefits of baking vs. frying and how kids could help with dinner.
To prepare the chicken without a plastic bag, just mix the coating in a bowl, and dip each piece of chicken individually. Carefully press the breadcrumbs and spice mix to every side of the chicken. This is a bit messier, but it will work just as well. Your kids might even have more fun getting their hands dirty than shaking a bag!
📋 Recipe
Print Recipe
Leave A Comment
Love This Recipe?
Click On A Star To Rate It!
Shake And Bake Chicken
Homemade shake and bake chicken has never been easier (or tastier) than this flavor-packed breadcrumb coating will make your chicken! Mix it up and coat the chicken, then bake, and you're on your way to a chicken dinner that everyone will love!
Pin Recipe
Share on Facebook
Instructions
Preheat oven to 400°F (205°C) and line a baking sheet with parchment paper.

Rinse you chicken thighs, then pat dry with paper towels.

Brush olive oil on both sides (all surfaces) of all the chicken.

In a large Ziploc plastic bag add the bread crumbs, optional cornmeal, salt, paprika, celery salt, garlic powder, ground black pepper, onion powder, chili powder, plus optional oregano and parsley if desired. Close the bag and mix the ingredients together by shaking the bag gently until well combined.

1 ½ cups breadcrumbs,

2 tablespoon cornmeal,

2 teaspoon salt,

2 teaspoon paprika,

½ teaspoon celery salt,

¾ teaspoon garlic powder,

½ teaspoon ground black pepper,

½ teaspoon onion powder,

½ teaspoon chili powder,

1 pinch oregano,

1 pinch parsley

Reopen the bag of breadcrumbs and seasoning, then place 1 chicken thigh in the bag at a time. Seal the bag leaving a bit of air in the bag.

Next, shake gently to coat the mixture over the entire chicken thigh until coated on all sides. Place the coated chicken onto your prepared baking sheet, leaving space between the chicken thighs. Repeat for each thigh, then discard any remaining breadcrumb mixture.

Bake in your preheated oven at 400°F (205°C) for approximately 40-45 minutes, until cooked through and the internal temperature is 165°F (74°C). Remove from the oven when done and serve immediately.
Equipment You May Need
Notes
The original Shake N Bake instructions on the box read: "Standard Prep! Heat oven to 400degF. Moisten 6 to 8 (½-inch thick) bone-in or boneless pork chops, 21/2 lb. bone-in chicken pieces (about 6 pieces), or 2 lb. boneless skinless chicken breasts (6 to 8 breasts) with water.1. Shake chops or chicken, 1 piece at a time, in shaker bag with 1 pkt. coating mix. Discard bag and any remaining coating mix.2. Bake on an ungreased or foil-covered rimmed baking sheet until done (minimum internal temperature of 145 deg F for pork chops, or 165 deg F for chicken, when tested with a meat thermometer). Bone-in or boneless pork chops, boneless chicken: 20 min.; Bone-in chicken: 45 min. Let chops stand 3 minutes before serving. Do not cover or turn meat while baking."
Nutrition
Calories:
496
kcal
(25%)
|
Carbohydrates:
35
g
(12%)
|
Protein:
25
g
(50%)
|
Fat:
28
g
(43%)
|
Saturated Fat:
7
g
(44%)
|
Polyunsaturated Fat:
6
g
|
Monounsaturated Fat:
13
g
|
Trans Fat:
1
g
|
Cholesterol:
111
mg
(37%)
|
Sodium:
1843
mg
(80%)
|
Potassium:
369
mg
(11%)
|
Fiber:
3
g
(13%)
|
Sugar:
3
g
(3%)
|
Vitamin A:
678
IU
(14%)
|
Vitamin C:
1
mg
(1%)
|
Calcium:
91
mg
(9%)
|
Iron:
3
mg
(17%)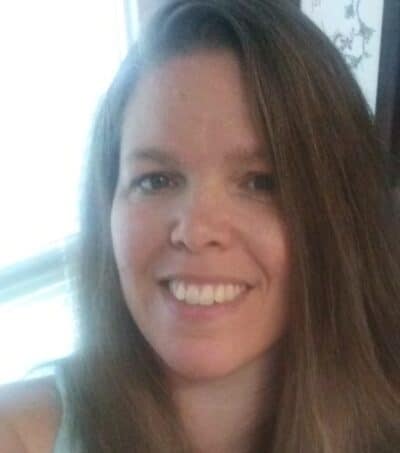 Angela is an at home chef that developed a passion for all things cooking and baking at a young age in her Grandma's kitchen. After many years in the food service industry, she now enjoys sharing all of her family favorite recipes and creating tasty dinner and amazing dessert recipes here at Bake It With Love!