Quick, versatile baked pork steaks are an incredibly fast and delicious weeknight family dinner that everyone will love! They're coated with an amazing savory seasoning before being oven-baked to juicy tender perfection!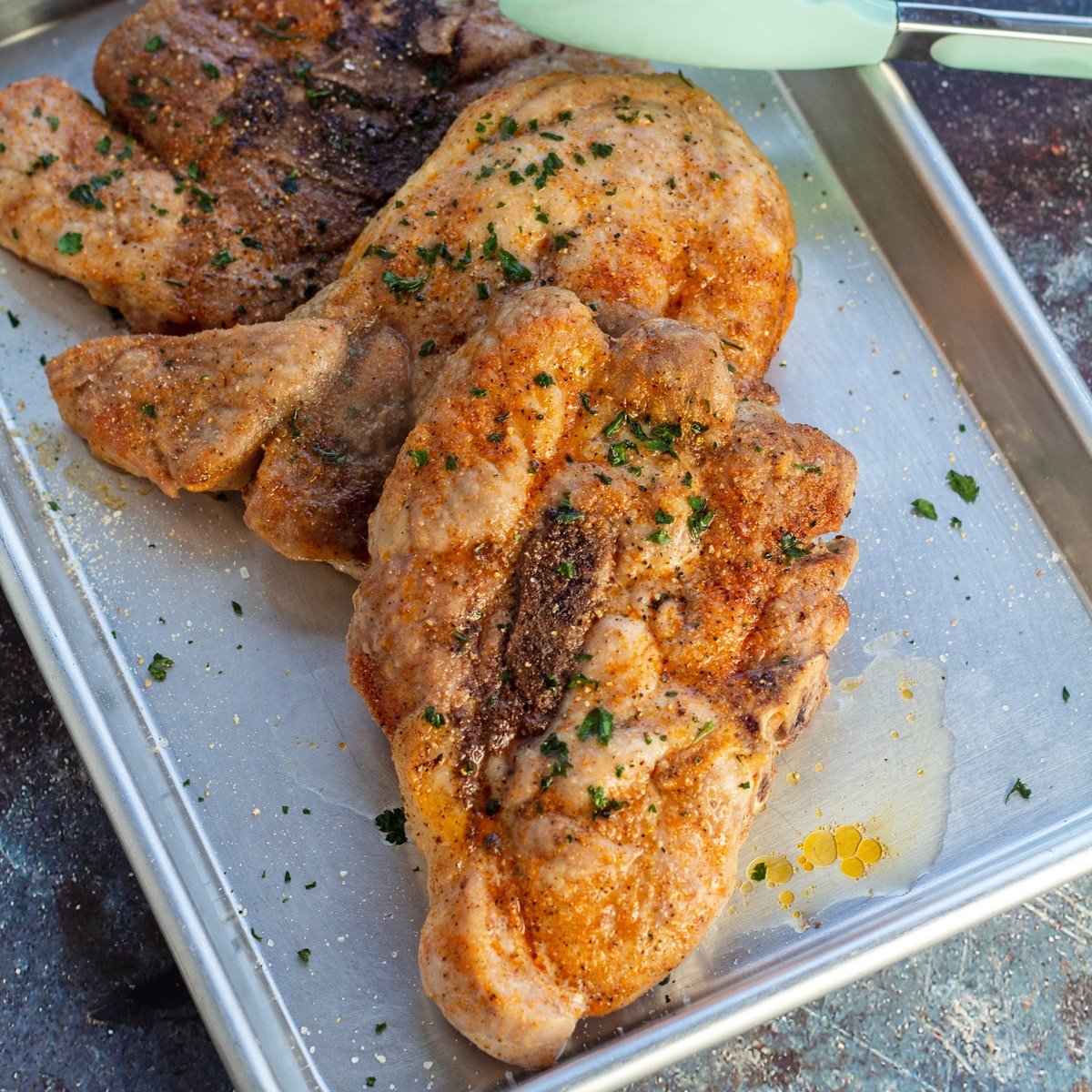 Tender, juicy, and packed full of delicious flavor – Baked Pork Steaks are such a delightful main course!
Baked pork steaks are an easy, tasty dinner that anyone could love! Mine are simply baked in the oven with a generous coating of my savory, smoky steak seasoning! The steaks are super juicy and flavorful.
Pork steaks are also so versatile! You can switch up the seasonings or add different sauces to make them taste exactly how you'd like!
Jump to:
The flavor of the pork meat is mild, so it really works well with just about any seasoning profile. Whatever you choose, pork steaks are going to be a delicious addition to the weeknight dinner rotation!
❤️ Why You'll Love This Recipe!
So Versatile! Pork steaks pair wonderfully with nearly any seasoning or side dish! Buy several and switch up the seasonings whenever you make them!
So Fast! This quick recipe is ready in just under 30 minutes! It's a perfect main course for busy people!
So Delicious! I love how my savory steak seasoning makes the pork steaks irresistibly tasty! Pork steaks are also marbled with lots of delicious fat, so they're always so juicy!
🥘 Ingredients
Pork steaks are so mouthwatering flavorful, especially when seasoned with my incredible steak seasoning! It's such a versatile seasoning that pairs with almost any meat!
*Be sure to see the free printable recipe card below for ingredients, exact amounts & instructions with tips!*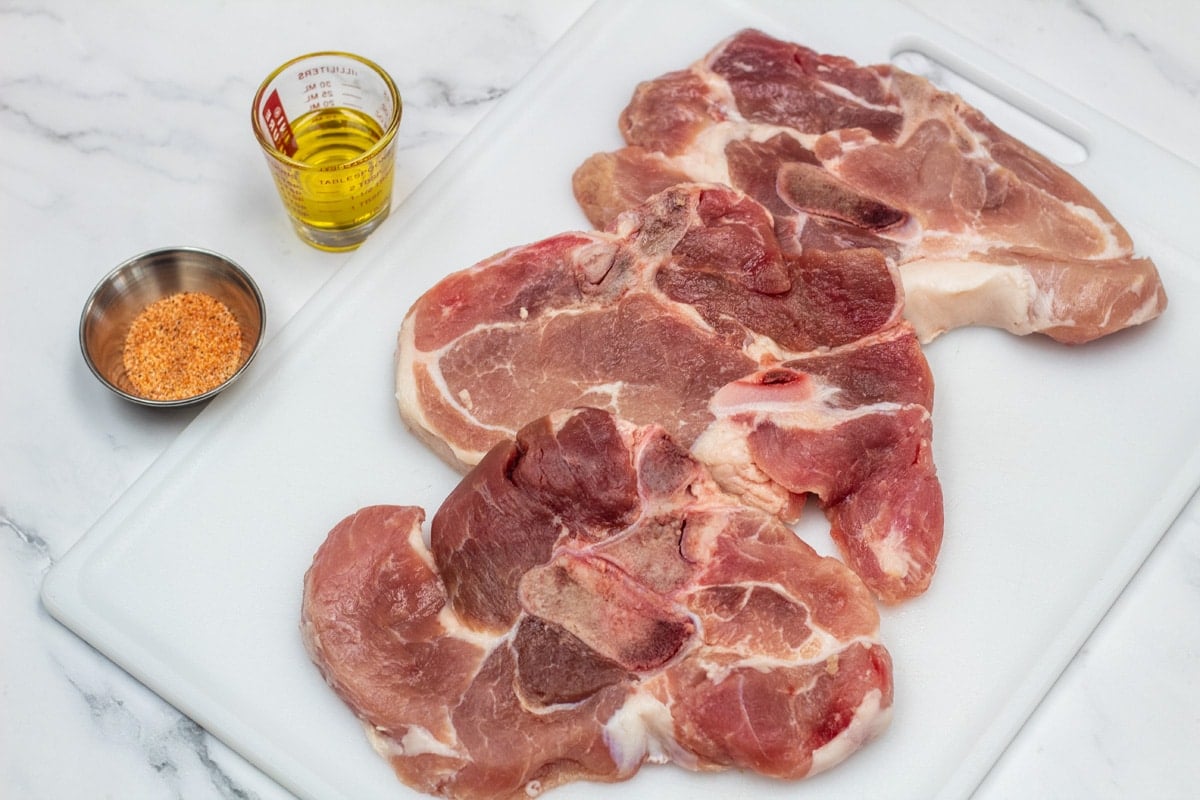 1 ½ pounds Pork Steaks – This is about 3 pork steaks at approximately 8 ounces each. Pork steaks are cuts from the shoulder or "butt" of the pork. They're well marbled with fat—so they're always moist and juicy!
1 tablespoon Olive Oil – This will coat the pork steaks and help the seasoning stick to the steaks.
Steak Seasoning – You can purchase store-bought steak seasoning, but I recommend my easy recipe! It's full of savory onion and garlic powder, rich smoked paprika, herby dried thyme and rosemary, and salt and pepper! It's just as perfect for pork as it is for beef!
📖 Variations
Try switching up the seasoning blend on the pork steaks! Cajun seasoning is a great choice, as are Smokehouse or BBQ seasonings!
For extra deliciousness, try brushing on a tablespoon of BBQ sauce on each steak before broiling! BBQ sauce always makes food even more delicious!
🔪 Step-By-Step Instructions
Super easy, baked pork steaks are exactly what you need to make for dinner! They're just that easy and tasty!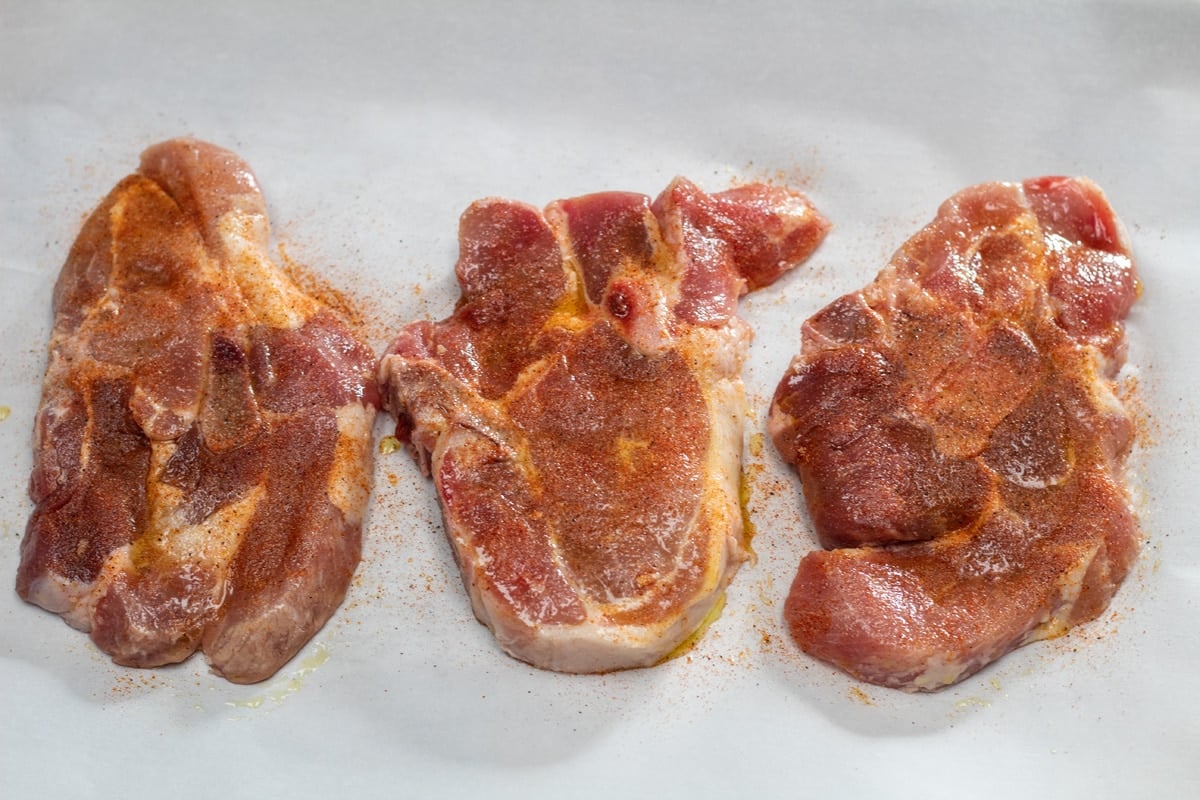 Prep. Start by preheating your oven to 400°F (205°C). Then, cover a baking sheet with a sheet of parchment paper or aluminum foil and set aside. Next, rinse and pat dry 1 ½ pounds of pork steaks (about 3 steaks). Set the pork steaks aside on a plate or plastic cutting board. Be sure to sanitize your sink!
Season. Next, brush 1 tablespoon of olive oil all over the pork steaks evenly. Then, generously sprinkle 1 tablespoon of steak seasoning on each side of the steaks. When thoroughly seasoned, place the pork steaks on the baking sheet.
Bake your pork steaks. Place the pork steaks in the middle of the ovens center rack and bake at 400°F (205°C) for 15 to 18 minutes. Optional—To sear the steaks, turn on your broil function to high and broil for 2 minutes. They should be a delicious golden brown but be careful not to let them burn!
Finish and serve. After baking or the optional broil, check the temperature using an instant read thermometer probe. The steaks need to reach an internal temperature of 145°F (63°C) to be safe to eat. Once the steaks have reached this temperature, remove from oven, and allow to rest a few minutes. Serve immediately when done.
My simple oven-baked pork steaks are such an easy weeknight main course! Pair them with my super easy buttered noodles and a delicious green veggie like my sautéed broccolini! Enjoy!
💭 Angela's Tips & Recipe Notes
If you're unable to find pork steaks, you can easily make this recipe with pork chops! Purchase an equal amount of pork chops and you can proceed with the rest of the instructions.
Pork steaks are usually about ½ inch in thickness, but you may find thicker steaks. If your steaks are thicker, they may require additional cooking time. Be sure to use an instant read thermometer or meat thermometer to know when they're done!
Brushing the steaks with olive oil helps the seasoning to stick evenly! It also helps the steaks to brown evenly while in the oven! I especially recommend this if your pork steaks look a little lean. It will help to seal in the juices!
You can also grill these incredible pork steaks for an extra tasty twist! You can use any grill here: gas, charcoal, or pellet! Just make sure you start with a clean, oiled grill that's preheated to a medium heat. For the best results, make sure the pork chops have come to room temperature before grilling! This will help them to cook more evenly and be less likely to dry out.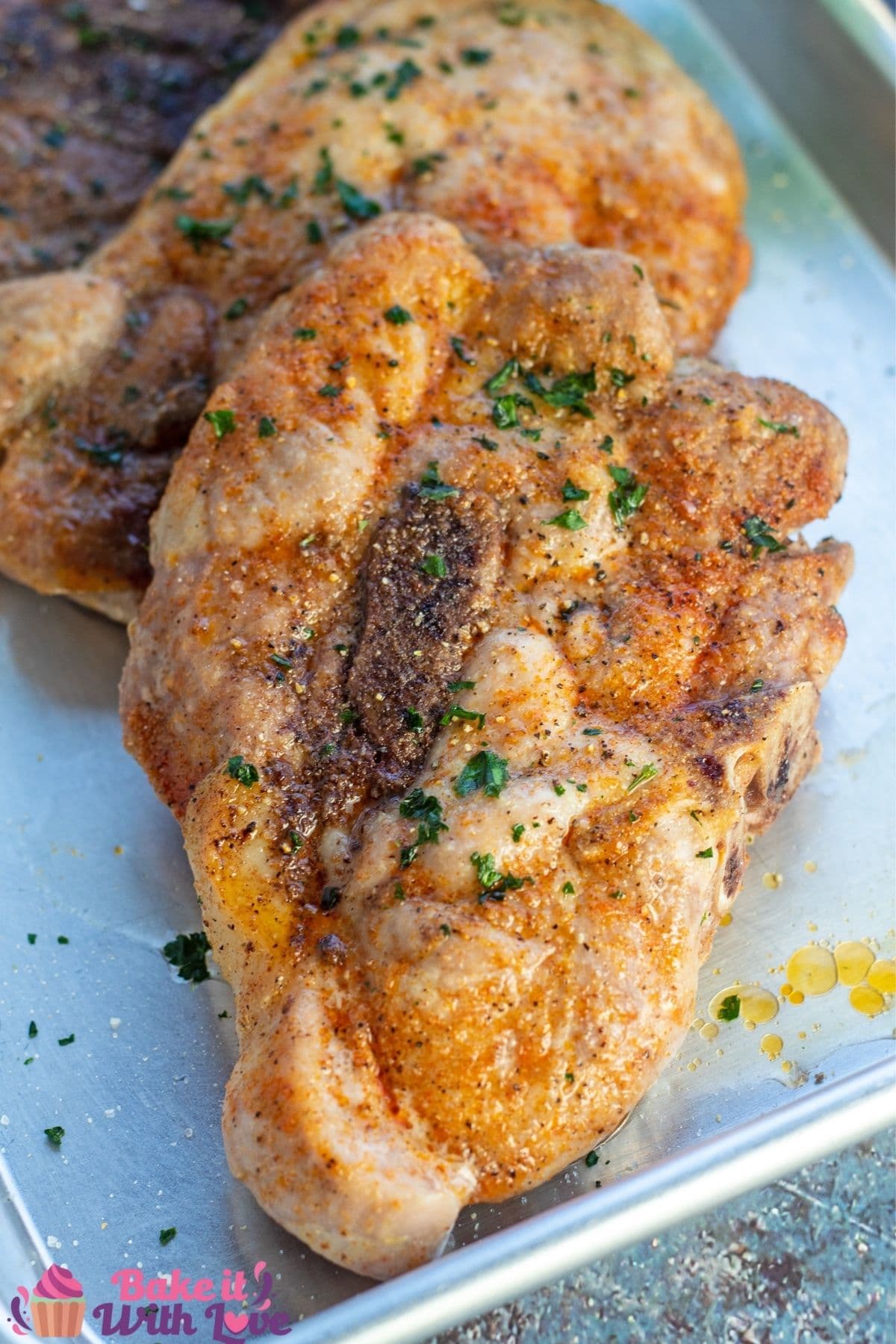 🥡 Storing & Reheating
When they're properly stored, my delicious oven-baked pork steaks are good in your fridge for 3 to 4 days! I like to put them in airtight containers or wrap them tightly with plastic cling film or aluminum foil to keep them as fresh and tasty as possible.
Freezing
If you would like to further to extend the life of these amazing pork steaks, store them in the freezer! Place them in an airtight container or in a heavy-duty freezer bag to freeze for up to 6 months. For best quality thaw and serve within 2-3 months.
If you use a freezer bag, make sure to remove excess air to help prevent ice crystals from forming.
When you're ready to reheat them, you can place the bag or container in the sink under running cool water (for a quick thaw) or let them defrost in your fridge overnight.
Reheating Pork Steaks
Reheating the pork steaks is as easy as putting them in the oven! Preheat your oven to 350°F (175°C) and place the leftover or defrosted pork steaks in a baking dish.
Splash with a little water or chicken broth, then cover with a sheet of aluminum foil. Bake for about 10 to 15 minutes or until heated to your satisfaction.
🥦 Great Sides Dishes For Pork Steak
❓ FAQ
Why are my pork steaks tough?
Pork steaks can be prone to drying out if overcooked at high heat. You can help this by making sure to stick to recommended temperatures and cooking times. I also recommend using an instant-read digital thermometer to make sure the steaks are at the proper internal temperature. If you go over the suggested temp of 145°F (63°C) too much, they might dry out and get tough!
What's the difference between a pork steak and a pork chop?
Pork steaks are cut from the pork shoulder, also known as the pork butt or Boston butt. Pork steaks are also sometimes called pork blade steaks. Pork chops are cut from sections of the loin of the pork (near the pig's back).
Pork steaks are usually boneless and can be a little more marbled with fat than a pork chop. This keeps them super moist!
Pork steaks are sold at a lower price than pork chops, usually—so they're super cost-friendly if feeding a crowd!
📋 Recipe
Print Recipe
Leave A Comment
Love This Recipe?
Click On A Star To Rate It!
Baked Pork Steaks
Quick, versatile baked pork steaks are an incredibly fast and delicious weeknight family dinner that everyone will love! They're coated with an amazing savory seasoning before being oven-baked to juicy tender perfection!
Pin Recipe
Share on Facebook
Ingredients
1 ½

lbs

pork steaks

(3 pork steaks approximately 8 ounces each)

1

tablespoon

olive oil

1

tablespoon

steak seasoning
Instructions
Preheat your oven to 400°F (205°C) and line a baking sheet with parchment paper.

Rinse and pat dry your pork steaks.

Apply by brushing olive oil over the pork steaks, then season using the steak seasoning. Place pork steak on the baking sheet.

1 ½ lbs pork steaks,

1 tablespoon olive oil,

1 tablespoon steak seasoning

Bake at 400°F (205°C) for 15-18 minutes. (Optional) Next, broil on high for 2 minutes to get a nice sear.

Check the temperature using an instant-read probe - the safe temperature is 145°F (63°C). Allow to rest for 5 minutes, serve, and enjoy!
Equipment You May Need
Notes
Pork steaks are around ½ inch in thickness. Additional cooking time may be necessary for thicker pork steaks.
Nutrition
Calories:
345
kcal
(17%)
|
Carbohydrates:
1
g
|
Protein:
43
g
(86%)
|
Fat:
18
g
(28%)
|
Saturated Fat:
5
g
(31%)
|
Polyunsaturated Fat:
2
g
|
Monounsaturated Fat:
9
g
|
Trans Fat:
1
g
|
Cholesterol:
136
mg
(45%)
|
Sodium:
148
mg
(6%)
|
Potassium:
778
mg
(22%)
|
Fiber:
1
g
(4%)
|
Sugar:
1
g
(1%)
|
Vitamin A:
35
IU
(1%)
|
Vitamin C:
1
mg
(1%)
|
Calcium:
45
mg
(5%)
|
Iron:
3
mg
(17%)
Baked Pork Steaks, easy dinners, oven baked pork, pork steak recipes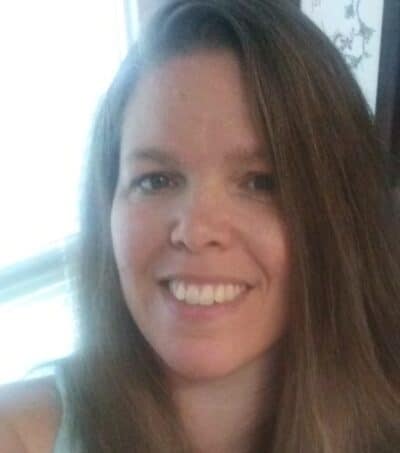 Angela is an at home chef that developed a passion for all things cooking and baking at a young age in her Grandma's kitchen. After many years in the food service industry, she now enjoys sharing all of her family favorite recipes and creating tasty dinner and amazing dessert recipes here at Bake It With Love!