Here's what to serve with pork for a complete, delicious, and well-rounded meal that the entire family will enjoy! With so many tasty side dish options, there is something for everyone on this list! From macaroni and cheese to corn on the cob, you can't go wrong here!
Dishes That Go With Pork
Pork is such a delicious and versatile protein that pairs well with a wide variety of different sides. It can be grilled, seared, roasted, or even made in a crock pot!
I put together this list of all of my favorite side dishes to complete your pork dinner! Whether you're in the mood for some rolls, sweet potatoes, or even apples, I've got a recipe for you!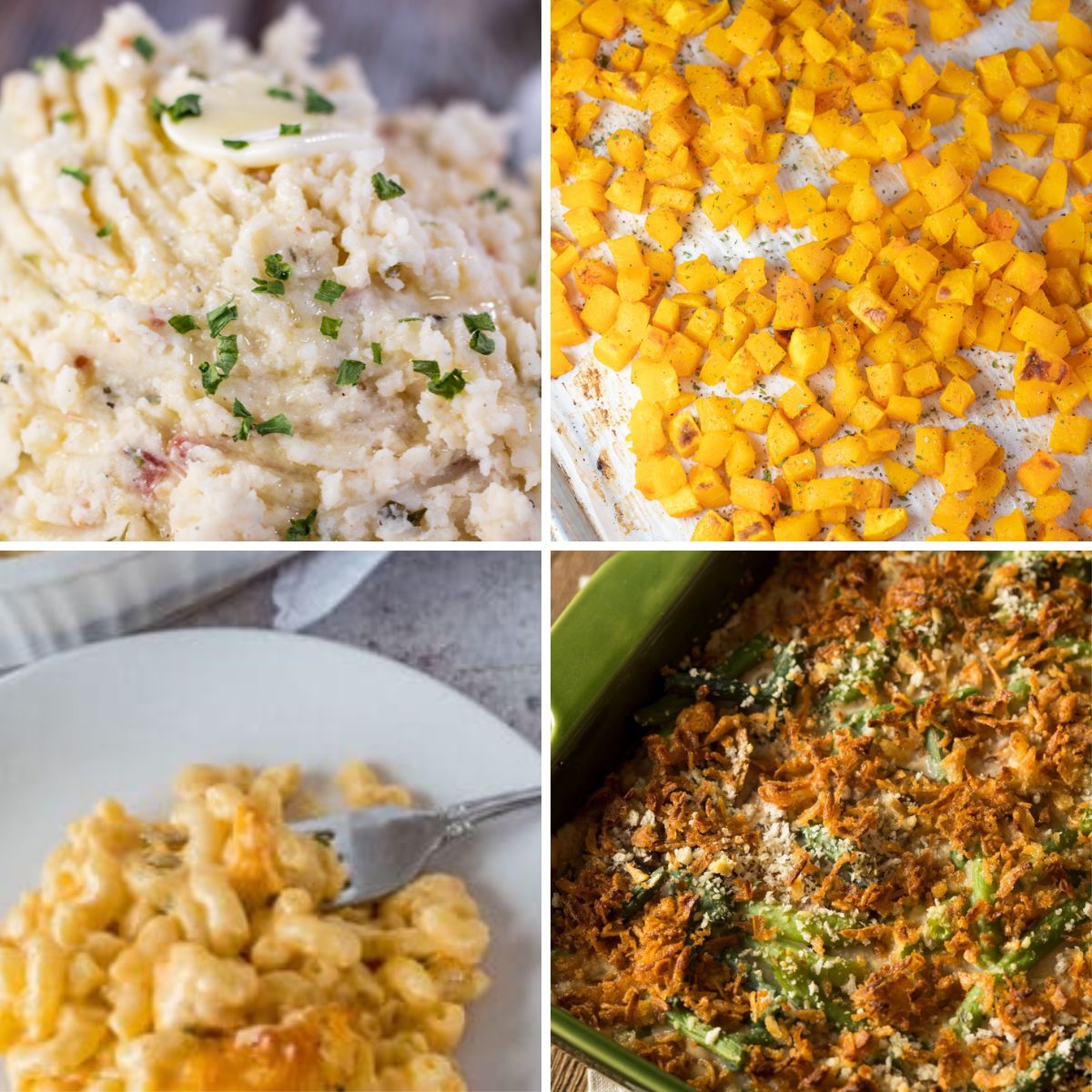 Jump to:
Side Dishes To Pair With Pork
Pork tastes great with practically anything! Go ahead and choose one (or two) of the recipes below to round out your family dinner!
If you love pork, make sure to take a look at some more side dish ideas for these specific pork entrees! Find out what to serve with pork ribs, stuffed pork chops, pork tenderloin, pulled pork, or pork chops!
1. Southern Baked Macaroni and Cheese
This macaroni and cheese dish is packed with flavor and 3 gooey, melted kinds of cheese! You can also try out some Instant Pot mac and cheese, Velveeta mac and cheese, or white cheddar mac and cheese!
2. Baked Cinnamon Apples
Serve these tender and sweet apples over top of your favorite pork chops for a sweet and savory dish! Of course, you can always enjoy them as dessert too!
3. Polenta
If you've never tried it, polenta has a mild corn flavor (considering it is made from cornmeal). It is creamy, delicious, and easy to make!
4. Bacon Cream Cheese Mashed Potatoes
Is there anything that mashed potatoes don't pair fantastically with? This recipe features both cream cheese and bacon!
Of course, you can also try out some yellow mashed potatoes, red skin mashed potatoes, Parmesan roasted mashed potatoes, or roasted garlic mashed potatoes!
5. Pan Fried Sweet Potatoes
These sweet potatoes have a crisp outside with a soft and fluffy inside. They only use a handful of ingredients for an incredibly easy, delicious, and nutritious side!
If you love sweet potatoes, you can also try out some mashed sweet potatoes, roasted sweet potatoes and onions, or baked sweet potatoes!
6. Butter Herb Rhodes Rolls
You can enjoy these fluffy and delicious rolls as an appetizer while you wait for your dinner to finish cooking, or go ahead and serve it right alongside your meal!
7. Loaded Baked Potato
Baked potatoes are a great hardy side that can easily be customized with all of your favorite toppings! They pair well with any meaty main, even pork!
8. Cornbread Stuffing
This cornbread stuffing uses cornbread as opposed to traditional stuffing bread. Add in some sauteed veggies and bacon for a show-stopping dish!
You can also try out my easy stuffing or sausage stuffing!
9. Green Bean Casserole From Scratch
We all know and love green bean casserole as a staple holiday side dish, but it is so easy to make that you can enjoy it all year long! This recipe uses fresh green beans, but you can always enjoy some Campbell's green bean casserole or bacon cheddar green bean casserole as well!
10. Roasted Butternut Squash
All you need is some squash, oil, salt, and pepper for this dish! You can enjoy this roasted butternut squash as-is or turn it into some delicious butternut squash soup!
11. Green Beans Almondine
This healthy veggie side dish will pair perfectly with any of your favorite pork recipes! It only uses a handful of ingredients and even a beginner can make it!
12. Crockpot Apple Sauce
Apples and pork make a wonderful flavor combination! You can serve this homemade applesauce as a side or simply smear it over the top of the meat!
13. Baked Cabbage Steaks
This recipe may be incredibly simple, but you are sure to be wowed by how tasty it is! Plus, it's totally healthy and will easily complete your meal!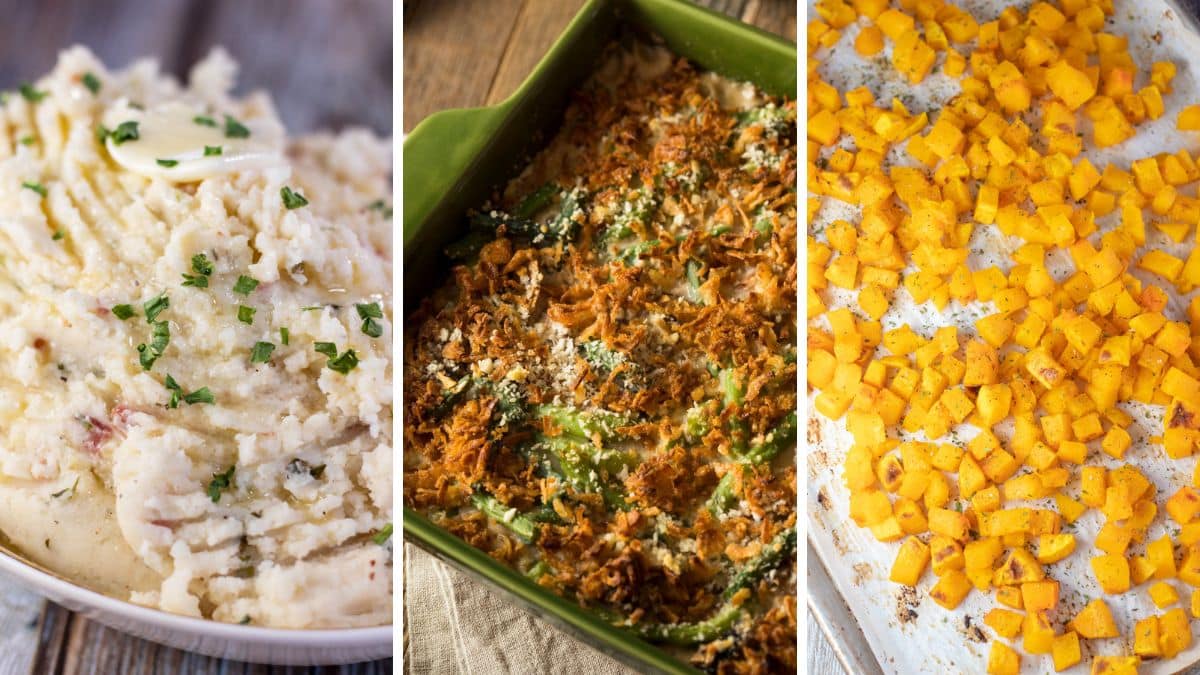 14. Honey Glazed Carrots
Tender carrots are coated with brown sugar, honey, and seasonings for this amazingly delicious vegetable side! Serve it alongside your pork or go ahead and just dump it on top!
15. Instant Pot Au Gratin Potatoes
Fork-tender potatoes are smothered in a creamy, cheesy sauce that is absolutely irresistible! Plus, using the Instant Pot makes them extra easy to make!
16. Cheesy Bacon Ranch Potatoes
Tender potatoes are tossed with sour cream, cheese, and amazingly crispy bacon! Go ahead and pair these with your pork entree for a savory and hearty meal!
17. Creamed Kale
This rich, savory, and incredibly creamy side is a perfect complement to your pork dishes! Not to mention, it is a great way to add some greens to your plate!
Not a fan of kale? Take a look at my creamed spinach!
18. Jiffy Corn Casserole
With just 5 ingredients you can whip up this satisfyingly sweet-yet-savory side. A cornbread base is packed with creamed corn for a completely addicting dish that everyone will enjoy!
19. Sweet & Sour Red Cabbage
Eat this sweet and sour cabbage on the side or use it as a condiment for your pork! It is easy to make and really takes your meal to the next level!
20. Zucchini Squash Casserole
If you're wanting to add some squash to your plate but aren't sure how to make it- give this recipe a try! It utilizes both zucchini and yellow squash that are coated in a creamy sauce and then topped with breadcrumbs!
Check out more of my zucchini recipes here!
21. Maple Roasted Brussel Sprouts
You can always enjoy some simple pan-seared brussel sprouts. However, this recipe incorporates both bacon and maple syrup for a sweet and savory treat!
22. Cream Cheese Pasta
Pork is so versatile, you can even enjoy it with some pasta! This pasta uses garlic, cream cheese, and Parmesan to make a wonderfully delicious sauce!
23. Creamed Corn
In just 15 minutes, you'll easily be able to whip up a batch of this delectable creamed corn! It's a perfect side dish for any last-minute meals or when you need to make something in a pinch.
24. Smoked Baked Potatoes
If you're enjoying a flavorful and juicy smoked pork roast, you can easily make these smoked potatoes right alongside it! If you're short on time, you can always make some microwave baked potatoes!
25. Grilled Corn on the Cob
If you're firing up the grill to make some grilled pork chops, go ahead and toss some ears of corn on there too! Not only are they tasty, but they are amazingly simple to make!
I hope this list of side dishes helped you complete your pork dinner! Leave a comment down below and let me know your favorite sides to pair with pork!
>>>>See all of my recipes HERE<<<<
🐖 Tasty Pork Recipes
📋 Recipe