If you want to know what to serve with pork ribs this summer, look no further than this list of fabulous side dishes! There are a few comfort food classics as well as some vegetable sides and lighter options. Whether you prefer your ribs baked, grilled, or smoked, these are the best recipes to serve with pork ribs!
The Best Sides for Pork Ribs
If you are thinking of serving up some juicy pork ribs at the next get-together but aren't sure what to serve with them, you've come to the right place! Below are some of the very best side dishes to serve with pork ribs any time of year.
From fresh and fruity to downhome Southern comfort food, there are plenty of recipes to choose from. While your ribs may be the star of the show, these side dishes will be just as popular!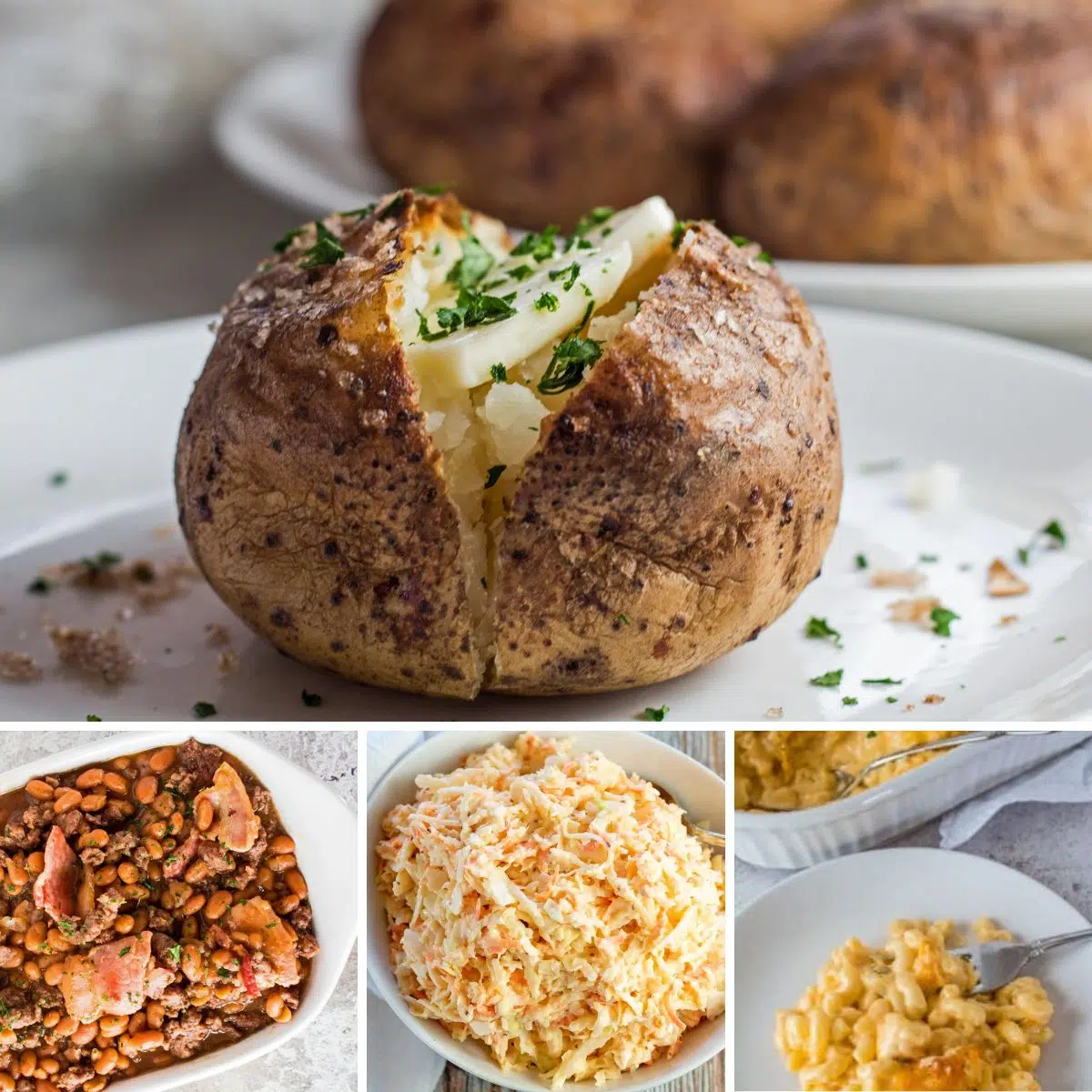 Jump to:
1. Baked Potatoes
Ribs of any sort served with a loaded baked potato is always a safe bet. You can't go wrong with this classic BBQ side dish because it is so easily customizable!
Try my fantastically flavorful smoked baked potato or check out my baked potato bar for more ideas!
2. Baked Beans with Ground Beef and Bacon
Baked beans with ground beef and bacon are a standard side dish at cookouts, camping trips, and backyard BBQs everywhere. Even if you are cooking inside, these beans will go perfectly with your pork ribs.
3. Southern Coleslaw
Southern coleslaw is a quick and easy side dish you can serve with your ribs any time of year! The creamy dressing and cool, crisp veggies are particularly refreshing in the summertime.
4. Roasted Green Beans
If you are looking to add some veggies to your spread, these roasted green beans couldn't be easier. Just add a little butter and lemon juice and this might be your new favorite way to make green beans.
5. Mexican Corn Fritters
You may not see Mexican corn fritters alongside a rack of ribs very often, but that's just because people haven't caught on yet. They are slightly spicy (or more if you prefer) with a subtle sweetness from the corn kernels.
6. Loaded Baked Potato Salad
What is a BBQ without someone bringing a delicious bowl potato salad? Let that someone be you with this this loaded baked potato salad full of all your favorite potato toppings!
7. Creamed Corn Cornbread
Cornbread is tasty but cornbread with creamed corn mixed in is downright delicious! A little honey adds just enough sweetness to keep you coming back for another piece.
8. Polenta
If you're tired of rice and potatoes, give polenta a try! This Parmesan polenta can be served as-is or you can add some delicious toppings!
9. Fresh Fruit Salad
If you are having a summertime get-together, a fruit salad made with fresh fruit is always a hit! It makes a simple side dish or refreshing appetizer!
10. Garlic Red Skin Mashed Potatoes
Some rustic garlic red skin mashed potatoes are right at home next to a few juicy pork ribs. These potatoes are so delicious, you won't even need gravy.
11. Cucumber Vinegar Salad
Cucumber vinegar salad is a great light side to serve with any meaty main course like ribs. It is both tangy and sweet while being totally refreshing!
12. Hawaiian Macaroni Salad
You are almost guaranteed to find a chilled pasta salad at any BBQ, so switch things up with this Hawaiian version! Hawaiian macaroni salad is tangy, sweet, and savory all at the same time!
13. Southern Baked Mac and Cheese
Of all the ways to make mac and cheese, Southern baked mac and cheese is one of the most delicious. It's extra rich and creamy because it requires at least 3 (or more) different cheeses!
14. Smoked Corn on the Cob
Smoking corn on the cob adds a depth of flavor to the corn that you can't get on the grill or in the oven. It's an easy, inexpensive side dish that packs a lot of incredible smoky flavor!
15. Black Eyed Peas with Collard Greens
Black eyed peas with collard greens is Southern comfort food at its finest. It's easy to make and goes perfectly with pork because there is ham in it already!
We hope these recipes gave you a few delicious dinner ideas! Let us know what you are serving with your pork ribs in the comment section below!
📋 Recipe