This incredibly easy homemade Guacamole is the perfect combination of creamy avocado, lime, fresh cilantro, diced Roma tomatoes, and diced red onion that is seasoned with salt, pepper, and paprika! Seriously tasty and addictive flavors from wonderfully fresh ingredients!

Best Ever Guacamole Recipe
If you have never been a fan of guacamole, or only felt so-so about it, try out this amazingly delicious homemade guacamole for an all-new appreciation for this avocado dip. I'm not kidding!
Once upon a time ( since this update is 5 years after originally publishing my guacamole recipe ) I was never able to get my youngest, our daughter Lauren, to eat avocado without hiding it quite thoroughly. Mashing and mixing it with something like sour cream. Most of the time even that was an uphill struggle.
No more! She was so enthused about this guacamole that she asked for more! It's one of those moments that I think I very nearly fell over 🙂
Fast forward to 2021 and that little girl has grown to a tween fan of guacamole. Now she makes the guacamole on her own, from memory. No recipe needed!
Jump to:
🥘 Ingredients
Grab a bowl, knife, spoon, fork, and a bag of tortilla chips. It's time to make this amazingly easy and super-fresh guacamole! These are all of my favorite guacamole ingredients, but I'll note below how to whip up a super simple 4-ingredient guac too!
Avocado - buttery, rich and tasty avocados are the base of this fantastic Mexican dip! You'll need ripe, soft avocados. I'm using 3 large Haas avocados, use 4-6 avocados if you have a smaller variety on hand. *PS, this is the PERFECT way to use up your super soft ( but not quite overly-ripe ) avocados!! Once your avocados have brown spots, the rich and buttery flavor that you love in avocados is diminished. This will yield not-as-yummy guacamole!
Lime - is the perfect citrus flavor to add to guacamole! The lime juice also helps to prevent your guacamole from turning brown rapidly.
Cilantro - I love the taste of fresh cilantro, but I know that others don't. If you have people in your family that aren't fans of cilantro, swap the fresh herb out for some cumin instead. Chopped parsley works as a 'fresh greens' replacement too.
Tomato - I recommend and use Roma tomatoes in my guacamole. They have a wonderful flavor and firm texture to the meat or flesh of the tomatoes. Other tomatoes like vine-ripened tomatoes or beefsteak tomatoes also work but I would remove the juicy, jelly portion of the tomato center.
Onion - fresh, diced red onion is the perfect amount of 'bite' to add to the guacamole. It adds a bit of texture to the overall creaminess of the guacamole too. White onion and sweet yellow onions will also work. Use whichever onions you usually prefer and/or what you have available on hand.
Jalapeno Pepper - adds just the right amount of contrasting flavor, but will not make your guacamole spicy! If you want to increase the heat in your guac, you can add more jalapeno without the seeds removed.
Seasoning - salt, pepper, and smoked paprika all help to highlight the flavors of your ingredients and add depth of flavor overall!
More 'authentic' and traditional guacamole is a very simple combination of avocado, lime, and salt. This is probably ALOT closer to what the Aztecs invented in like the 1500s!
I love cilantro, so that's where ingredient number 4 comes in. 🙂 Use the same amounts in the recipe below, but omit the chopped or diced fresh ingredients ( tomatoes, onion, jalapeno ) and extra seasoning.
🔪 Step-By-Step Instructions
Making homemade guacamole couldn't be much easier than this! It's so much better than store-bought! Not only are you using much fresher ingredients, but you are also avoiding any preservatives or additives.
Use a mortar and pestle, or a fork to mash the avocado, lime juice, and salt in a medium-sized mixing bowl.
Add the

onion, cilantro, tomato, garlic, jalapeno

, and then stir all of the ingredients to combine them.
Add the fresh ground pepper and smoked paprika. Stir, then taste and adjust the seasoning as needed.
Grab some chips and enjoy!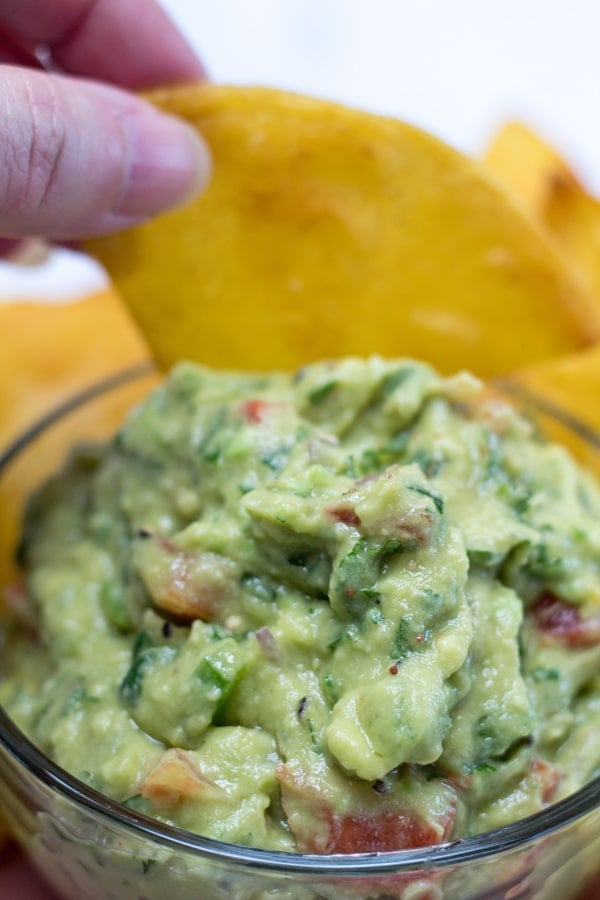 🥗 Sides
More Great Guacamole Recipes: Creamy Guacamole and Hatch Chile Guacamole
🥡 Storing & Reheating
Guacamole can be made the night before serving, which I think helps to 'marry' the flavors together best. You can store your guacamole in the refrigerator for up to two days. After that, the guacamole will begin to brown and lose flavor and quality overall.
To best store your guacamole, and prevent browning, follow these steps:
Transfer the guacamole to an airtight container.
Squeeze some fresh lime juice over the top of the guacamole.
Lay a couple of sheets of plastic cling film directly over the guacamole and lime juice.
Press down to remove as much excess air as possible.
You can also store the guacamole in a ziploc plastic storage bag. Again, be sure to squeeze out all of the excess air and maybe add a touch of lime juice into the bag with the guac.
Can guacamole be frozen? The short answer is yes! The longer answer is that while you most CAN freeze guacamole, it's not the best way to store your guac.
Once your avocado dip has been frozen, the avocados lose that delightful, buttery texture. The wonderfully addictive and oh-so-tasty avocado flavor is also compromised by freezing the guacamole.
If you do freeze your guacamole, store it in an airtight freezer storage bag or use a vacuum sealer. Freeze the bagged avocado in an evenly flat layer ( use a baking sheet to freeze, if there is no flat surface to initially freeze the guacamole on ).
To thaw your frozen guacamole, transfer the frozen package of guac to your refrigerator. Allow the guacamole to thaw overnight while refrigerated.
To quickly and safely thaw your guacamole, fill a bowl with cold water and place the bagged guacamole in the cold water. This should thaw in 30 - 40 minutes.
📋 Recipe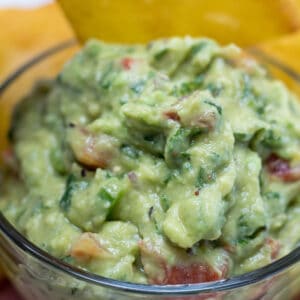 Print Recipe
Leave A Comment
Love This Recipe?
Click On A Star To Rate It!
Guacamole (How To Make The Best Ever Guacamole!)
This incredibly easy homemade Guacamole is the perfect combination of creamy avocado, lime, fresh cilantro, diced Roma tomatoes, and diced red onion that is seasoned with salt, pepper, and paprika! Seriously tasty and addictive flavors from wonderfully fresh ingredients!
Pin Recipe
Share on Facebook
Ingredients
3

large

avocados

(ripe avocados)

2

roma tomatoes

(diced)

¼

cup

red onion

(finely chopped)

2

cloves

garlic

(minced)

3

tablespoon

cilantro

(fresh, chopped)

1

jalapeno

(finely chopped)

1

lime

(juiced)

1 pinch

each, salt & pepper

(to taste)

1 pinch

smoked paprika

(optional)
Instructions
To help avoid browning, start with preparing all of the ingredients other than the avocados first! Dice your tomatoes, onions, jalapeno, mince the garlic and chop the cilantro. Set them aside.

Slice each of the avocados in half, remove the core and place the halved avocados in a medium-sized mixing bowl or large mortar and pestle. Add the salt to the avocado and mash using a fork, or the pestle.

Add the lime juice and chopped ingredients (tomato, onion, jalapeno, garlic, and cilantro). Mix until well combined. Add seasoning then stir. Taste and adjust salt and pepper as needed.
Nutrition
Calories:
173
kcal
(9%)
|
Carbohydrates:
12
g
(4%)
|
Protein:
2
g
(4%)
|
Fat:
15
g
(23%)
|
Saturated Fat:
2
g
(13%)
|
Sodium:
9
mg
|
Potassium:
572
mg
(16%)
|
Fiber:
8
g
(33%)
|
Sugar:
2
g
(2%)
|
Vitamin A:
445
IU
(9%)
|
Vitamin C:
20
mg
(24%)
|
Calcium:
22
mg
(2%)
|
Iron:
1
mg
(6%)
Save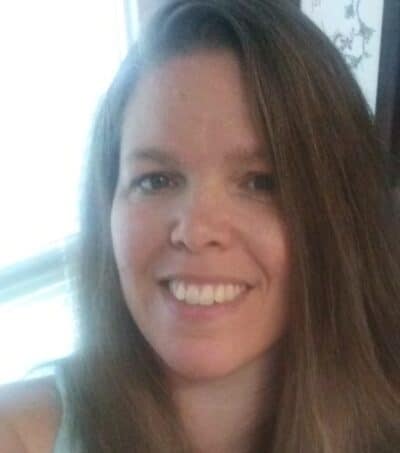 Angela is an at home chef that developed a passion for all things cooking and baking at a young age in her Grandma's kitchen. After many years in the food service industry, she now enjoys sharing all of her family favorite recipes and creating tasty dinner and amazing dessert recipes here at Bake It With Love!