Mexican recipes offer something for everyone- be it a little spice, savory flavors, hearty meat dishes, or cheesy comfort foods! Here are a few of our favorite classic Mexican recipes that we thoroughly enjoy, and we think you will too!
Authentic Mexican Recipes
Sometimes you just crave a big plate of Mexican food, or at least I do. Rice, beans, and something with a little spice often do well to turn a rough day around.
I love making authentic Mexican recipes from scratch because you can taste the love and time that was poured into the meal. Below are a few of my family's favorites that are just too good not to share!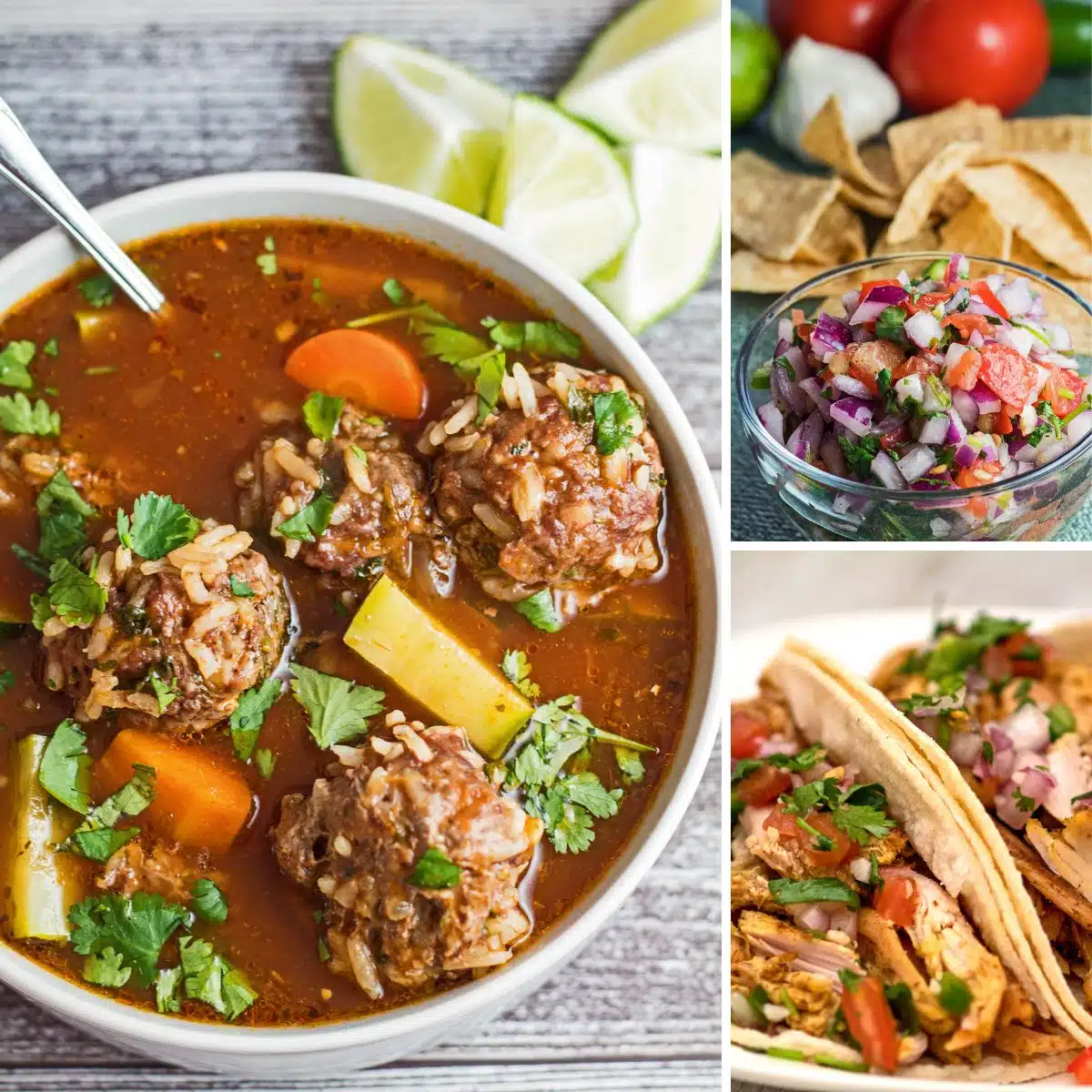 For more Tex-Mex, Mexican-inspired, and Mexican recipes check out our all-inclusive page of Cinco de Mayo recipes!
Jump to:
1. Birria Tacos
Birria is a goat stew that is extremely versatile and jam-packed with flavor! Enjoy birria as a traditional taco, or make quesatacos by dunking the tortillas in birria broth, filling them with cheese, and frying until crispy!
2. Refried Black Beans
Refried black beans are the low-calorie Mexican side dish you can feel good about eating. A sprinkle of queso fresco on top and you will forget just how healthy they are!
Best of all, you can use refried black beans in any way (or in any meal) you would use regular refried beans.
3. Beef Empanadas
Tender, flaky empanada crust stuffed with a delicious ground beef filling and baked in the oven, what's not to love?
They are hearty, filling, and just the right size to eat with your hands!
4. Flour Tortillas
Any Mexican dinner is improved with a stack of warm, homemade tortillas on the table. When you make your own tortillas you can make them any size you need, from street tacos to huge wraps!
5. Elotes
If you've ever had the pleasure of enjoying elotes from a street vendor, then you know just how downright delicious and refreshing it is! The perfect balance of creamy, spicy, and tangy, Mexican street corn makes any meal better.
Well, now there's no need to hunt down an elotes cart when you can make the real deal at home!
6. Tacos Dorados
Referred to as 'golden tacos' for their perfectly crisp, golden shell, tacos dorados are utterly delicious! The crispy shell won't fall apart on you, and you can dress them up with all of your favorite taco toppings and sauces.
>>>>See all of my recipes HERE<<<<
7. Corn Fritters
Pan-fried Mexican corn fritters are super easy to make and can be served as part of any meal or as an appetizer on their own! Make them spicy, or not, it's up to you!
8. Salsa Roja
Learning to make homemade salsa roja is a skill you will utilize time and time again. Leave it chunky or blend it smooth, use it as a dip for chips or drizzle it on your favorite Mexican dish, there are a million ways to serve this incredible salsa!
9. Pico De Gallo
Another traditional Mexican condiment, pico de gallo is incredibly versatile as well! This fresh vegetable salsa can be sprinkled over all your favorite Mexican foods, or scooped onto chips and enjoyed as-is!
Whip some up to make a big Mexican spread for Cinco de Mayo (or any occasion), or keep it in the fridge to add to eggs, baked potatoes, guacamole, whatever you like!
10. Guacamole
This is my tried and true guacamole recipe! It's fresh and limey, perfect for serving up on a summer day with a pitcher of margaritas.
Be prepared for this to be the appetizer everyone requests from you at parties! If you like variety, creamy guacamole and hatch chile guacamole are also favorites of mine.
11. Salsa Verde
Nothing beats an authentic salsa verde made from fresh tomatillos. A touch of jalapeno adds just the right amount of heat.
Like the salsa roja above, this green salsa can be put on any of your favorite Mexican food or used as a dip on its own!
12. Caldo de Pollo
Caldo de Pollo is a wonderful soup for when you're feeling under the weather (or just because you're craving something comforting).
This Mexican chicken soup is full of fresh ingredients and a savory broth. It's a meal that warms the soul!
13. Mexican Picadillo
Picadillo is a hearty meat and potatoes hash that can be used in a variety of ways! Enjoy it with eggs at breakfast time, or use it to fill burritos, tacos, empanadas, whatever your heart desires!
A touch of jalapeno adds just a little kick, but not so much that it's overpowering.
14. Albondigas Soup (using my homemade albondigas)
Albondigas, or Mexican meatballs, are enjoyable all on their own, but even more so when tossed into a savory soup!
Fresh veggies and a brothy tomato base make this soup comforting and delicious, while the albondigas make it super filling!
15. Turkey Carnitas
Using leftover turkey to make delicious shredded turkey carnitas tacos is one of the best meals to make after the holidays! You can even swap out fresh raw turkey or chicken, and you can make it in your crock pot if you need something hands-off!
16. Instant Pot Chipotle Beef Barbacoa
Using your Instant Pot to cook up some chipotle barbacoa beef cheeks results in tasty beef that tastes like it was slow-roasted for hours. It's juicy and fall-apart-tender in just about 45 minutes!
Use this flavorful shredded beef in tacos, burritos, or any of the Mexican recipes on your menu!
17. Carne Picada
Rich beefy carne picada is the most versatile beef taco filling you could ever make and it tastes so incredibly delicious! It's a wonderfully quick and easy Mexican main dish to serve any night of the week!
18. Cheese Enchiladas
The classic enchilada starts with lots of cheese, tortillas, saucy goodness, and then more cheese! This crowd-pleasing dinner is easy to make and a winner for your picky eaters too!
See all of my tasty enchilada recipes in this great collection!
19. Ground Beef Taquitos
This tasty ground beef recipe is a family favorite - and what's not to love?! Tasty seasoned beef rolled up in corn tortillas and fried until delightfully crisp makes for a great finger food snack, taco night appetizer, or casual dinner.
With tasty recipes like these up your sleeve, you can have a delicious Mexican meal whenever you please! Let me know which recipes you have tried or what you would like to see added to my list by leaving a comment below!
📋 Recipe