Mexican desserts are full of bold flavors and textures that are truly unique compared to the desserts of other cultures! Often times these desserts toy with the balance between sweet, fruity, creamy, and even spicy! This list features some of the best Mexican desserts so you can bring these fabulous flavors into your own home!
Mexican Dessert Recipes
Every culture puts a unique spin on desserts and sweet treats and Mexican culture is no different! They have many dessert recipes that are bold with flavor and perfectly sweet to keep you wanting more!
Below are some of the best Mexican desserts that you may or may not have heard of. If you see one that catches your eye, give it a try and you'll see why Mexican desserts are internationally loved!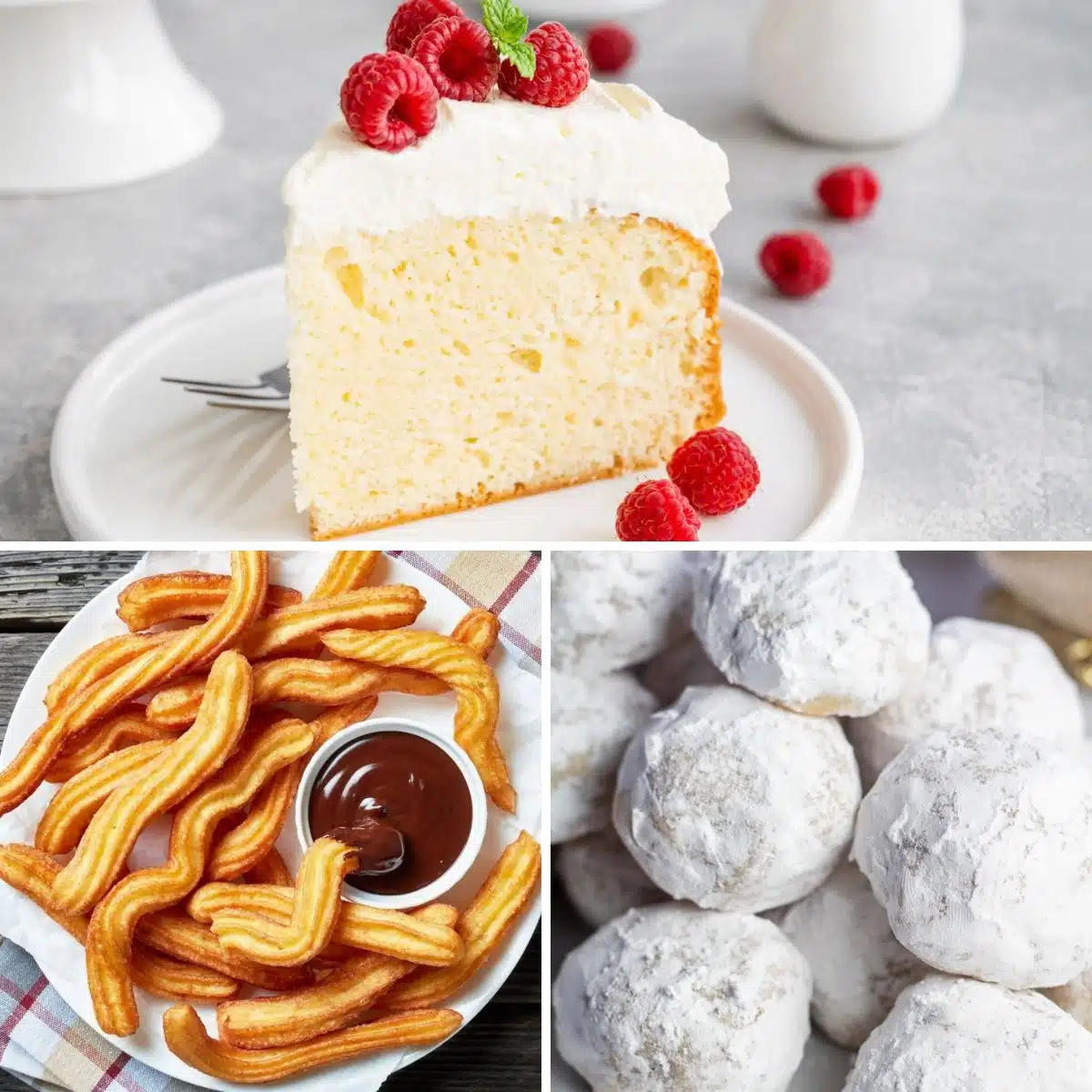 Jump to:
1. Churros
Churros are crunchy sticks of dough that are deep-fried and sprinkled with cinnamon and sugar. Our churro recipe uses dough made with cinnamon, fresh eggs, delicious vanilla, and sweet sugar.
Serve these at your summer backyard barbecue for an easy sweet treat!
2. Arroz con Leche
Arroz con leche is rice with milk. It is sweet and thick like pudding that is full of bold flavors.
Warm cinnamon balances the sugar, and the creamy milk thickens the pudding creating a delicious treat. Serve this for breakfast or an after-dinner treat!
3. Fried Ice Cream
Fried ice cream is one my all-time favorite desserts! Every time I go to a Mexican restaurant, I am sure to order this multilayered masterpiece.
Fried ice cream is rolled on corn flakes and topped with chocolate sauce, whipped cream, and cinnamon.
4. Flan
Flan is a thick egg-based custard that is smothered in a sweet caramel sauce. It is a very common dessert amongst many Hispanic cultures and has recently gained traction in the United States.
Mexican flan is made with eggs, sugar, and milk.
5. Tres Leches Cake
Tres leches cake is moist and filled with rich flavors. It is the perfect cake for birthdays or weddings because it is fluffy and easy to make!
Tres leches cake uses evaporated milk, condensed milk, and heavy whipping cream to make it the perfect texture and consistency.
6. Cherry Empanadas
Cherry empanadas are filled with thick cherry filling and fried until the outside is golden brown and crispy. These handheld desserts are great for on-the-go activities!
Serve cherry empanadas at your next backyard barbecue or party!
7. Mexican Hot Chocolate
Mexican hot chocolate is sweet and a bit spicy! The bitter cocoa is paired with warm cinnamon and spicy chili powder, then It is sweetened with a little bit of sugar!
This sweet drink is great for cold nights or chilly afternoons!
8. Dulce de Leche
Dulce de leche is a thick milk candy that is used in many desserts as toppings or fillings and it is also eaten by itself. This milk candy is made with sweetened condensed milk that is heated until it becomes caramelized.
9. Conchas (Mexican Sweet Bread)
Conchas are a sweet bread that almost tastes like a sugar cookie. They are often topped with cinnamon, powdered sugar, or cocoa powder.
Make this for your friends and family and they will thank you!
10. Sopapillas
Sopapillas are Mexican fritters that are soft and warm on the inside and golden brown on the outside. They are topped with gooey honey and powdered sugar giving them the perfect amount of sweetness.
Sopapillas are absolutely scrumptious and your friends and family will love them! For an easy sopapilla-inspired recipe everyone raves about, try my sopapilla cheesecake bars!
11. Pastel de Elote (Mexican Sweet Corn Cake)
Pastel de elote is a delicious cake made from corn! It's moist and sweet and made with vanilla, eggs, corn, and sugar.
Some people even take it a step further and top it off with powdered sugar or honey! Serve this sweet corn cake at your next potluck and have everyone impressed!
12. Bunuelos
Bunuelos are a made from thin dough that is fried until crunchy and topped with sweet toppings. It is then flavored with orange or vanilla and topped with homemade cinnamon syrup.
They are mouthwatering and perfectly flavored. Easily make a large batch and store the leftovers in the fridge for an easy on-the-go snack!
13. Horchata
Horchata is made with white rice, warm cinnamon, and delicious vanilla blended with milk and sugar to create a balanced drink that is perfect for summer days!
Serve this refreshing drink at your next summer get-together!
14. Mexican Wedding Cookies
Mexican wedding cookies are the best cookies to make with your kids or grandkids. They are perfectly delicious and very simple to make.
Mexican wedding cookies only use these 6 ingredients: pecans, all-purpose flour, salt, butter, confectioners' sugar, and vanilla! These cookies are so easy to make that you can have anyone join in on the fun and cook as a family!
15. Paletas
Paletas are the perfect summertime dessert! These fresh fruit popsicles are full of sweetness and balanced with the right amount of tart flavors.
To make Paletas all you need is your favorite fruit or a combination of a few, I like strawberry and pineapple! Blend the fruit with a bit of sugar, citrus, and water, and freeze!
16. Chocoflan Impossible Cake
Chocoflan impossible cake is a blend of Mexican flan and delicious chocolate cake, like 2 desserts in 1!
This cake combines condensed milk, sugar, cinnamon, cream cheese, and vanilla! Making it packed full of flavor and perfect for your next dinner party!
17. Mangonada
Mangonada is a mango-inspired drink that you will never forget! It is made with mangos, sugar, lime, chamoy, and tamarind.
If you want to make this an adults-only drink, add a shot of rum or tequila at your next dinner party!
18. Mexican pralines
Mexican pralines are delicious cookies made with pecans, sugar, butter, milk, and vanilla. They are easy to make and even easier to eat!
Serve these with a glass of milk for a delicious after-dinner snack or make a big batch and have them at your next holiday party!
If you like trying new sweets and treats, you're invited to try one of the Mexican desserts listed above! Let me know which recipe you chose and how it turned out in the comments below!
📋 Recipe