These Mexican casseroles are all delicious, no-fuss recipes that are perfect for feeding the whole family! These family-favorite meals are great for weeknight dinners, potlucks, or hosting friends! No matter which one you make, they are all fiesta-worthy!
Best Mexican Casserole Recipes
If you're craving some zesty, Mexican-inspired flavors, then look no further! All of these casseroles are jam-packed with flavor, easy to make, and perfect for the entire family!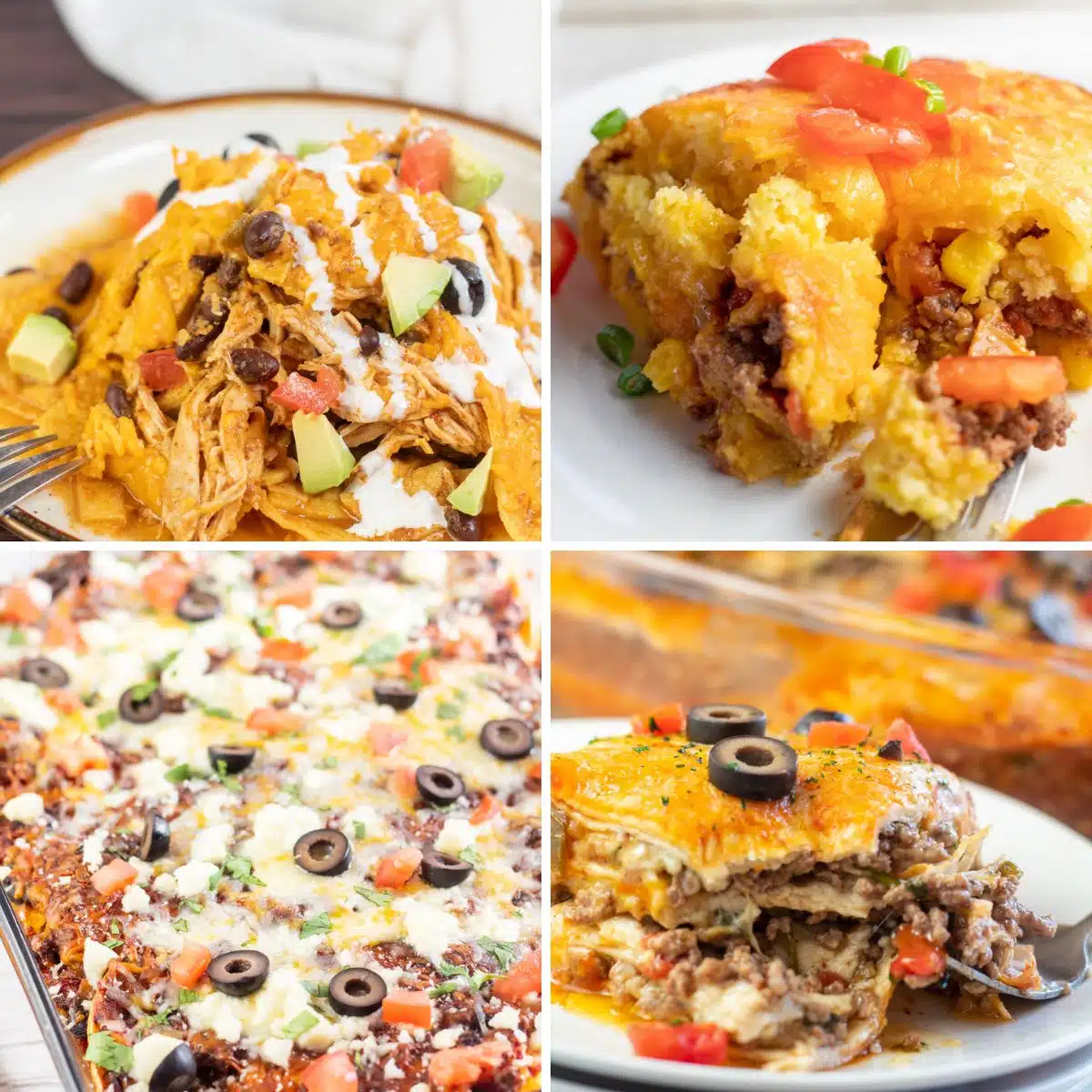 Jump to:
Take a look at all of my favorite Mexican recipes and Mexican desserts here! I also have a collection of easy 5-ingredient casseroles for those extra busy weeknights, too!
1. Ground Beef Mexican Casserole
This easy casserole features all of your favorite taco ingredients but in a delicious casserole! With just the right amount of homemade taco seasoning for tons of flavor, you won't have any leftovers!
Plus, you can customize it however you like!
2. Mexican Cornbread Casserole
Everyone loves cornbread, and this recipe turns it into a casserole! Your cornbread batter is layered with chiles, tomatoes, and ground beef for an all-in-one dinner.
Top it with some cheese, and then bake it to perfection!
3. Mexican Lasagna
This casserole is so easy to make because all you have to do is layer everything in your baking dish! Not to mention, it will be ready to eat in only an hour!
4. Beef Enchilada Casserole
If you love beef enchiladas but don't want to have to deal with rolling them up, then this recipe is for you! It is both easy and versatile, so go ahead and add your favorite enchilada ingredients!
5. Doritos Casserole
Nacho cheese Doritos add both flavor and crunch to this casserole. Layer them with some ground beef and you are good to go!
6. Walking Taco Casserole
If you're a fan of walking tacos (who isn't?) then add this recipe to the top of your list! It's everything you love about the traditional single-serving dish but in a family-sized casserole!
7. Turkey Southwestern Casserole
If you're tired of using your leftover turkey for turkey sandwiches, go ahead and mix it up with this Southwestern casserole! Add a drizzle of southwest dressing to take it up a notch!
>>>>See all of my recipes HERE<<<<
8. Doritos Chicken Casserole
This variation of my tasty Doritos casserole uses chicken instead of ground beef. It's one of my most popular recipes that is always a huge hit!
9. Salsa Verde Chicken Casserole
Using rotisserie chicken makes this casserole extra easy. Feel free to use storebought salsa verde or try out my recipe!
10. Burrito Bake
Savory burritos that are packed with beans are the star of this fun casserole! You may even like it better than typical burritos!
11. Chicken Enchilada Casserole
With only 4 ingredients, could this enchilada casserole be any easier? All you need is chicken, corn tortillas, enchilada sauce, and cheese!
12. Mexican Mac & Cheese
If you're on the hunt for some new mac and cheese recipes, go ahead and give this one a try! It is just as cheesy and delicious as regular macaroni and cheese but with sausage, salsa, and jalapenos!
13. Tex-Mex Cornbread Bake
Delicious cornbread is combined with ground turkey, chiles, pepper Jack cheese, and cilantro for some serious Tex-Mex flavors. It also includes cream of mushroom soup to make it wonderfully rich and creamy!
14. Chicken Tamale Casserole
Making tamales from scratch can be hard work, so this casserole simplifies it! It uses boxed cornbread as a base, but is packed with all of the classic tamale flavors!
15. King Ranch Chicken Casserole
This classic casserole is very popular, especially in the south. It is perfect for bringing along to potlucks or parties!
💭 Tips For Making Mexican Casseroles
Don't let this amazing list of recipes intimidate you. Here are some tips to help you decide which recipes will make your next family favorite dinner!
Personal Preferences: Consider your own taste preferences. Do you prefer spicy or mild flavors? Are there specific ingredients you love or want to avoid?
Skill Level: Choose a recipe that matches your cooking skills. Some casseroles may require more advanced techniques, while others are beginner-friendly.
Ingredients Availability: Check if you have access to the ingredients listed in the recipe. Opt for a recipe with readily available items to avoid frustration.
Dietary Restrictions: If you have specific dietary needs (e.g., vegetarian, gluten-free), make sure the recipe aligns with those requirements.
Make-Ahead Options: Determine if the recipe allows for pre-preparation or if it's best made fresh. Some casseroles can be assembled ahead of time.
*What do you think of these delicious Mexican casseroles? Leave a comment below and let me know which one you will cook first! Tag BIWL #bake_it_with_love when you share your creations on Instagram!
📖 Recipe Card