These macaroni & cheese recipes include all the cheesiest, creamiest, and richest mac and cheese dishes you could ever ask for! Whether you're looking for a new macaroni & cheese recipe or a different cooking method to try out, this ultimate list has it all! No matter which one you choose to make, you're guaranteed a delicious, crave-worthy dish on the table!
Best Macaroni & Cheese Recipes
If you're looking to take your macaroni & cheese experience to new heights, you've come to the right place! Below, you'll find my top recipes that incorporate creamy and delectable macaroni & cheese into effortless appetizers, delightful side dishes, and satisfying family dinners!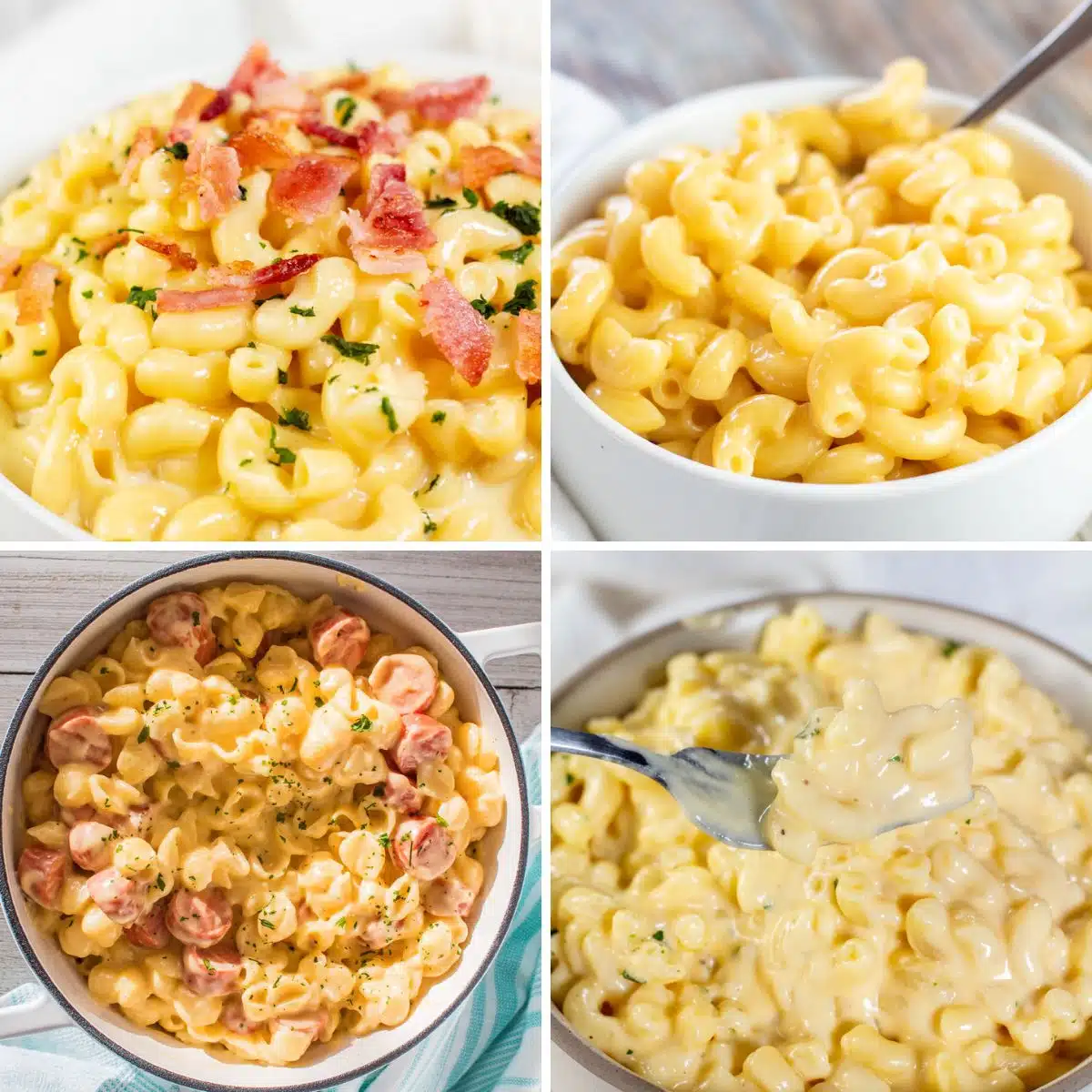 Jump to:
After you pick out the recipe you'd like to try, check out my complete list of what to serve with macaroni and cheese to complete your meal!
1. Paula Deen's Macaroni & Cheese
If you're a fan of Southern comfort food, this simple copycat of Paula Deen's baked macaroni & cheese recipe is a must-try! Eggs are added to the cheese sauce to create a fluffy texture that's hard to resist.
2. Sour Cream Macaroni and Cheese
This sour cream macaroni and cheese recipe features the perfect combination of tangy flavor and creamy richness! It's one of my favorite variations to make as it's always a hit with kids and adults alike.
3. Smoked Gouda Mac and Cheese
Adding smoked gouda cheese to your macaroni creates an exceptional flavor that any cheese lover will enjoy! This dish is so comforting that it could be enjoyed as a side dish or main course.
4. Instant Pot Mac and Cheese
This Instant Pot mac and cheese recipe is incredibly easy to prepare and perfect for when you are short on time! It's made with both shredded cheddar and Velveeta for that extra gooey deliciousness everyone loves.
5. Velveeta Mac and Cheese
Velveeta mac and cheese is a one-pot meal that is rich, creamy, and quick to make! All you need is a handful of simple ingredients and 5 minutes of prep time.
6. Air Fryer Frozen Mac and Cheese Bites
These bite-sized balls of mac and cheese are a great solution for when you are craving comfort food but don't have extra time to cook. Whether you enjoy them as a tasty snack, appetizer, or lunch, you won't be disappointed!
7. Crockpot Mac and Cheese
Cooking mac and cheese in the Crockpot is one of my favorite methods as there's no need to boil the noodles in water! All you have to do is toss the ingredients into your slow cooker and let it do the rest of the work for you.
8. Cauliflower Mac and Cheese
This cauliflower mac and cheese recipe is a clever and tasty way to incorporate some vegetables into everyone's meal without them even realizing it! It's loaded with heavy cream, cream cheese, smoked sausage, and seasoning for extra satisfying flavor.
>>>>See all of my recipes HERE<<<<
9. Mac and Cheese With Hot Dogs
If you're looking for a dish that's guaranteed to be a success with your kids, this creamy mac & cheese with hot dogs is just the thing! It's a versatile and hearty meal that's great for any weeknight; plus the leftovers are easy to reheat.
10. Lobster Mac and Cheese Burger
This tasty sandwich is made with leftover lobster mac & cheese patties served on my easy, homemade brioche buns! If you make the patties the night before, you'll only need 10 minutes to cook them on the stovetop.
11. White Cheddar Mac and Cheese
This easy mac and cheese recipe features a velvety, luscious sauce with sharp and tangy notes from white cheddar and heavy cream. You can cook it on the stovetop or add breadcrumbs and bake it in the oven!
12. Smoked Mac and Cheese
The next time you're firing up the smoker, try my easy smoked mac and cheese recipe to go with your smoked meat! This recipe features three different kinds of cheese, jalapenos, and bacon, all elevated with a savory touch of smoke.
13. Southern Baked Macaroni and Cheese
If you are tired of boxed mac and cheese and looking for an easy next-level dish, this recipe is the one for you! It's simple to prepare but tasty enough to serve for holiday meals and family gatherings.
14. White Cheddar Lobster Macaroni and Cheese
Seafood lovers will be head over heels for this comforting and luxurious lobster mac and cheese dinner! Fresh lobster meat is combined with tender elbow macaroni noodles and a creamy sauce made with three varieties of white cheese.
15. Oven Baked Breaded Macaroni and Cheese Bites
Another delicious appetizer option is my breaded macaroni and cheese bites! You can make them with leftover mac and cheese or start fresh if you let your pasta chill for at least 12 hours.
16. Oven Baked Macaroni and Cheese With Smoked Sausage And Broccoli
This hearty macaroni & cheese dish is loaded with savory smoked sausage, broccoli florets, and four different kinds of cheese! It's a filling main course that's rich, flavorful, and completely addicting.
17. Macaroni and Cheese Without Flour
When it comes to cooking, nothing excites me more than straightforward and effortless recipes like this flour-free pasta dish. The texture is irresistibly creamy with butter, heavy cream, and grated cheddar cheese, even without the flour!
18. Homemade Baked Mac N Cheese Bites
These baked mac n cheese bites are perfect for serving to your kids as an on-the-go snack! All you have to do is add spoonfuls of leftover mac and cheese into the cups of a mini muffin pan and top each bite with some shredded cheese before baking.
19. Microwave Mac & Cheese
This 7-minute microwave mac & cheese recipe is amazing when you need a quick and easy side dish on the table. It's so much better than the processed mac & cheese you get at the store - plus, it's insanely cheesy!
💭 Tips For Making The Best Macaroni and Cheese
Making the best macaroni and cheese combines techniques and ingredients to achieve a creamy, cheesy, and flavorful dish! Here are some of my best tips to help you create delicious macaroni and cheese:
Choose the Right Pasta: Opt for elbow macaroni or any small pasta shape with nooks and crannies that can hold the cheese sauce well. For more information, check out my guide on the best pasta for mac and cheese!
Use High-Quality Cheese: I recommend investing in good-quality cheese for a rich and flavorful sauce. Avoid pre-shredded cheese, which often contains anti-caking agents that can affect the sauce's texture.
Slowly Add Cheese: Gradually add the cheese to the sauce and stir constantly to ensure it melts smoothly. Avoid overheating or boiling the sauce, as this can cause the cheese to become grainy.
Rest Before Serving: Let the macaroni and cheese rest for a few minutes after cooking to allow the flavors to meld and the sauce to set slightly. This will make it easier to serve and enjoy!
Experiment: Get creative with add-ins like crispy bacon, caramelized onions, sautéed mushrooms, or chopped herbs to enhance your mac and cheese.
Now that you have some new macaroni and cheese recipes to try, which one are you excited about the most? Leave a comment below if you have any questions, and let me know what you think!
📋 Recipe