Craving a creamy serving of your favorite pasta but wondering what to serve with mac and cheese for your lunch or dinner today?? I have all of the best sides and main dishes to serve with your stovetop or baked mac & cheese!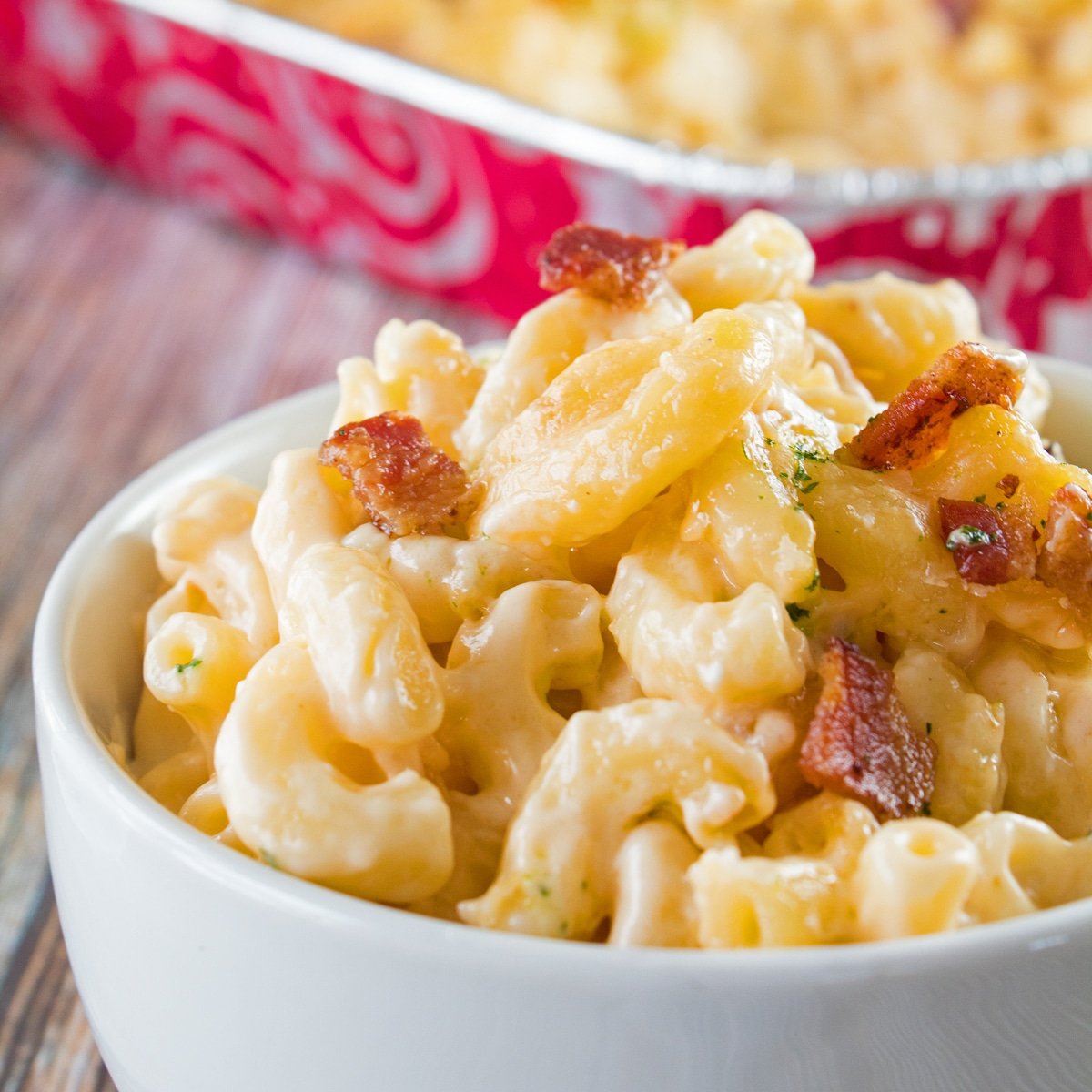 Meaty mains and lighter fare all pair well with creamy, cheesy mac!
Mac and cheese is classic comfort food that can be as simple or gourmet as you want it to be. Sharp cheddar, brie, asiago…There are endless ways to make this delightful dish and almost zero ways to go wrong!
Regardless of your process, the end result is always spectacular.
Jump to:
Creamy, cheesy noodles go well with tons of things. Will they be your tasty side dish or the star of the show? Do you want a vegetable to lighten up the meal or a rich addition to double down on your southern theme? Maybe you want something to combine with your pasta?
Check out my favorite options below. There is something for everyone from meat lovers to vegetarians, bird-like appetites to ravenous teens. Try them all!
1. BBQ Chicken Quarters
BBQ chicken is always the first thing that comes to mind when I consider pairing options. It's a traditional southern meal that we can all enjoy - and another classic dish to serve with mac n cheese!
So whip up some of that finger-licking sweet and spicy BBQ sauce and enjoy this easy dinner! It's a family favorite combo!
2. Shake and Bake Pork
If you grew up in the second half of the last century, you've probably had Shake 'n' Bake pork chops more than a few times. With my recipe, you can make your own!
Get nostalgic with that super flavorful, crunchy crust on tender pork chops! It's a pairing made in heaven when served with macaroni & cheese!!
3. Meatloaf
Meatloaf is another complementary main--or side, depending on how you like your mac and cheese. They're great for the tinkering chef because you can adjust your ingredients any way you want, and it's likely to still come out delicious.
Everyone has a slightly different way to do it whether they have a well-loved recipe or cook from memory and smell! I love a variety of meatloaf flavors - that's why there are so many to choose from on Bake It With Love!
4. Sloppy Joes
With its origin stemming from the turn of the 20th century, Sloppy Joes have a long history of filling up happy eaters. In the early days, they were a way to stretch the small amount of meat a family had.
I always had them at school, but they're way more than just cafeteria food. Grilled onions and peppers with beef and a tomato-y sauce make my mouth water just thinking about it. Even picky eaters will be excited for dinner with these and mac and cheese!
5. Smoked Brats
Continuing with our meat options, have you considered smoked brats? Smoking is an easy way to change things up. Use a variety of different woods to put your own unique spin on things.
Just heat up the smoker, and put them in. An hour and a half later, you'll have fantastic, juicy sausages to eat with--or sliced and mixed in--your cheesy noodles!
6. BBQ Beef Ribs
If you're ready for a cookout but don't have a grill, throw a rack or two of ribs in the oven! Grab your favorite BBQ sauce and get ready to have a party, even in the winter.
These tender pieces of meat practically fall off the bones and only take a little over an hour. It'll feel like summer year-round when you eat like it's 90℉ outside!
7. Smoked Country Style Ribs
Looking for that slow-cooked, smoked flavor? Four hours in the smoker with my dry pork rub, and these country-style ribs might even overshadow your mac and cheese.
Add your favorite BBQ sauce, and your taste buds won't know what hit them. So much smoky flavor goodness!
8. Hot Dogs
Hot dogs have been around forever, but have you tried making them in an air fryer? It's so quick and easy, you'll wonder why you ever did it any other way!
And they taste freshly grilled! We've even argued whether or not air fryer dogs are better than grilled (gasp!). Perfect for a post-ball game evening or just a nice summer afternoon treat.
9. Steamed Broccoli
Want something a little lighter with your mac and cheese? Try this perfectly steamed broccoli! You can do it in the microwave, making it an incredibly fast and easy side dish!
No more waiting for water to boil. Toss in a little Parmesan and garlic powder if you want to add to the cheesy theme. Or go overboard and add my cheese sauce for broccoli too!
10. Chef Salad
This turkey and bacon chef salad has all the toppings you could want in a great salad: croutons, fresh tomatoes, and eggs. Healthy and filling, this goes great with your cheesy pasta.
Fresh, crispy lettuce with the added vegetables balances out the cheese. And you can always get a little creative with your toppings.
11. Green Beans
You can never get too many green beans, especially these! I love the garlic butter and bacon flavors, both things that blend seamlessly with mac and cheese.
You could even mix the beans with the noodles for a new creation! If you want to bring some fiber to your plate without adding loads more carbs, this is the way to go.
12. Steamed Carrots
Carrots are nutritious and delicious. Better yet, they go well with pretty much anything. This simple recipe highlights their natural sweetness and only takes ten minutes to make.
Who knew the microwave could cook carrots, too? Pair this with your mac and cheese and tell me it's not amazing!
13. Tater Tots
Pull out the air fryer again for these golden, crunchy tots! Tater tots are an easy crowd-pleaser that can be dipped in anything from ketchup to barbecue sauce, honey mustard to ranch.
It's always fun to have finger food at the table. You can season these with anything you like, too! Some of my favorites are Cajun or taco seasoning, onion and garlic powder, and Lawry's.
14. Roasted Vegetable Medley
This colorful side dish is as visually attractive as it is tasty. Roasting vegetables brings out all kinds of savory flavors you don't get by cooking any other way.
You can caramelize them for a sweet, crispy outside or cook them just until they're tender. Either way, you're going to need a bigger bowl.
15. Coleslaw
Coleslaw: The dividing factor at every barbecue. Some people love this, and others hate it. I say, since there are so many ways to make this, there's a coleslaw for everyone if they keep trying.
Mayonnaise or vinaigrette, creamy or vinegar-based. Find the one that's right for you and serve it alongside your mac and cheese for some seriously happy eaters.
16. Hello Dolly Bars
Don't forget some amazing dessert bars to serve up after your mac and cheese dinner! These easy 7 layer bars are full of amazing flavor in each and every bite!
🧀 Awesome Mac & Cheese Recipes
---
📋 Recipe