These easy Smoked Brats are packed with a wonderful flavor that's made even more amazing once your bratwursts are smoked! They're practically effortless to make but taste like you worked all day at getting everything just right!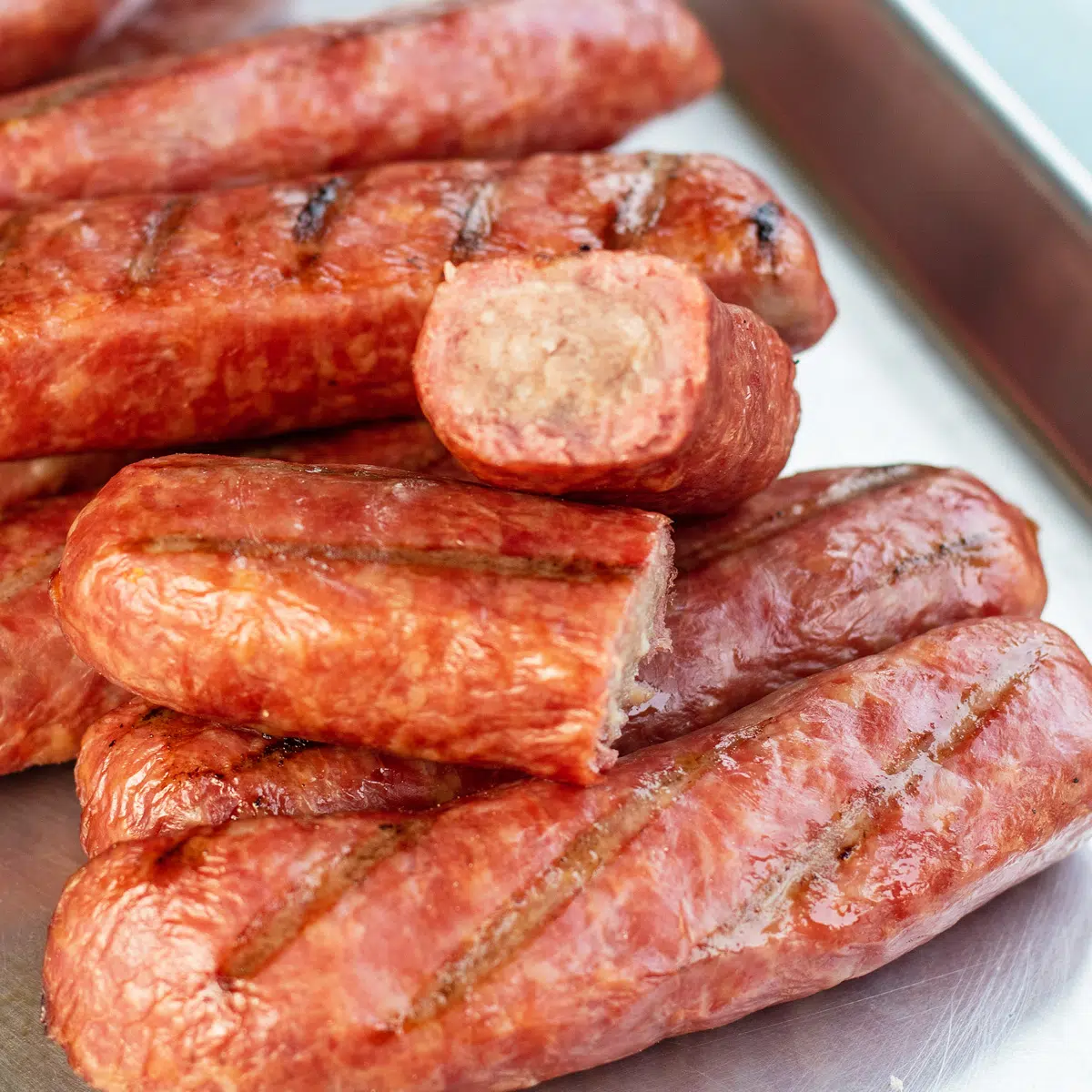 The Best Smoked Brats for Your Barbecue Dinner!
Brats are a staple of any BBQ or baseball game, but throw them in a smoker and add some sauerkraut on top, and you can take a classic to the next level! These smoky, savory sausages are delicious with the tangy, fermented cabbage.
If you're looking for easy party food that you can put together quickly and cook while you mingle with guests, look no further! There is very little prep work involved in this recipe, and smoking bratwurst is a breeze!
Jump to:
As that memorable infomercial used to always say, "Just set it and forget it!" At least for an hour and a half or so. Because smokers cook things at a low temperature, smoked meats maintain (and retain!) their juiciness easier than grilled brats.
I love eating these on a traditional white bun, but these days, there are lots of options out there. And for those of you who are paleo, keto, or gluten-free, this recipe is just as delicious without the bread!
❤️ Why You'll Love This Recipe!
It couldn't be easier! Put your brats in the smoker, set the timer, and eat them an hour and a half later. That's it.
It's delicious! The smoker adds an amazing, unique flavor that you just can't beat!
It's perfect for summer! This is an excellent main course for any summer cookout that leaves you plenty of time to enjoy the sunshine, family, and friends!
🥘 Ingredients
With only three ingredients - meat, bread, and toppings - this recipe is a breeze to throw together for a party! Make sure you get high-quality sausage for the best results.
Bratwurst Sausages - Pick your favorite sausages.
Buns (optional) - White, wheat, or otherwise, make sure you get brat-sized buns.
Sauerkraut (optional) - Sauerkraut is nutritious and adds an irresistible sour flavor.
Of course, you're sure to add a few other staple condiments as well. I love a great German mustard, but stone-ground or Dijon works wonderfully as does the classic yellow mustard!
💭 Angela's Tips & Recipe Notes
There's no need to pierce the bratwurst casings for the smoker cooking method.
They won't burst. Bursting only occurs at high temperatures. Since the smoker cooks low-and-slow, your brats will cook evenly without popping and losing all that tasty juice inside them!
One of the biggest concerns of new smokers is what type of wood chips to use.
Pecan, hickory, or apple are all great woods to smoke with. Try them all to find which one you like the best. *Hickory is one of the most popular, and most common woods and pellets.
The time listed in the recipe is not meant to be a hard rule.
Your cooking time may vary depending on temperature fluctuations. We had some crazy wind the other day, and my smoker temperature was all over the place! The important thing is that the inside temperature of the meat reaches the number listed.
When using a digital thermometer, always check the temperature of the same brat in order to keep it to just a single sausage that loses some of its juices.
🔪 Step-By-Step Instructions
If you're new to smokers, this is an excellent, fool-proof first recipe. While this makes enough for ten people, you can easily adjust for however many you're serving.
Preheat your smoker. Turn on your smoker and preheat it to 225°F (107°C) according to the manufacturer's instructions. It doesn't matter what kind of smoker you're working with--Traeger or pellet smoker, Big Green Egg, charcoal smoker, wood smoker, or electric. Anything goes! Just make sure to preheat according to the manufacturer's instructions. Every smoker is a little bit different.
Cook. When the smoker is hot, place 10 bratwurst sausages inside. Cook for around 1 hour and 30 minutes. Use a meat thermometer to check that the inside temperature reaches at least 160°F (72°C).
Remove and add toppings. Take the brats out of the smoker and put each one on the bun, if you'd like. Top with ½ tablespoon or more of sauerkraut for a powerful punch of flavor. You can also eat your smoked brats without bread.
Serve! Enjoy the results of your hard work. 🙂
As I said, these are great for an old-fashioned cookout. You can add any of your favorite toppings: ketchup, BBQ sauce, relish, onions, etc.
To add some tasty side dishes, toss a simple green salad and serve with my ground beef and baked beans, smoked mac and cheese, or air fryer potato chips. It's easy!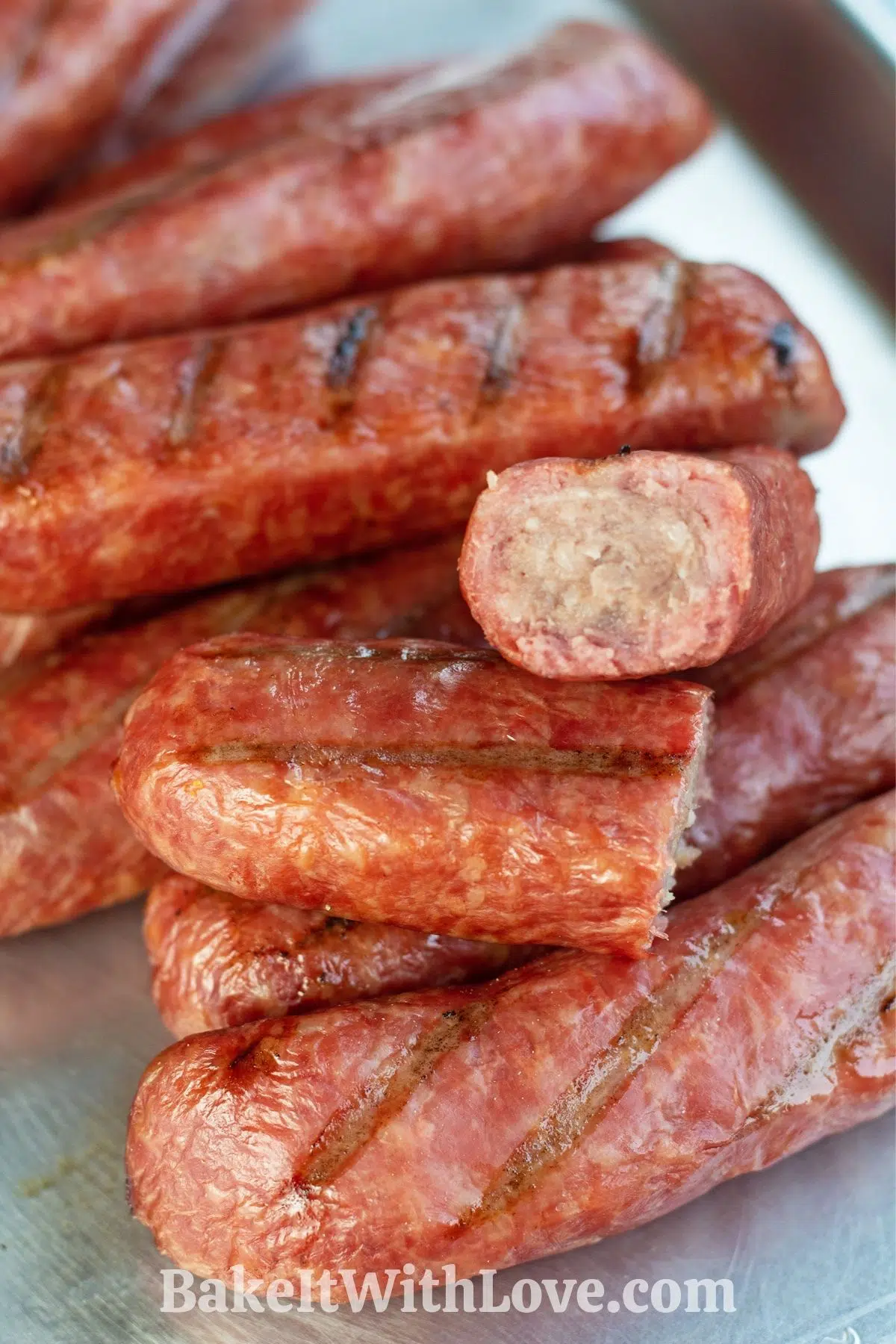 🥡 Storing & Reheating
Refrigerating
The most important thing to remember when storing your smoked brats in either the fridge or the freezer is to put them into an airtight, moisture-free container. In the fridge, they will be good for up to seven days.
Freezing
These do really well in the freezer, so you can save your leftovers for a mini, weeknight cookout later in the week. Wrap with foil or plastic wrap, or put them in an airtight container, and these delicious bratwursts will keep for up to two months.
Reheating
The best way to reheat smoked brats is in the oven or in a skillet. If using an oven, preheat to 350°F (176°C). Place sausages on a rimmed baking sheet. Cook for 20-25 minutes or until internal temperature reaches at least 145°F (63°C).
The stovetop method will save you some time while keeping the quality of the dish. Put brats in a skillet on medium-high heat and cook for about ten minutes, turning frequently.
You can also opt for adding a little water or broth to the pan if you want more of a steamed versus browned result.
As always, you can use the microwave, but it's not the best for maintaining that fresh-cooked texture. If you decide to go this route, heat your leftover brats in 30-second increments until warmed to your satisfaction.
If frozen, thaw them in the fridge overnight before moving forward with any of these reheating methods.
❓ FAQ
Is this recipe good for those on a paleo or gluten-free diet?
If you're paleo or gluten-free, try these sausages without a bun, sliced on a salad, served on rice, or tossed in with some grilled vegetables. Just remember it's going to be a deep smoky flavor. Or you can also just eat the brats plain.
For those eating gluten-free, remember to check the package to be sure your brats don't contain gluten. While most are, there are some sausages made with gluten products.
What kind of wood chips should I use when smoking brats?
This is a personal preference. My favorites are hickory, apple, or pecan. Hickory is the most popular for smoking and adds a strong smoke flavor. Apple wood adds a great, mild smoked flavor with a touch of sweetness. And pecan is a wood that is delightful in combination with other woods. I always like to mix pecan chips with fruit wood for the best flavor and to keep the pecan from adding too much of a pungent flavor.
What kind of brats should I buy?
Local brats are great! We like to order from WisconsinMade if we're planning ahead, but otherwise, Johnsonville brats from the local grocer work quite well. And while I love Wisconsin beer brats, and I love smoked brats, I don't like to combine the two…I save the beer bath for grilled brats!
📋 Recipe
Print Recipe
Leave A Comment
Love This Recipe?
Click On A Star To Rate It!
Smoked Brats
These easy Smoked Brats are packed with a wonderful flavor that's made even more amazing once your bratwursts are smoked! They're practically effortless to make but taste like you worked all day at getting everything just right!
Cooking
1
hour
30
minutes
Total Time
1
hour
35
minutes
Pin Recipe
Share on Facebook
Ingredients
10

bratwurst sausages

10

bratwurst buns

(optional)

5

tablespoon

sauerkraut

(optional)
Instructions
Preheat your smoker to 225°F (107°C).

Place brats in your smoker and smoke at 225°F (107°C) for about 1 hour and 30 minutes. Use a digital meat thermometer or temperature probe to make sure the brats are at least 160°F (72°C).

Remove from the smoker then place in buns, top with sauerkraut if desired, and serve. Enjoy!

10 bratwurst buns,

5 tablespoon sauerkraut
Equipment You May Need
Notes
Do not pierce the brat casings, they will not burst at this low temperature.
Pecan, Hickory, or Apple are great choices of wood to smoke with.
The cook time is a ballpark figure based on my results your exact cook time will vary depending on many factors, always check the internal temp.
Nutrition
Calories:
220
kcal
(11%)
|
Carbohydrates:
2
g
(1%)
|
Protein:
9
g
(18%)
|
Fat:
19
g
(29%)
|
Saturated Fat:
7
g
(44%)
|
Polyunsaturated Fat:
2
g
|
Monounsaturated Fat:
10
g
|
Cholesterol:
49
mg
(16%)
|
Sodium:
558
mg
(24%)
|
Potassium:
230
mg
(7%)
|
Vitamin A:
4
IU
|
Calcium:
18
mg
(2%)
|
Iron:
1
mg
(6%)
bratwurst, smoked, Smoked Brats, smoked sausage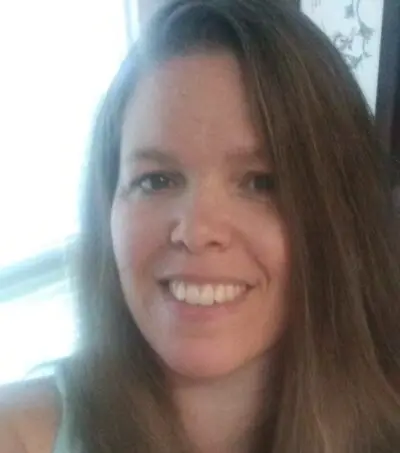 Angela is an at home chef that developed a passion for all things cooking and baking at a young age in her Grandma's kitchen. After many years in the food service industry, she now enjoys sharing all of her family favorite recipes and creating tasty dinner and amazing dessert recipes here at Bake It With Love!