These easy party appetizers feature tons of tasty, crowd-pleasing recipes that take very little effort to prepare! No matter what type of party you're throwing, these finger foods, snacks, and dips never disappoint! Choose a few recipes and set up an awesome appetizer spread!
Best Easy Party Appetizer Recipes
I love to throw a good party, but I always forget just how busy and hectic it can be. When the day arrives, there's the cleaning, the decorating, and all the other small details that come with throwing a party.
That's why I make things a little bit easier on myself by serving a few of these super simple yet totally delicious appetizers! I can whip up these recipes in a flash, and they are always devoured!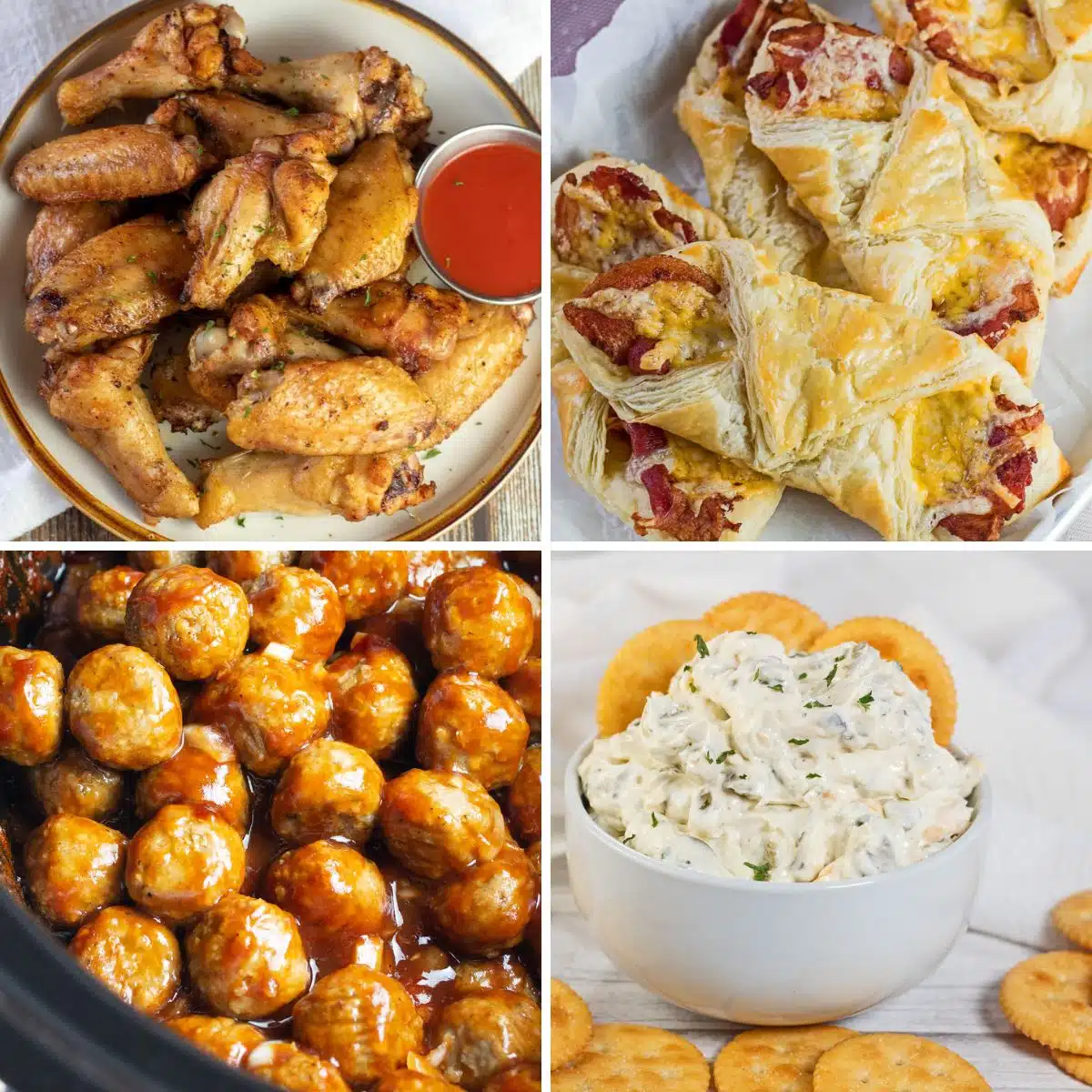 Jump to:
1. Crockpot BBQ Meatballs
I love crockpot recipes for parties because they are entirely hands-off! I skewer these BBQ meatballs with toothpicks and serve them on a platter for easy snacking.
2. Easy Air Fyer Pretzel Bites
These easy air fryer pretzel bites can be made from scratch with just a handful of ingredients and about 15 minutes of time. They are delicious when dipped in honey mustard, ranch dressing, or just about anything else!
3. Hummus
Homemade hummus with vegetables is a delicious appetizer that guests can feel good about eating. This is a great choice if any of the attendees are vegetarian or vegan!
4. Cheese Platter
Everyone loves a cheese platter with an assortment of cheeses, fruit, nuts, or crackers. All you have to do is slice the cheese and arrange everything on a platter so that it looks appealing!
5. Olive Dip
This creamy chip dip is made with a splash of green olive juice and some chopped green olives for lots of briny olive flavor! It's delicious as a spread on sandwiches or served with chips or crackers.
6. Cream Cheese Salsa Dip
All you need for this creamy chip dip is a jar of salsa and some cream cheese! It's perfect for any party but totally fits the theme for Cinco de Mayo or any other occasion where Mexican food is on the menu.
7. Air Fryer Meatballs
Like the BBQ crockpot meatballs, these air fryer meatballs make a great starter when skewered with a toothpick. These meatballs are a little more elegant and simple but just as delicious!
8. Ranch Cheese Ball
This creamy ranch cheese ball is suitable for any kind of party! A coating of pecans on the outside is optional but makes for the most delightful crunch!
>>>>See all of my recipes HERE<<<<
9. Sour Cream Chip Dip
Smooth and creamy sour cream chip dip is another simple appetizer that always satisfies a crowd. Just pick up a bag of classic potato chips at the store for serving!
10. Baked Chicken Wings
These baked chicken wings are much less messy than traditional fried chicken wings and can be tossed with all of your favorite wing sauces! You can make them spicy, sweet, or smokey, or serve a variety of different flavors!
11. Buffalo Chicken Dip
This zesty dip has all the flavor of buffalo chicken wings with none of the work! It's made with canned chicken, lots of cheese, and of course, buffalo sauce, so you don't have to cook a thing.
12. Crab Cakes
Crab cakes make any occasion feel special, and they are surprisingly easy to make. I use Ritz crackers in my crab cakes for a delightful buttery crunch!
13. Air Fryer Pigs In A Blanket
These bite-sized pigs in a blanket are made with Lil Smokies sausages and a few cans of crescent rolls. All you have to do is wrap the sausages in the crescent roll and pop them in the oven, then serve with your favorite condiments!
14. RoTel Dip
If you prefer a warm chip dip, then this cheesy dip made with canned RoTel tomatoes and chiles is just the thing! It has plenty of taco-seasoned ground beef, so there's no shortage of flavor.
15. Pinwheel Sandwiches
Pinwheel sandwiches are one of my favorite appetizers to make for large get-togethers because they are so easy to customize! I feature 3 different variations here, so you can try one or try them all!
16. Charcuterie Board
When you're hosting a party of any kind, you can't go wrong with a charcuterie board. Much like a cheese board, you'll want to arrange an assortment of cheeses, nuts, and fruits on a platter, but you also include some cured meats and plenty of crackers.
17. Cream Cheese Wontons
These deep-fried wontons are stuffed with a delectable cream cheese filling. I like to pair them with some sweet & sour sauce for a crunchy Asian-inspired snack!
18. Bisquick Sausage Balls
Any time I make a batch of these savory Bisquick sausage balls, they're one of the first things to disappear. They are made with just 4 ingredients, and they are super satisfying and flavorful!
19. Stuffed Pizza Bombs
Stuffed pizza bombs are always a hit with kids, especially with a side of ranch dressing for dipping. They're made by wrapping mozzarella cheese, pizza sauce, and pepperoni inside some fluffy Pillsbury biscuits. Then you just pop them in the oven!
20. 7-Layer Dip
This classic party dip is so easy to make and can be chilled in the fridge until party time. Serve it with a side of tortilla chips for dipping (we love the 'scoopable' chips, so you can really load them up)!
21. Cheese and Bacon Turnovers
With a package of puff pastry, a few strips of bacon, shredded cheese, and 1 egg, you can make these delicious and satisfying turnovers. They're ready to eat in just 30 minutes, so they make a great last-minute addition to any celebration!
Tips For Choosing The Easiest Party Appetizers
When deciding on what appetizers you are going to serve at your party, there are a few things to consider. These tips and tricks can help you streamline your menu planning process!
Finger Foods: You shouldn't need much in the way of silverware or dishes for party appetizers. Opt for bite-sized finger foods that can be carried and eaten so guests can mingle.
Make-Ahead Options: Appetizers that can be made the night before will help you save precious time the day of your party. Typically, any cold appetizer can be made in advance and refrigerated until needed.
Minimal Prep: Select appetizers that require minimal assembly. Opt for recipes that involve minimal cutting, chopping, or complex cooking techniques. Quick and straightforward recipes are ideal for effortless entertaining.
Dips and Spreads: Serving a selection of dips and spreads with crackers, bread, and vegetable sticks is a great way to offer variety. These can also be made in advance, more often than not.
Presentation: Pay attention to the visual appeal of the appetizers. Eye-catching and colorful platters or serving trays can make even the simplest dishes more enticing.
Any party is sure to be a success with a few of these awesome appetizers on the menu! Be sure to come back and let me know how everything turned out!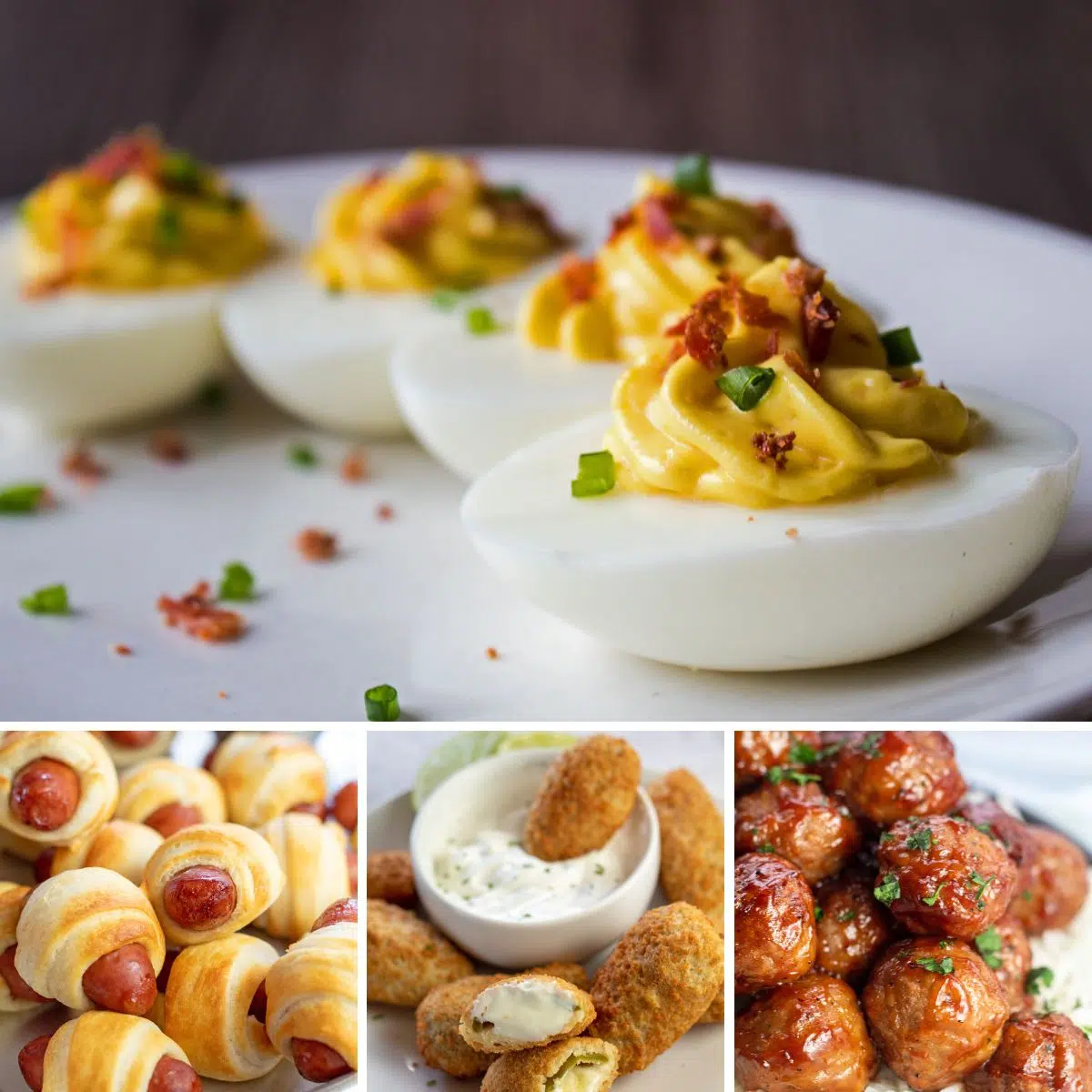 📋 Recipe