A charcuterie board is an impressive but super-easy way to feed a crowd when entertaining for holidays or any reason! It doesn't matter if you're an avid cook; a great-looking appetizer tray like this amazing assortment of meats and cheeses is surprisingly easy to assemble! Add fruit, nuts, vegetables, dips, mustard spreads, pepper jelly, marmalade, honey, pickles, olives, and more to make a charcuterie board that everyone will love!
How To Make A Charcuterie Board
I know many of the online images of charcuterie boards are these really epic builds of amazing foods. I'm here to say that you can build a charcuterie board in any size to feed any gathering. Most likely, you've been presenting your own version of a charcuterie board without even knowing it ( especially if you host family or holiday gatherings )!
My charcuterie board presented here includes a meat selection of dry salami, hard salami, genoa salami, pepperoni, smoked sausage, and Proscuitto-wrapped mozzarella sticks. Additionally, for cheese, there is a combination of cheddar, Colby-jack, pepper jack, swiss, and baby mozzarella balls.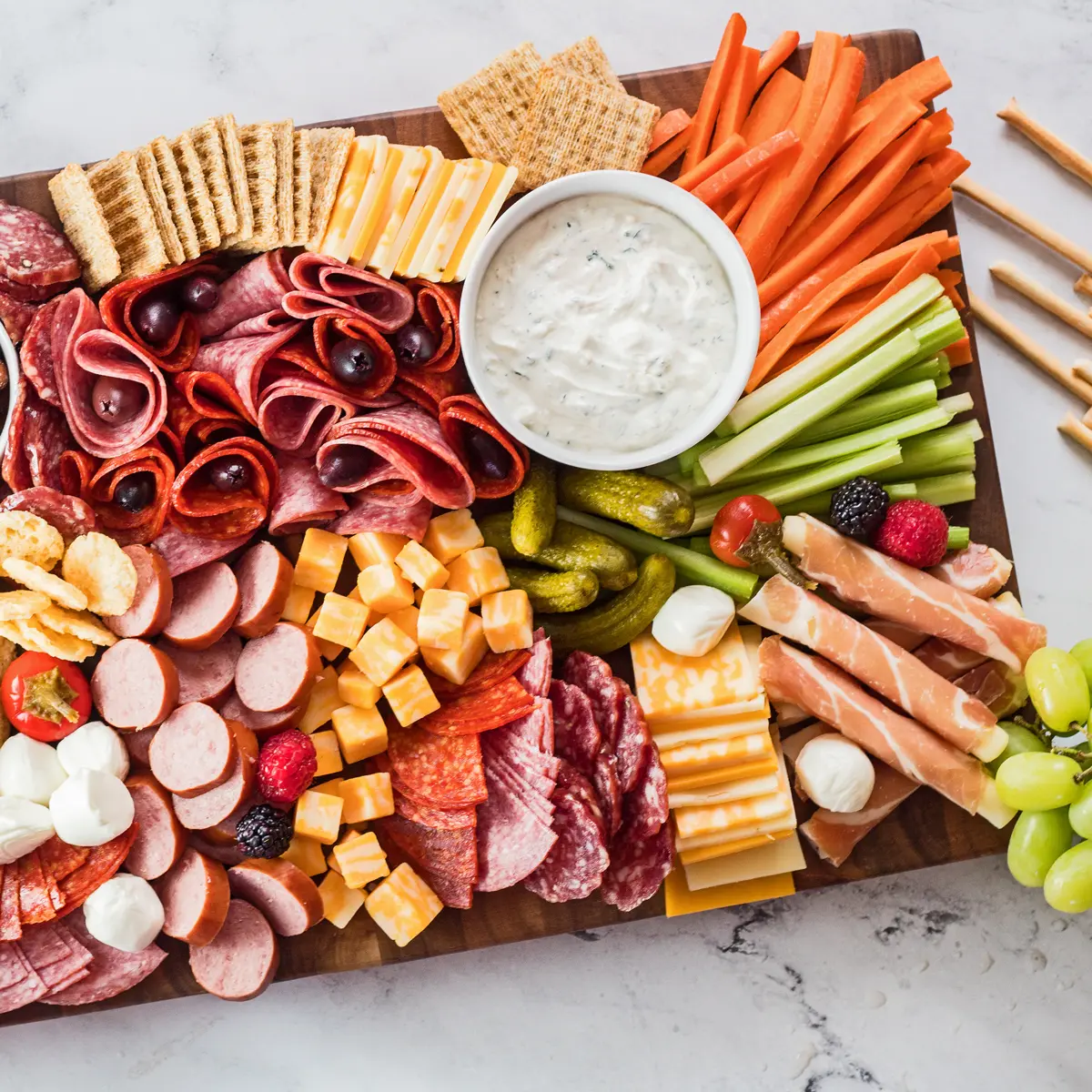 Jump to:
Other assorted items include carrot and celery sticks along with French onion dip, red and green seedless grapes, blackberries, raspberries, and Medjool dates. Plus, smoked almonds and pistachios, kalamata olives, dill pickles, pickled cherry peppers, Triscuit crackers, cheddar cheese whisps, and grissini breadsticks.
I try to keep the snacks on my charcuterie board pretty family-friendly. However, you can upgrade for more adult tastes very easily!
What Is A Charcuterie Board
Charcuterie comes from the French words chair ( or 'meat' ) and cuit ( or 'cooked' ). The original charcutier presented various cooked or preserved meats in a delicatessen-type store that were primarily from pork products.
The present-day charcuterie board has evolved but is still in essence, a meat board. Like a cheese board or relish tray, charcuterie boards are served as finger food appetizers for gatherings and holiday meals.
Building your own charcuterie board will depend on your gathering size and the elements that you would like to include. While a simple charcuterie board is made with a basic combination of your favorite meats and cheeses, there are many options that can also be included!
In addition to meat and cheese, many charcuterie boards now include artisan bread or crackers, nuts, dried and fresh fruits, assorted vegetables, dipping sauces, pesto, or artisan mustards and jams for spreading, as well as olives and pickled vegetables.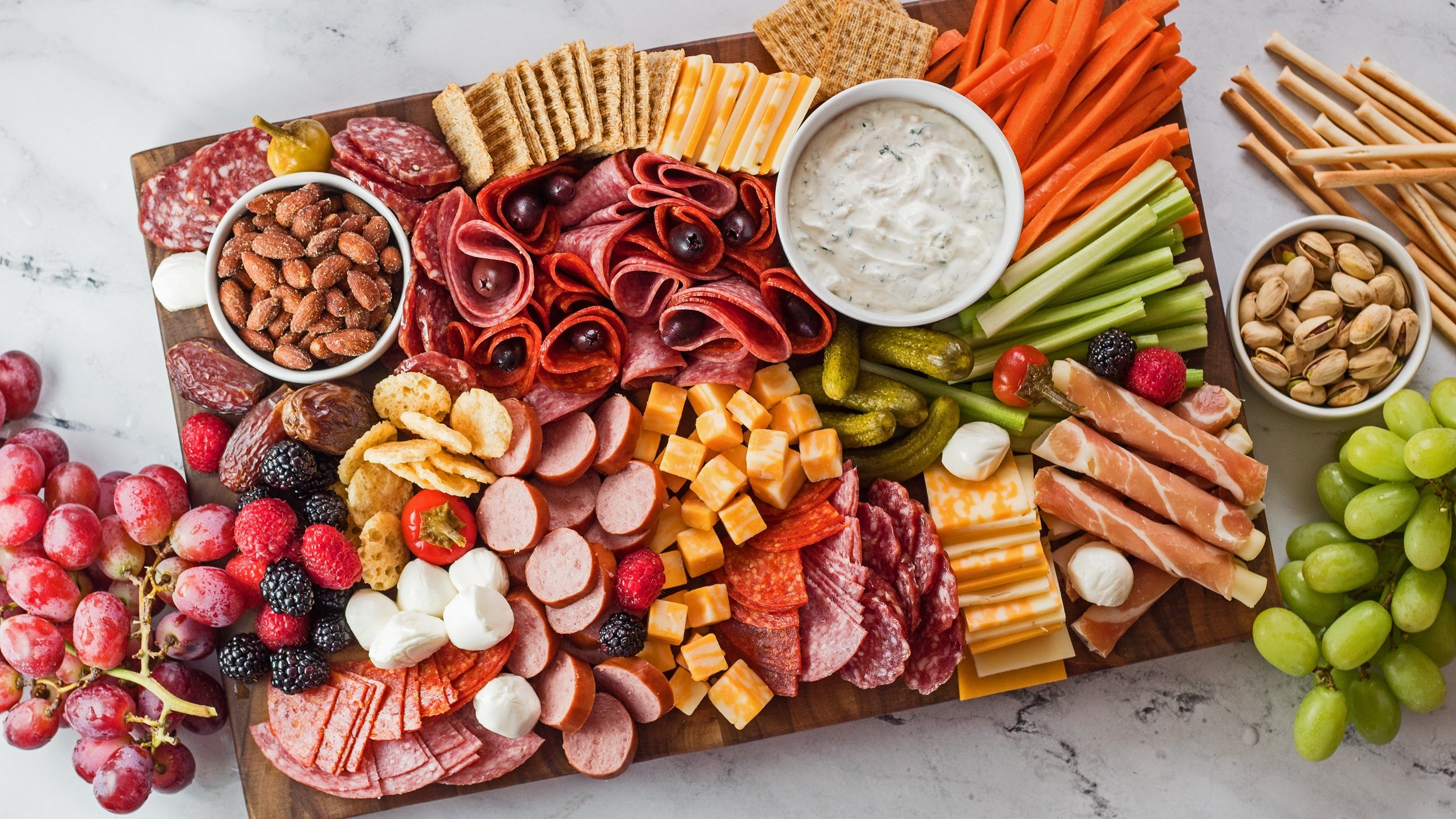 Charcuterie Board Ideas
Whether you're looking for a simple, easy, or small board as your appetizer, start with the basics. Combine your charcuterie (meats board) with your cheese board elements to make the easiest of appetizers!
Add some crispy crackers and salty or sweet components like nuts, olives, pickles, and dried or fresh fruits, and your board is almost done! Slice your cheeses into varying squares, rectangles, or cubes to vary the look of your board.
Like your cheese, vary the shapes of the meat. Roll salami slices or Proscuitto around mozzarella or cream cheese fillings lay some of the meats down in a fan shape, or pile it high in a random assortment.
Whichever you choose, I like to select 4 - 5 meat varieties with 3 - 4 cheeses for my basic, super-easy snack boards!
Best Meats
If you're unsure of your guests' tastebuds, keep the meat selection pretty standard and maybe offer a few adventurous selections. My favorite charcuterie board meats include:
Salami (Genoa salami, hard salami, Calabrese, dry Italian salami, soppressata, and especially a variety with cracked peppercorn crusting)
Proscuitto (is a cured pork, typically thin-sliced)
Mortadella (is an Italian lunchmeat similar to bologne)
Pepperoni
Finocchiona (is a slightly sweet Italian sausage with fennel)
Capocollo (also called gabagool or capicola, is an Italian pork salami)
Paté
Ham
Chorizo
Beef Jerky
My general rule of thumb is to set out servings of 2 - 3 ounces of meat per person. So, for 10 guests, the total quantity of sliced meats should be roughly 20 - 30 ounces.
Best Cheeses
These are all wonderful cheese varieties to serve on cheese boards, and are the perfect addition to any snack board assortment! My favorite cheeses to use are:
Sharp Cheddar
Gruyere
Smoked Gouda
Swiss
Colby-Jack
Pepper Jack
Edam
Provolone
Fresh Mozzarella Balls
Havarti
Baked Brie
Camembert
Chèvre (or goat cheese)
Gorgonzola
Stilton
Roquefort
My general rule of thumb is to set out 1 - 2 ounces of cheese per person.
How to Make a Charcuterie Board
Once you're ready to assemble your appetizer, think about color contrast and patterns that you may want to try for an attractive visual. I use spots of rounds and lines and then pile my elements in groupings to add height differences as well.
You want colorful, tasty, and contrasting accompaniments that include sweet items like fresh fruit, dried fruit, chocolate, honey, marmalade, jams, and jellies. As well as savory or spicy items like nuts, pickles, olives, cherry tomatoes, marinated artichoke hearts, fresh herbs, vegetables, peppers, crackers, spicy mustard, pesto, dips, and bread.
Use small bowls of different shapes, sizes, and colors to vary your design.
For your board, use an appropriately sized cutting board or serving tray that can accommodate your sliced meat and cheese. I've frequently run into the plain white cutting board being my largest available board to use (and it works just fine!).
If you need more space, spread a piece of parchment paper over the counter and serve everything there. If you find (like me!) that your charcuterie board is overflowing, serve extras on the side. No one will complain!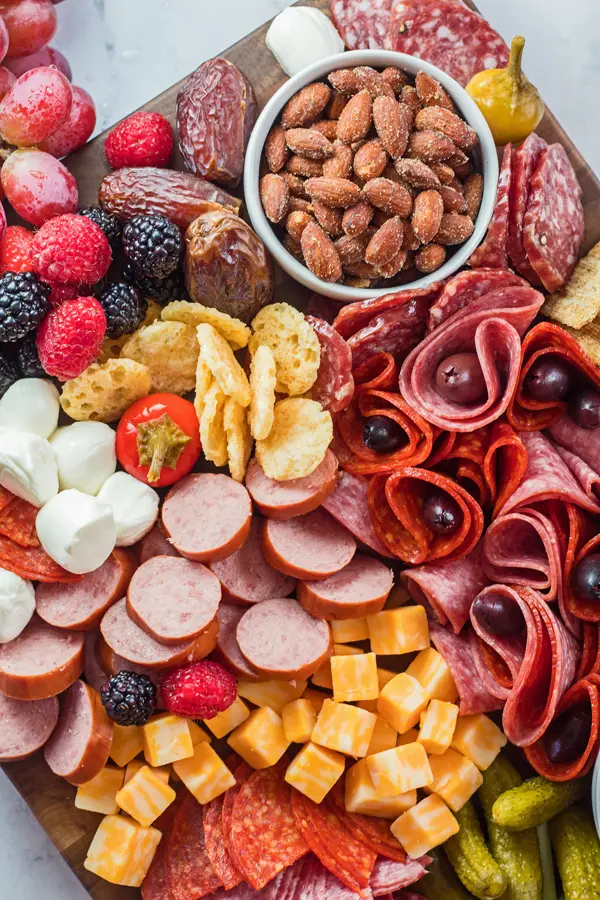 >>>>See all of my recipes HERE<<<<
❓ FAQ
What Does Charcuterie Mean?
The word 'charcuterie' is derived from two French words: 'chair' (which means meat) and 'cuit' (which means cooked). The origin of these words dates back to 15th century France, where it was used to describe French shops where you could purchase pork products.
Can I Make A Charcuterie Board In Advance?
I would not assemble the board until an hour or two before it is needed, though you can certainly prepare all of the components in advance! Slice meats and cheeses ahead of time and keep them in Ziploc bags or airtight containers until you are ready to assemble your charcuterie board.
Do Charcuteries Have To Be On A Board?
Nope! Though they are traditionally presented on wooden boards or serving platters, you could get creative and try some alternatives! One popular option has been to do large charcuteries on butcher paper spread out across the entire table. You could also try a marble serving tray, stainless steel, or, for a fancier event, mirrored glass.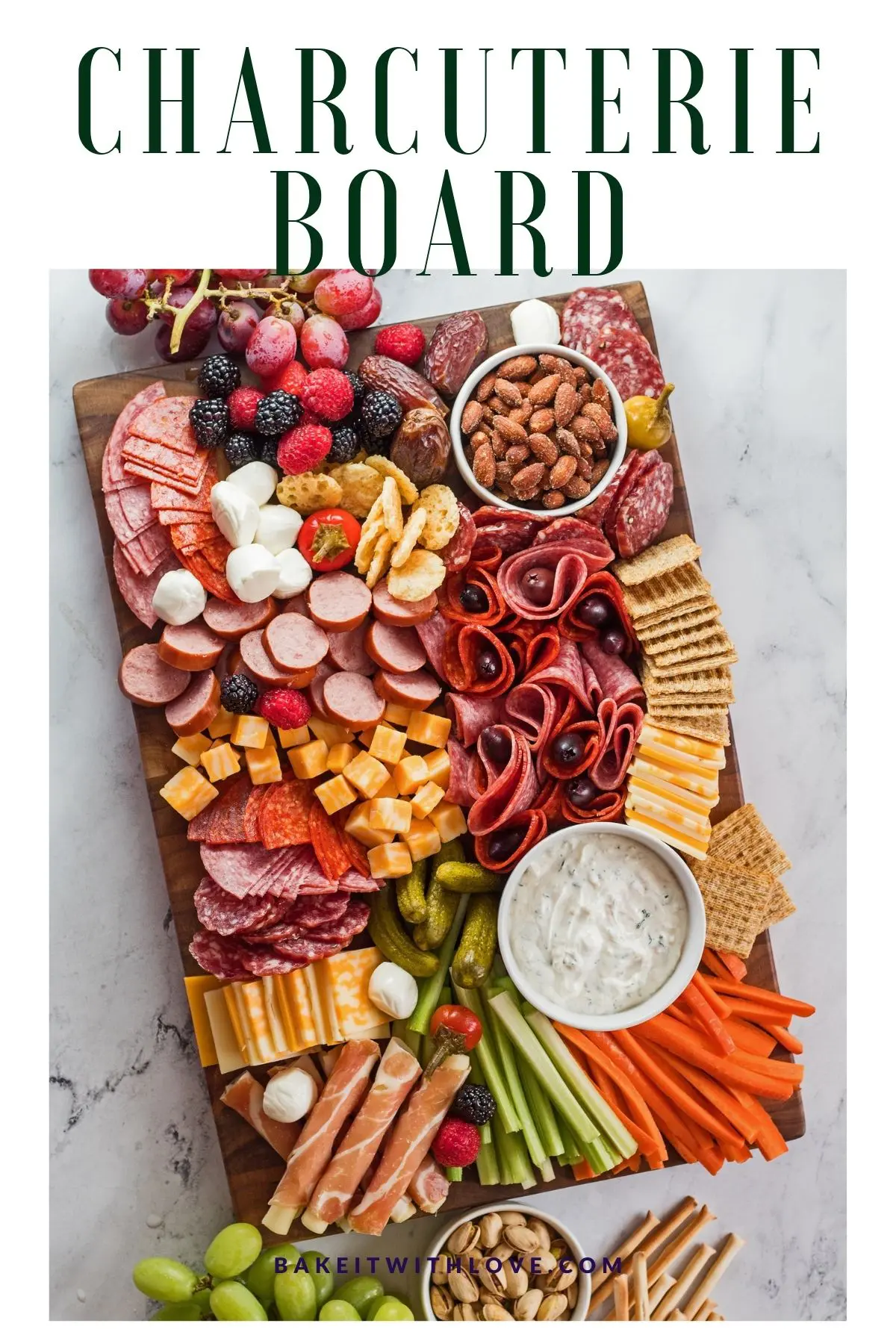 😋 More Crowd-Pleasing Appetizers
Do you love a recipe you tried? Please leave a 5-star 🌟rating in the recipe card below and/or a review in the comments section further down the page.
Stay in touch with me through social media @ Pinterest, Facebook, Instagram, or Twitter! Subscribe to the newsletter today (no spam, I promise)! Don't forget to tag me when you try one of my recipes!
📋 Recipe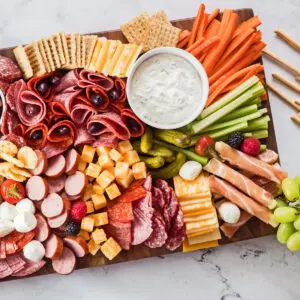 Print Recipe
Leave A Comment
Love This Recipe?
Click On A Star To Rate It!
Charcuterie Board
A charcuterie board is an impressive but super-easy way to feed a crowd when entertaining for holidays or any reason! It doesn't matter if you're an avid cook, a great-looking appetizer tray like this amazing assortment of meats and cheeses is surprisingly easy to assemble! Add fruit, nuts, vegetables, dips, mustard spreads, pepper jelly, marmalade, honey, pickles, olives, and more to make a charcuterie board that everyone will love!
Pin Recipe
Share on Facebook
Ingredients
Meat
10

oz

salami

(assortment - dry, hard, Genoa, Calabrese)

5

oz

pepperoni

5

oz

smoked sausage

5

oz

Proscuitto
Cheese
10

oz

aged or hard cheese

(sliced or cubed - cheddar, colby-jack, pepper jack, swiss, provolone, edam, gruyere, smoked gouda)

2

oz

soft cheese

mozzarella, brie, camembert, chevre, cream cheese, mascarpone, havarti)
Fruit
16

oz

grapes

(mix of red and green seedless grapes)

8

oz

berries

(mix of strawberries, blackberries, blueberries, raspberries)
Dried Fruit
4

oz

dried dates

(Medjool dates are awesome for this!)

4

oz

dried apricots
Nuts, Olives, Pickles, & Peppers
4

oz

nuts

(assorted - almonds, pistachios, pecans, macadamia nuts etc)

4

oz

kalamata olives

4

oz

petite dill pickles

2

oz

pickled cherry peppers

(or pepperoncini, or giardiniera mix)
Assorted Dips & Spreads
4

oz

French onion dip

(or ranch, blue cheese, etc)

2

oz

honey

(or jam, marmalade, or jelly)

2

oz

spicy mustard

(or pesto)
Crackers, Bread, & Garnish
12

oz

crackers

(Triscuit, wheat thins, grissini breadsticks, cheese whisps)

herbs

(optional - mint, basil, rosemary, thyme)
Help Us Out!
If you love a recipe, be sure to come back and share your ratings. This helps future users, and allows me to continue sharing free recipes! Angela
Instructions
Place dips, spreads, jams, jellies, or marmalade into small bowls and place onto your board.

Arrange the meat and cheese onto the board, some around the bowls and in other shapes and lines.

Add the crackers or bread around the meat and cheese.

Fill in any remaining spaces with your assorted fresh and dried fruits, nuts, olives, pickles, and peppers.

Garnish with fresh herbs if desired and serve.
Equipment You May Need
Nutrition
Calories:
682
kcal
(34%)
|
Carbohydrates:
49
g
(16%)
|
Protein:
22
g
(44%)
|
Fat:
45
g
(69%)
|
Saturated Fat:
16
g
(100%)
|
Trans Fat:
1
g
|
Cholesterol:
77
mg
(26%)
|
Sodium:
1672
mg
(73%)
|
Potassium:
567
mg
(16%)
|
Fiber:
4
g
(17%)
|
Sugar:
26
g
(29%)
|
Vitamin A:
752
IU
(15%)
|
Vitamin C:
2
mg
(2%)
|
Calcium:
273
mg
(27%)
|
Iron:
3
mg
(17%)
Charcuterie Board, holiday appetizers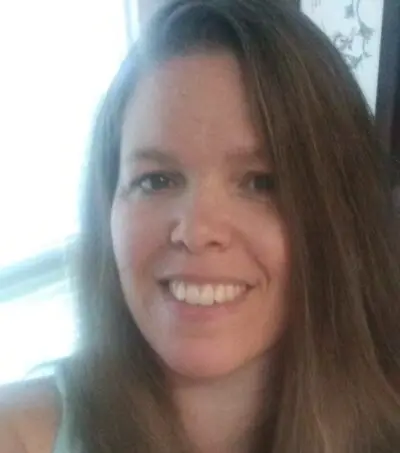 Angela is an at home chef that developed a passion for all things cooking and baking at a young age in her Grandma's kitchen. After many years in the food service industry, she now enjoys sharing all of her family favorite recipes and creating tasty dinner and amazing dessert recipes here at Bake It With Love!