These easy appetizers will make your life much less stressful the next time you need to feed a group of people! Each of these simple recipes are easy to eat, easy to share, and easy to make! Whether you opt for simple finger food or a fork-and-plate type of recipe, these tasty appetizers will be a hit at your next get-together!
The Best Easy Appetizers
Appetizers do a great job of holding hungry people over while they wait for the main course. They're also great for snacking on while you chat with your friends!
I have put together a list of my favorite, go-to appetizers that I love to serve any time I am entertaining guests! Not only are these dishes incredibly delicious, but they are so easy to make!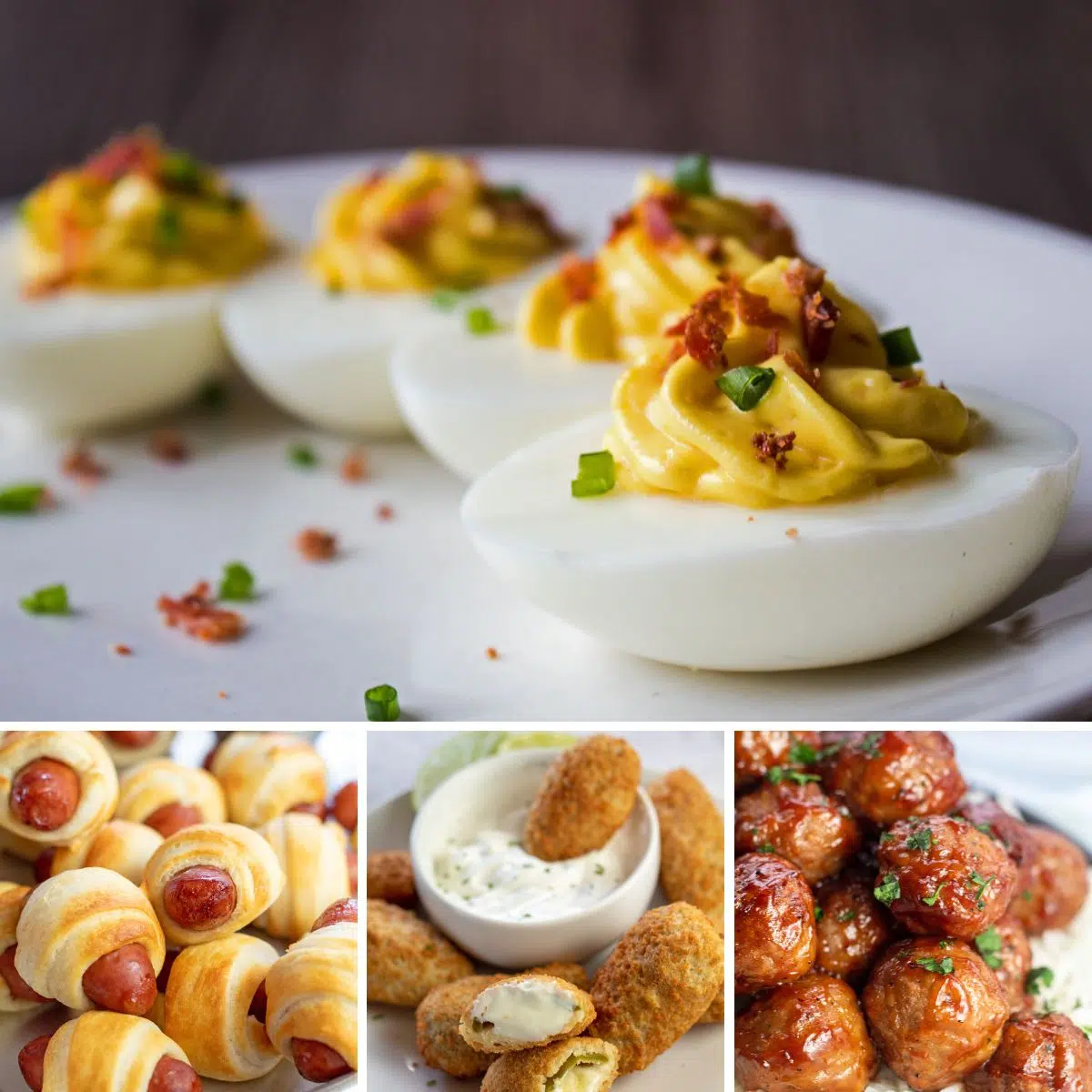 Jump to:
Air Fryer Appetizers
If you do not already own an air fryer, you need to run to the nearest store and buy one! This extremely convenient appliance can make your life so much easier! All of these mouthwatering appetizers are extra easy because they are made in the air fryer!
1. Air Fryer Mushrooms
If you are a mushroom lover, this super simple and quick dish will become your new favorite snack!
2. Air Fryer Pork Belly
This incredibly delectable dish will be a crowd-pleaser at any gathering with bite-size crispy pieces of pork belly!
3. Air Fryer Pigs in a Blanket
This popular appetizer is fast, crispy, and savory when making them in the air fryer. These are great for any occasion!
4. Air Fryer BBQ Little Smokies
These crave-worthy, bite-size sausages are a sweet and savory appetizer that is loved by both kids and adults!
5. Air Fryer Frozen Jalapeno Poppers
Using frozen jalapeno poppers makes this appetizer about as easy as it could be without losing any of the zesty flavors!
6. Air Fryer Frozen Potstickers
These irresistible Chinese dumplings come out of the air fryer nice and crispy in less than 15 minutes!
7. Air Fryer Frozen Meatballs
The possibilities are endless with these incredibly easy meatballs! Appetizers, snacks, lunch, or dinner are all options here!
8. Air Fryer Frozen Potato Wedges
Any French fry lover won't be able to resist these crispy, salty potato wedges!
9. Air Fryer Garlic Bread
Eat it alone or serve it with pasta, this garlic bread is crispy and flavorful!
10. Air Fryer Frozen Shrimp
If you've never considered using your air fryer for shrimp, now is the time to try it out with this delicious recipe!
11. Air Fryer Potato Chips
When the potato chip craving hits you, make sure you're prepared by having this easy recipe on hand!
12. Air Fryer Quesadillas
This quesadilla recipe is so delicious and flavorful, that your guests won't believe that you made it in your air fryer!
13. Waffle Fries in Air Fryer
Lose the messy work of a deep fryer and use your air fryer for waffle fries that taste even better!
14. Frozen Egg Rolls in Air Fryer
The air fryer is fantastic for this recipe because it makes the egg rolls crisped to perfection!
15. Air Fryer Tortilla Chips
You will never buy tortilla chips from the store again after tasting how delicious these air fryer tortilla chips are!
16. Air Fryer Frozen Chicken Wings
Air frying wings make them healthier than the traditional deep-fried ones, so you can have all of the flavor and none of the guilt!
17. Frozen Spring Rolls in Air Fryer
Forget getting takeout, these air-fried spring rolls are so addictive and incredibly easy to make!
18. Air Fryer Frozen Onion Rings
Use these onions for a great burger topping or just eat them all by themselves!
19. Air Fryer Frozen French Fries
These classic French fries are so quick and easy, not to mention better than the drive-thru!
20. Air Fryer Tater Tots
These golden and crispy tater tots are going to become an easy, kid-favorite appetizer at every event!
21. Air Fryer Pickles
These restaurant-quality air-fried pickles are so delicious, that your family will ask for them over and over again!
22. Air Fryer Coconut Shrimp
Golden and crunchy coconut shrimp is so incredibly delicious that there won't be any pieces left!
23. Air Fryer Biscuits
Yes, you can make biscuits in the air fryer! Once you've tasted these, you'll never go back to baking them in the oven again!
24. Air Fryer Texas Toast
These thick, golden, and buttery pieces of Texas Toast will become your new go-to side dish!
Cold Appetizers
Sometimes you aren't able to heat your appetizers. You could be gathering at a park or going out for a picnic and can't bring your oven with you.
These cold appetizers are delicious and easy without any of the hassles of having to heat them!
25. French Onion Dip
This easy dip tastes so much better than the store-bought version; make sure to make extra because everyone will love it!
26. Deviled Eggs
Is it even possible to have any type of gathering without making deviled eggs? These classic deviled eggs are sure to satisfy everyone!
27. The Best 7-Layer Dip
This incredibly satisfying dip is filled with so many tasty flavors, that it will be a hit at any party or celebration!
28. Pinwheel Sandwiches
These bite-sized sandwiches are so versatile that you can customize them to satisfy the needs of any of your guests!
29. Deviled Ham
This delicious deviled ham is the perfect dip or spread for a sandwich!
30. Charcuterie Board
This sophisticated charcuterie board is much easier than you think, and is sure to be a crowd-pleaser!
31. Ham Salad
If you have any leftover ham, use it to make this quick and delicious ham salad that is great for serving!
5 Ingredients or Less
Is there anything easier than a recipe that uses only 5 ingredients or less? I don't think so! There's no need to make an extra grocery run with these easy appetizers!
32. 2 Ingredient BBQ Little Smokies
This classic, game-day appetizer will be a huge hit at your next get-together!
33. Little Smokies Pigs in a Blanket
This easy finger food is mess-free and completely delicious! All you need to get started is some Lil Smokies and crescent rolls!
34. RoTel Dip
If you're looking for a great dip, but aren't satisfied with any store-bought options, this cheesy dip is the answer you've been looking for!
35. Cajun Fries
These fries have just the right amount of spice to make them extra flavorful and delicious!
36. Sausage Cream Cheese Balls
This appetizer is so satisfying and savory, that it will be requested at every family get-together!
37. Baked Parmesan Zucchini Rounds
These zucchini rounds are the perfect healthy appetizer that is still flavorful and delicious!
38. Baked Parmesan Yellow Squash
These cheesy, crispy rounds are so tasty that you could just eat them like chips!
39. Stuffed Pizza Bombs
This kid-loved recipe is fun to make and will tackle any pizza craving!
40. Hatch Chili Guacamole
Take your guacamole up a notch by adding in some smoky hatch chili peppers!
41. Sea Salt Vinegar Kale Chips
Feel free to eat as many of these as you want with zero guilt! You won't be missing potato chips with this healthy alternative!
42. Fried String Cheese Mozzarella Sticks
These crispy, easy mozzarella sticks are so irresistible that they are going to disappear quickly!
15 Minutes or Less
If you're short on time or need to whip something up in a pinch, these appetizers all take only 15 minutes or less! These recipes are quick and easy but still extremely mouthwatering!
43. Oven Garlic Bread
You can add some Parmesan cheese to this crisp, buttery garlic bread to make it even more delicious!
44. Stovetop Popcorn
No microwave is necessary with this easy, quick stovetop popcorn recipe!
45. Cajun Shrimp
Whenever you're craving some seafood, try out this flavorful, buttery Cajun shrimp recipe!
46. Garlic Butter Mushrooms
In just 10 minutes you can be enjoying the savory, buttery goodness from these mushrooms!
47. Garlic Butter Shrimp
This juicy, tender shrimp recipe will have all seafood lovers asking for the recipe!
48. Corn Tortilla Quesadillas
These corn tortilla quesadillas are so cheesy and delicious that no one will believe you made them in only 15 minutes!
49. Pan-Seared Sirloin Steak Tips
These succulent, flavorful steak tips will taste as if you spent forever in the kitchen instead of just 10 minutes!
50. Sautéed Balsamic Mushrooms
Choose your favorite mushrooms and enjoy this sophisticated and tasty appetizer!
Each of these easy appetizers will bring your family and friends together through food! Bookmark this page for the next time you need a quick, last-minute appetizer!
📋 Recipe