Cheese sauce for broccoli combines rich, whole milk, butter, and seasoning with tangy sharp cheddar cheese and Parmesan! The combination is divine and can work to get any veggie hater to happily clean their plate!
Broccoli Cheese Sauce Recipe
Broccoli is delicious, but sometimes, you just need a little comfort food. This indulgent cheese sauce for broccoli mixes cheddar and Parmesan with a rich, onion powder-enhanced taste!
With the addition of creamy whole milk and butter, there's no resisting putting this cheese sauce for broccoli on everything in sight. And why not?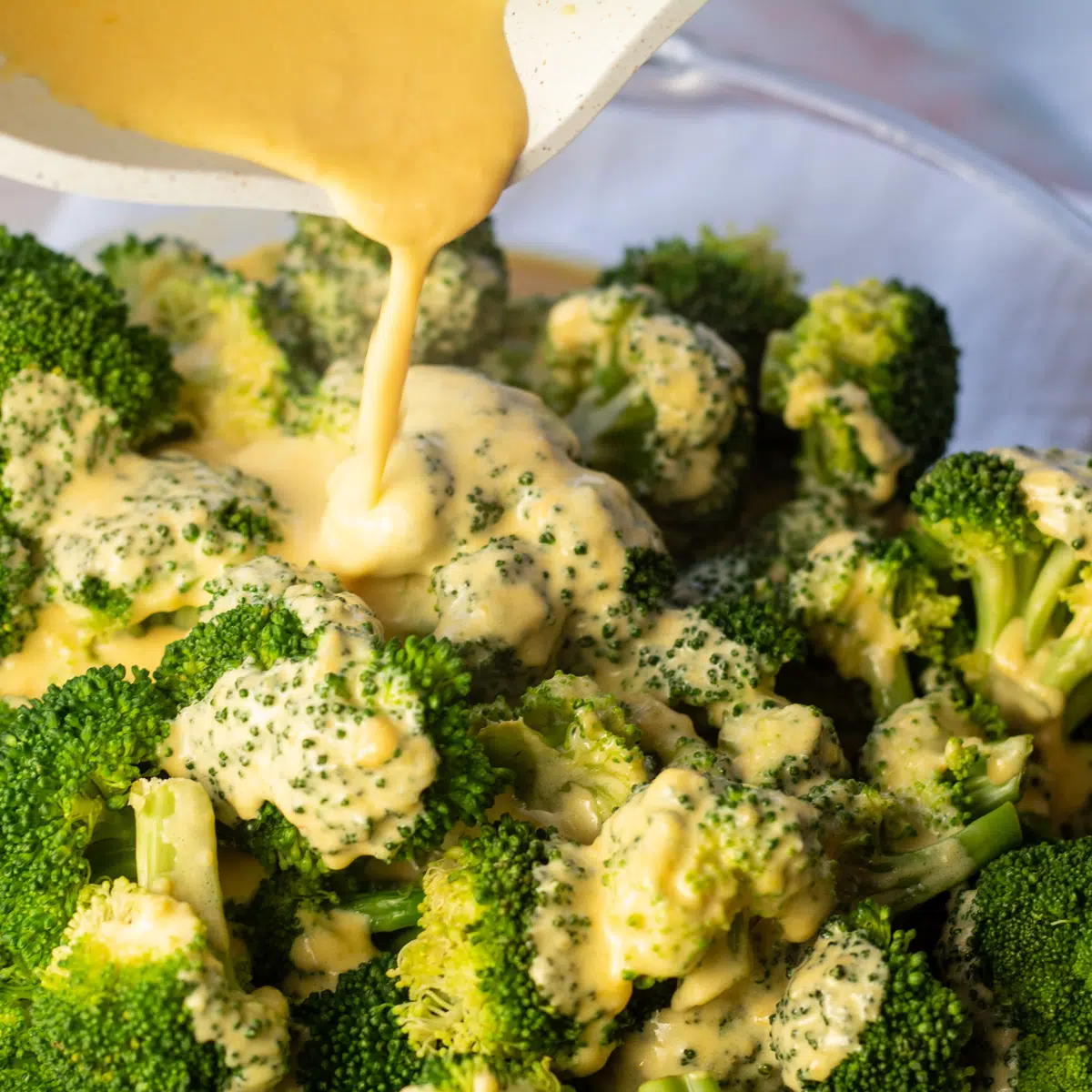 A flavorful, super creamy cheesy sauce your kids will love!
Jump to:
As much as we love our kids, there's no denying that getting them to eat their vegetables can sometimes be a challenge. Indulge them, too! When they need an incentive, just whip up this recipe.
It just takes 15 minutes and a saucepan to elevate some basic broccoli, whether it's steamed or roasted broccoli, into something spectacular.
❤️ Why You'll Love This Recipe!
Kid-Friendly! Cover vegetables with this sauce and your kids will happily gobble them up!
Simple Steps! There are only a few basic steps to combine the sauce and melt cheese to make this perfectly cheesy sauce!
It's Versatile! Put it on baked potatoes, nachos, asparagus, or pretty much any veggie you want to add flavor!
🥘 Cheese Sauce Ingredients
These are pretty common ingredients you're likely to already have. Grab the butter, milk, and cheese from your fridge then the rest from your dry goods!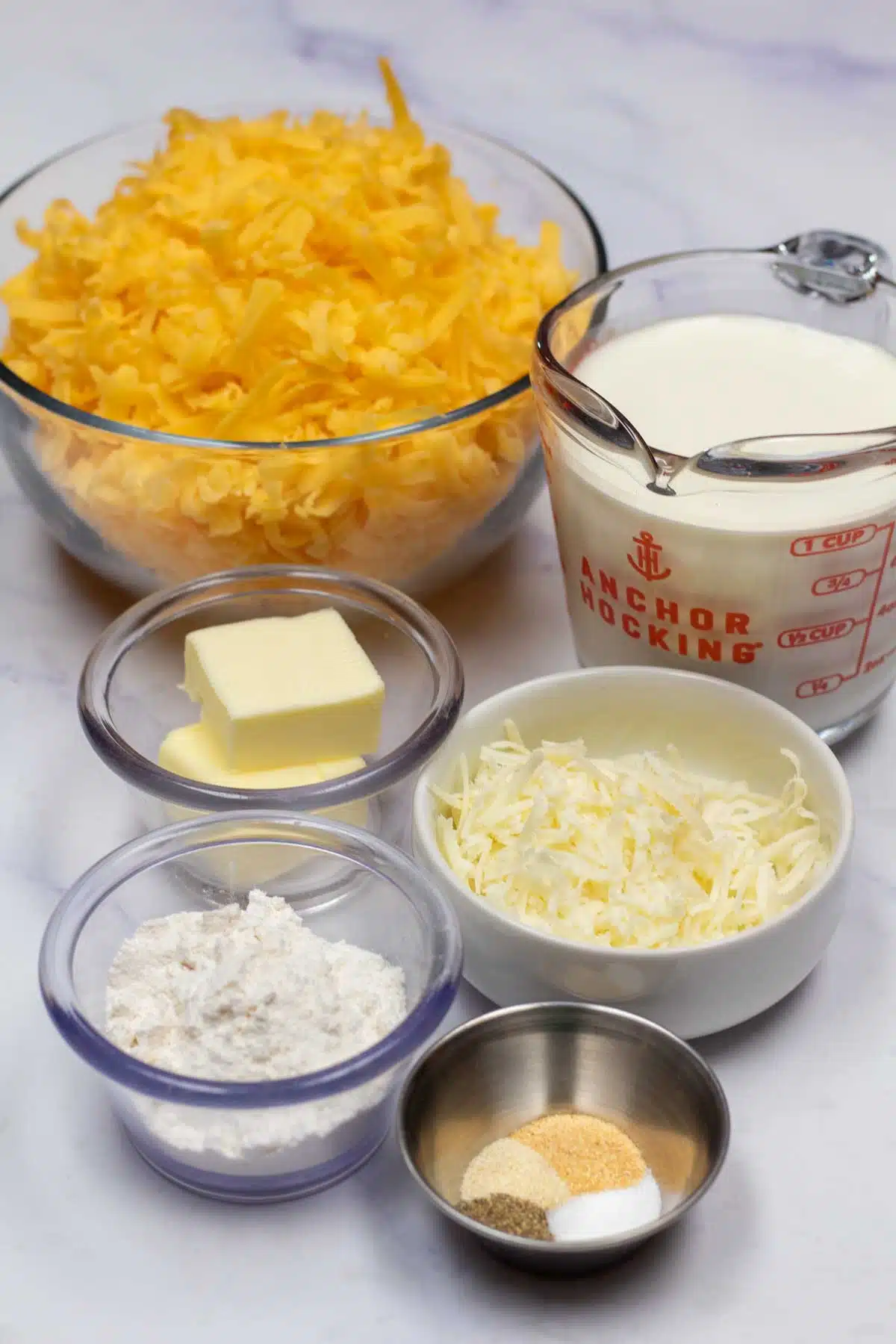 Butter - Salted or unsalted is fine, but remember to reduce the added salt if your starting with salted butter.
All-Purpose Flour - Flour is a pantry staple that's a great thickener for sauces.
Whole Milk - The extra fat in whole milk makes this oh-so-creamy cheese the perfect texture.
Cheddar Cheese - Sharp cheddar is my favorite, but any will work!
Parmesan Cheese - Adding a stronger, salty cheese packs a flavorful punch!
Onion Powder - Onion powder enhances all the flavors it's combined with for a wonderful savory taste.
Salt & Pepper - As always, add this pair of spices to taste.
*Be sure to see the free printable recipe card below for ingredients, exact amounts & instructions with tips!*
📖 Variations
I love this recipe as-is, but if you find yourself making it a lot and want to add some variation, change up the cheese! Asiago, Romano, or another hard cheese could easily be substituted for Parmesan. One of my favorite cheeses is an Italian Pecorino Romano. And there are many types of cheddar to choose from.
If you're into spicy cheese sauces, try one with jalapeños or habaneros in it. Or perhaps a cracked peppercorn, garlic-herb, or smoky bacon cheddar. Go crazy!
Another way to change up the flavors is with add-ins. Try a bit of yellow mustard or onion puree to enhance the cheese taste. Or add some cayenne pepper or freshly minced garlic.
Maybe sprinkle bits of bacon on top of your final creation. If you're not cooking for kids, try a tablespoon or two of white wine!
🔪 How To Make Cheese Sauce For Broccoli
Making this recipe is as easy as pie. Pull out a saucepan and a whisk, and you're ready to go!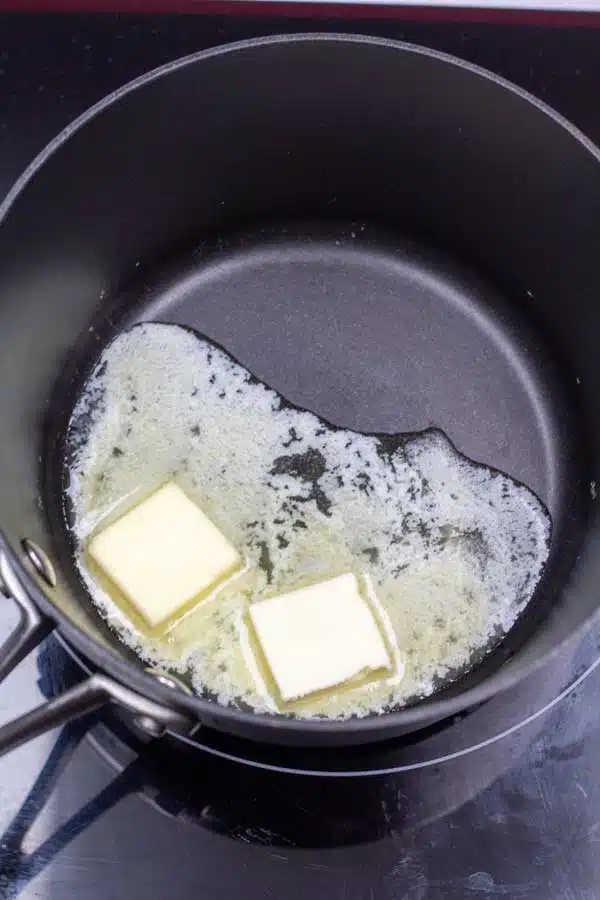 To begin, melt the butter. Add 2 tablespoons of butter to a medium-sized saucepan and melt it over medium heat.
Next, make a roux. Shake in 2 tablespoons of all-purpose flour and whisk it together. This is called a roux. It will be thick and paste-like until we add the milk. Do stir for a minute and let it cook, this removes the flour taste from your roux base.
Add the milk gradually. Pour 1 cup whole milk into the saucepan a little at a time and mix thoroughly. Whisk continuously until all of the milk has been added. It should be clump-free.
Reduce heat and add other ingredients. Turn the heat to low (or remove from heat entirely) and stir in 1 ¼ cup grated cheddar cheese, ½ cup grated Parmesan cheese, and ¼ teaspoon onion powder.
Melt the cheese. Continue cooking over low heat, whisking frequently, until the cheese is completely melted. Add salt and pepper to taste, if desired.
Serve. Pour this sauce over broccoli for a fantastic–and hearty–side dish.
Cheese sauce for broccoli is amazing on my super easy broccoli! Also, try it on other vegetables like cauliflower or leftover turkey, or use it as a dipping sauce for fries or chips. Enjoy!
💭 Tips & Notes
Don't forget to add some salt. Sometimes people try to avoid using extra salt, but adding a bit to this recipe will really enhance the richness of the cheese. I also really like a sprinkle of flaky sea salt on top to finish it off.
Be careful with your cheese! For best results with the cheese, bring it to room temperature before adding it to your pan. Grate it, and put it in the milk mixture over the lowest heat possible to minimize your chances of overcooking or causing separation.
Don't skip the whole milk. Whole milk contains fat. Fat is what makes this creamy and delicious, so don't swap this out for skim!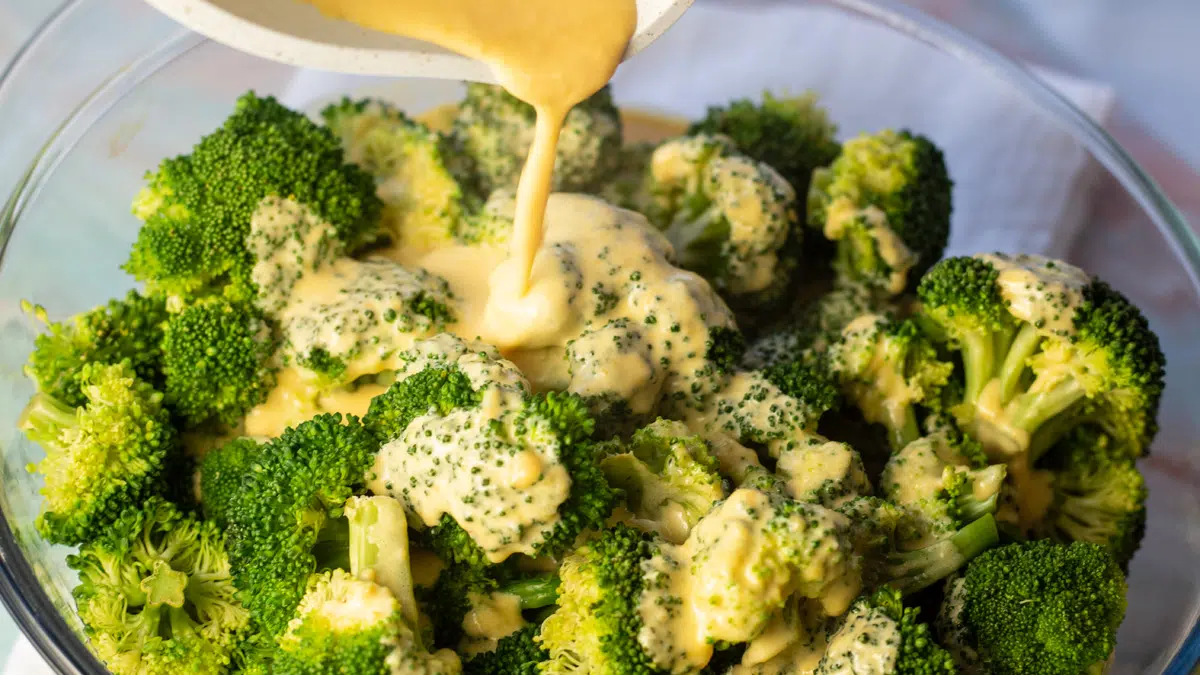 🥡 Storing & Reheating
When it has cooled, the leftover homemade cheese sauce can be put into an airtight container and stored in the fridge for up to a week.
If transferred to an airtight freezer container or plastic freezer bags with excess air removed, cheese sauce can be frozen for up to 6 months before the quality will reduce with time.
The cheese sauce is best used within the first 2-3 months of freezing. However, it will remain safe to eat after that point - it just won't be as flavorful.
The best way to thaw frozen sauce is by letting it sit in the fridge overnight. If you need to speed things up, run cold water over the sealed container or freezer bag until it's soft.
Reheating Cheese Sauce For Broccoli
Pour cheese sauce into a saucepan and heat on low to reheat to your desired temperature. If it's overly thick, add a tablespoon of whole milk at a time until the sauce reaches your desired consistency.
❓ FAQ
My cheese isn't melting. What did I do wrong?
There are a couple of things that could be causing this issue. The first is overcooking. If you add cubes of cheese instead of grating it, it will take longer to melt. In the meantime, your milk has a higher probability of curdling due to overcooking. So while it looks like your cheese isn't melting, it's really the milk that has been ruined and the cheese hasn't had enough time over the heat.
Is it possible to fix cheese sauce that has become grainy?
Definitely! The best way to go about this is to first remove the saucepan from the heat. Do this immediately when you see curdling starting to occur. Cool it down as quickly as possible by lowering it into an ice bath or simply transferring the sauce to a different pan or bowl. 
Mix in a spoonful or two of lemon juice, cream, or white wine. Pick one and stick with it. Adding more than one of these options will negatively affect the flavor. Whisk thoroughly to remove clumps.
🥦 Other Great Sides
Do you love a recipe you tried? Please leave a 5-star 🌟rating in the recipe card below and/or a review in the comments section further down the page.
Stay in touch with me through social media @ Pinterest, Facebook, Instagram, or Twitter! Subscribe to the newsletter today (no spam, I promise)! Don't forget to tag me when you try one of my recipes!
📖 Recipe Card
Print Recipe
Leave A Comment
Love This Recipe?
Click On A Star To Rate It!
Cheese Sauce For Broccoli
Cheese sauce for broccoli combines rich, whole milk, butter, and seasoning with tangy sharp cheddar cheese and Parmesan! The combination is divine and can work to get any veggie hater to happily clean their plate!
Pin Recipe
Share on Facebook
Help Us Out!
If you love a recipe, be sure to come back and share your ratings. This helps future users, and allows me to continue sharing free recipes! Angela
Instructions
In a saucepan over medium heat add the butter and melt.

Add the flour and whisk. (the roux will become thick)

2 tablespoon all-purpose flour

Start adding the milk a little at a time and whisk , keep adding the milk and whisk until all the milk is used and mixture is smooth with no clumps.

Turn heat to low and add onion powder and cheeses.

1 ¼ cup cheddar cheese,

¼ teaspoon onion powder,

½ cup Parmesan cheese

Whisk until all the cheese is melted, then remove from heat. (Stir in salt & pepper to taste, if desired)

⅛ teaspoon each, salt & pepper

Serve immediately over the broccoli.
Equipment You May Need
Notes
Makes 2 cups of cheese sauce.
Nutrition
Calories:
146
kcal
(7%)
|
Carbohydrates:
3
g
(1%)
|
Protein:
8
g
(16%)
|
Fat:
11
g
(17%)
|
Saturated Fat:
7
g
(44%)
|
Polyunsaturated Fat:
1
g
|
Monounsaturated Fat:
3
g
|
Trans Fat:
1
g
|
Cholesterol:
33
mg
(11%)
|
Sodium:
248
mg
(11%)
|
Potassium:
67
mg
(2%)
|
Fiber:
1
g
(4%)
|
Sugar:
2
g
(2%)
|
Vitamin A:
363
IU
(7%)
|
Vitamin C:
1
mg
(1%)
|
Calcium:
237
mg
(24%)
|
Iron:
1
mg
(6%)
Cheese Sauce For Broccoli, cheesy sauce, easy cheese sauce, Homemade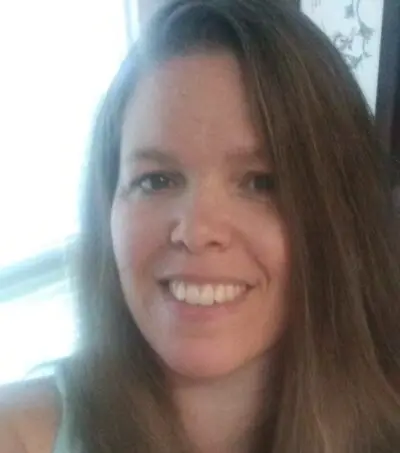 Angela is an at home chef that developed a passion for all things cooking and baking at a young age in her Grandma's kitchen. After many years in the food service industry, she now enjoys sharing all of her family favorite recipes and creating tasty dinner and amazing dessert recipes here at Bake It With Love!