This super easy Sloppy Joes recipe is one that has been handed down through generations and features a hearty taste of classic 1940's diner food! The meaty mixture is combined with tomato sauce and seasoning to make a perfectly messy, tasty filling for your sandwiches!

Sloppy Joe Recipe
Do you remember the lunchroom sloppy joes from your childhood? Does it make you cringe? The ones from my memory always did!
It's a lucky thing for me that my Granny made awesome sloppy joe sandwiches! I've tweaked her old recipe a little bit, and add things on a whim whenever I make sloppy joes for my own family now. But this fantastic meaty sandwich is a great, filling, and tasty part of family meals everywhere!
I make my sloppy joes with tomato sauce and basic sloppy joe seasoning, just like the vintage recipe that my sandwiches are based on. I can't wait for you to try them!
What's the Origin of Sloppy Joes
Many things were made in the late 1800s to early 1900s with fillers in ground meats to make the meat stretch further. Thus the birth of hamburgers, meatloaf, meatballs, hamburger stew, and the original 'sloppy joe' also called a loose meat sandwich. This 'sloppy' sandwich was first served at Ye Olde Taverne Inn of Sioux City, Iowa.
Where did the 'Joe' come in? Well, like G.I. Joe it's an all-American name for an all-American sandwich!
The many names for this 'loose meat sandwich' include:
Toasted Deviled Hamburgers, Good Housekeeping Cook Book, Katharine Fisher [1944] (p. 534); Chopped Meat Sandwiches, Young America's Cook Book, Home Institute of the New York Herald Tribune [1940] (p. 36); Hamburg a la Creole, Prudence Penny's Cookbook, [1939] (p.67); Beef Mironton, The New Butterick Cook Book, Flora Rose [1924] (p. 266); Minced Beef Spanish Style, Mrs. Rorer's New Cook Book, Sarah Tyson Rorer [1902] (p.157). ~ FoodTimeline
Other names the sloppy joe sandwich is known by (some with variations) are dynamite, slush burger, yum yums, spoonburgers, or tavern burgers.
Difference Between Manwich and Sloppy Joes
What's the difference between a Manwich and a Sloppy Joe? Manwich is actually the commercially available canned sloppy joe sauce produced by ConAgra Foods and Hunt's. The brand originally introduced Manwich in 1969 and has since added Bold, Bourbon BBQ, and Thick & Chunky varieties as well as the Original Manwich flavor.
A sloppy joe is a sandwich made with ground beef or pork, tomato sauce, Worcestershire sauce, and seasoning that is traditionally served on a hamburger bun.
How To Make Homemade Sloppy Joe Sandwiches
Making sloppy joes is so easy! There's no need to buy canned Manwich sauce when you master this simple meaty combination that comes together in a skillet in no time!
Sloppy Joe Ingredients
You will need the following ingredients to make your sloppy joe sandwiches, and I'll bet that most are already on hand!
Ground Hamburger -Any ground meat can technically work, so if you want to use a lower fat protein like ground chicken or ground turkey go right ahead and do it! I like my ground beef to have a higher fat percentage. I know, it sucks having to drain off the excess fat but it does add more flavor to the hamburger while cooking. I am using an 80/20 ground chuck in my recipe here.
Bell Peppers & Onions - This hearty sandwich filling is totally enhanced with the green bell pepper. Trust me, I'm not a fan of the green bell pepper flavor ( on its own ) but I cannot imagine my sloppy joes without the taste of the little green pieces! Onions too, make sure to cook both down so that your potentially picky eaters won't notice the texture.
Sauce - My sloppy joe sauce combines tomato sauce with a bit of ketchup and mustard as well Worcestershire sauce to make a really flavorful tomato-based sauce for the ground beef. Even before the seasoning is added, the flavor base is really coming together! Add a tablespoon of apple cider vinegar or white vinegar for even more 'tanginess' to the hearty sauce!
Seasoning - A bit of brown sugar for sweetness and the hint of rich molasses plus the basics like garlic powder and onion powder. I like to add some freshly ground pepper but not salt. Hold off on adding any salt until the flavors of the meat and sauce have come together, then taste and adjust the salt amount to your liking.
Hamburger Buns - The perfect way to eat your sloppy joes always includes a good burger bun! Whether you manage to pick up your sloppy joe sandwiches ( and make a tasty mess to clean up with some chips later ) or choose to serve your sloppy joe open-faced, you still need a bun to serve them on!
Saute the Peppers & Onions
Start out your sloppy joes with a large, deep skillet, Dutch oven, or non-stick frying pan. Heat the skillet over medium heat with about a tablespoon of extra virgin olive oil. Add the diced onions and green bell peppers and sauté until tender and fragrant.
I like my onions and peppers to be fairly tender, even though they will continue to cook while the sauce is simmering. My daughter is 13 now, and I'm the picky eater in the family now. How's that work?
Brown the Ground Beef
Once your peppers and onions have reached your desired level of tenderness, add the ground beef and cook until browned. Break the ground beef into pieces after letting it cook for about 5 minutes undisturbed.
Again, the hamburger will continue cooking while simmering, so it can be slightly pink when you move onto adding the sauce ingredients and seasoning. Drain off the excess grease.
Homemade Sloppy Joe Sauce
For one pound of ground beef, use an 8 ounce can of tomato sauce. Add ketchup, Worcestershire sauce, and yellow mustard for the sauce base. The sloppy joe seasoning is only a tablespoon of light or dark brown sugar, a ½ teaspoon each of garlic powder and freshly ground black pepper, then a ¼ teaspoon of onion powder.
I like a touch of chili powder on occasion, and red pepper flakes can also be used to add a little 'heat' to your sloppy joes!
Simmer until the sauce thickens and is heated through before serving. *If you missed some grease that is still in your sauce, use paper towels to wick away the grease from the top of the sauce. Stir and repeat, if needed.
How To Fix Runny Sloppy Joes
Is your sloppy joe sauce still kind of runny? Use a tablespoon of either flour or cornstarch and make a slurry with an equal amount of cold water. Stir well and add to the sloppy joe mixture slowly. Stir the slurry into the sauce thoroughly and repeat if needed.
In general, each pound of ground beef used to make these sloppy joes should make 6 individual sloppy joe sandwiches. To feed a crowd, divide your number of guests or sloppy joes needed by 6 to figure out the number of times to multiply the recipe by. *Example: to feed 20 people divide 20 by 6 for 3 ⅓ pounds of hamburger needed to make your 20 sloppy joes.
Check out all of my best side dishes for sloppy joes!
Storing Your Sloppy Joes Meat
Store any unused sloppy joe meat and sauce in an airtight container. The remaining sloppy joe mix will store for up to 3 -4 days when refrigerated.
Can Sloppy Joe Meat be Frozen?
The cooked beef in sloppy joe sauce is ideal for making ahead and freezing! Store the sloppy joe mixture in an airtight container or Ziploc freezer storage bag for 3 - 4 months in the freezer.
Thaw the frozen sloppy joe mix in the refrigerator overnight, then reheat in a large skillet over medium-low heat until warmed through. If your sloppy joes are too thick when reheated, add water a tablespoon at a time until you reach your desired consistency.
More Tasty Ground Beef Dinners
Print Recipe
Leave A Comment
Love This Recipe?
Click On A Star To Rate It!
Sloppy Joe
This super easy Sloppy Joe recipe is one that has been handed down through generations and features a hearty taste of classic 1940's diner food! The meaty mixture is combined with tomato sauce and seasoning to make a perfectly messy, tasty filling for your sandwiches!
Pin Recipe
Share on Facebook
Ingredients
1

tablespoon

olive oil

(extra virgin)

½

large

green bell pepper

(diced)

1

small

yellow onion

(or white onion, diced)

1

lb

ground beef

(I use 80/20 ground chuck)

8

oz

tomato sauce

(1 8 ounce can)

¼

cup

ketchup

2

tablespoon

Worcestershire sauce

½

tablespoon

yellow mustard

1

tablespoon

light brown sugar

or dark brown sugar, more to taste)

½

teaspoon

black pepper

(freshly ground)

½

teaspoon

garlic powder

¼

teaspoon

onion powder

6

hamburger buns
Instructions
Preheat a large skillet, non-stick frying pan, or Dutch oven with a tablespoon of olive oil over medium heat. Add the diced green bell peppers and onions. Saute until tender.

Add the ground beef and let sit for about 5 minutes. Break apart the ground beef and continue to brown until mostly browned (a little pink is OK as the beef will continue to cook in the sauce).

Add the tomato sauce, Worcestershire sauce, ketchup, yellow mustard, brown sugar, pepper, garlic powder, onion powder. Simmer for 3-5 minutes or until the meat is cooked and the sauce is warmed through and thickened.

Portion the sloppy joes out for 6 servings on buns, toasted or not. Serve with a slice of cheese and/or dill pickle on the sandwich.
Nutrition
Calories:
387
kcal
(19%)
|
Carbohydrates:
35
g
(12%)
|
Protein:
19
g
(38%)
|
Fat:
19
g
(29%)
|
Saturated Fat:
7
g
(44%)
|
Cholesterol:
54
mg
(18%)
|
Sodium:
630
mg
(27%)
|
Potassium:
550
mg
(16%)
|
Fiber:
2
g
(8%)
|
Sugar:
12
g
(13%)
|
Vitamin A:
266
IU
(5%)
|
Vitamin C:
18
mg
(22%)
|
Calcium:
110
mg
(11%)
|
Iron:
4
mg
(22%)
beef entrees, Homemade, Sloppy Joe, Sloppy Joes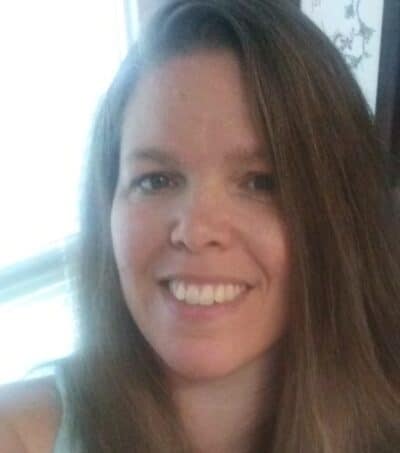 Angela is an at home chef that developed a passion for all things cooking and baking at a young age in her Grandma's kitchen. After many years in the food service industry, she now enjoys sharing all of her family favorite recipes and creating tasty dinner and amazing dessert recipes here at Bake It With Love!