Best burger recipes, which include a variety of meat choices as well as plenty of tasty topping combinations to try! I've tried everything from wild game like elk and venison to classic cheeseburgers and even smoked burgers! Check out my favorite burger recipes below so you can recreate them at home!
Best Hamburger and Cheeseburger Recipes
Not all burgers are created equal, so I've done the grueling task of trying out all of these burger recipes for you (just kidding, I loved it)! Below are my very favorite burger recipes, and each one comes with my family's seal of approval!
I've dabbled with different meats outside of the usual beef, as well as different cooking methods to find what makes the best burgers. I can't say which one was my all-time favorite because there's something to love about all of them!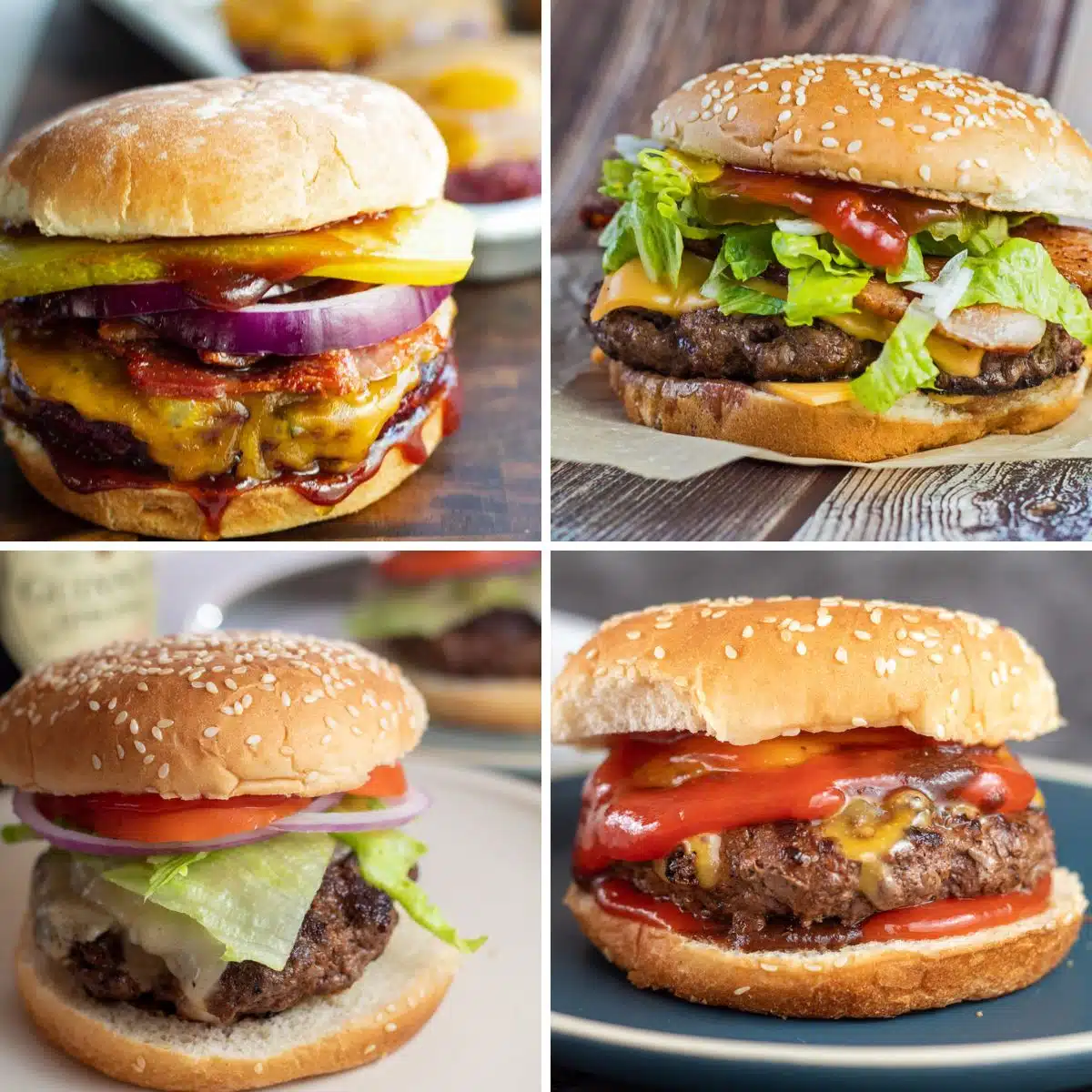 Jump to:
As always, you can customize any of these delicious burgers by adding your favorite burger toppings! You can even try out different cheeses for your burger to really make it your own!
1. Burger Bar
While a burger bar is totally up to interpretation, I couldn't make this list without including it. Grab a few of your favorite burgers from below and arrange a spread of toppings to serve a crowd for parties, game days, and more!
2. Blue Cheese Burger
Blue cheese is an acquired taste for many, but if you love it, you LOVE it! Blue cheese lovers will be super satisfied with this juicy burger that includes blue cheese in the beef patty as well as on top!
3. Egg Burger
A runny egg has to be one of my favorite burger toppings of all time. It essentially makes its own sauce when you bite in, and that creamy yolk drips over the patty (plus, it's an excuse to eat burgers for breakfast).
4. Bison Burgers
It's not uncommon to see bison burgers as the main option for burgers at gourmet restaurants, and it's easy to see why. They are juicy and incredibly flavorful while also more nutrient-packed than regular beef!
5. Elk Burgers
If you're looking to try your hand at cooking with elk meat, these awesome elk burgers are the perfect place to start! Elk is one of the leanest and most nutritious meats you can use to make burgers, and they are ready to eat in just 15 minutes!
6. Baked Cheeseburgers
In about 30 minutes, you can make perfectly juicy burger patties in your oven! It's much less messy than cooking them in a pan on the stovetop but equally delicious!
7. Venison Burgers
If you have some extra venison in your freezer after deer season ends, what better way to use it up than some tasty burgers? I mix bacon into the burger patties to give them even more flavor!
8. Mushroom Swiss Burger
The classic flavor combination of earthy mushrooms and mild-yet-nutty Swiss cheese is a great way to enhance your burger! The mushrooms are sauteed in Worcestershire sauce until perfectly tender and caramelized. Yum!
>>>>See all of my recipes HERE<<<<
9. Frozen Hamburgers In The Oven
While frozen burgers aren't typically my first choice, they are definitely the best option when trying to feed a hungry family on busy weeknights! Check out my page on what to serve with burgers to make a delicious and well-rounded meal!
10. Air Fryer Frozen Burgers
For juicy burgers in a flash, you can also rely on your handy dandy air fryer! Top your burgers with your favorite cheese and pop them in for an extra 30 seconds to melt. Then add your favorite burger toppings and some of my homemade burger sauce, and enjoy!
11. Smoked Hamburgers
If you've never tried smoked burger patties, you're missing out! Not only are they seasoned to perfection with my homemade burger seasoning, but the meat absorbs all of that wonderful smokey flavor!
12. Western Bacon Cheeseburger
This is the perfect burger for anyone with a hearty appetite! It's stacked high with two all-beef patties, melted American cheese, crispy onion rings, smokey bacon, and a drizzle of BBQ sauce!
13. Travis Scott Burger
This copycat version of McDonald's limited edition Travis Scott burger tastes even better when made at home! It's a quarter-pound patty loaded with thick-cut bacon, melted American cheese, lettuce, onions, pickles, ketchup, and mustard.
14. Wagyu Burger
Treat yourself to a burger fit for a king by using some beautifully marbled Wagyu beef! I recommend cooking it to medium-rare so you can truly savor all of the rich beefy flavors.
15. Hawaiian Burger
While the burger patty is always the star of the show, the tasty grilled pineapple on this burger certainly gives it a run for its money! It's completed with some crisp green leaf lettuce and a slathering of sticky, sweet, and savory teriyaki sauce!
Tips For Making The Best Burgers
Burgers are highly customizable, so feel free to experiment with different combinations of ingredients to create your signature burger! Here are some tips to help you create mouthwatering burgers every time:
Choose Quality Meat: Start with fresh, high-quality ground meat. I like to use 80/20 (or 85/15) ground chuck. The leaner the meat, the drier the burger. (Lean game meats can benefit from some added fat!)
Avoid Overworking the Meat: Gently form the patties without overhandling the meat. Overworking can result in tough burgers. You want to form the patties slightly larger than the buns you will be using, as they tend to shrink during cooking.
Check the temperature: Use a meat thermometer to ensure your burgers are cooked to your desired level of doneness. The USDA recommends an internal temperature of 160°F (71°C) for ground beef (well-done), though many people prefer their burgers medium (140-145°F/60-63°C) to medium-well (150-155°F/66-68°C).
Melt the cheese: If you're adding cheese, place a slice on the burger during the last minute of cooking and cover the grill or pan with a lid to help melt the cheese evenly.
Rest the Burgers: Let your burgers rest for 5-10 minutes before serving. This helps redistribute the juices throughout the patty and prevents them from flowing out when you bite into the burger.
Bun selection: Choose quality buns that can hold up to the juiciness of your burger! Toasting the buns on the grill or in a pan beforehand can help prevent fogginess.
With all of these amazing burger recipes and easy tips and tricks, you're burgers are about to be the most popular on the block! Tell me your favorite burger toppings in the comment section below!
📋 Recipe