Tasty, juicy air fryer frozen burgers cook up to perfection with very little effort on your part, making them a quick and easy family meal! These hearty burgers are so much better than anything from a drive-thru - plus, you truly can make them your way (so can everyone in your family)!
From Frozen Air Fryer Burgers
Making the perfect burger can be a challenge. You want them to be juicy with crispy edges. And never overcooked! This tasty air fryer recipe makes it a no-brainer.
It's so easy to make frozen beef patties to keep in the freezer. When you're ready for an easy weeknight dinner (that's still faster than hitting the fast-food drive-thru!) just drop them in the air fryer for 10-12 minutes, and voila! It's a meal everyone can be excited about.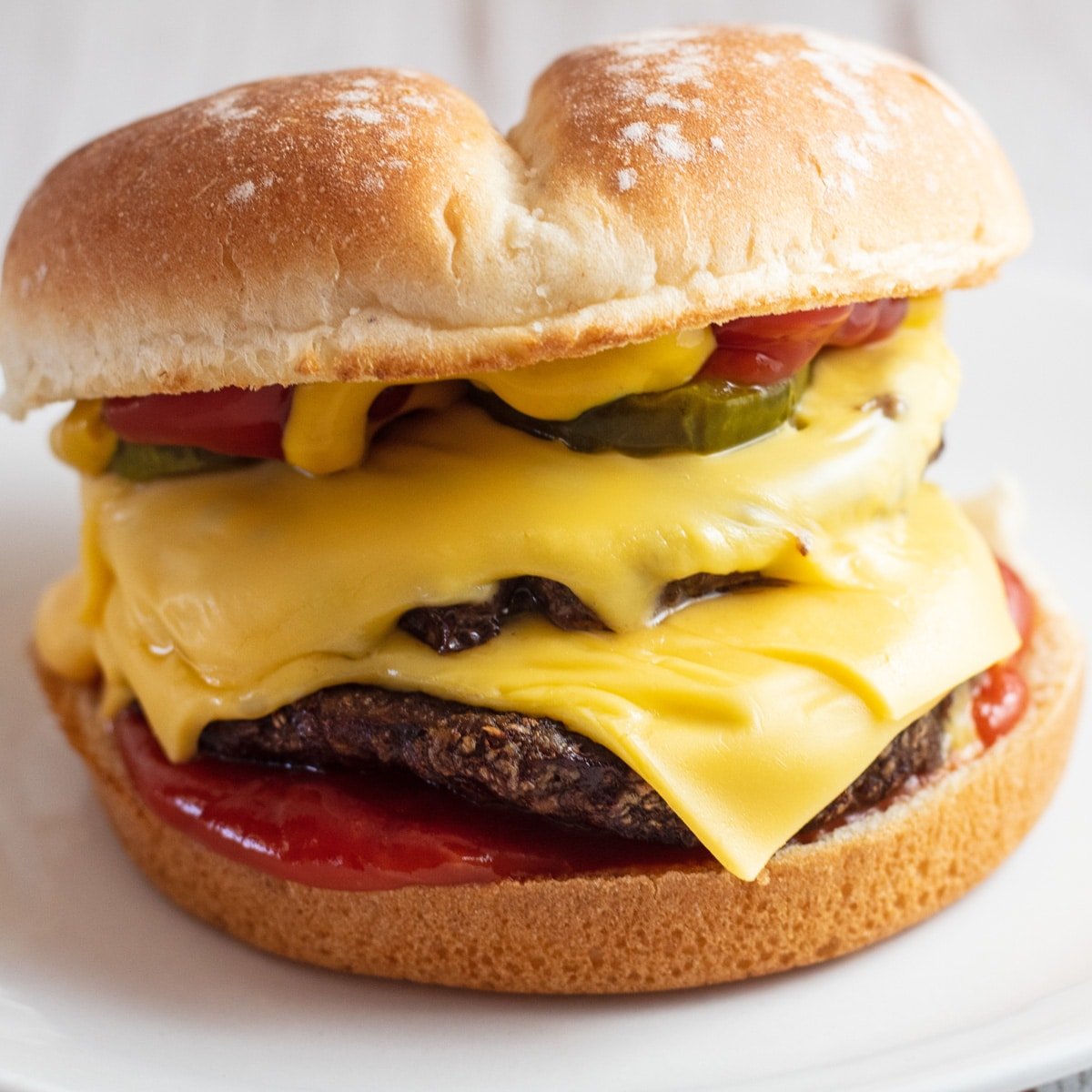 Juicy, Perfectly-Cooked Burgers Straight From the Air Fryer!
Jump to:
Pick a theme or make a toppings bar for dinner guests to customize their own burgers!
❤️ Why You'll Love This Recipe!
It's consistent! Get amazing burgers every time, without fail. Once you know your burger cooking times, you can easily cook up your frozen burgers to perfection!
It's easy! There's no sweating away over a hot stove or grill for this meal! Your air fryer burgers are practically effortless!
It's family-friendly! I dare you to name a kid who doesn't like cheeseburgers - with or without bacon!
🥘 Ingredients
Just a few ingredients and they're probably exactly what you would expect. The trick to any good hamburger is how it's cooked more than what you put on it.

Hamburger Patties - My favorites are 80/20 and 100% Angus frozen burger patties, however, leaner patties cook best in the air fryer.
Cheese - I love cheddar, and the kid in me loves melty American cheese slices. However, you can use your favorite cheese on these delicious burgers!
Hamburger Buns - Get creative with a good kaiser roll, brioche, or pretzel bun.
Condiments (optional) - Pickles, onions, mayo, ketchup, mustard, barbecue sauce...take your pick of toppings!
*Be sure to see the free printable recipe card below for ingredients, exact amounts & instructions with tips!*
🔪 Step-By-Step Instructions
These are the easiest burgers you'll ever make! Just pull the burger patties out of the freezer and put them in the air fryer to cook from frozen!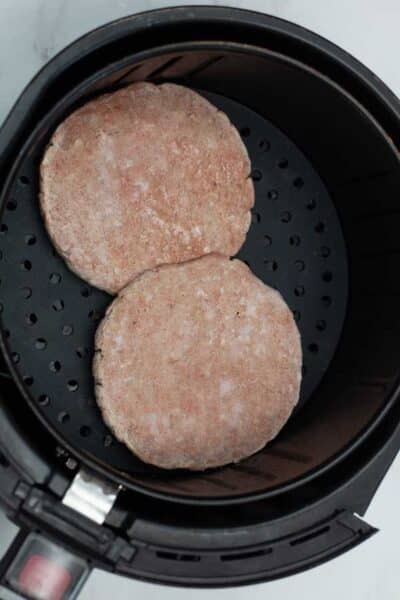 Preheat your air fryer. Set your air fryer to 350℉ (175℃).
Cook the patties. When the fryer is heated, put 2 frozen hamburger patties in the basket (photo 1) and cook for 10-12 minutes. Be sure to flip them at the halfway point (photo 2), at around 5-6 minutes.
Check if they're done. Using a meat thermometer, check the temperature of the thickest part of the burger. When the internal temperature is 165℉ (73℃), pull them out (photo 3).
Add cheese. For those of you who would like to add cheese, now is the time. Place a slice of cheddar cheese on each burger (photo 4 - plus the top half of your bun to hold it in place!) and cook for an additional 30 seconds or until it's melted.
Finish off with other toppings! Pull out the cheesy burgers and put them each onto the bottom bun. Add all of your favorite condiments and anything else you'd enjoy (i.e. pickles, ketchup, lettuce, tomato, barbecue sauce, etc.). Serve immediately while nice and hot!
I love classic barbecue side dishes with cheeseburgers! These easy air fryer frozen burgers are great with potato chips, potato salad, watermelon, corn on the cob, baked beans, and more. Enjoy!
💭 Angela's Tips & Recipe Notes
Flip the burgers halfway through. To get perfectly cooked burgers, it's best to flip your patties halfway through the cooking period.
Don't overcook the burgers! Leaving them in the air fryer for more than the allotted time can lead to crispy, black meat. Air fryers cook things quickly, so keep a close eye on it if you add extra cooking time.
Toast your hamburger buns for an extra special meal. To add even more flavor, you can spread a bit of butter or garlic butter on before putting the buns in a broiler for 3-4 minutes. You can also do this in a pan or skillet over medium heat on the stove top in the same amount of time.
🥡 Storing & Reheating
If you have leftovers, they can be stored in the fridge for 3-4 days. Just be sure to wrap them with foil or plastic cling wrap, or put the cooked patties into an airtight container.
This recipe is specifically for frozen burgers, so you only need to make what you're going to eat. If you happen to overestimate, cooked burgers can be re-frozen. Wrap the patties in aluminum foil, and put them in a freezer bag or an airtight container for up to 4 months.
Reheating Air Fryer Burgers
To reheat a leftover hamburger follow these quick instructions. Add a teaspoon of water to the bottom of your fryer basket then put the burger in and air fry! Cook at 400℉ (205℃) for 3 to 4 minutes, or until completely warmed.
🍔 Sides For Burgers
Here are a few of my favorites for what to serve with hamburgers!
❓ FAQ
Can I fry onion slices at the same time I cook the burgers?
Onions are fantastic in the air fryer, but they're best done separately from the burgers. For sauteed onions, cook at 300℉ (150℃) for 5 minutes, stirring at the halfway point. 
To help them caramelize, add a pinch of sugar, mix, and cook for another 7-10 minutes. Stir every 2-3 minutes. For brown and crispy onions, cook at 265℉ (129℃) for 25-30 minutes, stirring or shaking the basket every 5 minutes.
My burger shrinks in the air fryer. Can I prevent that?
Because meat is sold by weight, many grocery stores add water and salt to their products. When you cook them, it's no surprise, the water evaporates and leaves your hamburger smaller than when you put it in to cook.
One way to reduce shrinkage is to buy leaner meats without added water.
What is the white smoke coming out of my air fryer?
Sometimes, when you're cooking meat with higher fat content, it can spill out. The heat turns this into smoke. Don't stress. If the smoke is causing issues, just shut off your air fryer--making a note of how much time is left to cook--and clean the fat out of the bottom of the pan. Restart the fryer and continue where you left off. Always drain the fat between batches if you're making several patties.
📋 Recipe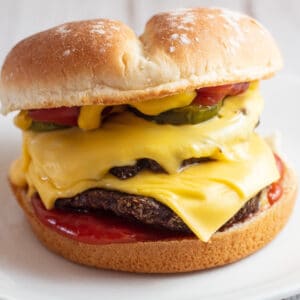 Print Recipe
Leave A Comment
Love This Recipe?
Click On A Star To Rate It!
Air Fryer Frozen Burgers
Tasty, juicy air fryer frozen burgers cook up to perfection with very little effort on your part, making them a quick and easy family meal! These hearty burgers are so much better than anything from a drive-thru - plus, you truly can make them your way (so can everyone in your family)!
Pin Recipe
Share on Facebook
Ingredients
2

hamburger patties

(frozen - ¼ pound or ⅓ pound patties)

2

slices

cheddar cheese

2

hamburger buns

optional condiments
Instructions
Preheat your air fryer to 350°F (176°C).

Place burgers in your air fryer basket, and cook at 350°F (176°C) for 10-12 minutes total time.

When the burgers are about half way cooked around the 6 minute mark, open and flip the burgers.

The burgers will be done when they reach in internal temperature of 165°F (73°C).

When the burgers are done add sliced cheese if desired and cook for another 30 seconds or until the cheese is melted. *Your cheese will fly away in the air fryer, make sure to place the top bun on your patties with cheese to hold it in place!

Remove from your air fryer and place on bun, add any additional toppings and condiments, enjoy!

2 hamburger buns,

optional condiments
Equipment You May Need
Nutrition
Calories:
419
kcal
(21%)
|
Carbohydrates:
22
g
(7%)
|
Protein:
25
g
(50%)
|
Fat:
25
g
(38%)
|
Saturated Fat:
11
g
(69%)
|
Polyunsaturated Fat:
2
g
|
Monounsaturated Fat:
10
g
|
Cholesterol:
78
mg
(26%)
|
Sodium:
404
mg
(18%)
|
Potassium:
375
mg
(11%)
|
Fiber:
1
g
(4%)
|
Sugar:
3
g
(3%)
|
Vitamin A:
171
IU
(3%)
|
Vitamin C:
1
mg
(1%)
|
Calcium:
205
mg
(21%)
|
Iron:
4
mg
(22%)
Air Fryer Frozen Burgers, cheeseburger, frozen burger patties, hamburger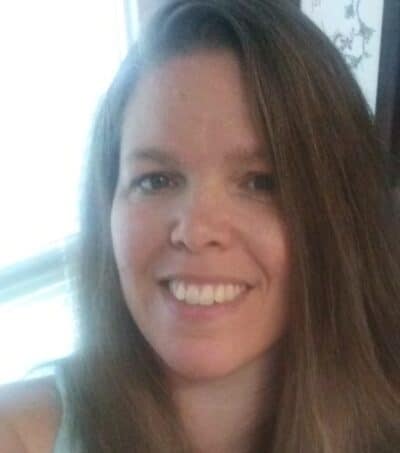 Angela is an at home chef that developed a passion for all things cooking and baking at a young age in her Grandma's kitchen. After many years in the food service industry, she now enjoys sharing all of her family favorite recipes and creating tasty dinner and amazing dessert recipes here at Bake It With Love!