There are plenty of options for what to serve with burgers, but these 15 recipes are my favorite and most popular burger sides! From fries to healthy sides and everything in between, this list is here to help you make the most of your tasty burgers!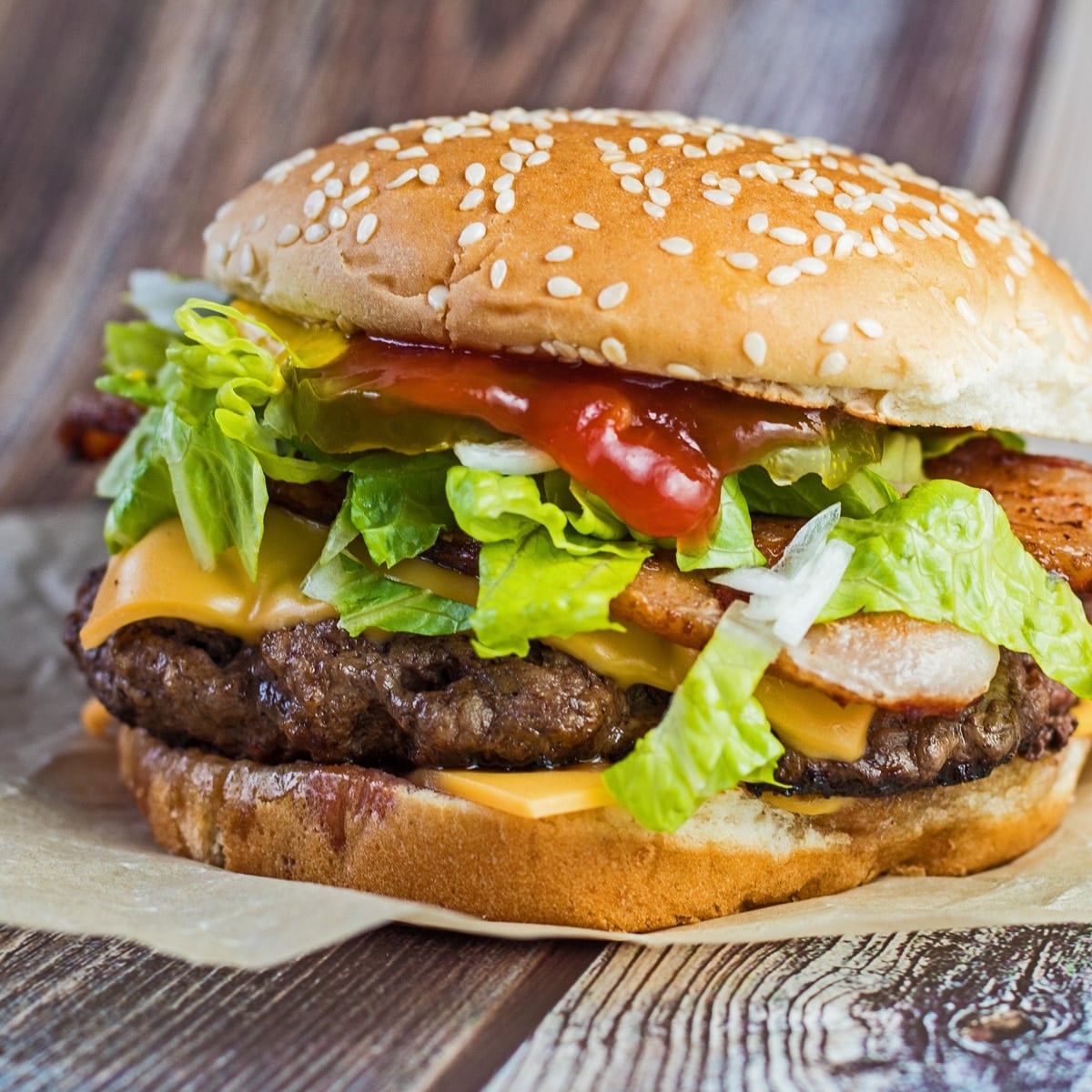 15 easy sides to serve up with your favorite burgers that everyone will love!
Thick or thin, grilled or cooked on the stovetop, a great burger is always a people-pleaser! Burgers work for practically any event, and you'll be hard-pressed to find someone who doesn't like them.
In fact, there are nearly 50 billion burgers served up annually in the United States alone! This all-American comfort food is generally accompanied by some crispy French fries, but as good as they are, sometimes you need to switch things up!
Jump to:
This list includes some familiar side dishes and some surprise pairings that will compliment any burger nicely!
1. Cajun Fries
It wouldn't be a reputable list of burger sides without featuring some French fries! Not just any French fries, however, these fries feature a zesty Cajun kick!
Homemade French fries are light years better than frozen or takeout fries, and they are super simple to make. These can be fried, baked, or made nice and crispy in the air fryer.
Use your favorite Cajun seasoning or follow my Cajun seasoning recipe and make your own!
2. Crispy Baked Zucchini Fries
Believe it or not, zucchini makes a great side for burgers. Particularly when rolled in breadcrumbs, Parmesan cheese, and baked nice and crispy!
Healthier than the traditional French fries, baked zucchini fries are a snack you can feel good about. Best of all, these zucchini fries will taste good in any of your favorite French fry dipping sauces!
3. Southern Baked Macaroni and Cheese
If you're looking to indulge, a burger with a side of extra cheesy mac and cheese is the way to go! With three different cheeses, this macaroni is baked in the oven until perfectly gooey and delicious.
Follow the recipe or use your favorite cheeses and seasonings, it's very versatile!
4. Corn Fries
Dress up traditional French fries with these Mexican elotes inspired corn fries! Crispy French fries are topped with sweet corn, Mexican crema, flavorful seasonings, and lots of cheese!
They can be drizzled in hot sauce, or not, it's totally up to you. Using frozen French fries helps this side dish come together quickly.
With a squeeze of lime and sprinkle of cilantro, you'll never want to have fries any other way!
5. Onion Rings
An American classic, onion rings and burgers go together like bread and butter. So much so that many restaurants have started putting onion rings on top of their burgers!
Whip up some frozen onion rings in your air fryer and they will be so delightfully crisp that no one will know you didn't make them by hand. Whether you put them on your burger or on the side is up to you!
6. Broccoli Tots
Broccoli tots are a quick and easy alternative to traditional tater tots and a great way to squeeze in some veggies! All you need for these tots is an egg, a little panko, cheddar cheese, and finely chopped broccoli.
They only take about 30 minutes to make, and they taste great in all your favorite condiments! Even the kids will love these easy, cheesy broccoli tots!
7. Baked Parmesan Zucchini Round
A healthy alternative to traditional fried sides, some baked zucchini rounds topped with a little Parmesan cheese are a great choice. When already indulging in a heavy burger, sometimes you need to opt for a side of veggies.
Plus, they only require two ingredients and 20 minutes to make! Focus your efforts on making a delicious burger and pop some of these in the oven.
8. Fried Pickles
Fried pickles are the tangy, crispy side that the whole family will love! Panko breading and all the right seasonings make these pickles practically addicting.
By frying them in the air fryer you save tons of time (they only take about 20 minutes from start to finish). Plus, it's easy cleanup!
Serve them up with some homemade ranch or your favorite dipping sauce for a side everyone will love.
9. Potato Skins
Potato skins are a hearty side dish more filling than French fries, and you get to load them with all your favorite potato toppings!
They are incredibly easy to make, and the air fryer gets them perfectly crisp. Also, they are perfect for dipping!
10. BBQ Bacon Wrapped Brussel Sprouts
Anything wrapped in bacon is delicious and these brussel sprouts are no exception. Slather them in BBQ sauce and you have a savory side perfect for burger night!
Brussel sprouts are one of those veggies people love to hate but coating them in honey butter before wrapping them in bacon will change anyone's mind.
11. Oven Baked Mac N Cheese Bites
The deliciousness of mac and cheese wrapped up in perfectly bite-sized packages! Unlike the previous mac and cheese on this list, these mac and cheese bites require no silverware.
They are cheesy ooey-gooey goodness with the ease of a finger food!
12. Waffle Fries
If you're looking for easy, throwing some frozen waffle fries in the air fryer is the way to go. The air fryer gets that deep-fry crisp in half the time with 100% less effort.
All you need is a little salt and pepper and some good condiments for dipping.
13. Mozzarella Sticks
Make some mozzarella sticks by battering and frying up some string cheese!
It's a super easy method and you can cook them three different ways: stick them in the oven, use your air fryer, or make them the old-fashioned way and deep fry them.
Offer them up with some marinara or ranch for dipping and you've got a great pairing for your burgers!
14. Homemade Potato Chips
Go the extra mile and make some potato chips from scratch! Thinly slice potatoes and toss them in the air fryer with just a touch of olive oil and salt.
They taste so much better than store-bought chips and you can tell everyone they are homemade!
15. Garlic Butter Mushrooms
If you've ever had a mushroom Swiss cheeseburger, then you know how perfectly mushrooms pair with burgers. These garlic butter mushrooms are so decadently flavorful and just filling enough without overdoing it.
Best of all, they only take 10 minutes to make!
We hope this list has helped elevate your burger nights! If there are any sides you think should have made the cut that we missed, drop us a comment below! If you decide to give some of these sides a try, come back and tell us how it went!
📋 Recipe