A list of great ideas for what to serve with meatballs if you're looking to switch it up for dinner, get-togethers, or potlucks - you name it! No matter the type of meatballs you make, we have the perfect sides to complete your dish that are sure to be a hit!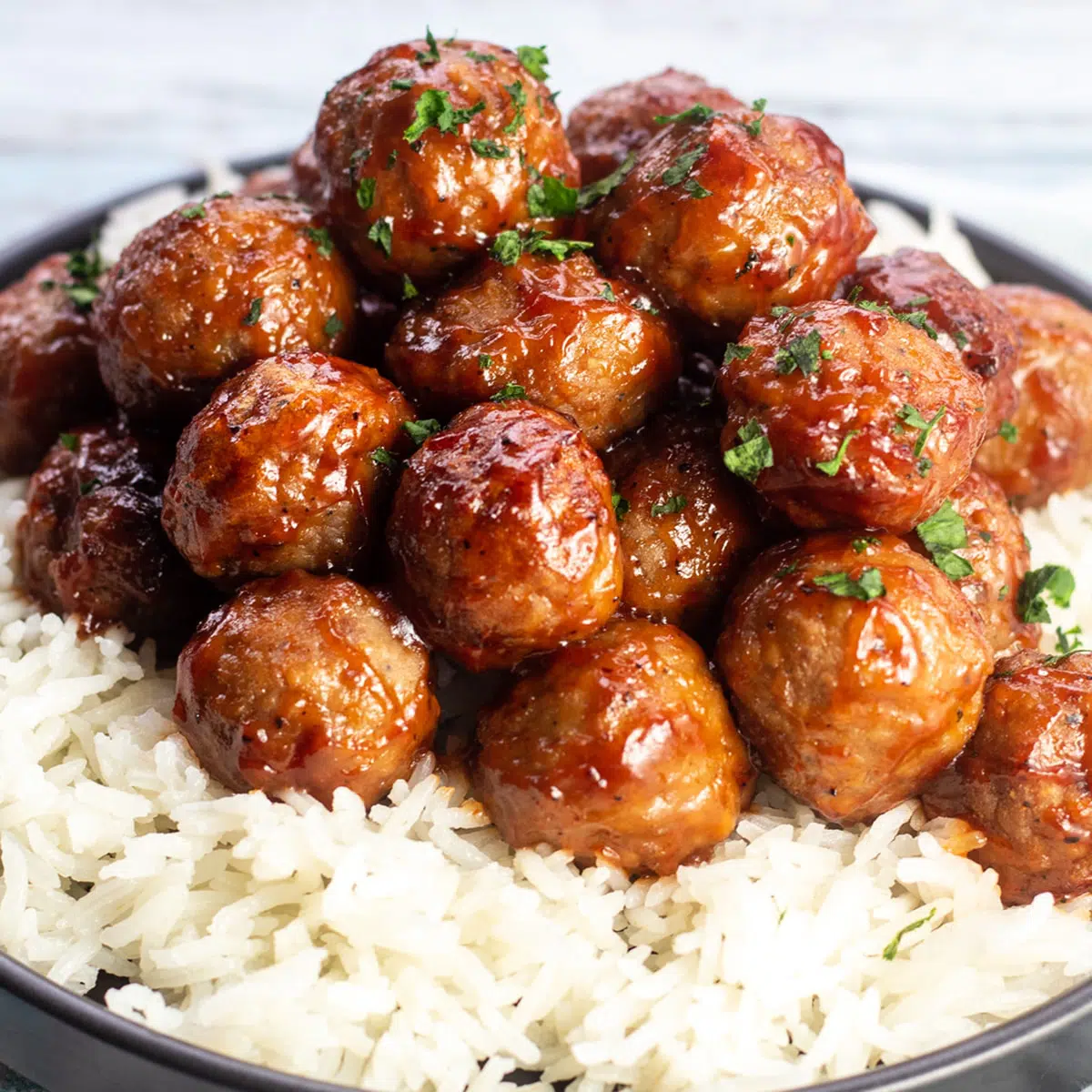 15 delicious sides to serve with the meatballs of your choice!
"On top of spaghetti all covered with cheese, I lost my poor meatball when somebody sneezed..."
The star of this childhood song is also the star of our lineup today. It's moist, it's flavorful, it'll roll off your plate if you're not careful… you guessed it, the meatball.
Many cuisines have their own version of the meatball so it should come as no surprise that the origin of the first meatball is a point of contention.
Jump to:
Whether it's kofta, Swedish meatballs, or tsukune, today we're talking about
what to serve with meatballs. There are more options than you may think, so stay tuned if you're looking for that perfect side to compliment your delicious meatballs!
Want More Recipes? Enter your email below and we'll send them straight to your inbox!
1. Mashed Potatoes
There's a reason you see meat and potatoes in some variation on almost any
menu you pick up. It just works. Mashed potatoes bring textural variation and
familiarity when alongside meatballs.
If you are coating meatballs in ketchup or barbeque-esque sauce, pairing with mashed potatoes is sure to give you meatloaf vibes (in all the best ways).
2. Buttered Noodles
Ikea anyone? Swedish meatballs are known to be paired with buttered noodles,
specifically egg noodles tossed with lots and lots of parsley.
Buttered noodles are just as they sound, noodles that are cooked to al dente then tossed in butter.
3. Green Beans
I love green beans because as we spoke of earlier, many different
cuisines have their own version of the meatball, and this vegetable can pair with
just about any of them.
Whether your meatballs are spicy, tangy, or loaded up with garlic and onion, green beans on the side will brighten up the meal while providing some textural support.
4. Rice
Many times in Middle-Eastern or Mediterranean cuisine you will see skewered
meatballs served alongside seasoned rice. Bonus points if you then pour a sauce or vinaigrette over the skewer because it will double as a seasoning for the rice!
5. Roasted Brussel Sprouts
Gone are the days of boring steamed Brussel sprouts. Instead, may I suggest roasting them in the oven until fork-tender then pairing them with a meatball.
Specifically, an Asian-inspired meatball would work well in this instance.
6. Caesar Salad
I mean come on, who doesn't love a Caesar salad? Caesar, while it is rich, has enough acid and brightness to lighten up a few meatballs and create a more balanced feel to a meal.
You can quickly toss a Caesar salad together with minimal effort. Make your own dressing to really knock it out of the park!
7. Boiled Potatoes
Not only are they a good vessel for ooey-gooey raclette, but also a fantastic
sidekick when serving meatballs. Simply boil potatoes in water until you can
easily pierce through the skin, then cut in half to serve.
Are you starting to sense a pattern here? Carbohydrates just want to be alongside meatballs, and we aren't here to argue.
8. Spaghetti Bolognese
Bolognese translates to "meat sauce", making this pairing a no-brainer. While
traditional players in Bolognese consist of tomato sauce, peppers, garlic, onion,
basil, carrots, and ground meat, imagine adding meatballs!
Once you have your sauce this can be served over spaghetti noodles with a healthy amount of grated parmesan cheese.
9. Garlic Bread
I think we can all agree that meatball subs with garlic-filled tomato sauce are
delicious, so why not try pairing a side of garlic bread with an Italian meatball?
I suggest some carryover between the herbs within the meatball and the herbs
that top the garlic bread to provide some element of fluidity between the two.
Plus, once you finish your meatballs your garlic bread will double as the best
Scarpetta.
10. Sauteed Mushrooms and Onions
While both mushroom and onions make great additions to the meatball itself,
they also are an effortless and flavorful accompaniment.
Whether you sauté these two together with some olive oil and white wine vinegar or roast them gently in your oven, their flavors are very complimentary.
11. Corn on the Cob
It could be the dead of winter but meatballs and corn on the cob could have me
believing otherwise. You can grill the whole kernel, or boil it in milk and butter if you prefer to prepare the corn within the comfort of your kitchen.
Crock-pot meatballs covered in sauce alongside some buttered corn on the cob is a match made in heaven that will have you thinking you are seated at a picnic table in the middle of the Summer.
12. Steamed Cauliflower
Cauliflower is a great accent dish because of its versatility. When you steam
cauliflower as opposed to roasting it, you avoid any caramelization or browning,
thus creating a very neutral palate.
You could even take it one step further and prepare your own cauliflower "rice" by shredding it before you steam it. When it comes to cauliflower, a healthy amount of salt and white pepper is complementary and well-suited for any meatball variation.
13. Yellow Squash and Zucchini Casserole
I love the idea of incorporating some color into a plate of meatballs. I don't know
who needs to hear this, but squash and zucchini need not only be consumed
during the Summer.
This preparation screams comfort food and is the perfect dish to warm up your tastebuds and your plate.
14. Glazed Carrots
Glazing carrots are an effortless preparation with grandiose results. I love glazed
carrots because I find them to be incredibly versatile.
You can do a sweet glaze of maple syrup or brown sugar, or coat them in whole grain mustard, both being equally delicious. A simple butter and brown sugar glaze could convince the pickiest of eaters that they love eating their vegetables as much as their meatballs.
15. Fried Cabbage
We've got one final thing that should be served with meatballs, and I can just see my German ancestors living for this pairing.
Cabbage is far more than a pairing set aside for sausage and corned beef, in fact, this preparation offers both a welcomed flavor contrast as well as textural compared to your meatballs.
No matter your type of meatball, we hope you've found its perfect match! Let us know how you serve your meatballs by dropping us a comment down below, or if you try any of these awesome sides, let us know how your meatball dish turned out!
📋 Recipe