Spaghetti Bolognese is a true Italian classic full of al dente spaghetti, meaty red sauce, fresh veggies, and a blend of Italian herbs! Throw in a little wine for flavor, and you have an easy weeknight dinner you'll want to make again and again!
The Best Spaghetti Bolognese Recipe
Who doesn't love a classically rich, thick Spaghetti Bolognese covered in Parmesan with a side of delicious, buttery garlic bread? The complex flavor is even better with the addition of a little red wine.
Some ingredients are unexpected–who would guess there's Worcestershire sauce in spaghetti? Others are traditional for good reason. No one wants to mess with a good thing, and basil and garlic will never go out of style. That being said, don't be afraid to try the variations!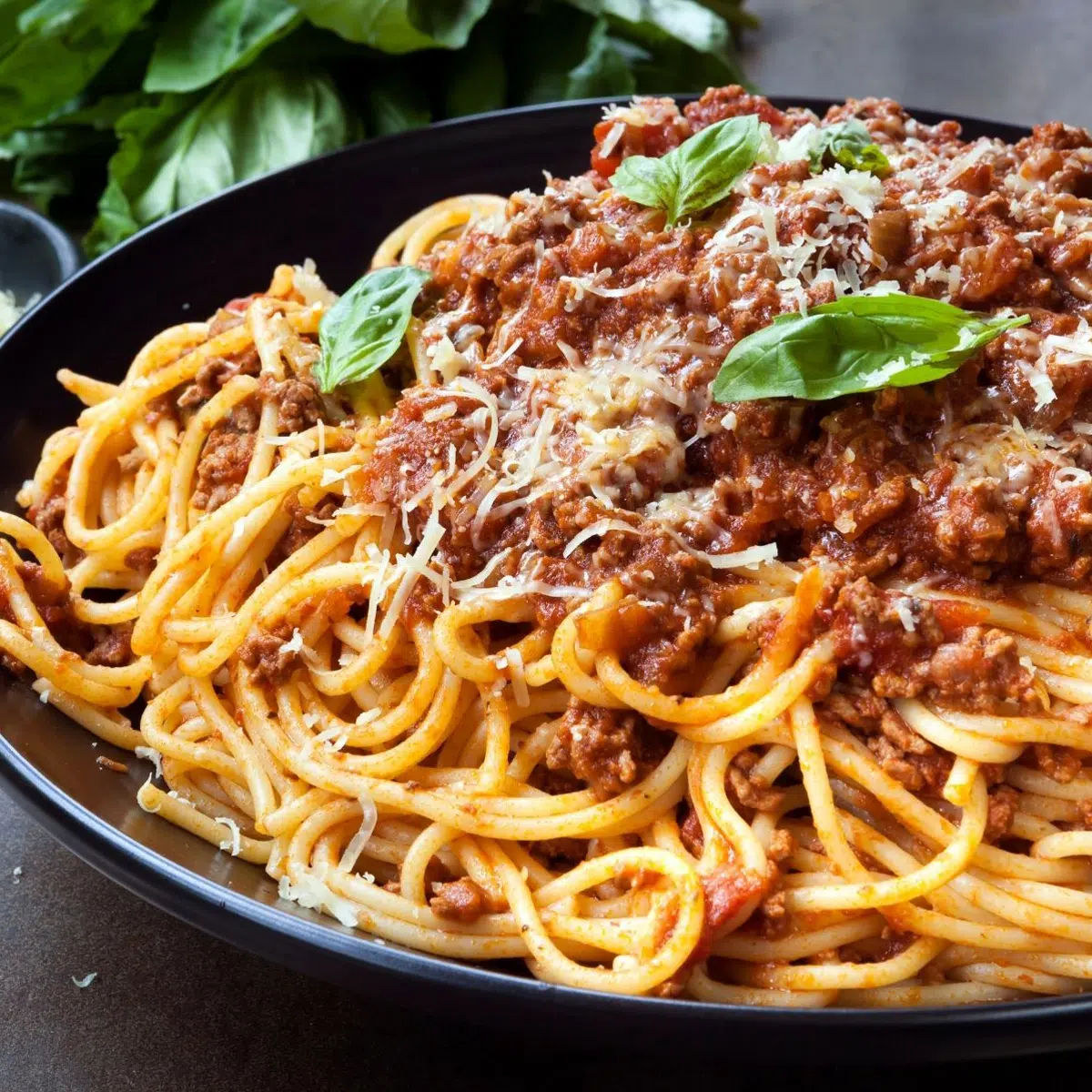 A delightfully satisfying Spaghetti Bolognese, the perfect comfort food for any night!
Jump to:
This dish was a standout in my home growing up. The whole family looked forward to it. Spaghetti is perfect for large dinner parties or a casual family meal, and leftovers are great all week. Just be mindful not to wear a white shirt!
❤️ Why You'll Love This Recipe!
Easy Leftovers! Eat it cold or after a quick zap in the microwave for days after your special meal!
Universally Loved! You'd be hard-pressed to find someone who dislikes this pasta meal mainstay!
It's Hearty! The meat sauce is flavorful and filling, and it's delightfully warming on a chilly night!
🥘 Spaghetti Bolognese Ingredients
You'll probably find that you already have most of these ingredients in your kitchen. Don't skip the red wine, as it adds amazing flavor!
1 ½ tablespoons Olive Oil - Extra Virgin olive oil is the best because it's the least processed and full of vitamins and antioxidants.
2 teaspoons Garlic - Mince this up and enjoy the mouthwatering smell as it starts to cook!
1 large Onion - You can use white or yellow, but make sure it's finely diced.
1 large Carrot - Wash and grate a carrot for some added sweetness, a secret ingredient in Italian sauces.
2 ribs Celery - Finely diced celery amplifies the flavors it blends with and tastes completely different when cooked.
1 pound Ground Beef - Using half ground beef and half ground pork is also amazing!
½ cup Dry Red Wine - Cabernet sauvignon, pinot noir, and malbec are my favorite options for this dish.
2 Beef Bouillon Cubes - Try 2 teaspoons Better Than Bouillon beef base, if you'd prefer.
28 ounces Crushed Tomatoes - Buy the best you can find!
2 tablespoons Tomato Paste - Tomato paste also adds a bit of sweetness to the sauce.
2 teaspoons Worcestershire Sauce - It's strange, but I promise it's delicious.
1-2 large Bay Leaves - Make sure to remove these before serving.
1 teaspoon Dried Oregano - This earthy flavor really balances out the sauce.
1 teaspoon Dried Basil - I love the sweet taste of basil!
Salt and Pepper - Add this to taste.
12 ounces Dried Spaghetti Pasta - Any type of noodle will work. You can even make it fresh, but you'll need to reduce the cooking time!
*Be sure to see the recipe card below for ingredients, amounts & instructions!*
📖 VARIATIONS
Toss in some red pepper flakes or use hot pepper-infused olive oil in step one if you prefer a spicy sauce. It will infuse the vegetables with some heat. Or try my arrabbiata Sauce!
Other tasty additions include half (or more) of a red bell pepper, fresh herbs, or bacon pieces. If adding red pepper, add it to the pot with the rest of the vegetables. The other two options can be added just before serving.
You can also make my homemade spaghetti seasoning to use in this recipe.
🔪 How To Make Spaghetti Bolognese
There aren't any special tools needed for this memorable meal. Just pull out 2 large pots and a wooden spoon to stir with!
Start by sauteing the vegetables. Pour 1 ½ tablespoons olive oil into a deep skillet, a large pot, or a Dutch Oven. Heat over medium-high heat until the oil starts to simmer. Toss in 2 teaspoons minced garlic, 1 large minced onion, 1 large grated carrot, and 2 ribs of diced celery. Ingredients should be soft and fragrant when ready for the next step. It should take about 3 minutes of sauteing.
Brown the meat. Carefully place 1 pound of ground beef (or a combo of beef and pork) in the pot, breaking it up as it cooks. Brown the meat for 6 minutes or until it's cooked completely.
Add wine and cook. Deglaze the pan by adding ½ cup dry red wine. Bring it to a simmer and cook for 1 minute. Scrape off any food that has stuck on the bottom of the pot as it cooks. When it's done, you should no longer be able to smell the alcohol. It shouldn't smell boozy, but you'll get a whiff of the spectacular flavor it has added.
Stir in everything but the pasta. At this point, mix in 2 beef bouillon cubes, 28 ounces crushed tomatoes, 2 tablespoons tomato paste, 2 teaspoons Worcestershire sauce, 2 large bay leaves, 1 teaspoon dried oregano, and 1 teaspoon dried basil. Continue to stir, and bring it back to a simmer.
Reduce heat and simmer. Turn down the heat to medium-low. Remove the lid and simmer for 20 to 30 minutes. Add water as needed to keep the sauce from getting too thick.
Adjust the seasoning. Taste your hearty bolognese sauce and add more seasonings if needed. Sprinkle in some salt and pepper, too.
Meanwhile, cook the pasta. When the sauce is almost ready, salt a pot of water, and bring it to a boil. Cook 12 ounces of spaghetti pasta according to the instructions on the box. For al dente pasta, aka slightly chewy, reduce instructed cook time by 1 to 2 minutes. Drain and reserve about ½ cup of the pasta water when it's done. Set it aside.
Finally, toss and serve. Mix your cooked and drained pasta, bolognese sauce, and reserved pasta water. Serve while hot, and enjoy!
Top with some freshly grated Parmesan and serve with Air Fryer Garlic Bread or cheese rolls for a meal the whole family will love! Garnish with parsley or fresh basil leaves, if desired.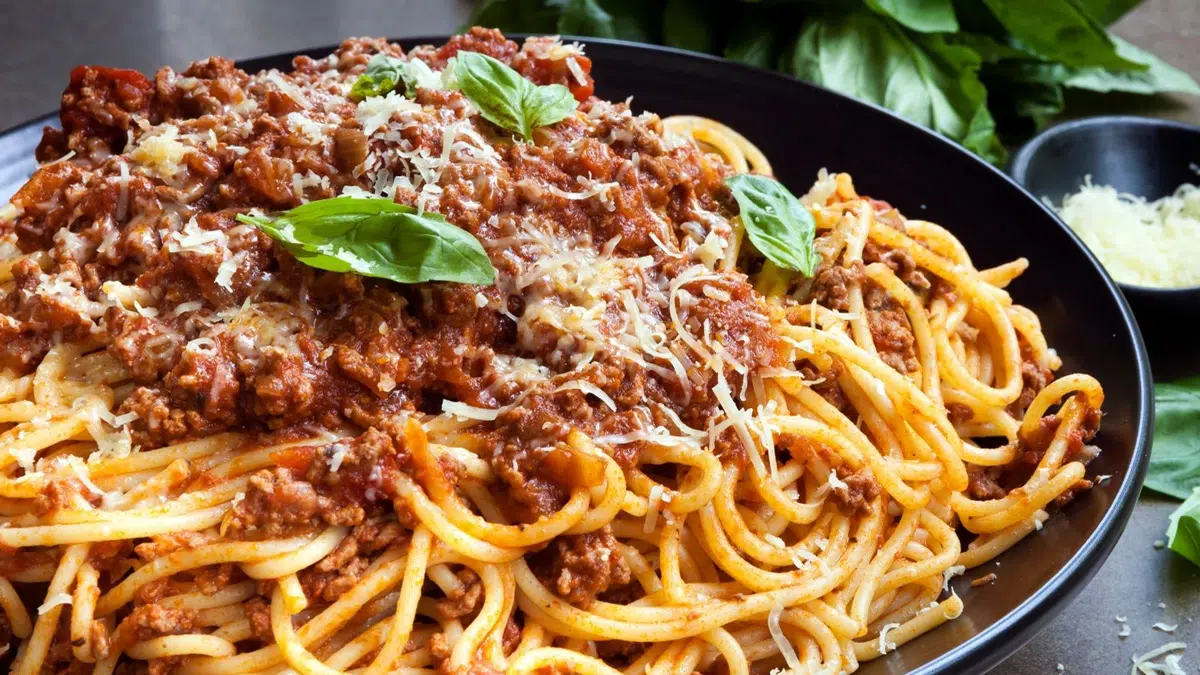 💭 Angela's Tips & Recipe Notes
If you like a sweet tomato sauce, add some sugar! The carrot and tomato paste already makes this sauce a bit sweet, but if you're into it, amp it up! Scoop 2 teaspoons of granulated white sugar into the sauce to begin with and add more according to taste.
Use high quality canned tomatoes for better flavor. Good tomatoes equals better sauce. There will be less bitterness.
Slow simmering your Bolognese sauce will add even more flavor! For the best tasting sauce you can get, cover the pot and simmer your Bolognese for 2 to 3 hours. You'll need to add extra liquid over time, so check it every 30 minutes or so. Pour in more broth or water as needed to keep it from drying out.
🥡 Storing & Reheating
Once your spaghetti is fully cooled, store leftovers in an airtight storage container in the fridge for up to 3 to 5 days.
Leftovers can be frozen in an airtight container for up to 3 months. Store individual servings in different containers or freezer bags for easy reheating.
Reheating Spaghetti Bolognese
To reheat from frozen, bake in a pan covered in foil for around 20 minutes or until thoroughly heated. The oven should be at 350℉ (177℃). For refrigerated leftovers, simply reduce the cooking time. 
If you're reheating at work or school, sprinkle a bit of water on top and microwave in 1-minute increments until hot. Stir well.
❓ FAQ
Do I have to use wine?
Dry household? Use something else! While the wine adds great flavor, and the alcohol will cook out, it's not for everyone. Whether you don't like it or don't want to run to the store, there are alternatives. Try replacing it with the same amount of beef broth or water.
Can I use gluten-free noodles in this recipe?
Absolutely! Any type of spaghetti noodle will be scrumptious with this sauce. You can even try zoodles or zucchini noodles if you're curious about this tasty trend.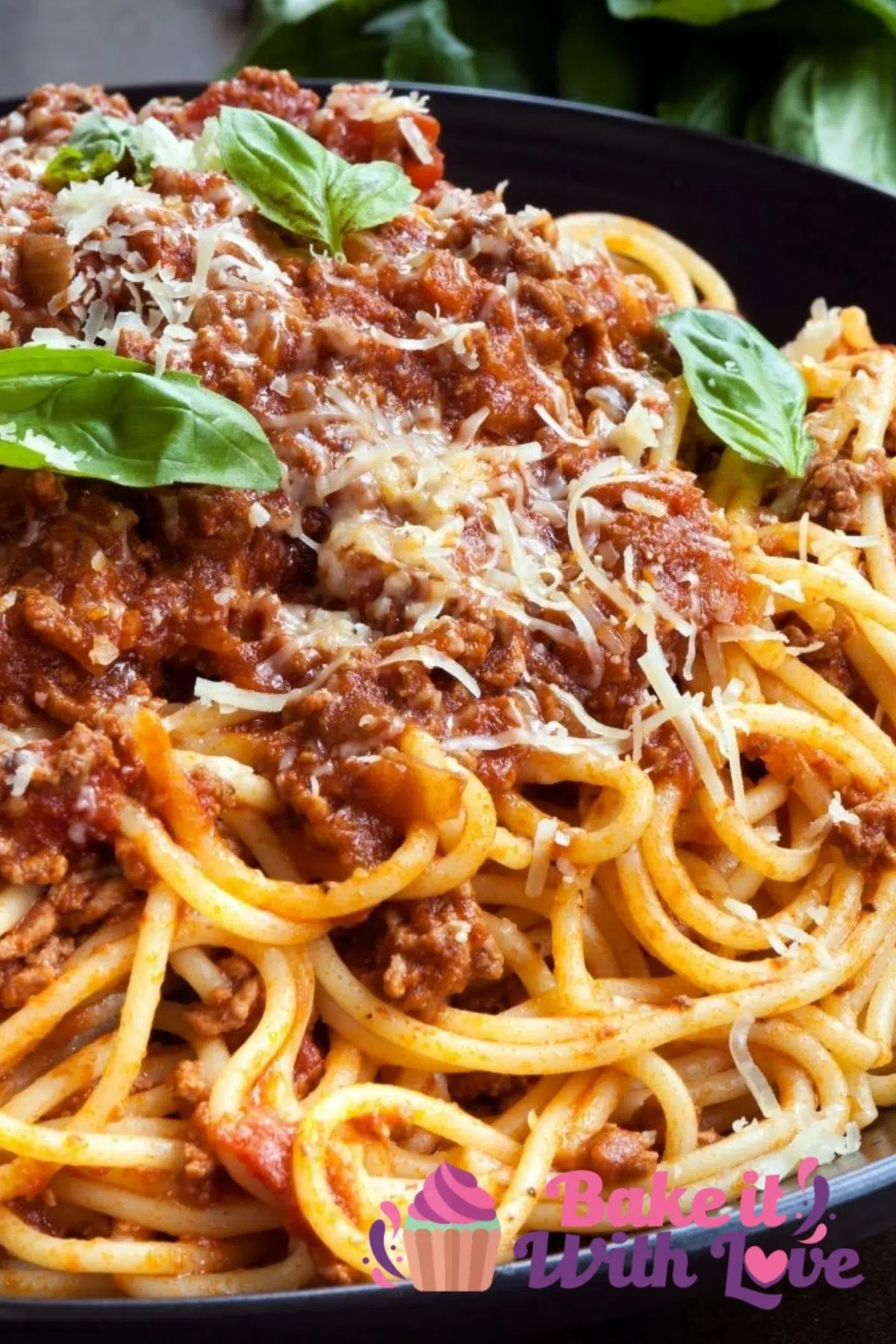 🍝 More Pasta Recipes
📋 Recipe
Print Recipe
Leave A Comment
Love This Recipe?
Click On A Star To Rate It!
Spaghetti Bolognese
Spaghetti Bolognese is a true Italian classic full of al dente spaghetti, meaty red sauce, fresh veggies, and a blend of Italian herbs! Throw in a little wine for flavor, and you have an easy weeknight dinner you'll want to make again and again!
Pin Recipe
Share on Facebook
Ingredients
1 ½

tablespoon

olive oil

(extra virgin)

2

teaspoon

garlic

(minced)

1

large

onion

(white or yellow onion, finely diced)

1

large

carrot

(washed and grated)

2

ribs

celery

(finely diced)

1

lb

ground beef

(or a combo of half ground beef & half ground pork)

½

cup

dry red wine

(I like cabernet sauvignon, pinot noir, and malbec)

2

beef bouillon cubes

(or 2 teaspoons Better Than Bouillon beef base)

28

oz

crushed tomatoes

2

tablespoon

tomato paste

2

teaspoon

Worcestershire sauce

2

large

bay leaves

1

teaspoon

dried oregano

1

teaspoon

dried basil

each, salt & pepper

(to taste)

12

oz

spaghetti pasta

(dried)
Instructions
Heat a deep skillet, pot, or Dutch oven with the olive oil over medium-high heat until the oil begins to shimmer. Add the minced garlic, diced onion, grated carrot, and finely diced celery (sofrito!) and saute for 3 minutes or until softened and fragrant.

1 ½ tablespoon olive oil,

2 teaspoon garlic,

1 large onion,

1 large carrot,

2 ribs celery

Add the ground beef (or ground pork combo) to the skillet and brown. Break up the ground meat as you cook it until it is fully cooked, about 6 minutes.

Once the beef has been browned add the red wine to deglaze the pan and bring it to a simmer. Cook for 1 minute as you scrape the bottom of the pot clean of any debris. *The alcohol smell should be cooked off by this time.

Add most of the remaining ingredients (beef bouillon cubes or Better Than Bouillon, crushed tomatoes, tomato paste, Worcestershire sauce, bay leaves, thyme, and oregano).

2 beef bouillon cubes,

28 oz crushed tomatoes,

2 tablespoon tomato paste,

2 teaspoon Worcestershire sauce,

2 large bay leaves,

1 teaspoon dried oregano,

1 teaspoon dried basil

Stir to mix and bring the pot back to a simmer. Reduce to medium-low and simmer for 20-30 minutes without a lid. Watch the sauce and add water as needed while simmering.

Adjust seasoning after the cooking time has elapsed and all of the flavors have had time to 'marry'.

Cook the pasta when your sauce is almost ready to serve. Boil the pasta in salted water according to the package instructions, minus approximately 1-2 minutes for an al dente texture. Drain the pasta, reserving about ½ cup of the pasta water. Set aside.

Serve bolognese sauce tossed with pasta and pasta water, or over pasta, and topped with freshly grated Parmesan cheese.
Equipment You May Need
Notes
Some crushed red bell pepper flakes, fresh herbs, half or more of a red bell pepper, even some bacon, are all great additions to your hearty bolognese.
Sugar is a debated ingredient in spaghetti sauce. However, if you like just a touch of sweetness start with 2 teaspoons of granulated white sugar and adjust to taste. Also, the better quality canned tomatoes the better the flavor (less bitterness). *Note that the carrot and tomato paste add some sweetness to this tasty red sauce.
To make an alcohol-free version simply use more beef broth or water.
Slow-simmered for more flavor: cover the pot with a lid and simmer for 2-3 hours to get the best flavor in your bolognese sauce. *Be sure to add liquid as needed while simmering!
Nutrition
Calories:
502
kcal
(25%)
|
Carbohydrates:
58
g
(19%)
|
Protein:
24
g
(48%)
|
Fat:
20
g
(31%)
|
Saturated Fat:
7
g
(44%)
|
Polyunsaturated Fat:
1
g
|
Monounsaturated Fat:
9
g
|
Trans Fat:
1
g
|
Cholesterol:
54
mg
(18%)
|
Sodium:
620
mg
(27%)
|
Potassium:
881
mg
(25%)
|
Fiber:
6
g
(25%)
|
Sugar:
10
g
(11%)
|
Vitamin A:
2382
IU
(48%)
|
Vitamin C:
16
mg
(19%)
|
Calcium:
96
mg
(10%)
|
Iron:
5
mg
(28%)
easy dinners, Spaghetti Bolognese, spaghetti pasta, spaghetti with meat sauce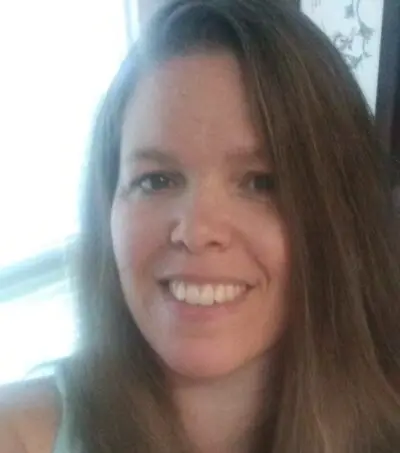 Angela is an at home chef that developed a passion for all things cooking and baking at a young age in her Grandma's kitchen. After many years in the food service industry, she now enjoys sharing all of her family favorite recipes and creating tasty dinner and amazing dessert recipes here at Bake It With Love!