Italian arrabbiata sauce is a flavorful tomato-based sauce with a spicy kick from the addition of plenty of crushed red pepper flakes! It's a fantastic sauce to use with so many dishes - or to take your spaghetti night to the next level!
Spicy Italian Sugo all'Arrabbiata Recipe
If there's one thing everyone can agree on, it's the fact that pasta is delicious. Spaghetti night is always a family favorite at my house.
And while there are many ways to enjoy it, I love the spicy twist on a classic tomato sauce that makes arrabbiata sauce, also known as sugo all'arrabbiata, unique.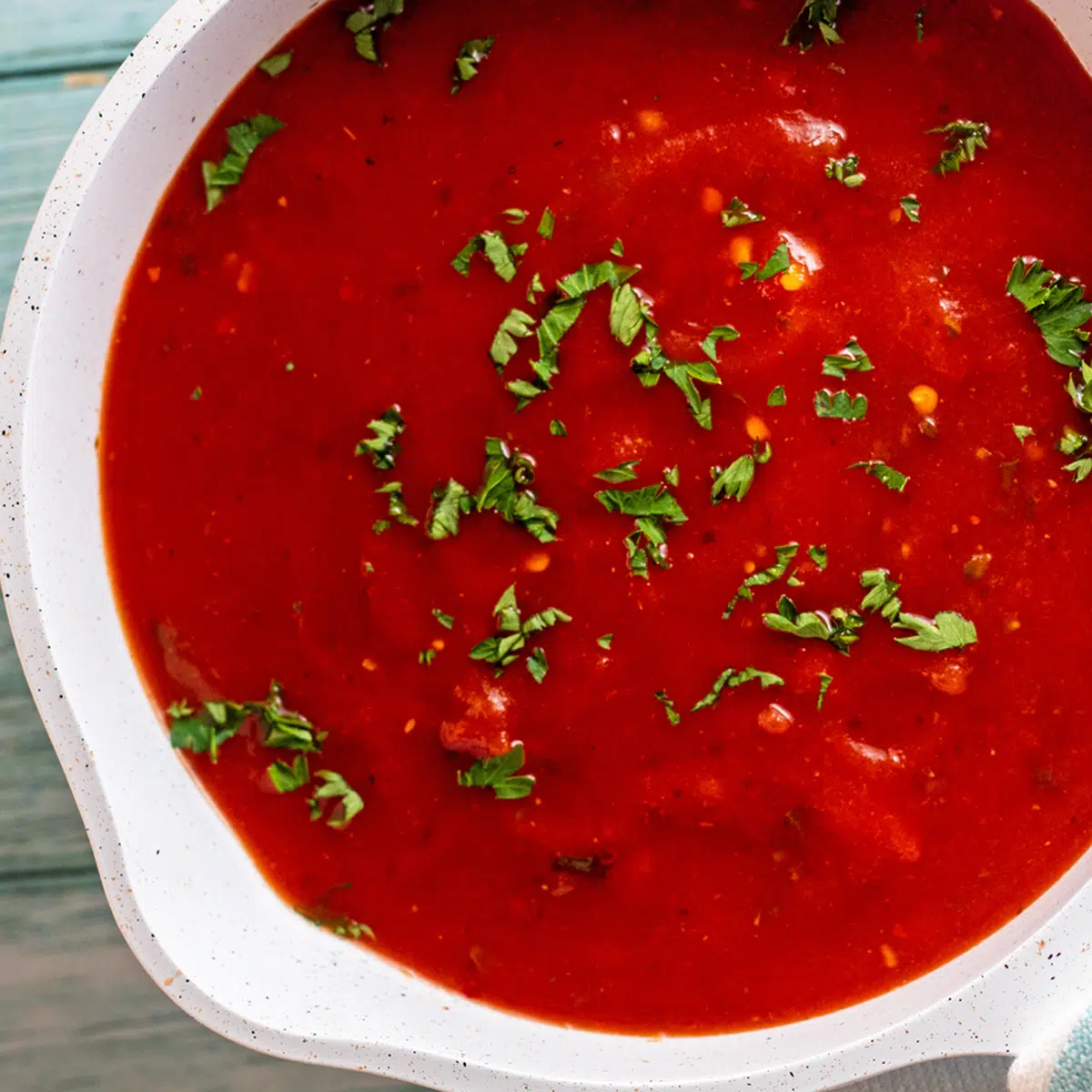 You'll Want to Put This Subtly Spicy, Versatile Tomato Sauce on Everything!
Jump to:
As we head into winter, this is a great recipe to cozy up with on the quickly darkening days. It has all the traditional makings of a marinara sauce–onion, garlic, tomatoes, basil–but with the added kick of crushed red peppers.
For those of you running in the other direction, don't worry; there's just enough spice to stand out. It's not overly hot.
❤️ Why You'll Love This Recipe!
Family-friendly! Crushed red pepper is a subtle, unique taste that everyone will love, even those without a palate for super hot foods.
Such a versatile sauce! This sauce is good on so many things! Dish it up over pasta, spread it for an amazing pizza, top off a meatball sub!
It's flavorful! It's anything but bland - the combination of sweet tomatoes and zesty crushed red bell pepper flakes makes an extraordinary sauce!
🥘 Arrabbiata Sauce Ingredients
While you're likely to have many of these ingredients, you may need to pick up a few things. If they're in season, fresh herbs make this even better!
*Be sure to see the free printable recipe card below for ingredients, exact amounts & instructions with tips!*
2 tablespoons Olive Oil - All olive oil is different. For best results, find a great extra virgin olive oil (EVOO) you really love the flavor of!
¼ cup Yellow Onion - Sauteing these will make your whole house smell amazing!
1 tablespoon Garlic - Garlic is a staple of many cuisines but especially Italian.
¼ teaspoon each, Salt & Pepper - Start with the listed amount, but add as much as you'd like for the flavor you desire.
1 tablespoon Crushed Red Pepper Flakes - I love adding a little kick. Add more if you like it extra spicy!
2 tablespoons Tomato Paste - The best way to store the inevitably extra tomato paste is in the smallest container possible or a plastic bag in the fridge, eliminating extra air.
3 ½ cups Tomatoes - You'll need whole, peeled sweet tomatoes, preferably San Marzano.
2 cups (1-16 ounce can) Crushed Tomatoes - No need to drain these!
¼ cup Fresh Basil - Basil is sweet and flavorful, blending well with most Italian food.
2 tablespoons Fresh Oregano - Oregano always reminds me of pizza, but it can go on anything!
*Be sure to see the free printable recipe card below for ingredients, exact amounts & instructions with tips!*
🧂 Substitutions
Not everyone has access to fresh herbs all year long. It's absolutely OK to use dried, but you'll need to reduce the amount.
Dried Basil - Replace ¼ cup chopped, fresh basil with 4 teaspoons dried.
Dried Oregano - Substitute 2 teaspoons of dried oregano for 2 tablespoons of freshly chopped.
🔪 How To Make Arrabbiata Sauce
There's no special tools for this delicious sauce. Just pull out a large saucepan or pot to put everything in and a wooden spoon for stirring.
Start by heating the oil. Pour 2 tablespoons extra virgin olive oil into a large saucepan or pot, and bring it to a shimmer over medium heat. Carefully drop in ⅓ cup diced yellow onion and saute for 4 to 5 minutes. The onions should be translucent.
Next, add garlic, seasonings, and paste. When the onions are ready, add 1 tablespoon minced garlic, 1⁄4 teaspoon of both salt and pepper (to taste), and 1 tablespoon crushed red pepper flakes. Saute for about 1 minute. Mix in 2 tablespoons tomato paste. Keep stirring for about 2 minutes, or until the paste turns a deep red color.
Then, transfer tomatoes and simmer. Move 3 ½ cups peeled tomatoes to the pan and break them apart, crushing slightly, with a wooden spoon while they cook. Then add 2 cups crushed tomatoes, juice and all. Reduce heat to medium-low, and simmer uncovered for 20 to 25 minutes.
Finally, mix in the herbs. When you're done cooking down the tomatoes, add in ¼ cup chopped, fresh basil and 2 tablespoons chopped, fresh oregano. Stir them in and simmer for another 10 to 15 minutes. The longer you cook it, the thicker the sauce will become, so time it according to your preferences. Add salt and pepper as needed and remove from the heat to cool before serving. Enjoy!
Serve arrabbiata sauce on your favorite pasta topped with a bit of Parmesan or mixed into a holiday Frutti Di Mare!  Maybe have some garlic bread to dip into the arrabbiata sauce. You can also garnish with a couple of leaves of fresh basil. Enjoy!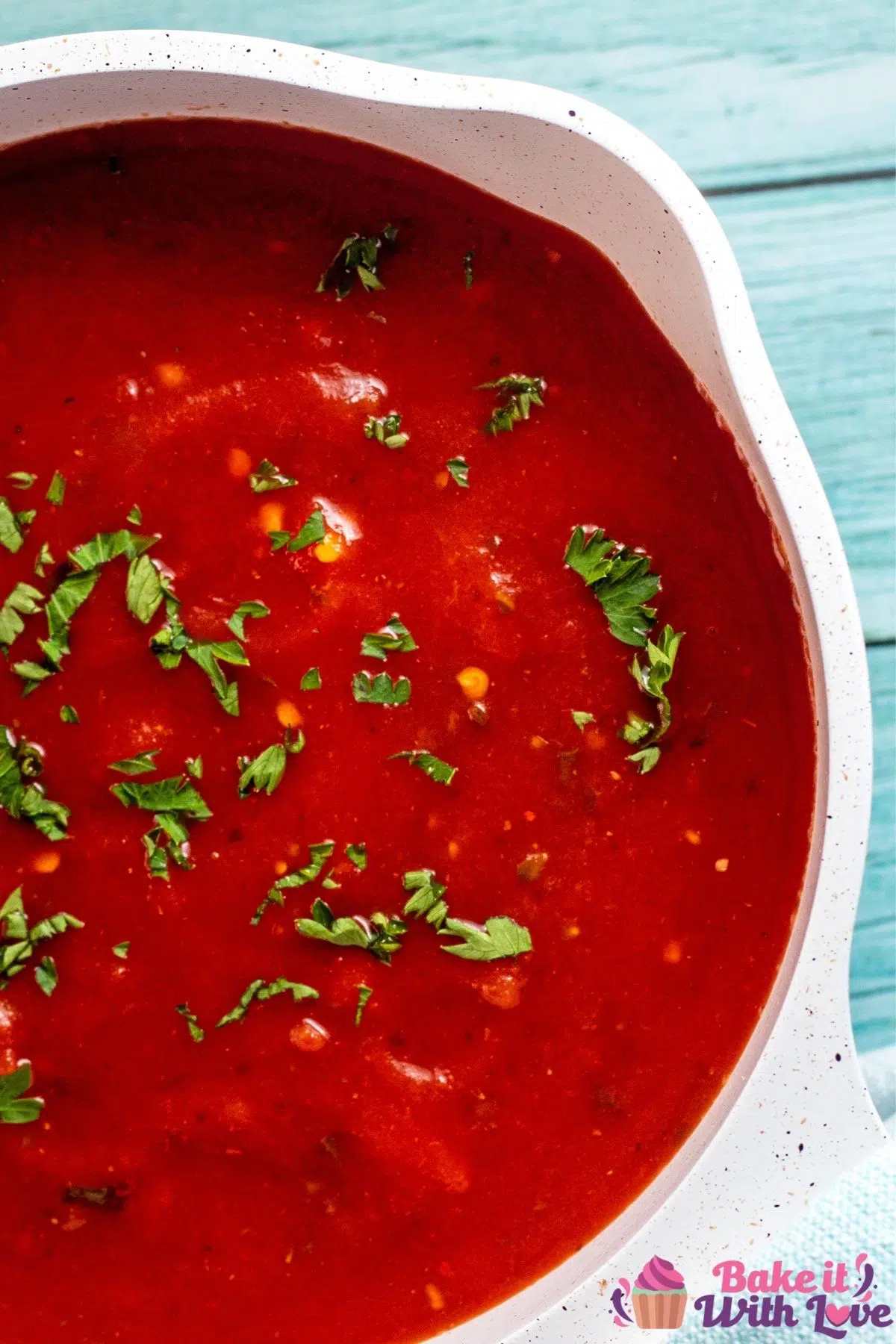 💭 Angela's Tips & Recipe Notes
If you accidentally overdo it on the spicy red peppers, add tomatoes. Tomatoes are neutral and will help dilute the spice. They will need to be cooked down in order to blend with the rest of the sauce. Or, if you're in a time crunch, just add a bit of plain tomato sauce. It will work to the same effect.
To thicken your sauce, simmer it longer. It's very difficult–if not impossible–to overcook this sauce. As long as you're simmering it over low heat, adding cook time will only aid in thickening it and developing the flavor.
Arrabbiata sauce can be used for more than just pasta! Try spreading it on a meatball sub with mozzarella. Use it as a dipping sauce for toasted ravioli or mozzarella sticks. Make pizza bread. Be creative! It's a very versatile sauce.
🥡 Storing & Reheating
Arrabbiata sauce will keep for three to five days in the fridge. Cool it completely before storing in an airtight container.
To freeze, put it in an airtight container with enough space for expansion. It will get bigger when it freezes. For individual or smaller portions, store in freezer bags laid flat with excess air squeezed out.
Keeping them flat will make them easier to stack when they become solid. Eat at any point in the next 3 months for the best flavor.
Reheating Arrabbiata Sauce
To thaw, let frozen sauce sit in the fridge overnight. If you're short on time, you can put the sealed container in a large bowl of cool water for 30 to 40 minutes, depending on the amount of sauce.
When thawed, pour it in a saucepan and heat on medium-low heat until it reaches the desired temperature.
🇮🇹 Italian Favorite Recipes
❓ FAQ
Why are San Marzano tomatoes so popular?
These plum tomatoes are a special variety. They're a bit longer and thinner than the ones in the grocery store and picked specifically for their balanced flavor. San Marzano tomatoes combine that sweet, tomato taste with the perfect amount of acidity.
Plus, they have fewer seeds and break down well when cooked for sauces. While they were originally grown in the volcanic soil of southern Italy, they are now more widely farmed. You can even grow them in your own garden!
Can I use powdered garlic?
The mindset behind Italian cooking is that using fresher, higher quality ingredients will lead to a fresher, higher quality meal. From finding a good olive oil to buying fresh garlic, your ingredients make a difference. 
Fresh garlic will definitely add more flavor to your arrabbiata sauce, but if you're in a pinch, you can try out the powdered version.
Do you love a recipe you tried? Please leave a 5-star 🌟rating in the recipe card below and/or a review in the comments section further down the page.
Stay in touch with me through social media @ Pinterest, Facebook, Instagram, or Twitter! Subscribe to the newsletter today (no spam, I promise)! Don't forget to tag me when you try one of my recipes!
📋 Recipe
Print Recipe
Leave A Comment
Love This Recipe?
Click On A Star To Rate It!
Arrabbiata Sauce (Sugo all'Arrabbiata)
Italian arrabbiata sauce is a flavorful tomato-based sauce with a spicy kick from the addition of plenty of crushed red pepper flakes! It's a fantastic sauce to use with so many dishes - or to take your spaghetti night to the next level!
Pin Recipe
Share on Facebook
Ingredients
2

tablespoon

olive oil

(extra virgin)

¼

cup

yellow onion

(finely diced)

1

tablespoon

garlic

(finely minced)

¼

teaspoon

each, salt & pepper

(to taste)

1

tablespoon

crushed red pepper flakes

2

tablespoon

tomato paste

3 ½

cups

tomatoes

(whole, peeled, San Marzano sweet tomatoes are preferred)

2

cups

crushed tomatoes

(16 ounce can, do not drain)

¼

cup

basil

(chopped fresh basil leaves, or use 4 teaspoons dried basil)

2

tablespoon

oregano

(chopped fresh oregano, or use 2 teaspoons dried oregano)
Help Us Out!
If you love a recipe, be sure to come back and share your ratings. This helps future users, and allows me to continue sharing free recipes! Angela
Instructions
Heat a large pot with the olive oil to medium. Once the oil begins to shimmer, add the diced onion and saute for 4-5 minutes or until translucent.

2 tablespoon olive oil,

¼ cup yellow onion

Add the minced garlic, salt & pepper, and crushed red pepper flakes and continue sauteing for a minute. Stir the tomato paste into the sauteed onion and garlic and continue to stir until the paste turns a deeper red color, about 2 minutes.

1 tablespoon garlic,

¼ teaspoon each, salt & pepper,

1 tablespoon crushed red pepper flakes,

2 tablespoon tomato paste

Transfer peeled tomatoes into the pan, then crush and break them apart as they cook using a wooden spoon or spatula. Add in the crushed tomatoes, stir, and reduce heat to medium-low. Simmer uncovered for 20-25 minutes.

3 ½ cups tomatoes,

2 cups crushed tomatoes

Stir in the herbs (basil and oregano) and continue simmering for an additional 10-15 minutes or until the sauce thickens to your desired consistency. Taste and adjust salt and pepper as needed, then remove from heat and allow to cool.

¼ cup basil,

2 tablespoon oregano
Nutrition
Calories:
100
kcal
(5%)
|
Carbohydrates:
13
g
(4%)
|
Protein:
3
g
(6%)
|
Fat:
5
g
(8%)
|
Saturated Fat:
1
g
(6%)
|
Polyunsaturated Fat:
1
g
|
Monounsaturated Fat:
4
g
|
Sodium:
273
mg
(12%)
|
Potassium:
560
mg
(16%)
|
Fiber:
4
g
(17%)
|
Sugar:
7
g
(8%)
|
Vitamin A:
1455
IU
(29%)
|
Vitamin C:
21
mg
(25%)
|
Calcium:
75
mg
(8%)
|
Iron:
2
mg
(11%)
Arrabbiata Sauce, Sugo all'Arrabbiata, tomato based sauces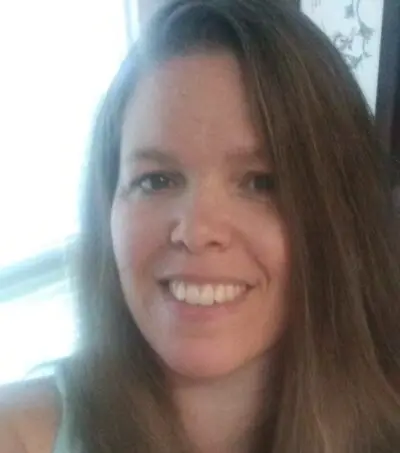 Angela is an at home chef that developed a passion for all things cooking and baking at a young age in her Grandma's kitchen. After many years in the food service industry, she now enjoys sharing all of her family favorite recipes and creating tasty dinner and amazing dessert recipes here at Bake It With Love!