A homemade lasagna full of tender noodles and a hearty meat sauce covered in melted cheese is one of the best comfort foods you can make! All the time you spend making it will be more than worth it when you see your family lining up for seconds!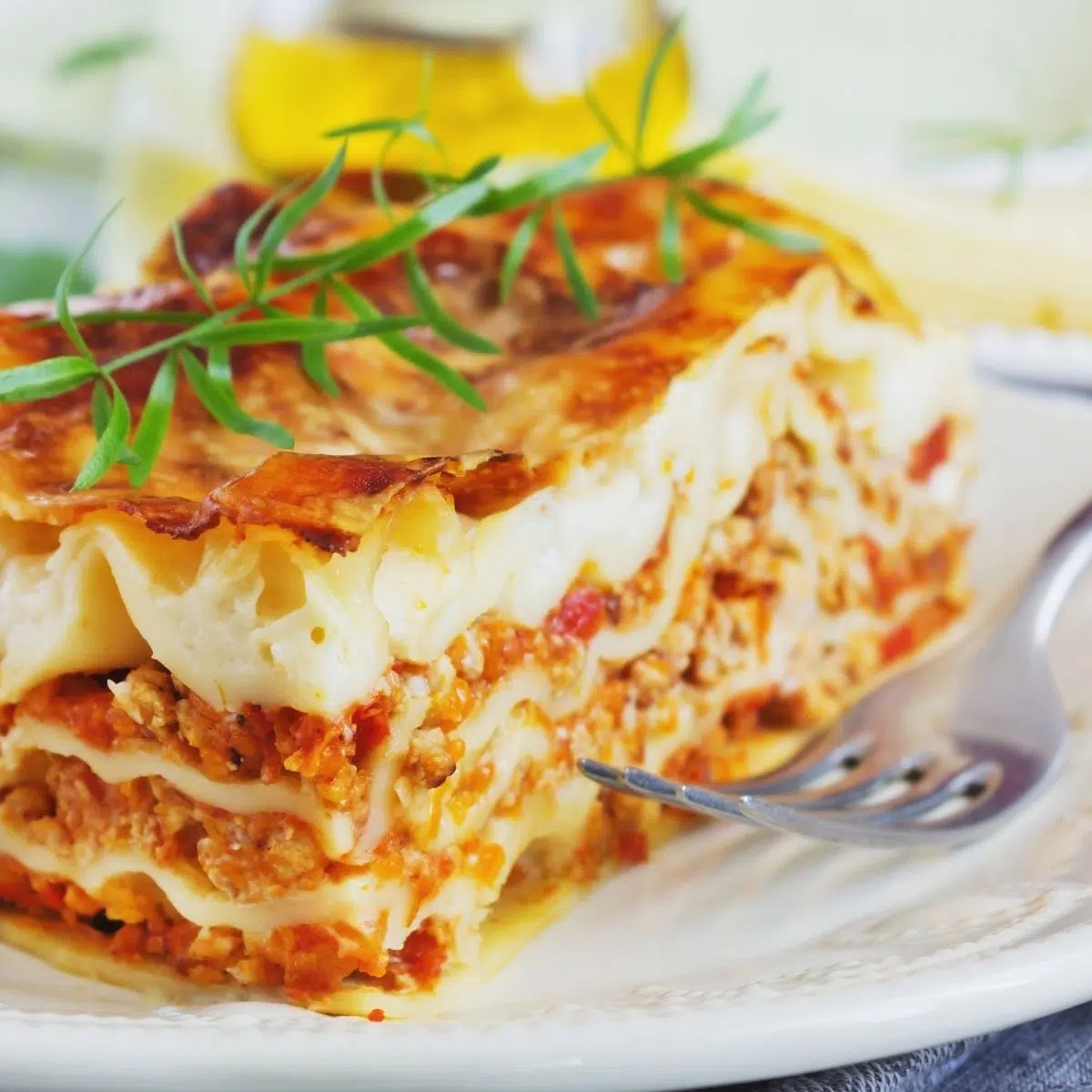 A Hearty, Flavorful, and Easy Lasagna That's Great Any Night of the Week!
Lasagna is a classic Italian dish that shows up in most restaurants of the same origin in the US. While versions in its home country can look vastly different, there's really no wrong way to layer pasta and fillings that won't turn out delicious.
In this recipe, you make a rich, tomato-based meat mix with both sweet Italian sausage and ground beef. Italian seasoning, garlic, and fennel create a complex flavor that will leave you wanting more. And the savory ricotta, fresh mozzarella, and salty Parmesan make this a cheese lover's dream!
Jump to:
If you're looking for a meal the whole family will love, this should be a top contender. As an added bonus, it's incredibly easy to cut squares for work or school lunches for days after you make it!
❤️ Why You'll Love This Recipe!
Easy Prep! The long cooking time is intimidating, but it only takes a few minutes to prep!
Perfect for Leftovers! You can enjoy this dish all week! Plus the leftovers freeze exceptionally well!
It's Tasty! This classic recipe features lots of ingredients that are packed full of flavor!
🥘 Ingredients
While there are many pantry staples in this recipe, it's quite an extensive list. You'll likely need to make a grocery run for things like fennel seeds, lasagna noodles, ricotta, etc.
1 pound Sweet Italian Sausage - Any brand will be delicious.
¾ pound Lean Ground Beef - The combination of beef and sausage is rich and flavorful.
½ cup White Onion - This is approximately 1 large onion when minced.
1 teaspoon Garlic - Mince this up and make your whole house smell amazing!
14.5 ounces Diced Tomatoes - Canned fire-roasted tomatoes are my favorite.
12 ounces Tomato Paste - Most recipes only call for tiny amounts of tomato paste, but not this one!
29 ounces Tomato Sauce - Pick your favorite or make your own!
4 tablespoons Fresh Basil - Chop it up and keep ½ for the ricotta mixture.
2 tablespoons Sugar - A bit of sugar brings out the sweetness of the tomatoes.
1 tablespoon Italian Seasoning - Herbs like rosemary, oregano, basil, thyme, sage, marjoram, etc. are key to any Italian cooking.
1 ½ teaspoons Dried Basil - Toss in some extra basil to amp up the flavor even more!
1 teaspoon Fennel Seeds - Fennel seeds are reminiscent of aniseed and layers in a complimentary, warm, sweet flavor.
1 teaspoon each, Salt and Pepper - Add this to taste, and don't add more until the sauce is almost finished, at which point you can see if it needs it.
12+ Lasagna Noodles - These can be purchased at most grocery stores or, if you have a pasta maker, can be made.
¾ pound Mozzarella Cheese - Is there anything better than a fresh ball of mozzarella?
¾ pound Parmesan Cheese - This strong, salty cheese is another Italian staple.
Ricotta Mixture
32 ounces Ricotta Cheese - With the option to be served sweet or savory, this is one of the most versatile cheeses you can buy!
1 teaspoon Salt - A classic spice like this can elevate the dish. Just make sure not to overdo it!
2 large Eggs - Eggs help bind the cheese together, keeping it from oozing out when it's being served.
*Be sure to see the recipe card below for ingredients, amounts & instructions!*
📖 Variations
Throw in some Mushrooms - Add a nice umami flavor by throwing in some sliced mushrooms of your choice to the meat mixture. They will only take a few minutes to cook, so drop them in just before it has browned. Just be sure to drain off any extra liquid before layering the lasagna.
Add a kick - If you're into heat, try sprinkling on a few red pepper flakes after baking. Imagine it's a pizza, and add accordingly. For even more of a kick, sprinkle them into the meat mixture during the browning process. You can also try my arrabbiata sauce for a spiced-up lasagna!
Try it with Pesto- You can really change things up by swapping out the tomato ingredients for a layer of pesto. Simply spread it on the sides of each noodle for easy layering, or mix some in according to taste with the ricotta. If doing the latter, leave out the salt, as there is plenty in the pesto. You can also add a layer in addition to the tomato-meat sauce if you prefer the combined flavors.
🔪 Instructions
While there are a lot of ingredients and steps, preparation only takes 15 minutes. The finished product is well worth the 2 ½ hour wait!
Make The Filling
To begin, cook the meat. Add 1 pound sweet Italian sausage, ¾ pound ground beef, ½ cup minced white onion, and 1 teaspoon minced garlic to a Dutch oven or deep cooking pot. Cook over medium heat until the meat is brown. Then stir in 14.5 ounces diced tomatoes, 12 ounces tomato paste, and 29 ounces tomato sauce.
Now, add seasoning and simmer. Add the following ingredients and mix thoroughly: 4 tablespoons chopped fresh basil, 2 tablespoons sugar, 1 tablespoon Italian seasoning, 1 ½ teaspoons dried basil, 1 teaspoon fennel seeds, and 1 teaspoon of both salt and pepper. Put the lid on your pan and reduce heat. Simmer for 1 ½ hours. Stir occasionally.
Next, boil the noodles. Bring a large pot of water to a boil. Don't forget to add salt to the water! When it is fully boiling, carefully drop in 12 or more lasagna noodles. Cook for 8 to 10 minutes. Drain and rinse with cold water.
Make the ricotta mixture. In a medium or large mixing bowl, mix together 32 ounces ricotta cheese, 2 large beaten eggs, the remaining 2 tablespoons chopped fresh basil, and 1 teaspoon salt.
Preheat the oven. Set the oven to 375℉ (190℃).
Layer The Lasagna
As the oven heats, layer the pasta. Start by spreading 1 ½ cups of the meat sauce in the bottom of a 9x13-inch baking dish.
Noodles are next. Take 6 cooked lasagna noodles and spread them out on top of the sauce lengthwise.
Then the cheese. Evenly distribute ½ the ricotta mixture across the noodles. Slice or grate ¾ pound mozzarella and layer ⅓ of it over the ricotta.
Add more meat sauce. Spoon another 1 ½ cups of the meat sauce over the mozzarella and sprinkle with ¼ cup parmesan cheese.
Repeat. Continue layering in this order until the pan is full or you run out of ingredients. Then, top with any remaining mozzarella or parmesan.
Bake & Serve
Cover and bake. Use foil to cover the baking dish. To prevent it from sticking to the top, spray the underside with nonstick cooking spray or ensure the foil doesn't touch the cheese. Bake for 25 minutes. After that, remove the foil and bake for another 25 minutes. The cheese should be melted and the sauce bubbling around the edges of the pan.
Cool it off. Remove from the oven and let it cool for 10 to 15 minutes.
Try serving with a simple green salad with Caesar dressing or with some easy steamed broccoli. Air Fryer Garlic Bread also makes an amazing side! Enjoy!
💭 Tips & Notes
To make this extra special, try making your own lasagna noodles! While you can use a rolling pin, it is much easier to do with a pasta maker. All that's in them is flour and eggs. The only change you'll need to make to the recipe is in the cooking time. Noodles will be cooked when boiled for 4 to 5 minutes, about half the time as the dried version. And if you make extra, store them uncooked in the fridge for a day or two, or freeze them.
If you have any leftover meat sauce, save it for breakfast!· Breakfast sandwiches are delicious. Try adding this tomato meat sauce on top of a fried egg and parmesan on toasted ciabatta! Yum!
Use whole milk ricotta and mozzarella. · Part-skim versions of these cheeses will work in a pinch, but the whole milk version will have more flavor. Better yet, buy it fresh!
For a soft lasagna, end with meat sauce on top.· I like a little bit of a crispy top on my lasagna. If you don't, you'll want to bury the top layer of noodles in meat sauce to trap the moisture.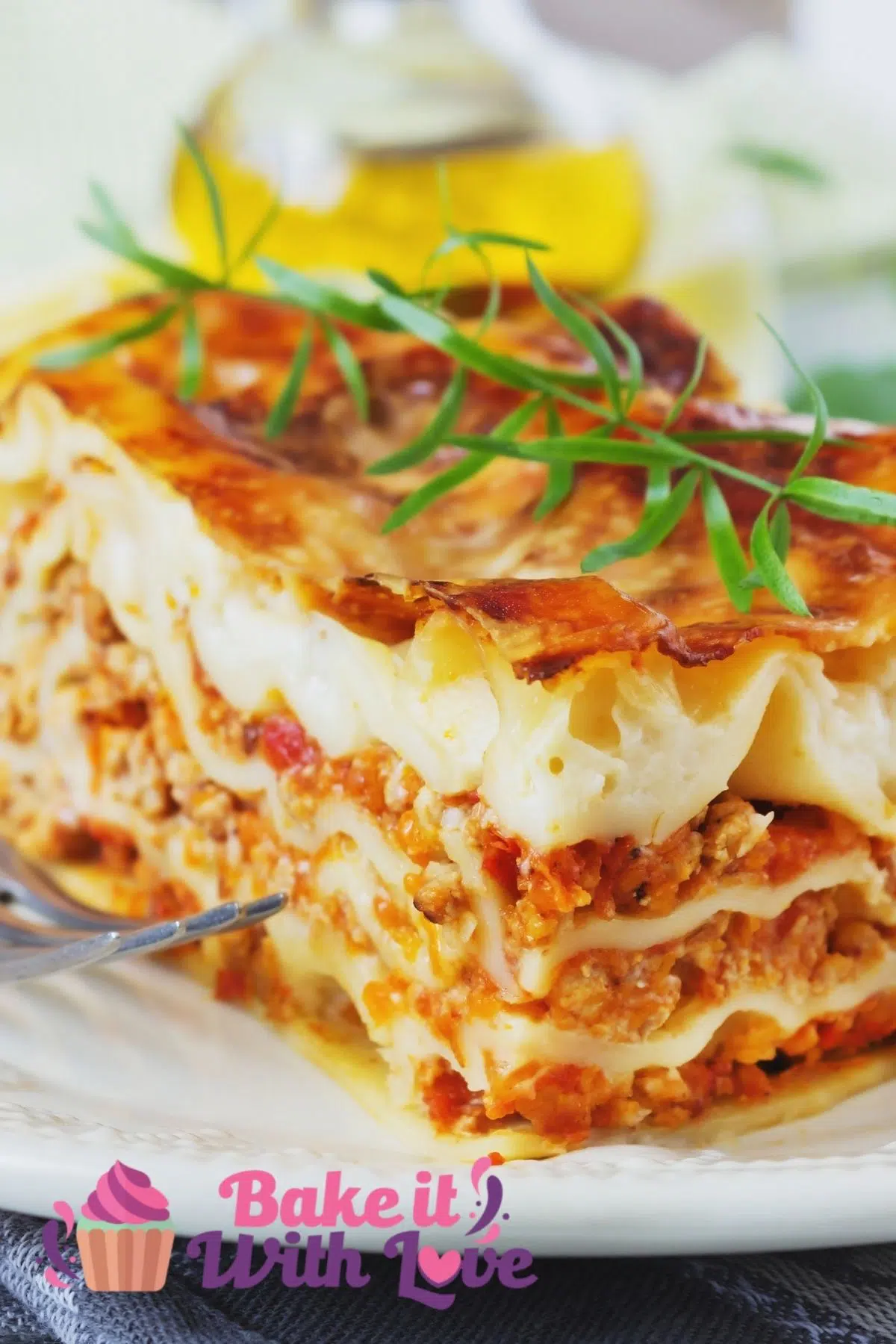 🥡 Storing & Reheating
Cover the pan in foil or transfer leftovers into an airtight container for storage. They will be good for 3 to 5 days.
Leftovers can be stored in an airtight container in the freezer for up to 3 months. If you'd like individual servings, freeze personal-sized squares in parchment-lined foil inside a freezer bag. The latter option is fantastic for fast and easy meals.
Reheating Lasagna
To reheat from frozen, bake covered in foil for around 20 minutes or until thoroughly heated. The oven should be at 375℉ (190℃). For refrigerated leftovers, simply reduce the cooking time.
🍝More Amazing Italian Recipes!
---
❓ FAQ
Why should I salt my pasta water?
When pasta is cooked in salty water, some of the salt is absorbed in the process. This allows salt, a flavor enhancer, to be distributed throughout the dish instead of simply sitting on top, as it would if you salted it after cooking.
It really does make a difference, and I'd highly suggest you run an experiment. Try pasta cooked in salted water vs. plain water and tell me you're not convinced!
How many layers should I put in my lasagna?
There is no hard and fast rule for this. My recipe calls for 2 noodle layers (meat sauce, noodles, cheese, meat sauce, cheese, repeat). I prefer to start with sauce touching the pan. This will prevent the noodles from sticking. And I like to finish with the traditional sprinkle of cheese on top of the top layer of noodles for the best look.
Really, it's up to you. You can't really mess it up. Consider this your chance to personalize your dish. Maybe you like a high meat-to-cheese ratio. Maybe it's the reverse. Or maybe you love lots of noodles. It's up to you.
Do you love a recipe you tried? Please leave a 5-star 🌟rating in the recipe card below and/or a review in the comments section further down the page.
Stay in touch with me through social media @ Pinterest, Facebook, Instagram, or Twitter! Subscribe to the newsletter today (no spam, I promise)! Don't forget to tag me when you try one of my recipes!
📖 Recipe Card
Print Recipe
Leave A Comment
Love This Recipe?
Click On A Star To Rate It!
Lasagna
A homemade lasagna full of tender noodles and a hearty meat sauce covered in melted cheese is one of the best comfort foods you can make! All the time you spend making it will be more than worth it when you see your family lining up for seconds!
Cooking
2

hours
30

minutes
Total Time
2

hours
55

minutes
Pin Recipe
Share on Facebook
Ingredients
1

lb

sweet Italian sausage

¾

lb

lean ground beef

½

cup

white onion

(minced - about 1 large onion)

1

teaspoon

garlic

(minced)

14.5

oz

diced tomatoes

(I prefer the fire roasted tomatoes)

12

oz

tomato paste

29

oz

tomato sauce

4

tablespoon

fresh basil

(chopped, reserve ½ for the ricotta mixture)

2

tablespoon

sugar

1

tablespoon

Italian seasoning

1 ½

teaspoon

dried basil

1

teaspoon

fennel seeds

1

teaspoon

each, salt & pepper

(to taste - wait until the sauce is nearly done cooking to add more salt, if needed)

12+

lasagna noodles

¾

lb

mozzarella cheese

(sliced or grated)

¾

lb

Parmesan cheese

(shredded or grated)
Help Us Out!
If you love a recipe, be sure to come back and share your ratings. This helps future users, and allows me to continue sharing free recipes! Angela
Instructions
In a deep cooking pot or Dutch oven, cook the sausage, ground beef, onion and garlic over medium heat until well browned. Add tomato products (crushed or diced tomatoes, paste and sauce) and stir into cooked meat.

1 lb sweet Italian sausage,

¾ lb lean ground beef,

½ cup white onion,

1 teaspoon garlic,

14.5 oz diced tomatoes,

12 oz tomato paste,

29 oz tomato sauce

Add seasoning (sugar, basil, fennel seeds, Italian seasoning, salt & pepper) and 2 tablespoons of the fresh basil. Combine ingredients thoroughly and cover. Reduce heat and simmer for 1 ½ hours, stirring occasionally.

4 tablespoon fresh basil,

2 tablespoon sugar,

1 tablespoon Italian seasoning,

1 ½ teaspoon dried basil,

1 teaspoon fennel seeds,

1 teaspoon each, salt & pepper

Bring a large pot of salted water to a boil, add lasagna noodles and cook 8-10 minutes. Drain noodles and rinse with cold water.

Combine ricotta mixture in a medium/large mixing bowl, add ricotta cheese, eggs (beaten), the remaining 2 tablespoon fresh basil, and 1 teaspoon salt.

32 oz ricotta cheese,

1 teaspoon salt,

2 large eggs

Preheat oven to 375°F (190°C).

Layer your lasagna in a lasagna pan or a 9 x 13 inch baking dish, start by spreading 1 ½ cups of the meat sauce on the bottom of the pan. Arrange six noodles lengthwise on the meat sauce, then spread ½ the ricotta mixture onto the noodles. Top ricotta cheese mixture with ⅓ of the mozzarella cheese (sliced or grated), then spoon 1 ½ cups of the meat sauce over the mozzarella. After the meat sauce layer add ¼ cup Parmesan cheese and repeat layers. Once done with both layers, use remaining cheese to top off the lasagna.

¾ lb mozzarella cheese,

¾ lb Parmesan cheese

Cover with foil (use non-stick spray on underside of foil, or make sure that the foil does not touch the top layer of cheese).

Bake the lasgana for 25 minutes, then remove the foil and bake another 25 minutes or until cheese is melted and sauce is bubbling at pan edges. Allow to cool for 10-15 minutes before serving.
Equipment You May Need
Nutrition
Calories:
678
kcal
(34%)
|
Carbohydrates:
38
g
(13%)
|
Protein:
43
g
(86%)
|
Fat:
39
g
(60%)
|
Saturated Fat:
20
g
(125%)
|
Polyunsaturated Fat:
3
g
|
Monounsaturated Fat:
13
g
|
Trans Fat:
1
g
|
Cholesterol:
158
mg
(53%)
|
Sodium:
1943
mg
(84%)
|
Potassium:
981
mg
(28%)
|
Fiber:
4
g
(17%)
|
Sugar:
11
g
(12%)
|
Vitamin A:
1635
IU
(33%)
|
Vitamin C:
15
mg
(18%)
|
Calcium:
698
mg
(70%)
|
Iron:
4
mg
(22%)
Classic Recipe, lasagna, meat, sweet italian sausage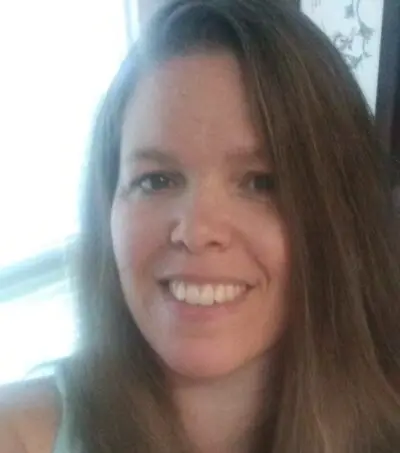 Angela is an at home chef that developed a passion for all things cooking and baking at a young age in her Grandma's kitchen. After many years in the food service industry, she now enjoys sharing all of her family favorite recipes and creating tasty dinner and amazing dessert recipes here at Bake It With Love!