If you need to know how to do a fresh to dry herb conversion, take a look at this list of easy ratios so you can make the switch! Both fresh and dry herbs have their place in the kitchen, but sometimes you don't have what you need on hand. Don't worry, with these easy herb conversions, you can still make your favorite recipes without sacrificing flavor!
Cooking With Fresh And Dry Herbs
Fresh herbs are a lovely way to add aroma and flavor to a recipe. From savory dishes to sweet desserts. You can even use fresh herbs in artisan cocktails!
While fresh herbs are the preference in many recipes, they are not always the easiest option. Unless you grow fresh herbs at home you will need to purchase them at the store.
Jump to:
Many mainstream grocery stores carry fresh herbs. However, once herbs are harvested, they do not stay fresh for very long. Therefore, if you don't cook with fresh herbs frequently it may not be worth the investment if you won't be able to use the whole bunch.
The Benefits of Dried Herbs
Dried herbs are a great alternative to fresh. Most dried herbs have at least a 6-month shelf life. Some are longer. This is much longer than fresh herbs. Therefore, it may be a better investment to purchase dried herbs.
Sometimes with fresh herbs, you feel like you must use them right away. However, with dried herbs, you can wait until you have another recipe you really want to make!
Even if you love fresh herbs, you may have days where they aren't an option. You ran out. The store ran out. Whatever it may be, it is always great to know how to make a quick switch from fresh to dried herbs.
Fresh to Dried Herbs Ratio
Dried herbs are much stronger than their fresh counterparts. Therefore, you want to use fewer dried herbs than fresh herbs.
The standard for using dried herbs in place of fresh herbs is to use ⅓ of the amount. If a recipe calls for 1 tablespoon of a fresh herb, use 1 teaspoon of the dried version.
There are 3 teaspoons in 1 tablespoon. Therefore, 1 teaspoon equals ⅓ the amount. Using ⅓ the amount will ensure you don't overpower your recipe with the herbs. If you find it is not flavorful enough, you can always add more! Start with a third though.
This ratio is the same for switching from dried herbs to fresh herbs. Use 3x the amount of fresh herbs in place of its dried counterpart.
Not All Herbs Are the Same
Most of the herbs you come across will fall into the ratios above. However, some herbs don't fit the standard.
There are a few herbs that are more potent than others. This includes herbs that maybe don't look like herbs. Like garlic.
Often, we associate herbs with flowering plants or green leafy plants. However, there are many herbs that when bought in the store do not look like these traditional herbs. Such as garlic.
Garlic is quite pungent! Moreover, it comes in cloves which can make it more difficult to understand how to measure it. To avoid overpowering your recipe with too much garlic, start with less.
1 clove of garlic = ⅛ teaspoon garlic powder
If you need to make additional garlic conversions, I have a full article that outlines all the possibilities.
Garlic isn't the only herb that doesn't meet the standard substitute ratio. Several other herbs are either too pungent, not pungent enough, or difficult to measure.
Ginger root: Use a ¼ the amount of dry ground ginger in place of fresh chopped/grated ginger root (¼ teaspoon dry ginger for 1 teaspoon fresh ginger).
Basil: 1 teaspoon dried = 2 teaspoons fresh
Parsley: 1 teaspoon dried = 2 teaspoons fresh
Sage: 1 teaspoon dried = 2 teaspoons fresh
Thyme: ¾ tablespoon ground thyme = 1 tablespoon fresh (about 6 sprigs)
Bay Leaf: 2 dried leaves in place of 1 fresh leave
In addition, vegetables like onions must be considered. While onions are not herbs, they are used to add flavor to recipes. They are also available in both fresh and dried versions. If you don't want to search through all the substitutes for onions, you can use this quick conversion.
Other Unique Substitution Ratios
When looking at how to properly substitute dried herbs for fresh herbs there are some unique herbs or seasonings to consider. Such as vanilla and cinnamon.
Vanilla and cinnamon are not technically herbs. However, they are both used in the same way herbs are. They both enhance the flavor and aroma of many recipes. Therefore, I think it is helpful to include them alongside these other unique ratios.
1 vanilla bean (1 inch long) = 1 teaspoon vanilla extract
1 cinnamon stick = ½ teaspoon ground cinnamon
How to Cook with Dried Herbs
When switching from fresh herbs to dried herbs it is helpful to consider the best way to cook with dried herbs. Moreover, consider how the use of dried herbs may change your recipe.
Using the ratio conversions above will provide you with the closest flavor exchange from fresh to dried. In many recipes, the change from fresh to dried won't be noticeable. However, it is always important to consider the differences.
Typically, fresh herbs are added at the end of the cooking process. This allows them to maintain their flavor and color. Dried herbs are heartier when it comes to heat. They are often able to withstand high heat and maintain their flavor. Therefore, you can add the herbs a bit earlier in the cooking process.
Due to their ability to maintain their flavor during cooking, dried herbs are great for soups, stews, and sauces. They are also great for marinades or rubs for meat that will be cooked at a high temperature.
While dried herbs do great in hot dishes, fresh herbs are ideal for cold dishes. Fresh herbs are perfect for adding to salads and salad dressings. They can also be used to garnish a dish. These are some recipes where you may notice a slight shift in flavor when using dried herbs.
In salads and dressings, you may notice a more robust and earthy flavor when using dried herbs. They will still enhance the flavor, just in a slightly different way. Moreover, while dried herbs can be sprinkled on top of many foods they may not have the same appeal as a fresh garnish.
Many times, the best substitute is simply the one you have access to. Therefore, whatever dried herbs you are swapping in for fresh will be delightful! Simply follow the conversions above to get the best possible flavor.
Fresh or dry, with the right conversions your dishes will turn out wonderfully flavorful either way! If you would like to see more articles like this one, let us know by sending us a message below!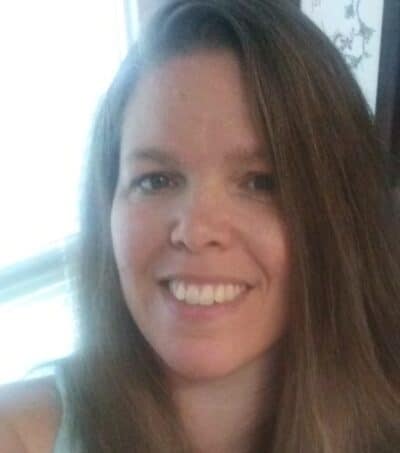 Angela is an at home chef that developed a passion for all things cooking and baking at a young age in her Grandma's kitchen. After many years in the food service industry, she now enjoys sharing all of her family favorite recipes and creating tasty dinner and amazing dessert recipes here at Bake It With Love!