Learn how many tablespoons are in ⅔ cup so that you can easily convert the measurements in all of your cooking and baking recipes! With this ultimate guide full of tips and tricks, you'll never have to eyeball your ingredients again. I even included a helpful conversion chat that you can easily memorize in order to save time in the kitchen!
Converting Tablespoons To Cups
As home cooks and bakers, we often come across recipes that call for different units of measurement. Converting these measurements can sometimes be tricky, but there's no need to worry, as I'm going to simplify it for you!
Understanding how many tablespoons are in ⅔ cup is especially handy if you only have measuring spoons to measure with! In this guide, I will break down the math for you and provide you with imperial and metric measurements.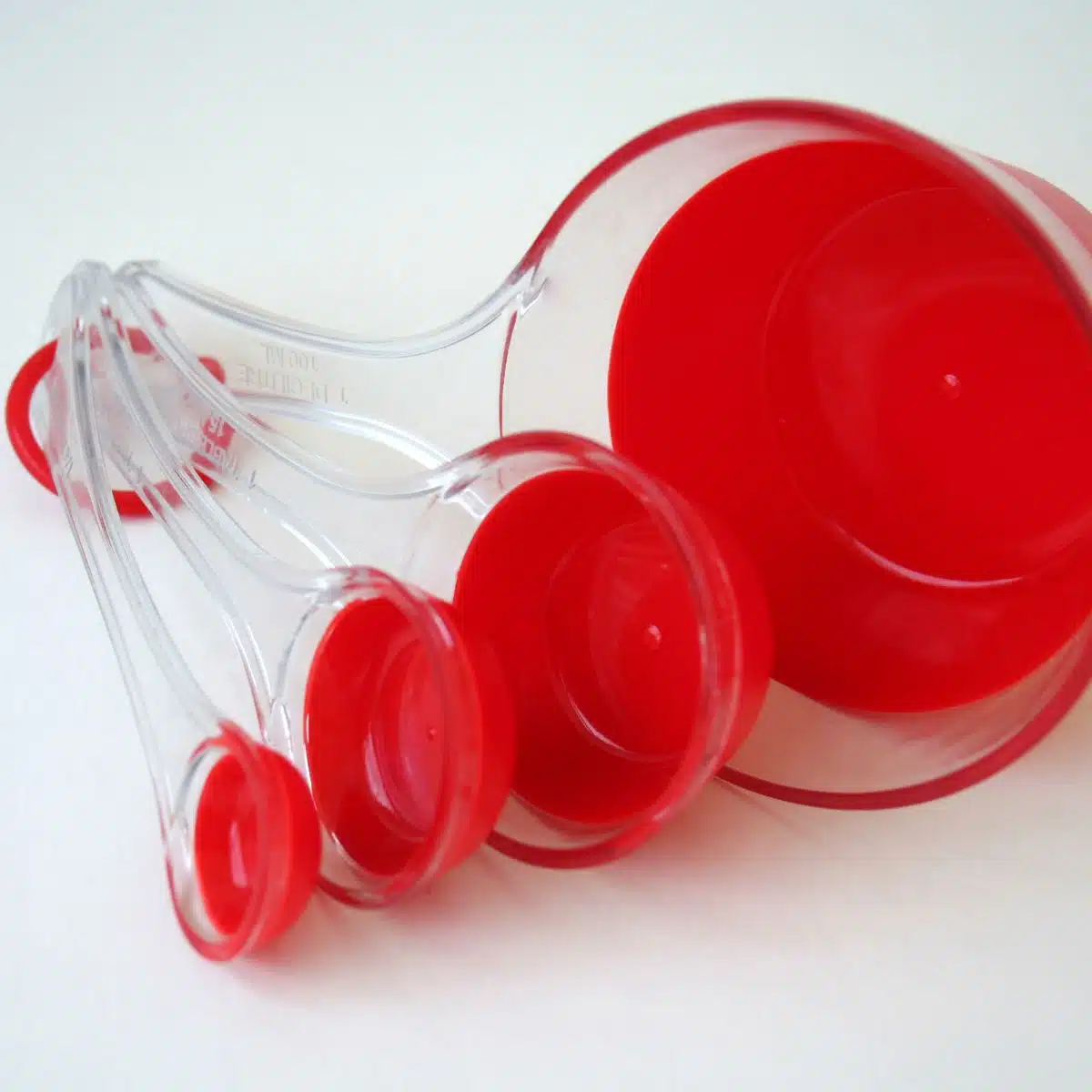 Jump to:
How Many Tablespoons in ⅔ Cup
Before diving into the specific calculation, it's essential to know how many tablespoons are in a cup.
16 tablespoons = 1 cup.
Following this information, the math can be broken down further when you multiply 16 by the number of cups:
0.67 x 16 = 10.67.
Therefore, there are 10.67 or 10 ⅔ tablespoons in ⅔ cup.
Since it's usually impractical to measure 0.67 of a tablespoon (unless you convert it to teaspoons), you can round up and use approximately 11 tablespoons for ease of measuring.
In order to get the exact measurement for baking recipes, you can measure 10 tablespoons and 2 teaspoons, as there are 3 teaspoons in 1 tablespoon. For more information on converting teaspoons to tablespoons, I have an entire converting guide here.
Imperial Measurements vs. Metric
The imperial system and metric system are two distinct systems of measurement with notable differences. While the imperial system uses units like ounces, quarts, pints, and cups, the metric system includes units such as milliliters, grams, liters, and kilograms.
In the United States, the imperial system (or the US Customary System) is still used for measurements. This system was originally called the British Imperial System.
When the United States was established, the US kept the same system while the majority of the world adopted the metric system. The main differences between the two systems lie in their units of measurement and the conversion factors between them.
It's important to understand how they relate to each other and use precise conversions, especially when you are preparing a recipe that's from a different county.
The US Customary System (USCS)
The U.S. customary cup is a unit of volume measurement used in the United States for both cooking and liquid capacity. Therefore, a US customary cup is the same as what you would refer to as a 'cup'.
It's used to measure liquid ingredients (water, milk, juice), dry ingredients (flour, sugar), and semi-solid ingredients (butter, yogurt).
In this system, 1 US customary cup is equal to 8 fluid ounces, approximately 236.59 milliliters, and 16 tablespoons.
⅔ US Cup = 157.725 mL
⅔ US Cup = 10.67 US tablespoons (Tbsp)
⅔ US Cup = 10.51 metric tablespoons (UK, international)
The US Legal Cup
The U.S. legal cup is used to measure ingredients for nutrition labeling by the United States Food and Drug Administration (FDA). The measurements differ in a small amount from the USCS.
1 legal cup is equal to 16.23 US tablespoons, 240 milliliters, and 16 metric tablespoons.
⅔ US Legal Cup = 160 mL
⅔ US Legal Cup = 10.82 US tablespoons (Tbsp)
⅔ US Legal Cup = 10.66 metric tablespoons (UK, international)
Metric Cup & Imperial Cup
The imperial cup is slightly larger than the US customary cup. 1 imperial cup is equal to 10 imperial fluid ounces, 9.61 US fluid ounces, and 284.13 milliliters.
⅔ metric cup (international) = 166.67 mL
⅔ imperial cup = 189.33 mL
⅔ metric cup (Australia) = 8.33 Australian tablespoons
Chart 1: Tablespoons To Cups Conversions
If you prefer not to pull out your calculator each time, using this handy chart will make your math even simpler! There's no need to spend extra time surfing the web when it's all here in one place.
| | | |
| --- | --- | --- |
| Tablespoons (Tbsp) | Dry Measurements (Cups) | Liquid Measurements (fl. oz.) |
| 16 tablespoons | 1 cup | 8 fluid ounces |
| 12 tablespoons | ¾ cup | 6 fluid ounces |
| 10 tablespoons + 2 teaspoons | ⅔ cup | 4 ⅔ fluid ounces |
| 8 tablespoons | ½ cup | 4 fluid ounces |
| 5 tablespoons + 1 teaspoon | ⅓ cup | 2 ⅓ fluid ounces |
| 4 tablespoons | ¼ cup | 2 fluid ounces |
| 2 tablespoons + 2 teaspoons | ⅙ cup | 1 ⅓ fluid ounce |
| 2 tablespoons | ⅛ cup | 1 fluid ounce |
| 1 tablespoon (or 3 teaspoons) | ¹⁄₁₆ cup | ½ fluid ounce |
Tablespoon to Cups Conversion Chart
Measuring Tips & Tricks
For successful baking and cooking, tablespoon measurements need to be precise! The following are some of my best tips and tricks for achieving accurate tablespoon measurements:
Use good quality standard measuring spoons for the best results. Their level rims allow you to easily level off the excess of the ingredient you are measuring. This will result in the most accurate measurement.
Level cups or measuring spoons with the flat side of a knife. Avoid heaping tablespoons unless you have a recipe that specifically calls for them.
Don't overpack your measuring spoons or cups. Never press or pack your dry ingredients. Gently scoop the ingredient with a spoon into your measuring spoons or cup and level it off.
Consider using a liquid measuring spoon or cup when measuring your wet ingredients. These spoons have a slight spout that allows for easy pouring without spilling.
I highly recommend measuring your ingredients one at a time. Avoid measuring multiple ingredients over your mixing bowl, as spills and errors can occur. I like to measure mine individually before I start the process of my recipe.
>>>>See all of my recipes HERE<<<<
Knowing the simple formula for converting tablespoons to cups will come in handy for all of your favorite cooking and baking recipes! Let me know if you have any questions in the comments below!
More Measurement Conversions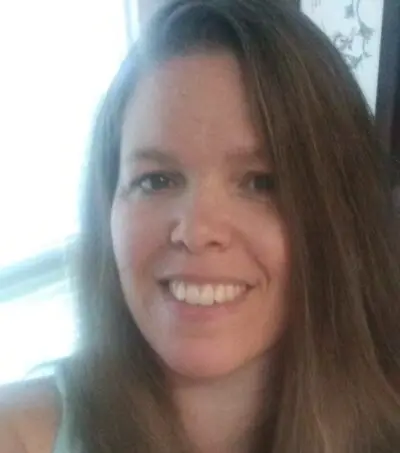 Angela is an at home chef that developed a passion for all things cooking and baking at a young age in her Grandma's kitchen. After many years in the food service industry, she now enjoys sharing all of her family favorite recipes and creating tasty dinner and amazing dessert recipes here at Bake It With Love!