Useful information on how to easily convert grams of sugar to teaspoons for fully understanding nutrition labels of packaged foods. Plus, any recipe from outside the US (using the metric system) would likely ask you to measure out your sugar in grams too!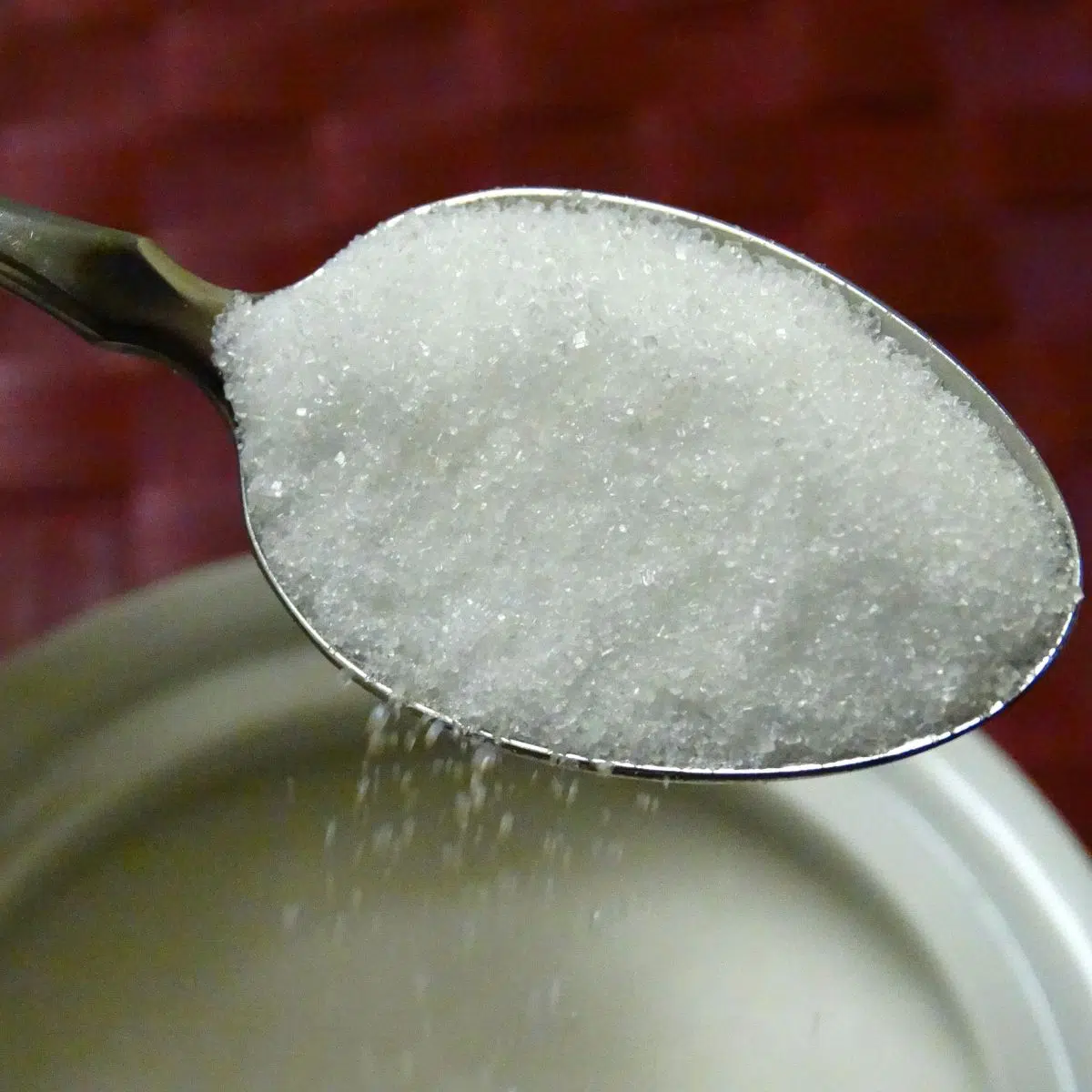 Making dietary changes, counting carbs, or have a recipe in grams? You're sure to find these conversions helpful!
Jump to:
Why You Should Know Grams Of Sugar To Teaspoons
When you buy food or beverage items, the nutrition facts label will state the main nutrients, the serving size, and the calories in the product based on a 2,000-calorie diet.
Consumers may utilize the nutritional information to compare items, choose meals consistent with their healthy dietary pattern, and remain within their particular daily caloric limit.
Of course, you could also simply need to know the equivalent grams and teaspoons of sugar for a baking recipe. Since everyone outside the US uses grams, knowing this conversion comes in quite handy!
Nutrition Labels
Many food producers, such as beverage manufacturers, make it convenient by listing the nutrition information for both a single serving and the whole container. This product information will help you make better food choices.
Nutrition facts labels provide information on carbohydrates, which are important nutrients. Sugars, both naturally occurring and artificial sugar, are included in the total carbohydrates category, along with dietary fiber, as part of the total carbs category.
Fructose, which may be found in fruits, and lactose, which can be found in milk and milk products, are examples of naturally occurring sugars. Added sugars and syrups are those that are added to a food or beverage during the processing and preparation of the food or beverage.
Sugars such as honey, brown sugar, white sugar, corn syrup, maple syrup, fructose, dextrose, and fruit nectar are examples of added sugars.
It is important to note that the quantity of natural and added sugars is stated on the nutrition information label in grams, which may be unfamiliar or difficult to understand for some people.
Grams are a unit of weight in the metric system, while a teaspoon, which is a unit of volume in the American system, is a unit of weight in the metric system.
Learning how to convert grams into teaspoons may be a useful skill to have when figuring out how much sugar you are eating daily.
Sugar Equations In Labeling
If you look at the nutrition information label on a white or brown sugar container, you'll see that one teaspoon is the serving size. When you slide the label down to the total carbs section, you will see the words sugars "4g" or "4 grams."
This important piece of information is the key to successfully converting grams to teaspoons in your calculations. One teaspoon of sugar is equivalent to four grams of sugar.
To be exact, 4.2 grams equals a teaspoon. However, the nutrition data lists this as four grams by rounding it off.
Using this equation, you can quickly and simply determine how much sugar is in any food product. You just identify the grams of sugar given, either for one serving or for the whole container, and convert this amount into teaspoons by dividing the grams by four; this is the easiest way.
According to Michigan State University Extension, this conversion helps in understanding how many teaspoons of sugar are being eaten or drank. As well as guiding overall food selections to minimize extra empty calories in the diet or beverage.
If you finished the whole 20-ounce beverage, you would have eaten 16 ¼ teaspoons of sugar. Imagine filling a teaspoon with white sugar 16 times and then putting it into a glass. That's a lot of sugar.
As shown by the example above, beverages can be a significant source of added sugars; this includes soda, sports drinks, energy drinks, tea, and sweetened coffee drinks, among other things.
Consider substituting sweetened meals and drinks with foods and beverages that have no or little added sugar and are rich in nutrients; this will help you to reduce your calorie consumption.
How Much Sugar Do You Consume?
It is recommended that you should always keep an eye on the amount of sugar you consume during the day, particularly the added sugars found in processed foods and beverages such as soda.
The 2015-2020 Dietary Guidelines for Americans suggest reducing calories from added sugar and shifting toward foods and drinks high in nutrients and antioxidants instead.
The nutrition facts label is an important tool for identifying nutrients such as carbs and especially added sugars in food products and beverages. Make use of the grams to teaspoon converter to figure out just how much sugar you're eating per day.
Grams and teaspoons of sugar may appear insignificant and tiny, but they build up fast when consumed in large quantities. Acquire the information and skills required to keep your healthy eating goals on the right track.
How to Convert Grams of Sugar to Teaspoons
Multiply the sugar by the conversion ratio to convert a gram measurement to a teaspoon measurement. Because one gram of sugar equals 0.24 teaspoons, you may convert using this easy formula:
teaspoons = grams × 0.24
The sugar in teaspoons is calculated by multiplying the grams by 0.24.
For example, using the method above, you can convert 10 grams to teaspoons.
10 g = (10 x 0.24) = 2.4 teaspoon
While it's generally recommended that dry ingredients be measured by weight since it's more precise, certain recipes ask for volume measurements, and many of us don't have a scale on hand when we need one.
Because different types of sugar have varying densities, it may be difficult to convert between weight and volume measurements.
Table 1: Grams to Teaspoons of Sugar
This handy baking conversion chart converts grams of granulated sugar (white sugar), brown sugar, confectioners' sugar (powdered sugar), and raw sugar to teaspoons.
| Grams (g) | Teaspoons (tsp) Granulated | Teaspoons (tsp) Brown | Teaspoons (tsp) Confectioners' | Teaspoons (tsp) Raw |
| --- | --- | --- | --- | --- |
| 5 g | 1 ¼ tsp | 1 ¼ tsp | 1 ¾ tsp | ¾ tsp |
| 10 g | 2 ⅓ tsp | 2 ⅓ tsp | 3 ¾ tsp | 1 ¾ tsp |
| 15 g | 3 ⅔ teaspoon (1 ¼ Tbsp) | 3 ⅔ teaspoon (1 ¼ Tbsp) | 5 ¾ tsp | 2 ¾ tsp |
| 20 g | 4 ¾ tsp | 4 ¾ tsp | 7 ⅔ tsp | 3 ¾ tsp |
| 25 g | 6 teaspoon (2 Tbsp) | 6 teaspoon (2 Tbsp) | 9 ⅔ tsp | 4 ¾ tsp |
| 30 g | 7 ¼ tsp | 7 ¼ tsp | 11 ½ tsp | 5 ¾ tsp |
| 35 g | 8 ⅓ teaspoon (2 ¾ Tbsp) | 8 ⅓ teaspoon (2 ¾ Tbsp) | 13 ½ teaspoon (4 ½ Tbsp) | 6 ¾ teaspoon (2 ¼ Tbsp) |
| 40 g | 9 ⅔ tsp | 9 ⅔ tsp | 15 ⅓ tsp | 7 ¾ tsp |
| 45 g | 10 ¾ tsp | 10 ¾ tsp | 17 ¼ tsp | 8 ¾ tsp |
| 50 g | 12 teaspoon (4 Tbsp) | 12 teaspoon (4 Tbsp) | 19 ¼ tsp | 9 ¾ tsp |
Grams to teaspoon conversions for many common sugar types.
Should I Measure Sugar by Weight or Volume?
Many experts believe that dry ingredients such as sugar should be measured by weight rather than volume, particularly for baking.
Because different sugars have different densities, volume measurements will most likely result in an inaccurate amount of ingredients. Furthermore, whether using a cup or tablespoon, the quantity of sugar crushed and the amount above or below the measuring line will change the actual amount.
This is why most experts recommend measuring sugar using a food scale rather than a cup, tablespoon, or other volume measurement instrument while cooking.
The units of measurement for sugar are grams and teaspoons. Continue reading to discover more about each measurement unit.
Grams
A gram is one-thousandth of a kilogram. Sugar weighs around 0.035274 ounces or 0.00220462 pounds per gram. A gram is a unit of weight for sugar.
In the metric system, the gram, or gramme, is a SI unit of sugar. You can use the abbreviation g to represent grams; for example, 5 grams can be written as 5 g.
Teaspoons
A teaspoon of sugar is one-third of a tablespoon of sugar. Teaspoons are a measure of the volume of sugar.
Sugar is measured in teaspoons in the United States. Teaspoons are abbreviated as teaspoon and are also known as t, ts, and tspn. Most commonly teaspoon is written as tsp with a lower case 't' (whereas a tablespoon is abbreviated tablespoon with an uppercase 'T').
More Measurement Conversions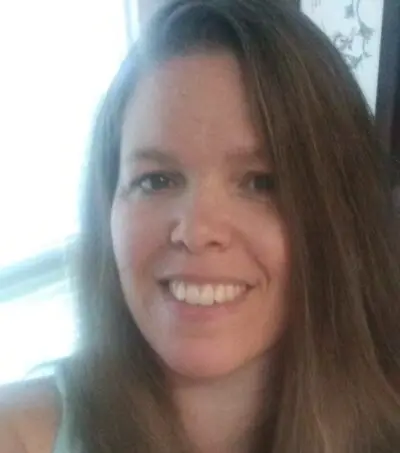 Angela is an at home chef that developed a passion for all things cooking and baking at a young age in her Grandma's kitchen. After many years in the food service industry, she now enjoys sharing all of her family favorite recipes and creating tasty dinner and amazing dessert recipes here at Bake It With Love!