If you're wondering how to measure butter, no matter the packaging size or style, I've got all the methods you could possibly need shared here! Whether you're cooking or baking, every type of butter can easily be measured with one of these methods!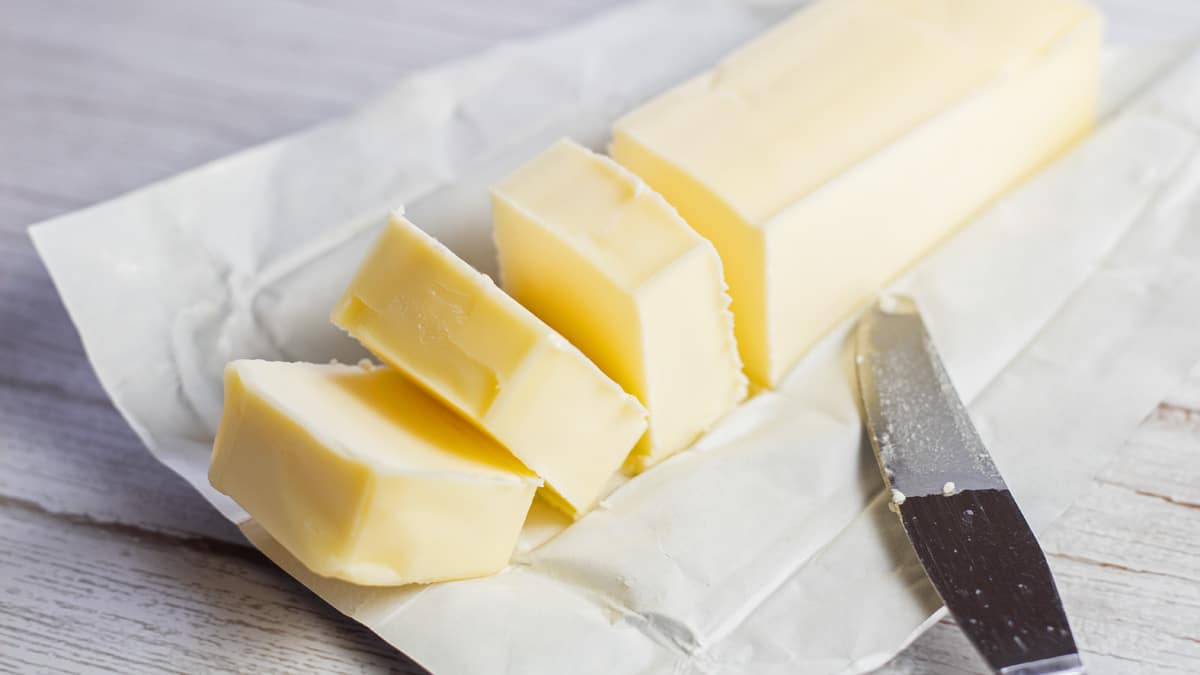 Everything you need to know about measuring butter!
This article tells you 6 ways to measure butter along with lots of other useful information about what butter is, different types of butter, and why it's important to measure butter accurately.
Plus, a complete conversion chart to quickly convert weight, sticks, cups, tablespoons, and teaspoons so that your cooking or baking recipe is made without error!
Jump to:
Why is it important to know how to measure butter?
Butter is one of the most common ingredients in cooking and baking! There are many different kinds of butter, so let's start with the basics!
Butter is a dairy product that is made from the fat and protein of churned cream, usually from cow's milk. You may not have known, but India, the United States, the European Union, and New Zealand are the world's top butter producers.
As previously mentioned, there are many kinds of butter. Most butter that you come across is sweet cream butter, either salted or unsalted. In salted butter, a small amount of salt has been added, which acts as a preservative.
Clarified butter and ghee are pure butterfat. This means that it contains zero milk solids or water and is instead just golden butterfat.
People prefer to use clarified butter or ghee when making a roux or something else that needs to reach high heat. Ghee or clarified butter (which are both pretty much the same thing) can withstand temperatures up to 450°F (232°C) before it starts to smoke, as opposed to other kinds of butter that smoke at 350°F (175°C).
European butter contains up to 86% fat and has less water and is known to have more of a tangy flavor, due to a more cultured, lightly fermented process. It's great to use when baking pie dough or puff pastry because it helps achieve maximum flakiness. *Use European butter when making a show-stopping meal too, the richness of the butter adds ALOT of flavor!
There are many alternatives to butter that are sold in grocery stores, including margarine. Margarine, however, is not butter. It's a processed product made from vegetable oil containing monosaturated fats.
While margarine might taste like butter and be a healthier alternative when it comes to managing cholesterol, it does not have the same rich, creamy flavor of butter. If you use margarine as an alternative to butter, be aware that it will result in flatter cookies and less flavorful dishes.
Measuring Butter
Butter is measured differently all around the world. In the United States, butter is measured by the stick and often has easy to use markings that denote tablespoons.
In Canada, butter is measured by mass and in Europe and the United Kingdom, it's measured by weight.
To measure your butter, there are several different methods:
1. By the Stick
Most sticks of butter have measurements on the wrapper of the stick. Each line denotes 1 tablespoon of butter. If you have a stick and either threw the wrapper away or the wrapper doesn't have markings, you can still measure tablespoons.
To do this, take a ruler or tape measure and measure the length of the stick. Make little marks on the stick of butter so that it's even measured into 8 pieces.
This allows you to cut however many tablespoons the recipe calls for! Be sure to use a sharp knife for precision. You can also cut right through the wrapper, just remember to remove all of the plastic pieces before using it.
2. Using a Measuring Cup
If a recipe calls for 1 cup of butter, you will know to use 2 sticks. However, if you are using butter that has an irregular shape, or aren't certain how much you have, you might need to use a dry measuring cup.
To measure butter using a dry measuring cup, wait until the butter is soft enough to be scooped. Once it is soft enough, scoop butter into the measuring cup, being careful to avoid gaps of air.
Use a spoon or spatula to push the butter down lightly and then level off using a knife or spatula. Once measured, scoop the butter out of the measuring cup and use as instructed in your recipe's directions.
3. Using Water and Rules of Displacement
A less commonly known way to measure butter that is too firm or irregularly shaped is to do the water displacement method. To do this, you will need a sharp knife, a measuring jar that has markings of at least 2 cups, some water, and butter.
Slice your butter into cubes and fill a measuring cup to the 1 cup line with cold water (as warm or hot water will melt the butter). Make sure to properly measure out 1 cup of cold water, at eye level on a flat surface.
Start to place butter into the water-filled measuring cup, keeping an eye on the rising liquid. Knowing how much butter you need, you will fill the measuring cup until the water reaches the exact amount that the recipe calls for.
For example, if you need ¼ cup of butter, the measuring cup should reach 1 ¼ cup. If you need ⅔ cup of butter, the measuring cup should reach 1 ⅔ cups.
Things to note! The butter should not pile up and break the surface of the water. If the butter starts to pile up, gently rearrange or press it down so that all of the butter is below the surface of the water.
This is the best way to get an accurate measure. Be sure to slowly add the pieces of butter in, keeping an eye on the measurement lines. When the water reaches the point you need, stop adding butter.
To remove the butter, place a strainer in a secured location and gentle strain the water/butter mixture. Add the butter per your recipe's instructions.
4. By Scale
If you have a kitchen scale, make sure that it is zeroed out before using it to measure your butter. Place pieces of cool, firm butter (not melted butter) onto the scale until you reach the amount that the recipe requires.
5. Using the Butter Twist
The Butter Twist is a kitchen gadget that measures butter by the tablespoon by performing a 180-degree rotation.
For Melted or Whipped Butter
To measure melted or whipped butter, simply let the butter soften and use the measuring cup method.
Other Notes about Measuring Butter
If the recipe you are making calls for 1 cup of butter, don't feel the need to take a stick of butter and measure it out in a measuring cup. 1 stick of butter is premeasured to equal ½ cup. The following chart can be used as a quick guide for other conversions.
Table 1. Conversion Chart for Butter
| Sticks | Cups | Tablespoons | Teaspoons | Weight (oz/lb) | Weight (g) |
| --- | --- | --- | --- | --- | --- |
| ¼ | ⅛ | 2 Tbsp | 6 tsp | 1 oz (1/16 lb) | 28 g |
| ½ | ¼ c | 4 Tbsp | 12 tsp | 2 oz (⅛ lb) | 57 g |
| 1 | ½ c | 8 Tbsp | 24 tsp | 4 oz (¼ lb) | 113 g |
| 1 ½ | ¾ c | 12 Tbsp | 36 tsp | 6 oz (⅜ lb) | 170 g |
| 2 | 1 c | 16 Tbsp | 48 tsp | 8 oz (½ lb) | 227 g |
| 2 ½ | 1 ¼ c | 20 Tbsp | 60 tsp | 10 oz (⅝ lb) | 284 g |
| 3 | 1 ½ c | 24 Tbsp | 72 tsp | 12 oz (¾ lb) | 341 g |
| 3 ½ | 1 ¾ c | 28 Tbsp | 84 tsp | 14 oz (⅞ lb) | 398 g |
| 4 | 2 c | 32 Tbsp | 96 tsp | 16 oz (1 lb) | 454 g |
Butter conversions in sticks, cups, tablespoons, teaspoons, ounces, pounds, and grams.
More Measurement Conversions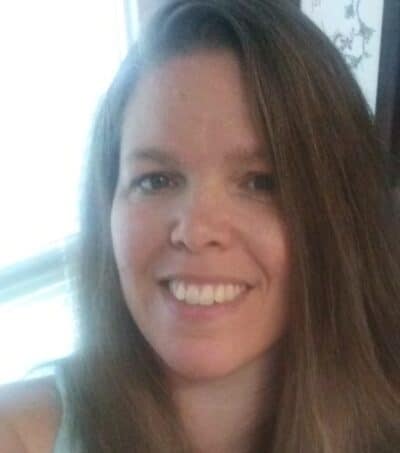 Angela is an at home chef that developed a passion for all things cooking and baking at a young age in her Grandma's kitchen. After many years in the food service industry, she now enjoys sharing all of her family favorite recipes and creating tasty dinner and amazing dessert recipes here at Bake It With Love!