If you have ever wanted to try your hand at making the perfect homemade Pretzel Buns for your amazing home grilled burgers, then give this recipe a try!
The end result of these pretzel buns is so chewy and soft that you will have an actual NEED to make these again...and soon!! Maybe even try your hand at some pretzel knots 🙂
Whenever we know we are going to have some nice, juicy burgers hot off the grill (sometimes it's more spontaneous) we always debate about which buns to make. My top two preferred buns for our burgers are these pretzel buns and my quick brioche buns. Yum! Either bun works fabulously with sandwiches the next day, too!
I refrigerate and/or freeze our excess pretzel buns for later use and they store beautifully. I do recommend, however, not to salt your pretzel buns if you plan on freezing them. Your tops will turn out poorly and the salt crystals will no longer show once thawed, so I skip the salt topping when I plan on freezing any of my pretzel buns.
Another personal preference item to mention is that we disagree on the preferred method of topping these pretzel buns. Let me explain. I (Angela) do not like a lot of salt usually, but I LOVE the salted tops of these pretzel buns. He (Eddy) almost always salts his food once dished, but does not like the salted tops of the pretzel buns. He says that it makes them too 'pretzel-like'. Crazy, I know!
Either way you make your pretzel buns, salted or unsalted, this recipe also absolutely works for making pretzels! Enjoy!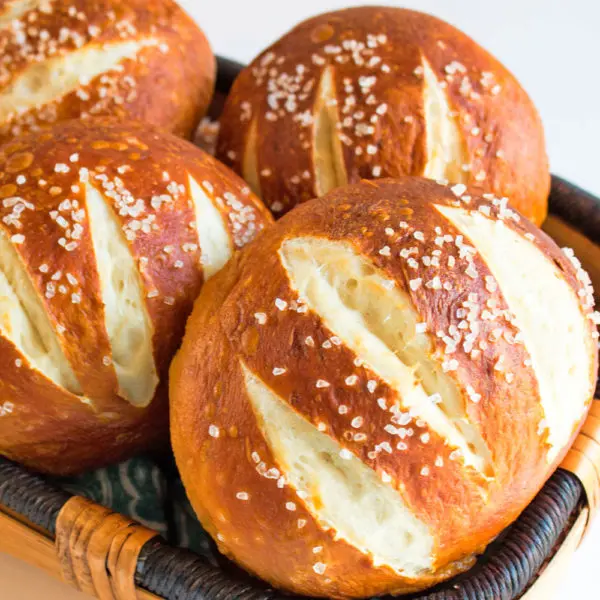 Print Recipe
Leave A Comment
Love This Recipe?
Click On A Star To Rate It!
Pretzel Buns
So delicious, chewy, and soft...these pretzel bun recipe makes the perfect burger bun or fantastic soft pretzels (like the mall ones)!

Servings:
10
pretzel buns
Total Time
2
hours
5
minutes
Pin Recipe
Share on Facebook
Ingredients
1 ¼

cup

water

(lukewarm - 110 degrees F/43 degrees C)

1

packet

active dry yeast

(or 2 ¼ tsp)

1

teaspoon

sugar

3

tablespoon

butter

(melted, cooled)

3 ½

cups

all-purpose flour

(start with 3 cups)

2

teaspoon

salt

½

cup

baking soda

(recommended)

½

tablespoon

olive oil

(to grease the bowl)
Instructions
For best results, spread your ½ cup baking soda over a parchment paper lined baking sheet and bake in the oven for 30 minutes to an hour at 350 degrees F (175 degrees C). Set aside to use in the boiling water before baking the pretzel buns.


In your measuring cup of lukewarm water, add the yeast and sugar. Allow the yeast to activate for about 5 minutes, or until foamy.

In your stand mixer bowl, combine the flour (start with 3 cups, add more if necessary) and salt. Add in the water with activated yeast and the cooled, melted butter.


Mix using the dough hook attachment on low speed for 2-3 minutes until the dough forms. It shouldn't be too wet or dry. Add more flour if needed, or a few drops of water to get a nice elastic dough ball. Knead with your dough hook on medium speed for 5-6 minutes.


Remove the dough from the bowl (or transfer to an oiled bowl) long enough to oil the bowl with ½ tablespoon olive oil. Roll the dough through the oil to coat all sides. Cover with a kitchen towel (i use a warm damp towel) or plastic wrap. Allow the dough to rise for 1 hour, or until doubled in size.


Punch the risen dough down about half way, then remove from the bowl and transfer to your floured working surface. Knead the bread for 2 minutes, then divide into 10 equal portions.


Make sure to dust your hands with some flour before rolling the portion balls of dough in your hands with the smooth rounded side facing up and the bottom side cupped in one hand. Use your free hand to smooth the domed top portion of the dough ball, making the surface less likely to lose shape. Repeat with each bun.


Cover your shaped buns with your kitchen towel or plastic wrap and allow them to rise for 20-30 minutes, they should almost double in size again.


Preheat your oven to 425 degrees F (218 degrees C) and line a baking sheet with parchment paper.


Bring a large stock pot with 4 cups of water and the ½ cup of baked baking soda to a boil (watch closely to prevent bubbling over).


Lower the pretzel buns into the boiling water using a slotted spoon, place as many into the boiling water as you can fit into your stock pot without crowding them as you do not want them touching. Also note that you should have enough water in the stock pot to prevent the buns from touching the bottom as well.


Boil each of the buns for 1 minute, starting with the rounded side up and turning halfway through the minute (30 seconds each side). Use your slotted spoon to remove the buns after a minute and place them onto the parchment paper lined baking sheet.


Score the tops of each bun using a sharp knife. You can do the same three slits as I have, or the usual pretzel cross that is common. Whatever shape or design you like. Score each bun as it comes out of the boiling water, then top with coarse sea salt.


Bake for 15 minutes or until golden brown and the buns are still soft on the crust, but they are not too soft (pretzels will need only 10-12 minutes). Your finger indent should spring back, rather than leaving a mark.


Remove from the oven when done and transfer to a wire cooling rack to cool completely.

Video
Notes
*Store unused pretzel buns in an airtight container, either refrigerated or frozen.
**If you plan on freezing your baked pretzel buns, do not salt the tops.
Nutrition
Calories:
199
kcal
(10%)
|
Carbohydrates:
34
g
(11%)
|
Protein:
4
g
(8%)
|
Fat:
4
g
(6%)
|
Saturated Fat:
2
g
(13%)
|
Cholesterol:
9
mg
(3%)
|
Sodium:
2139
mg
(93%)
|
Potassium:
53
mg
(2%)
|
Fiber:
1
g
(4%)
|
Vitamin A:
105
IU
(2%)
|
Calcium:
8
mg
(1%)
|
Iron:
2
mg
(11%)
homemade pretzel buns, pretzel buns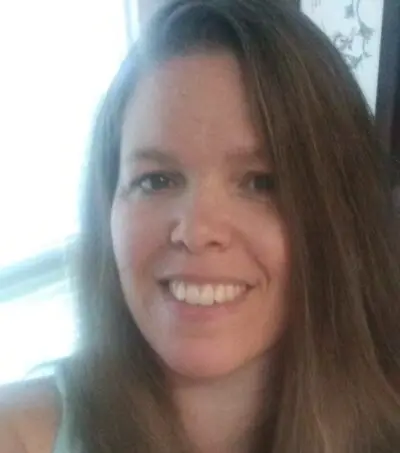 Angela is an at home chef that developed a passion for all things cooking and baking at a young age in her Grandma's kitchen. After many years in the food service industry, she now enjoys sharing all of her family favorite recipes and creating tasty dinner and amazing dessert recipes here at Bake It With Love!