Indulge in the rich, savory flavors of homemade Teriyaki Sauce with our simple recipe. Perfect for elevating any dish, from stir-fries to marinades! It's a perfect blend of soy sauce, orange juice, light brown sugar, garlic, ginger, and more!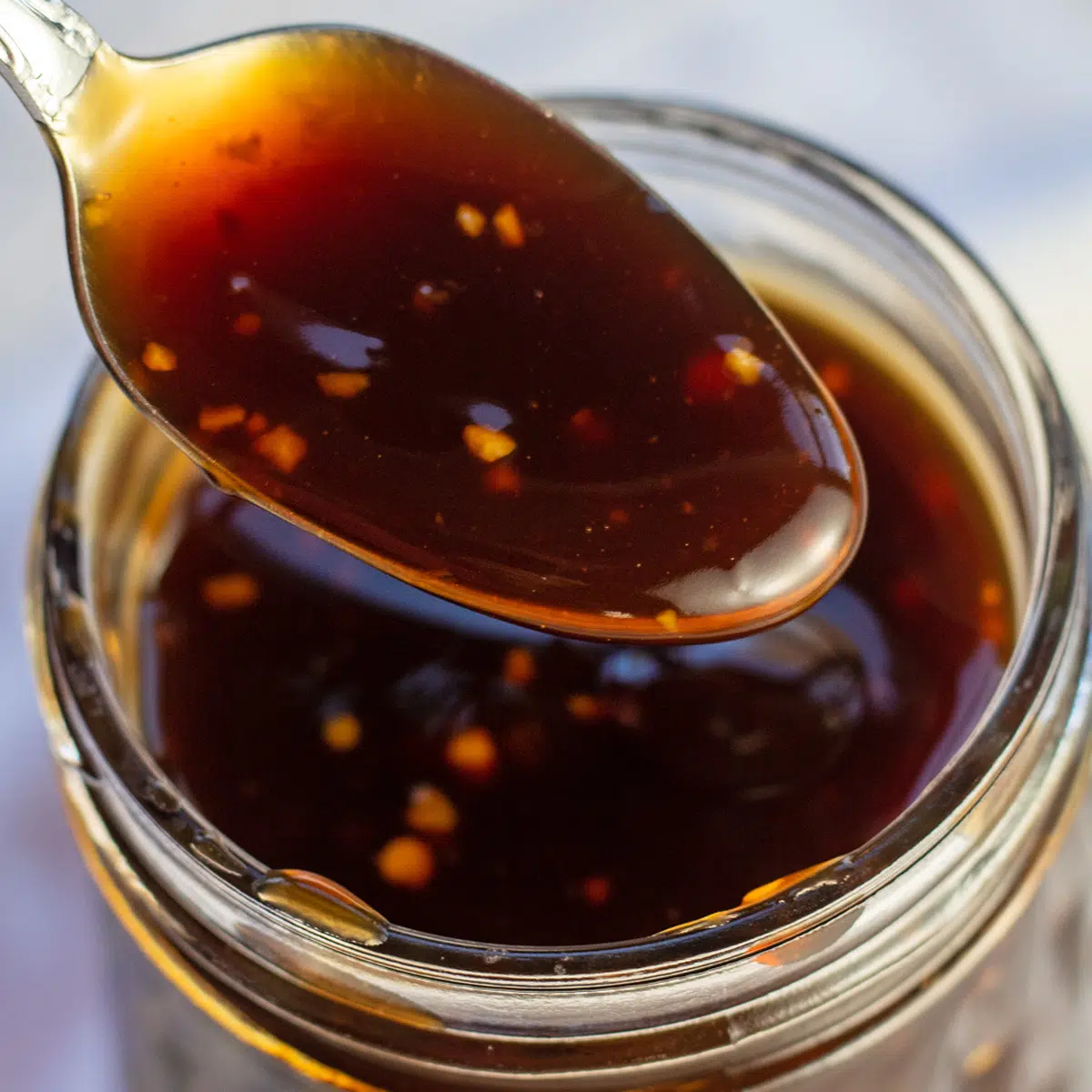 Jump to:
Secrets to Perfect Homemade Teriyaki Sauce: Elevate Your Cooking!
If you've ever been to a Japanese or Asian fusion restaurant, you've likely seen teriyaki chicken on the menu. With this recipe, you can create your own teriyaki dishes from the comfort of your home, no dressing up required! It's a sweet and salty blend that will have you craving a good stir-fry!
It is surprisingly simple to pull together for something with such a complex flavor, and you can store it for weeks! In just 15 minutes, you can create a sauce that goes well on chicken, rice, vegetables, salmon, noodles, and more!
Teriyaki highlights the tang of orange juice and rice vinegar with richly sweet brown sugar, salty soy sauce, garlic, and a spicy kick of ginger.
While it may sound like a lot of contradictory flavors all wrapped up in one sauce, it will surprise you how this comes together in an amazing, unique taste that's sure to be a family favorite!
🌎 Origin
Teriyaki is both a process of cooking and a sauce created in Japan. It's been used for hundreds of years but only gained popularity in the US in the 1960s.
When Japanese immigrants made their new homes in Hawaii, they recreated the sauce from their home country using local ingredients like pineapple juice and brown sugar in place of the traditional sugar and sake, mirin, or rice wine. Needless to say, it caught on.

Typically, in Japan, the original teriyaki is only used on mild-tasting fish. Americans love the new Hawaiian-inspired version of teriyaki sauce and use it as a marinade for beef, chicken, vegetables, and, yes…fish.
It's grown in popularity in Japan, too, showing up on things like fast-food hamburgers to meatballs as well as a sauce for fusion-style sushi.
🥘 Ingredients
There are a few things you'll want to pick up from the store for this recipe. If you don't have rice vinegar in your local grocery store, check out the local Asian market (be sure to stock up while you're there too!).
Soy Sauce - This salty sauce brings its familiar flavor that is amazing to anything you add the teriyaki to.
Orange Juice - Citrus adds balance to the sweet and salty blend. Try using freshly squeezed for the best flavor - hands down!
Water - Plain water will be used to make the sauce and combine with the cornstarch to make a slurry. Be sure to use cold water when mixing with the cornstarch!
Light Brown Sugar - The rich molasses taste in this sweetener is delicious in marinades and sauces.
Rice Vinegar - Rice vinegar is for more than just sushi! This is one of my favorite ingredients to add a splash more of!
Garlic - Fresh garlic will kick it up a notch and balance out the sweetness of the teriyaki.
Ginger - Add some flavor with one of my favorite spices!
Cornstarch - Cornstarch is an easy-to-use thickener. Mix with the cold water mentioned above to make your slurry.
🔪 How To Make Teriyaki Sauce
In just 4 easy steps and 15 minutes, you can have a homemade sauce ready to use in any recipe. Grab a couple of bowls, a saucepan, and a whisk to get started.
Heat the sauce. Add ½ cup soy sauce, ¾ cup orange juice, ¼ cup water, ½ cup light brown sugar, 2 teaspoons rice vinegar, 1 tablespoon garlic, and 2 teaspoons ginger in a saucepan. Whisk thoroughly. Stir occasionally as you heat over medium heat until the brown sugar is fully dissolved. It should take around 5 minutes.
Mix the cornstarch slurry. Mix 2 tablespoons of cornstarch in ¼ cup cold water in a small bowl. Stir well.
Thicken your sauce. Transfer the cornstarch mixture to the saucepan and keep it over the heat while it thickens.
Remove from heat. After 3 to 4 minutes, take the pan off the burner. Use in a recipe or allow it to completely cool before storing it for later.
Teriyaki sauce is fantastic on meat in recipes like Top Sirloin Teriyaki Steak Rolls, my Hawaiian Burger (like the Banzai burger at Red Robin!), or Zoodles With Ginger Sesame Teriyaki Smoked Chicken Breasts. For the latter, just use the sauce from this recipe in place of the one noted in the recipe.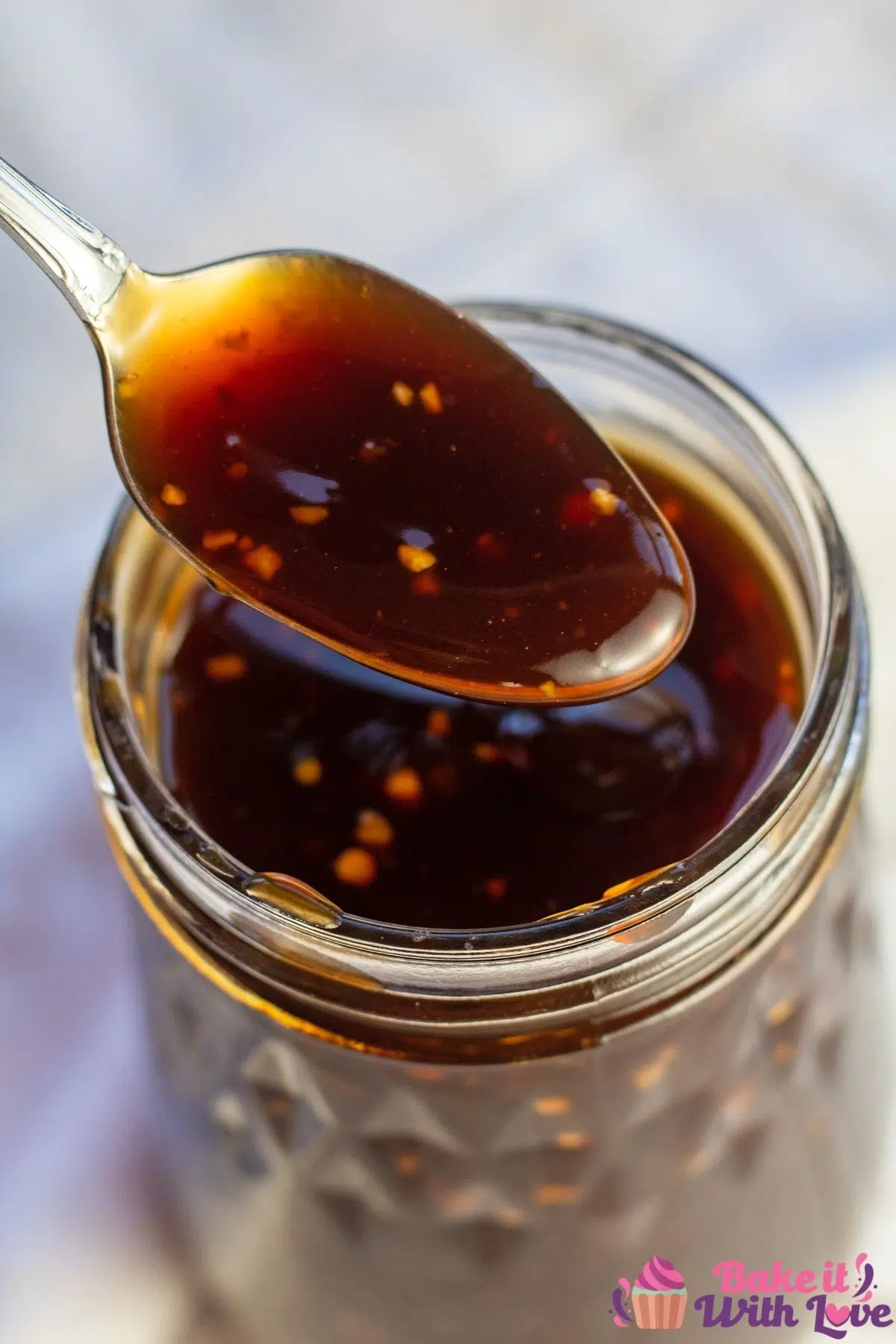 💭 Tips & Notes
For gluten-free or low-sodium diets, replace the soy sauce. - Tamari and coconut aminos have very similar flavors and would work well in this recipe. In fact, these two substitutes are lower in sodium and taste slightly more sweet. So, whatever your preferences are, regardless of your gluten tolerance, feel free to use your favorite option.
Be sure to use cold water and mix the cornstarch separately from the sauce. - Never add cornstarch to the sauce before mixing it in cold water first. It seems like an unnecessary step, but it's vital to the consistency of the final result. If not mixed properly, it will cause lumps full of undissolved cornstarch in the sauce.
If your sauce becomes too thick, add water. - Start small. Add a tablespoon at a time until it reaches the desired consistency.
Use this sauce in any cooking process. - Teriyaki sauce is great for cooking things on the grill or under the broiler, but it also works really well in a stir-fry or a slow cooker meal. Try cooking your meat and vegetables in it and serving it over rice or lo mein noodles. Or use it as a marinade for a barbecue. The options are plentiful.
🥡 Storing & Reheating
The sauce will keep in the fridge for up to 2 weeks if stored in an airtight container.
If you'd like to store the sauce longer than 2 weeks, pour it into an airtight freezer-safe container or portion it out into freezer storage bags. You can safely keep it frozen for 2 to 3 months.
Reheating From Frozen
To reheat the frozen sauce, let it thaw in the fridge overnight. Or, if you're in a rush, put the sealed container in a bowl of cool water, replacing the water every 15 minutes or so.
When the sauce is back to its original consistency, heat it according to whatever recipe you're using it in.
❓ FAQ
Is there a difference between soy sauce and teriyaki sauce?
Yes. Soy sauce is one of several ingredients in teriyaki sauce. These can include things like brown sugar, ginger, garlic, etc. The first on this list is what gives teriyaki its signature sweet taste. Soy sauce is more of a salty flavor.
Teriyaki is more similar to bulgogi sauce, a Korean barbecue staple sauce than it is to soy sauce.
What are the best meats to use with teriyaki?
Beef, steak, and chicken seem to be the most popular, but you'll also find it on pork and salmon. You're less likely to find white fish like cod and Kingfish in recipes with teriyaki, but they're equally as good. And more traditional!
My advice? Try it on various things and figure out what your favorites are.
Do you love a recipe you tried? Please leave a 5-star 🌟rating in the recipe card below and/or a review in the comments section further down the page.
Stay in touch with me through social media @ Pinterest, Facebook, Instagram, or Twitter! Subscribe to the newsletter today (no spam, I promise)! Don't forget to tag me when you try one of my recipes!
📖 Recipe Card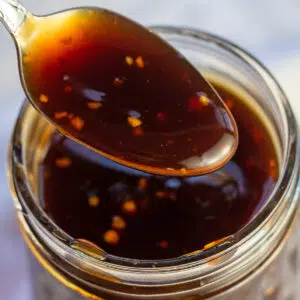 Print Recipe
Leave A Comment
Love This Recipe?
Click On A Star To Rate It!
Teriyaki Sauce
Indulge in the rich, savory flavors of homemade Teriyaki Sauce with our simple recipe. Perfect for elevating any dish, from stir-fries to marinades! It's a perfect blend of soy sauce, orange juice, light brown sugar, garlic, ginger, and more!
Pin Recipe
Share on Facebook
Help Us Out!
If you love a recipe, be sure to come back and share your ratings. This helps future users, and allows me to continue sharing free recipes! Angela
Instructions
Combine the sauce ingredients (soy sauce, orange juice, water, light brown sugar, rice vinegar, garlic, and ginger) in a sauce pan over medium heat. Stir occasionally until the brown sugar dissolves, about 5 minutes.

½ cup soy sauce,

¾ cup orange juice,

¼ cup water,

½ cup light brown sugar,

2 teaspoon rice vinegar,

1 tablespoon garlic,

2 teaspoon ginger

In a small bowl whisk the cornstarch and cold water together to make your slurry.

2 tablespoon cornstarch,

¼ cup water

Pour the slurry into your sauce mixture and whisk to combine. Continue to cook, stirring frequently, as the sauce thickens. This typically takes about 3-4 minutes.

Remove from heat and use in your favorite recipe or allow to cool completely before storing.
Notes
*Nutrition information is calculated for the whole 2 cup batch of teriyaki sauce. I typically use only ¼ to ½ cup per recipe.
If your sauce thickens too much, add a drizzle of water to thin to your desired consistency.
Nutrition
Calories:
325
kcal
(16%)
|
Carbohydrates:
76
g
(25%)
|
Protein:
7
g
(14%)
|
Fat:
1
g
(2%)
|
Saturated Fat:
1
g
(6%)
|
Polyunsaturated Fat:
1
g
|
Monounsaturated Fat:
1
g
|
Sodium:
3261
mg
(142%)
|
Potassium:
407
mg
(12%)
|
Fiber:
1
g
(4%)
|
Sugar:
62
g
(69%)
|
Vitamin A:
186
IU
(4%)
|
Vitamin C:
48
mg
(58%)
|
Calcium:
77
mg
(8%)
|
Iron:
2
mg
(11%)
condiments, homemade teriyaki sauce, Teriyaki Sauce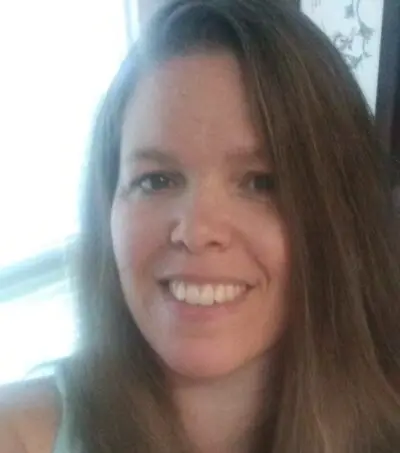 Angela is an at home chef that developed a passion for all things cooking and baking at a young age in her Grandma's kitchen. After many years in the food service industry, she now enjoys sharing all of her family favorite recipes and creating tasty dinner and amazing dessert recipes here at Bake It With Love!