If you are searching for a rice vinegar substitute, or a rice wine vinegar substitute, you have come to the right place! I've found 10 simple alternatives that will perfectly replace rice vinegar, no matter the recipe!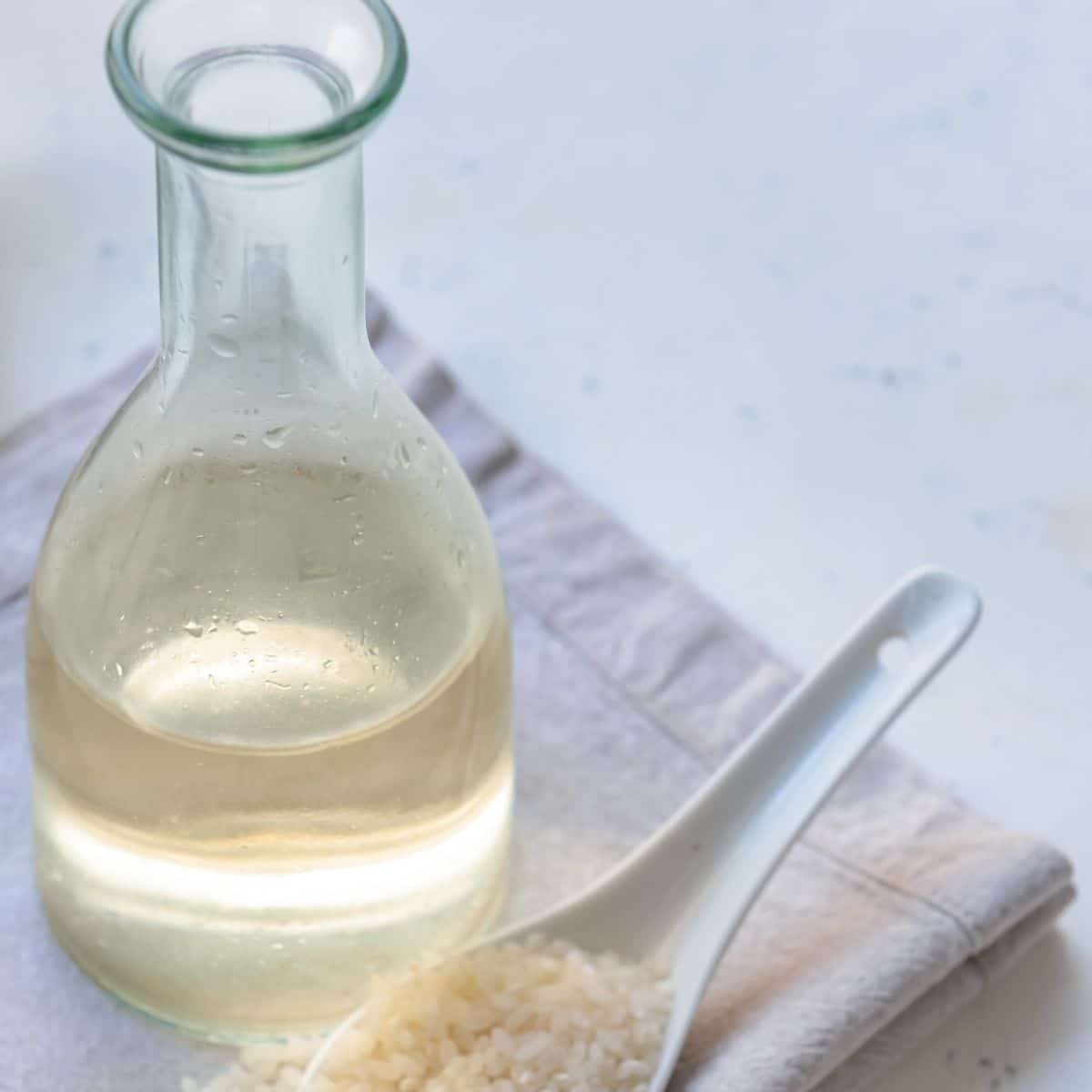 The best and easiest substitutions for rice vinegar or rice wine vinegar!
Right off, let's clarify if you are in the right spot. If you are looking for a substitute for rice vinegar, you are in the right place. If you are looking for a substitute for rice wine vinegar, you are also in the right place!
Rice vinegar and rice wine vinegar are the same thing, just referred to with two separate names. This is not to be confused with rice wine, which is something different.
Jump to:
If you keep reading though, we will quickly address what rice wine is and how it can be used (with a simple modification) as a substitute for rice vinegar.
What is Rice Vinegar?
Rice vinegar is made from fermenting rice in alcohol. In addition to the alcohol, acetobacters are added to the mix.
These are a type of bacteria that can convert ethanol (alcohol that comes from fermenting the sugar in the rice) into acetic acid (that becomes vinegar). The result is rice vinegar.
While still quite acidic, compared to other vinegars (like white distilled vinegar), rice vinegar is less acidic with a touch of sweetness. This milder overall taste makes it a great choice for adding flavor and a bit of kick to many dishes.
What is Rice Wine?
Not to be confused with rice vinegar (or rice wine vinegar) rice wine is also made from fermenting rice. However, it does not have the addition of acetobacters.
Therefore, rice wine is sweeter and much less acidic. Rice wine is also used in cooking but provides a much sweeter and less acidic flavor.
This also makes it suitable for drinking. On the other hand, rice vinegar is only used for cooking (and definitely not something you want to sit down and enjoy a glass of on its own).
What is Rice Vinegar Used For?
Rice vinegar is commonly used in Asian cooking. It adds acidity and flavor to soups, sauces, and salads.
It is even a key ingredient in many people's favorite Chinese sauce – sweet and sour sauce. Rice vinegar is also an essential ingredient in Japanese cooking, as it is commonly used to flavor sushi rice.
While it is a staple in Asian cuisine, rice vinegar is quite popular in kitchens around the world because of its versatility. Beyond the common uses noted above, it is also a delicious way to enhance the flavor of meat, fish, and vegetables.
What are the Best Substitutes for Rice Vinegar?
When choosing a substitute for rice vinegar there are two flavor components to consider: sweet and acidic.
While a few substitutes offer both, most offer one or the other. Therefore, choose a substitute that most closely reflects the purpose of the rice vinegar in the recipe.
1. White Wine Vinegar
White wine vinegar is going to be your best substitute for rice vinegar in any recipe. While it is not quite as sweet as rice vinegar, the overall balance of sweetness and acidity offers a similar overall flavor profile to rice vinegar.
If your recipe needs that elevated sweetness of rice vinegar, you can easily remedy that with a pinch of sugar. Use white wine vinegar as an equal 1:1 substitution for rice vinegar in any recipe.
2. Champagne Vinegar
Champagne vinegar is another great wine vinegar substitute. It is even milder than white wine vinegar, making it a great substitute because it will elevate the taste without overpowering the dish.
Due to its mild flavor and acidity, you can use Champagne vinegar as a substitute in any recipe that calls for rice vinegar.
Start with a 1:1 exchange, but feel free to add more as needed (or desired). If you want the sweetness to resemble rice vinegar more closely, then add a pinch of sugar.
3. Sherry Vinegar
If you are looking for the sweet aspect of rice vinegar, then Sherry vinegar is a good choice. This wine vinegar is sweeter than other wine vinegars and is even a touch sweeter than rice vinegar.
While it offers a similar sweetness, the overall flavor profile of sherry vinegar is different than rice vinegar. Therefore, it is not recommended for dishes that rely on the flavor notes of rice vinegar (a more neutral vinegar like white wine vinegar or champagne vinegar is better for those recipes).
Begin with about ½ to ¾ of the volume the recipe calls for in rice vinegar. This way you can taste the dish and make sure it is not too sweet (another choice is to leave out some of the additional sweeteners your recipe calls for).
4. Apple Cider Vinegar
Apple cider vinegar is a fruit vinegar made from fermenting apples. It is a bit more acidic than rice vinegar and does not have any of the sweetness.
However, it provides a nice balanced acidity for sauces, marinades, dressings, and stir-fries. Other great things about apple cider vinegar are that it is easy to find, inexpensive, and even adds a little health boost to your meal!
Use apple cider vinegar in a 1:1 substitution, plus a ¼ teaspoon of sugar.
5. Lemon Juice
While lemon juice will shift the overall flavor of your dish if you are looking for a substitute that highlights the acidity of rice vinegar it can be a good option. It is also a great choice when you need a substitute right away, as most of us have a lemon (or bottled lemon juice) on hand.
Lemon juice is a good choice for recipes that naturally pair well with citrus. Fish, chicken, and most salad dressings will go nicely with citrus.
Since there is no sweetness in lemon juice to balance out the acidity, start with a ¼ to ½ the amount you are substituting for. Then, add more as needed once you have given it a taste.
Can you use Lime Juice?
Yes, lime juice will work but remember that lime taste will come, so choose foods it will pair well with. Follow the same directions above for lemon juice.
6. Rice Wine (plus white vinegar)
Rice wine (also known as mirin) has a close flavor profile to rice vinegar when it comes to sweetness, but it is missing the acidic punch that the vinegar offers your recipe.
Without the acidity to balance out the sweetness it may taste too sweet in your dish. The best choice is to mix it with equal parts plain white vinegar. This will give you a closer flavor profile to rice vinegar.
Replace the amount of rice vinegar with a mixture of half rice wine and half white vinegar. Then add only about ¾ of the mixture, to begin with. You can always add more (but you can't take any out).
7. White Wine
While an oaky Chardonnay will take the flavor of your dish too far off course, a dry Pinot Grigio or Sauvignon Blanc can work as a substitute in many dishes. These dry white wines have a bit more acidity than others and can offer additional complex flavor notes.
Try white wine in lighter dishes, such as white fish, vegetables, and rice dishes. It can also work well in many salad dressings.
Since most white wines have a lighter flavor profile than rice vinegar you can start with an even 1:1 substitution. You can even add a squeeze of lemon to help up the acidity.
Substitutes for Rice Vinegar – in a Pinch!
8. White Vinegar
While white vinegar is also made from grain, the result is a harsher and more acidic vinegar than rice vinegar. It is also lacking the nuanced sweetness that comes from the more complex rice vinegar.
White vinegar is one of those household staples you may already have on hand though, and sometimes those are the best substitutes! Even though it is much more acidic, it does have a neutral flavor profile (unlike lemon juice) which can be helpful in certain dishes.
Start with only about ½ the amount of white vinegar. You can also dilute it by adding a bit of water, or by following the suggestion above to pair it with rice wine.
9. Chicken Broth
This substitute is less about adding acidity and sweetness and more about bringing out the other flavors in a dish. This option is best used for those who may prefer a less acidic dish but still want to enrich the overall flavor.
If using chicken broth, aim to use a more concentrated amount. This can be achieved by using chicken bouillon granules or cubes and only adding half the amount of water called for to reconstitute it.
Use chicken broth only in cooked dishes, like a stir-fry. It can be used in an even 1:1 exchange for rice vinegar.
10. Balsamic Vinegar
The truth is that balsamic vinegar is not a great substitute for rice vinegar. The color, texture, and flavor are quite different than rice vinegar.
However, in a pinch, it can work in marinades and dressings. Just be mindful that it will result in a different overall taste.
Begin with ½ the amount of the recipe calls for and adjust as needed.
11. White Balsamic Vinegar
If you happen to have white balsamic vinegar on hand, this would be a more suited substitute than regular balsamic vinegar.
It is still recommended you start with less and taste as you go.
More great substitute pages to help you out with all of your cooking and baking!
We hope you have a substitute or 2 on hand so you can choose what works best for you! Tell us how you substituted rice vinegar in a recipe by commenting below!
Do you love a recipe you tried? Please leave a 5-star 🌟rating in the recipe card below and/or a review in the comments section further down the page.

Stay in touch with me through social media @ Pinterest, Facebook, Instagram, or Twitter! Don't forget to tag me when you try one of my recipes!
📋 Recipe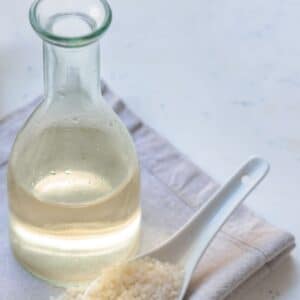 Print Recipe
Leave A Comment
Love This Recipe?
Click On A Star To Rate It!
Rice Vinegar Substitute: All Of The Best Alternatives for Any Recipe!
If you are searching for a rice vinegar substitute, or a rice wine vinegar substitute, you have come to the right place! I've found 10+ simple alternatives that will perfectly replace rice vinegar, no matter the recipe!
Pin Recipe
Share on Facebook
Ingredients
Best All-Around Substitutes
Instructions
Use white wine vinegar and champagne vinegar in equal amounts of rice vinegar or rice wine vinegar that your recipe calls for.

1 tablespoon white wine vinegar,

1 tablespoon champagne vinegar

To substitute sherry vinegar for rice vinegar, start with half the amount of sherry vinegar as the rice vinegar called for in your recipe. Taste and add more as needed.

½ tablespoon sherry vinegar
Notes
*Nutritional information is calculated on the white wine vinegar only.
Nutrition
Calories:
3
kcal
|
Carbohydrates:
1
g
|
Protein:
1
g
(2%)
|
Sodium:
1
mg
|
Potassium:
6
mg
|
Vitamin C:
1
mg
(1%)
|
Calcium:
1
mg
|
Iron:
1
mg
(6%)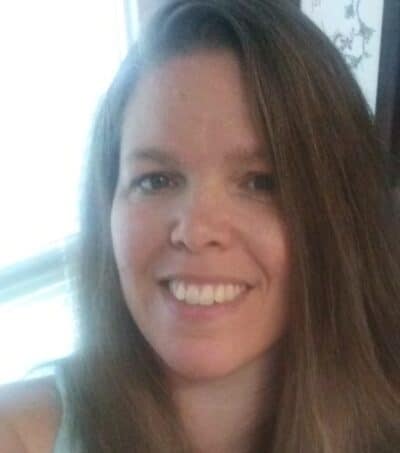 Angela is an at home chef that developed a passion for all things cooking and baking at a young age in her Grandma's kitchen. After many years in the food service industry, she now enjoys sharing all of her family favorite recipes and creating tasty dinner and amazing dessert recipes here at Bake It With Love!