When you need the best lemon extract substitute for all of your baking needs, you can find all of my handy alternatives that you probably have on hand! There are so many great options that you can swap out on the fly if you've run out of your extract mid-recipe!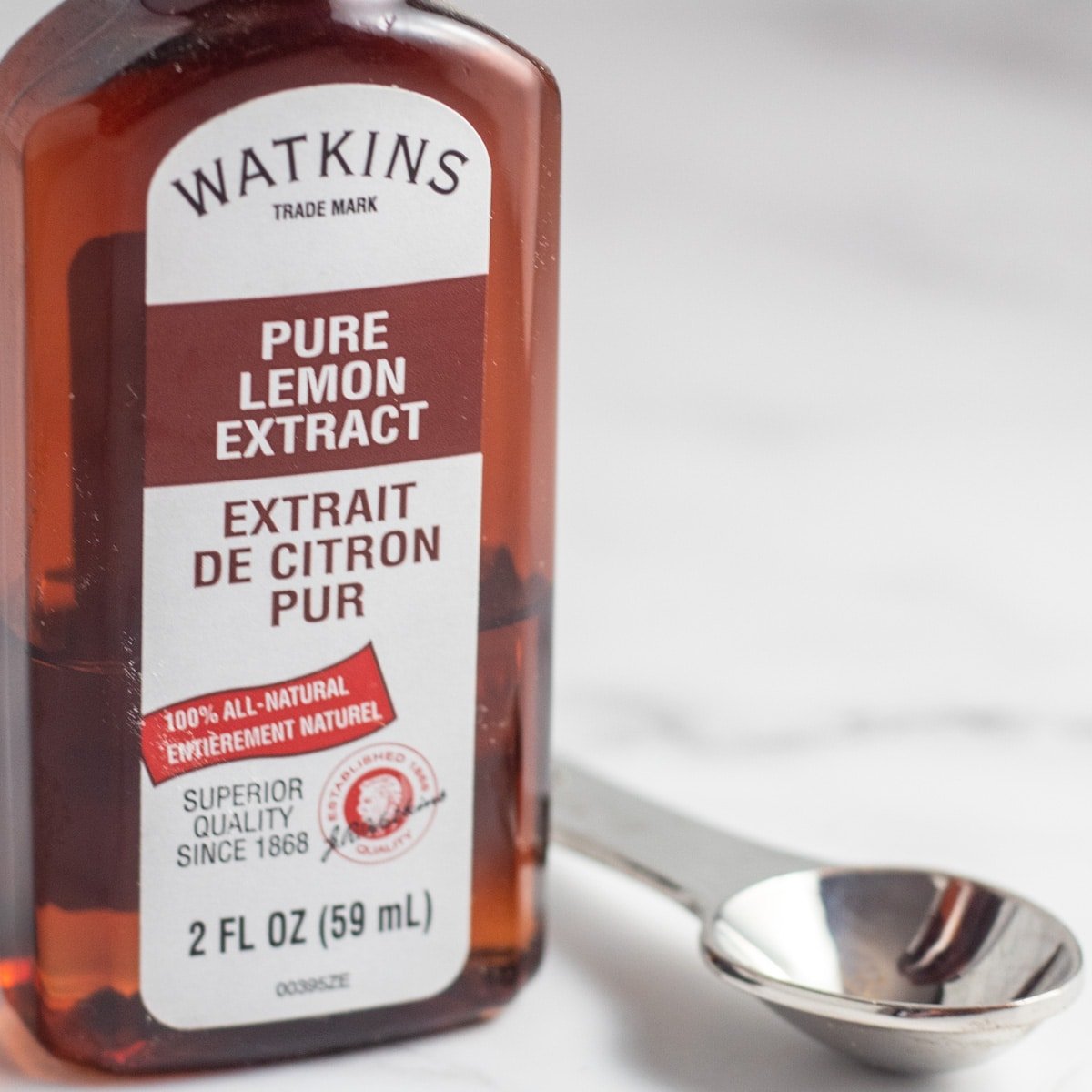 This flavor-packed baking essential has many alternatives that will work wonderfully!
Lemon is one of the most widely used ingredients in the world, and it gives meals so much depth. It's almost certain to feature on every restaurant menu and in a variety of recipes all around the globe.
Lemon extract is used in a lot of recipes since it has a strong lemon taste and a long shelf life.
Jump to:
However, like so many other things, the lemon extract may run out just when you need it the most.
So, what are the top lemon extract substitutes? You may substitute lemon extract in recipes with lemon juice, lemon essence, lemon zest, lime juice, orange juice, lemon oil, and grated lemon peel.
I'll rate and analyze these eight lemon extract substitute options, as well as how to use each of them.
What is Lemon Extract?
Lemon extract is a lemon-flavored liquid produced from lemons that is typically based on alcohol or oil. Lemon extract is made by marinating lemon peels in a clear spirit with no flavor, usually vodka.
The essential oils contained inside the peels are released, enabling them to infuse into the oil or alcohol. The alcohol is then distilled, yielding a pale yellow or transparent liquid with a 77 percent concentration.
Without the tart and acidic taste of fresh lemon juice, this process produces a lovely lemon taste and texture.
Lemon extract is a versatile ingredient that can be used in a variety of sweet and savory recipes. Frozen desserts, pickles, dressings, set desserts, and marinades, to name a few, can all be used in this way.
However, if your lemon extract runs out, you'll need to come up with a way to save the day – and the meal!
That's why I've compiled a list of suitable substitutes for you.
9 Best Substitutes for Lemon Extract
Just because something has a lemon taste doesn't imply it can be used in place of lemon extract!
When replacing lemon extract, there are a number of things to consider. The most crucial are:
How will the final product's consistency be affected?
What effect will it have on the taste?
How will the final product's texture be affected?
Because we're dealing with acidic components, certain substitutes may cause the dairy to curdle, which could easily result in a recipe failure. *See my tips below in the lemon juice section to avoid this problem!
Some alternatives may have a weaker flavor and therefore need more quantities, which may affect the cooking, freezing, or setting duration.
Yes, we're not simply aiming for a generic lemon taste here. Cooking is both a science and an art, so while making substitutions, you must take into account a variety of factors.
But don't worry; there are some really great options that I'm sure you may have on hand!
I've listed my top 8 lemon extract substitutes and why I think that they deserve to be included here.
1. Homemade Lemon Extract
The best substitute is to make your own! You can use the recipe card below to make homemade lemon extract that you can store and use just like store-bought brands!
You can use your homemade extract in a 1:1 ratio for all recipes.
2. Lemon Juice
Lemon juice that has been freshly squeezed is unquestionably the most genuine lemon taste available. It's a lot more acidic and sour than lemon extract.
On the other hand, lemon extract is considerably more concentrated than lemon juice, so you'll need to include more juice to get the same taste. 2 tablespoons lemon juice may be substituted for 1 teaspoon lemon extract.
This is where you may run into issues with this alternative.
You may use this substitute without issue in dressings, marinades, and pickles, but you may have greater difficulty using it in pastry-related dishes (frozen desserts, set desserts, baked goods, and so on).
Because you'll need a lot more lemon juice, the amount of liquid you use will have a big impact on the recipe. This issue may be solved by subtracting the difference from another liquid component.
Another reason is that lemon juice is considerably more acidic than lemon extract, as previously stated.
This implies that if you don't know how to integrate acid into dairy correctly, your dairy will coagulate, and your dish will fail. This issue can be solved with a simple trick (see below).
Although I prefer fresh lemon juice to packaged lemon juice, others may not. Both have advantages and disadvantages. Lemon juice from a bottle has less nutrients and may include chemicals. It is, nevertheless, useful if you dislike squeezing lemons.
Having said that, nothing beats freshly squeezed lemon juice for imitating lemon taste.
Recommended ratio: 2 tablespoons Lemon Juice:1 teaspoon Lemon Extract
How do you add lemon juice to milk without making it curdle?
Raise the pH level of the milk so that it won't curdle when the lemon juice, which has a much higher pH level, is added. Use 1 teaspoon baking soda for 1 cup of milk, stir until dissolved. Then add the lemon juice.
Keeping your milk or dairy cold will also slow the curdling process.
Note that you can also use powdered lemon juice (lemon juice powder) without the hassle of your dairy curdling. It's available from King Arthur Flour as well as many sellers on Amazon and the True Lemon brand powdered alternative.
3. Lemon Essence/Flavoring
The majority of people believe that lemon essence and lemon extract are the same things. This isn't the case.
Artificial colors, flavors, and chemicals are used to make lemon essence. Lemon extract is made by extracting the juice of lemon straight from the fruit.
Lemon essence, on the other hand, has certain benefits. It lasts considerably longer than lemon extract, is a cost-effective solution, and is simple to find. It will also give your dishes a golden tint, which can brighten up certain desserts.
Because lemon essence is an artificial flavor, there is no precise ratio to utilize when substituting it.
Every brand of essence will have a distinct flavor - some will taste more like genuine lemons and be concentrated, while others will taste bland and diluted.
Start by replacing equal amounts of lemon essence and lemon extract for lemon extract, and then add more as necessary.
Recommended ratio: 1:1 then taste and adjust as needed.
4. Lemon Zest
The finely grated skin (peel) of lemon is lemon zest. Use a zester or the sharpest side of a box grater to do this.
Avoid grating the pith (the white portion under the skin) since it is very bitter and will carry that flavor throughout the cooking process.
Lemon zest, or any other lemon flavoring for that purpose, is by far the finest replacement for lemon extract or any other lemon flavor. It's not acidic, and the taste is strong, similar to lemon essence.
Because it isn't a liquid, you can usually add a lot more zest without altering the consistency of your meal or dessert. Due to the absence of acidity, it will not cause the dairy to coagulate.
Another advantage is that after zesting your lemons, you may retain them, allowing you to use as much of the lemon as possible while minimizing food waste.
You may simply change the flavor by replacing the lemon essence with an equal amount of lemon zest.
Recommended ratio: 1:1 or equal parts lemon zest to extract.
5. Lime Juice or Zest
Lime juice looks and tastes a lot like lemon juice. Lemons and limes have similar flavors, with the major distinction being that lemons sour and limes are more bitter.
Because their acid pH levels are almost identical, lime juice may be used in place of lemon extract in the same manner - for every 1 teaspoon lemon extract, use 2 tablespoons lime juice.
This also implies that you'll run into some of the same issues when replacing as you did with lemon juice, such as a difference in consistency or curdled dairy.
Knowing how to integrate lime juice into dairy products or decreasing the liquid content of another component may easily prevent this.
It shouldn't be an issue for savory recipes, and it'll also work well in sauces and marinades.
Lime zest works better as a replacement for lemon extract since you may use a lot of it without risking anything. Start with an equivalent amount of lime zest and add more as required.
Recommended ratio: 2 tablespoons Lime Juice:1 teaspoon Lemon Extract or use lime zest in a 1:1 ratio as lemon extract.
6. Orange Juice and Zest
If lemon juice isn't your thing, orange juice is a great alternative. It's not as acidic or sour as lemon extract, and it's also a lot sweeter. All of the citrus flavors are there, but there is no sour acidity.
To replace lemon extract with orange juice, use 2 tablespoons orange juice per each teaspoon of lemon extract.
Please note that since orange juice is so sweet, your finished product may be much sweeter than you planned. You may use less sugar or orange zest instead of the sugar called for in the recipe.
You may alter the flavor by substituting equal quantities of orange zest for lemon extract.
Recommended ratio: 2 tablespoons Orange Juice:1 teaspoon Lemon Extract
7. Lemon Oil
Lemon oil is a good substitute for lemon extract. Since lemon oil is a component of lemon extract, it makes it a great alternative that can be used in any recipe that calls for lemon extract.
Please note that lemon oil has a higher concentration of lemon (flavor) than lemon extract. That is to say, you should utilize it in fewer quantities. Cakes, sorbets, and other desserts are the best meals to utilize lemon oil in.
Sweet foods, such as desserts, will benefit from it the most. This replacement is made by substituting ⅛ teaspoon lemon oil per teaspoon of lemon extract.
Recommended ratio: ⅛ teaspoon Lemon Oil:1 teaspoon Lemon Extract
8. Dried Lemon Peel
Dried lemon peel, may alternatively be used instead of lemon essence.
Whereas lemon extract is a liquid, lemon peel is a shredded and dried form that may be used in any recipe.
As a result, go for organic dried lemon peel. Use this lemon extract replacement in cakes, sweets, and salad dressings.
Because they have a similar taste, one teaspoon of dried lemon peel granules per teaspoon of lemon extract is the perfect ratio.
Recommended ratio: 1:1 or equal parts.
9. Lemoncello (Limoncello)
Since this tasty liqueur is made using lemons and vodka, it's a really close relative to my homemade lemon extract recipe below! Note that the addition of simple syrup to limoncello liqueur makes this a sweeter substitute for lemon extract.
Use in a 1:1 ratio but you may want to cut back in sugar in your recipe. Lemoncello is best used for desserts, sweets, and baked goods.
More great substitute pages to help you out with all of your cooking and baking!
Lemon extract has a strong lemon taste and a long shelf life, therefore it's used in a lot of recipes.
If it isn't available to you or you can't find it in nearby stores, there are a number of substitutes to consider, including those mentioned above.
📋 Recipe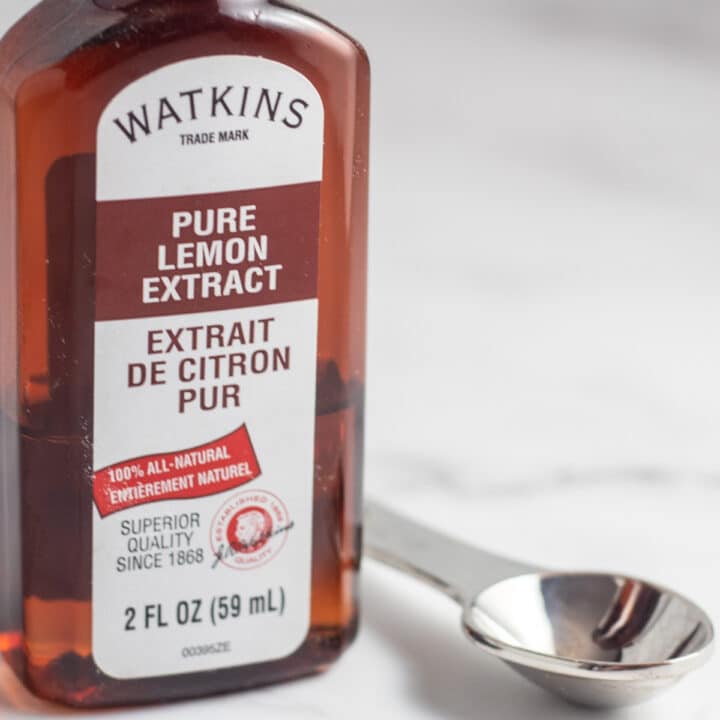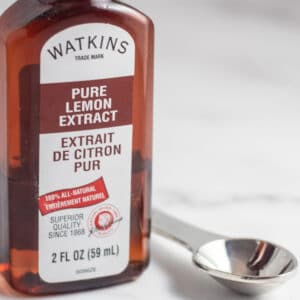 Print Recipe
Leave A Comment
Love This Recipe?
Click On A Star To Rate It!
Lemon Extract Substitute: Homemade Lemon Extract
When you need the best lemon extract substitute for all of your baking needs, you can find all of my handy alternatives that you probably have on hand! There are so many great options that you can swap out on the fly if you've run out of your extract mid-recipe!
Total Time
35
days
5
minutes
Pin Recipe
Share on Facebook
Ingredients
1

large

lemon

4

oz

vodka

(100-proof vodka is best, 80-proof is good too)
Instructions
Peel your large lemon in strips (removing the zest and not the white pith beneath). Place the zest into a sterilized glass bottle.

Pour vodka into your bottle until the lemon zest is covered and your bottle is filled. Seal and set aside in a cool, dark storage cabinet or pantry.

Let the lemon extract set for 5-6 weeks, making sure that you gently tilt the bottle to mix ingredients every few days (do not shake).
Equipment You May Need
Notes
To use an alcohol-free base for any extract, swap the vodka out for 3 ounces vegetable glycerine and 1 ounce water (for a total of 4 ounces).
Typically other liquor like bourbon or brandy could be used, but I suggest vodka with lemon extract for best results.
Nutrition
Calories:
73
kcal
(4%)
|
Carbohydrates:
3
g
(1%)
|
Protein:
1
g
(2%)
|
Fat:
1
g
(2%)
|
Saturated Fat:
1
g
(6%)
|
Polyunsaturated Fat:
1
g
|
Monounsaturated Fat:
1
g
|
Sodium:
1
mg
|
Potassium:
38
mg
(1%)
|
Fiber:
1
g
(4%)
|
Sugar:
1
g
(1%)
|
Vitamin A:
6
IU
|
Vitamin C:
14
mg
(17%)
|
Calcium:
7
mg
(1%)
|
Iron:
1
mg
(6%)
homemade lemon extract, how to make lemon extract, Lemon Extract Substitute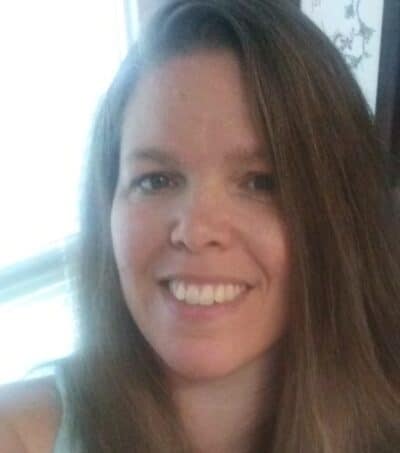 Angela is an at home chef that developed a passion for all things cooking and baking at a young age in her Grandma's kitchen. After many years in the food service industry, she now enjoys sharing all of her family favorite recipes and creating tasty dinner and amazing dessert recipes here at Bake It With Love!