If you are looking for the best paprika substitute, look no further because I've comprised a list of quick and easy replacements! From common spices to some unique alternatives, there are several options capable of substituting the smokey, earthy flavor of paprika!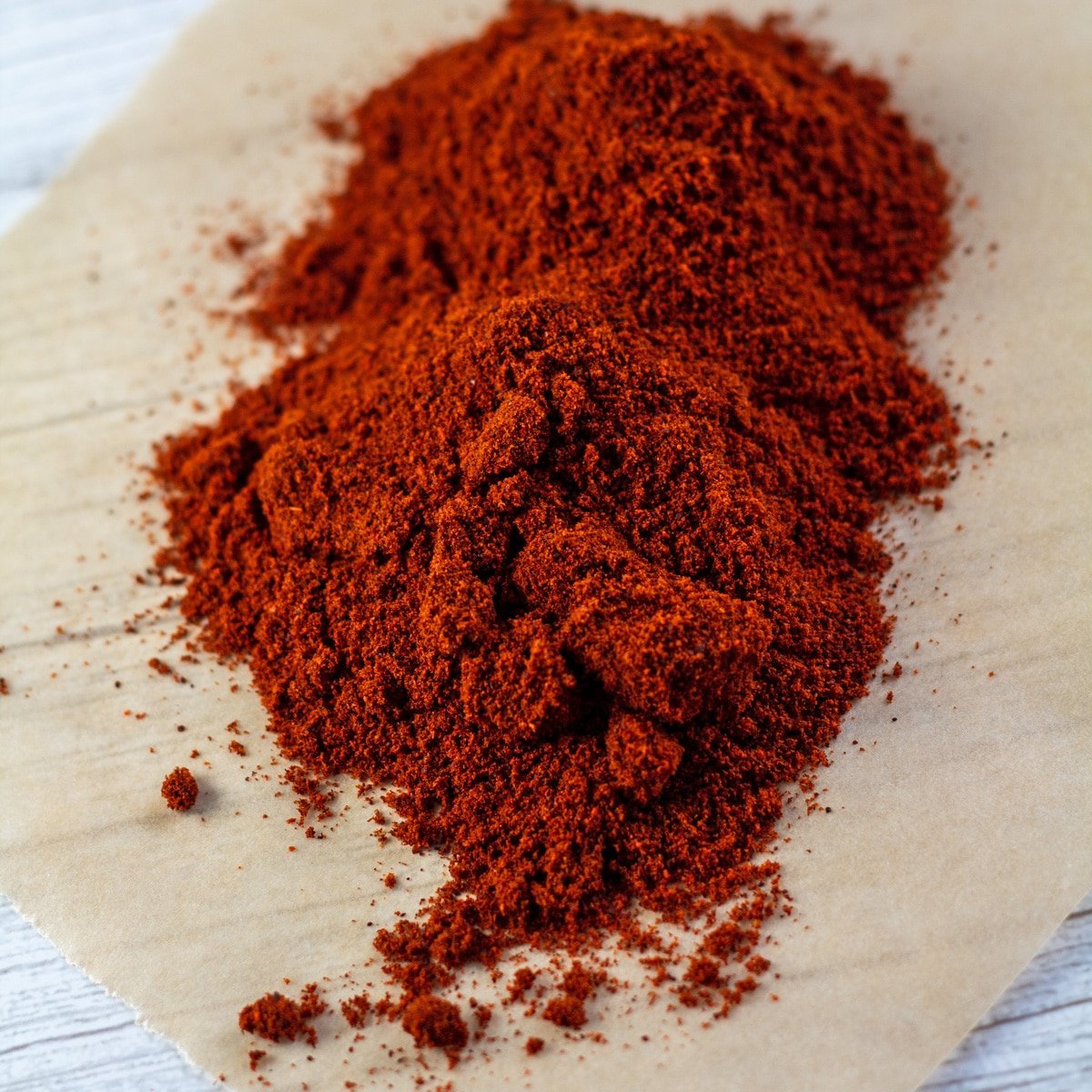 A number of quick and easy substitutions that best match the qualities of Paprika!
To make the best recipes, you need the best ingredients- but what happens when you run out? Paprika is a kitchen staple that is showcased in a variety of different recipes, and as such, you may find you go through it faster than some of your other spices.
If you've already perused your spice cabinet and realized you are missing this key ingredient, fret not! There's no need for a last-minute run to the store mid-recipe, there is bound to be one (or many) of the following substitutions at your disposal!
Jump to:
So, consider your dish and follow this guide to find the most suitable paprika alternative!
What Is Paprika?
Paprika is a favorite seasoning for recipes requiring a slightly sweet or smoky flavor, bright red color (garnish), or a touch of heat. When the jar is opened, there will be a wonderfully warm aroma that is very distinctive.
There is an extensive selection of substitutions available depending on the dish you are preparing. Sometimes referred to as the "Hungarian spice with Mexican roots", the flavor depends upon what region it comes from and the peppers used.
The three important considerations for your dish will be whether you want the basic somewhat sweet paprika, a smoky flavor, or something a little hotter.
Regular paprika has a mild taste and is bright red. Most commonly used to enhance bland-looking dishes such as deviled eggs, potato salad, or hummus.
Best Substitutions For Paprika
1. Smoked Paprika
Also known as Spanish Pimento is deep red, full-bodied, and smoky. Best used in paella, taco seasoning, salsa, or rice dishes. It has 3 heat levels: Picante (hot), agridulce (semi-hot), and dulce (mild).
2. Hungarian Sweet Paprika
The national spice of Hungary comes in 8 varieties that vary in heat and flavor. Read labels to know which ones are best suited for your recipes. It is used literally in almost all Hungarian dishes, especially in goulash, stuffed cabbage, and paprikash.
3. Ancho Chile Powder
Best choice to replace regular paprika, or the mild "dulce" Spanish smoked paprika, as it is similar in taste and color. The Ancho is part of the "Holy Trinity* of Mexican Chiles". Ancho powder is made from dried, roasted Poblano peppers which have a deep red color and mild sweet smoky flavor. Substitution ratio: ½ teaspoon Ancho to 1tsp paprika (Do not confuse with regular chile powder.)
4. Cayenne Pepper Powder
Substitute for "Picante" smoked paprika and other hotter varieties. Cayenne has similar color but is a big bump in heat. It can be up to 50x hotter, so start small and adjust to your taste. Ratio: ¼tsp cayenne to 1 teaspoon paprika.
5. Chili Powder
This is not your best substitute but will work if you need color or a flavor kick. The flavor will be quite different as chili powder is a blend of spices: ancho chile, jalapeno, cumin, garlic, cayenne, and onion powder.
6. Aleppo Chili Powder
Not a common kitchen staple, but this would work as a substitute for hotter paprikas. It has a moderate heat, burgundy color, and slightly salty, earthy flavor. Used in Middle Eastern and Mediterranean cuisine for meat rubs, dips, salads, and bean dishes.
Start with ¼ teaspoon and adjust to taste.
7. Chipotle Powder
Substitute for hotter recipes where a Mexican flavor is desired. Made from smoked jalapenos, this has a nice smoky taste but it is HOT. It may change the color of your recipe as it is a deeper red than paprika. Start at ¼ tsp.
8. Liquid Hot Sauce or Tomato Sauce
If you need color, tomato sauce will stand in for sweet or regular paprika at a ratio of 2T:1tsp. If your recipe needs some heat, the hot sauce will replace smoked or hot paprika at a 1:1 ratio.
9. Cajun or Creole Spice
These may be a blend of cayenne, garlic powder, black and/or white pepper, oregano, thyme, and/or red pepper flakes. Color would be more orange than red, and the taste is savory versus hot. Could be a substitute for regular or smoked paprika.
10. Cumin + Regular Paprika + Cayenne
If your recipe calls for smoked paprika but all you have in the cupboard is regular, you can combine it with cumin and cayenne to get that warm smoky flavor in your dish.
11. Guarjillo Chili Powder
Second, in the Holy Trinity* of Chiles, Guajillo is hotter than the Ancho but still has medium heat and smoky flavor. It is reddish-brown in color so not a good substitute if you need a bright red accent. Second most popular chile in Mexican dishes (Jalapenos are #1).
12. Pasilla Pepper Powder
The last of the Holy Trinity* the pasilla pepper is the dried form of the chilaca pepper. Often called "chile negro" the name actually translates to "little raisin". It has a rich smoky taste and earthy flavor, but the color is very dark, and it can range in temperature from mild to hot. This pepper is most frequently used in moles and salsas.
13. Crushed Red Pepper Flakes
Definitely will change the texture and appearance of your dish as the flakes are not finely ground and the color is darker than paprika. These flakes have a smoky flavor but definitely hotter. Would work well on hummus, or a Mediterranean salad.
14. Black Pepper
Last on the list and least appropriate, this could be used for flavor in rubs, marinades, or curries, but definitely NOT the color.
More great substitute pages to help you out with all of your cooking and baking!
📋 Recipe
Print Recipe
Leave A Comment
Love This Recipe?
Click On A Star To Rate It!
Paprika Substitute: Homemade Paprika (+More Easy Alternatives!)
If you are looking for the best paprika substitute, look no further because I've comprised a list of quick and easy replacements! From common spices to some unique alternatives, there are several options capable of substituting the smokey, earthy flavor of paprika!
Total Time
4
hours
10
minutes
Share on Facebook
Ingredients
10

plants

alma paprika peppers

(or boldog paprika peppers)

butcher's twine

(for stringing up peppers if not using a dehydrator)
Instructions
Wash and slice paprika peppers then set into your dehydrator trays. Set the dehydrator to 130°F (54°C) and leave the peppers to dry for 4+ hours, until completely dry.

10 plants alma paprika peppers

Alternatively, string up whole plants using butcher's twine and hand to dry in a hot, shaded, arid location for at least 2 weeks or until completely dried.

Hand tear the dried peppers if needed, then process in a spice grinder using the 'fine' setting. Sift the ground peppers and return pieces to your spice grinder until a consistently fine consistency is reached.

Store in a sterile, airtight storage container for up to a year.
Equipment You May Need
Notes
Your yield will depend on the size and quantity of your peppers that you start with.
Dehydrating time is for using a dehydrator, but hanging your peppers to dry in a hot, shaded location (without humidity) is best if you have the time and a doable location.
Alma paprika pepper and boldog paprika pepper plants are incredibly easy to grow in most gardens and are a common pepper for making dried paprika.
You need the whole plant to string up home-grown peppers. Allow the peppers to dry for a couple of weeks. *Until they are COMPLETELY DRIED!
Love paprika? Plan for it! Plant at least 10 plants for drying and grinding into your homemade paprika.
If they're all you have on hand, you can use red bell peppers AS LONG AS YOU'RE USING A DEHYDRATOR. The thick-walled peppers will get moldy if hung to dry.
Nutrition
Calories:
4
kcal
|
Carbohydrates:
1
g
|
Protein:
1
g
(2%)
|
Fat:
1
g
(2%)
|
Polyunsaturated Fat:
1
g
|
Sodium:
1
mg
|
Potassium:
32
mg
(1%)
|
Fiber:
1
g
(4%)
|
Sugar:
1
g
(1%)
|
Vitamin A:
95
IU
(2%)
|
Vitamin C:
14
mg
(17%)
|
Calcium:
1
mg
|
Iron:
1
mg
(6%)
homemade paprika, Paprika Substitute, substitutions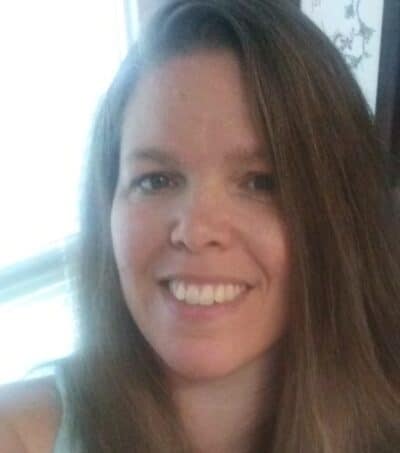 Angela is an at home chef that developed a passion for all things cooking and baking at a young age in her Grandma's kitchen. After many years in the food service industry, she now enjoys sharing all of her family favorite recipes and creating tasty dinner and amazing dessert recipes here at Bake It With Love!