If you're hosting Thanksgiving dinner this year and wondering what to serve with turkey this holiday season, I have all of your menu needs here! Plan a simple to extravagant meal for family and friends with all of my tasty dishes that are absolutely perfect for serving with a Thanksgiving turkey!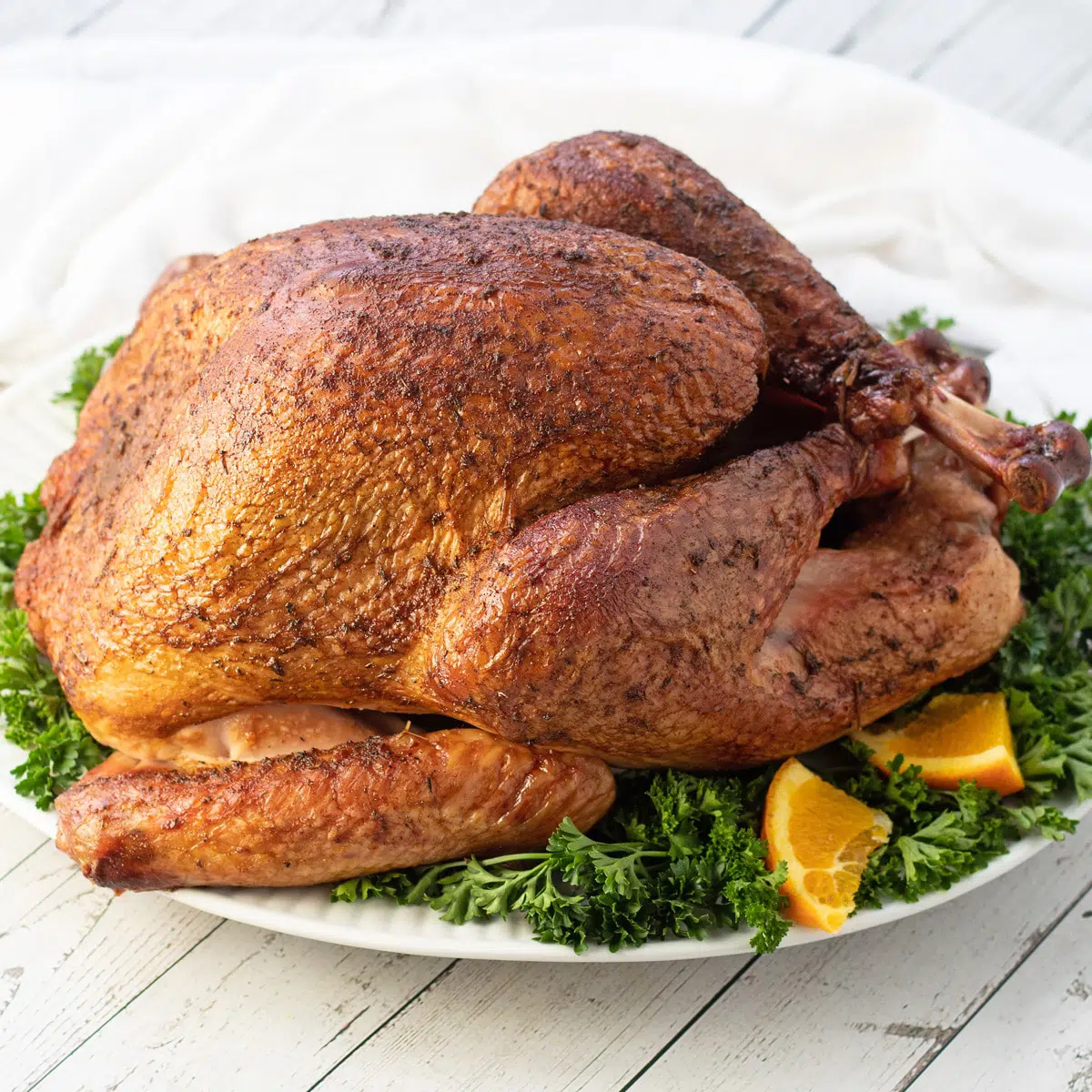 Everything you need for your holiday menu planning this Thanksgiving!
Thanksgiving is quickly approaching, and it's time to pull out all of the stops for the traditional meal. But whether you roast, fry, smoke, or bake a turkey, you'll likely want an assortment of side dishes. And maybe an appetizer or dessert. That's where I come in!
I've compiled a list of some of the best side dishes to serve with turkey either for the holidays or just a really great "anytime" meal. Some are quick and easy. Others require more of an investment before enjoying.
Jump to:
Whether you're a pro at hosting Thanksgiving dinner and holiday parties or giving it a try for the first time this year, you're sure to find my ultimate guide to planning Thanksgiving a help! Don't forget to safely thaw your holiday turkey early too!
Whether you're celebrating or just plain feasting, try out some of the outstanding recipes below for a meal you won't forget!
1. Candied Yams
Candied yams are a holiday classic but can be served all through the year! Why limit yourself? They have all the trappings of a dessert but are socially acceptable to serve with the main meal.
After all, sweet and savory is a delicious combination. Turkey with a side of butter and brown-sugar potatoes with marshmallows on top? I'll never say no to that!
2. Creamy Roasted Garlic Mashed Potatoes
Potatoes of any kind are fantastic with turkey, and the creamy garlic variety is my second recommendation. The trick to rich, melt-in-your-mouth mashed potatoes is cream cheese and heavy cream.
These ingredients create a smooth, unbeatable texture. And roasted garlic adds a special twist that your dinner guests won't soon forget. Plus, if you make gravy for your turkey, you can use it for this–and the next side on this list–too!
3. Garlic Red Skin Mashed Potatoes
I absolutely love the flavor of garlic, so I had to mention garlic red skin mashed potatoes. These, however, are a bit heavier on the cream cheese with reduced roasted garlic for those looking for something a little more subtle.
With the addition of more heavy cream, you'll be hard-pressed to find a creamier mashed potato recipe. Personally, I like to layer my potatoes on top of a slice of turkey and eat it all at the same time. Yum!
4. Roasted Green Beans
Green beans are versatile, but they taste especially great with a holiday turkey. Thanksgiving wouldn't be the same without them. With this recipe, you can put a twist on the traditional by roasting your veggies with lemon-garlic butter and pepper.
The citrus is a refreshing element that cuts through the richness of the butter for a more balanced taste. Lemon is complementary to almost anything you put it on and adds a light tang. The oven is going to be on for the bird anyway, so take advantage!
5. Balsamic Roasted Brussel Sprouts
Brussel sprouts are delicious. Roasted brussel sprouts are even better! Enhance the natural earthy flavor of these mini cabbages with balsamic vinegar and golden honey for a delightfully crispy accompaniment to your turkey.
The caramelized honey and black pepper creates a type of crust that is to die for! If these aren't already part of your holiday tradition, they will be after you try them!
6. Microwave Carrots
When you're looking for a healthy side dish that won't add more time to your already busy cooking day, try these! In just 5 minutes, they're ready to go, and you won't even have to take up space on a burner or fret about needing to change the oven temperature.
Steaming vegetables in the microwave will leave you with perfectly cooked results every time. Sometimes, during the holidays, it's nice to have some simplicity. This certainly fits the bill.
7. Green Bean Casserole With Bacon
Green bean casserole has always been a staple of Thanksgiving at my house. I don't remember a time growing up when it wasn't around for the holidays. This recipe adds a meaty flavor that goes really well with turkey. After all, bacon makes everything better, right?
Using cream cheese as a base for the sauce balances the crunchy breadcrumb or pork rind topping. And the mix of garlic, onion, salt, pepper, Dijon mustard, and Worcestershire sauce is a spectacular way to shake things up.
8. Cheesy Baked Cauliflower
Cauliflower is the new trend, and I think it's here to stay…at least for me. I love this vegetable mac and cheese recipe. In traditional fashion, it combines multiple kinds of cheese with black pepper and the unique addition of spinach for a modern take.
You really can't go wrong with this. Cauliflower has a subtle earthy flavor that blends really well with anything savory, like a roasted turkey. Looking for something a little different? Try any baked cauliflower dish for an unforgettable addition to your holiday meal.
9. Jiffy Corn Casserole
It's known by many different names–corn pudding, spoon bread, corn casserole–but whatever you call it, it's amazing. In fact, it's one of my favorite side dishes. One of the most historically accurate Thanksgiving foods, it makes complete sense to have this on your table with turkey. It's fast, easy, and scrumptious.
Sour cream keeps it from drying out, and whole corn pieces give it an excellent texture. Like carrots, corn is naturally sweet, so it helps balance out a savory feast.
10. Oatmeal Dinner Rolls
These are some of the best yeast rolls I've ever made. They're best straight out of the oven, so be sure to time them with your turkey. The next day, they're perfect for making small sandwiches with your leftovers.
With a hint of brown sugar, these rolls can be eaten for any meal from breakfast to dinner and every snack in between.
11. Turkey Gravy
When you're planning out what to serve with turkey, there's a staple that's simply a MUST-HAVE. That's the gravy!
There are two schools of thought when it comes to gravy, those who like a white version and those who swear by the brown kind. Regardless of where you fall, you should try this recipe. It's hard to cook a turkey perfectly, and sometimes it can be dry.
Adding this sauce flavored by turkey drippings and giblets makes even a juicy slice of meat more delicious. Mashed potatoes and dinner rolls also lend themselves to the gravy. Serve it in a small bowl or pitcher to be passed around and used as diners see fit.
12. Apple Cider Cranberry Sauce
Cranberry sauce seems to always be around for Thanksgiving but often gets mixed reviews. If you want to bring more people over to Team Cranberries, check out my Apple Cider Cranberry Sauce. It's tart, sweet, and full of flavor!
Adding apples gives it a familiar taste that blends well with the cranberries that we typically don't see on our plates outside of November. Somehow, turkey and cranberry sauce are made for each other and are even more delicious when smashed together on a sandwich roll the day after your feast.
13. Deviled Eggs
This is another one of my favorite side dishes or appetizers. There's something about deviled eggs that just feels special. After all, how many times have you had them when it wasn't a holiday or celebratory occasion? When you just want the taste of your childhood, pull out this recipe. They're great the next day, too, if you have any left!
14. Charcuterie Board
Charcuterie boards make beautiful appetizers that taste as good as they look! The key here is to have a wide variety of options, including some fruits or vegetables that are in season.
Cheese, crackers, meats, fruits, vegetables, nuts, dips, antipasto…there are loads of different ways to put one of these together. Arrange them on a cutting board or platter. You can scale up or down easily depending on the number of guests you're having.
15. Pinwheel Sandwiches
Another great appetizer to serve pre-turkey is pinwheel sandwiches. These pack tons of flavor into a neat little bite or two of finger food. Make one kind or many! From taco-flavored to BLTs, there is something for everyone; they're perfect for large gatherings.
Also, they're relatively filling, so those early party guests can keep their appetite under control until the main event. If you make parts of them in advance, you can assemble the pieces in no time when you're ready.
16. Pumpkin Pie
I'm not one to overlook a good dessert, and I always love a good pumpkin pie. The smell of it alone is worth the minimal effort. Cinnamon, nutmeg, ginger, cloves, and mace make this the fall food that dreams are made of.
If you are feeling creative, you can even use the extra pie crust to make beautiful cutouts to decorate the top! Don't miss out on this essential part of the Turkey Day meal! It truly is a dessert that fits the bill for serving with your turkey dinner!
17. Sweet Potato Tart
Looking for new takes on classic flavors? This sweet potato tart is a great option! Fill a flaky, buttery shortcrust pastry with a cream-cheese enhanced, creamy sweet potato mix, and top it off with a marshmallow meringue.
You can make everything but the meringue in advance to save some time. And for a bakery-level finish, you can even lightly brown the meringue after you add it. This indulgent treat might become a new tradition after you had a few bites!
18. Pecan Tartlets
Top off your holiday meal with decadence! Pecan Tartlets are essentially personal-sized pecan pies. They're rich and incredible, especially with a scoop of ice cream or whipped cream on top. If you like butter, brown sugar, and pecans as much as I do, this is the dessert for you.
The nutty flavor of pecans complements the sweet potatoes, green beans, and turkey you're likely to already have on the table. It's the perfect end to a family feast.
🦃 More Great Thanksgiving Sides
When your turkey dinner has been thoroughly enjoyed by all, be sure to check back in here and see all of my leftover turkey recipes!
See more Thanksgiving →
📋 Recipe