These make-ahead Thanksgiving side dishes will help to make your holiday cooking easier while still being incredibly delicious! For the holidays, prep work is half the battle, but don't worry, no one will even know that you prepared these sides in advance! So kick back, relax, and know that your Thanksgiving meal is all taken care of!
Best Thanksgiving Side Dishes To Make Ahead
We all know how hectic it can be when you are the one hosting the holidays. Give yourself a hand and take some stress off of your busy Thanksgiving morning by preparing your side dishes in advance!
I put together this list of tasty Thanksgiving sides that you can easily prepare before the big day! No matter what you are looking for, I'm sure there is a recipe (or two) that your family will love!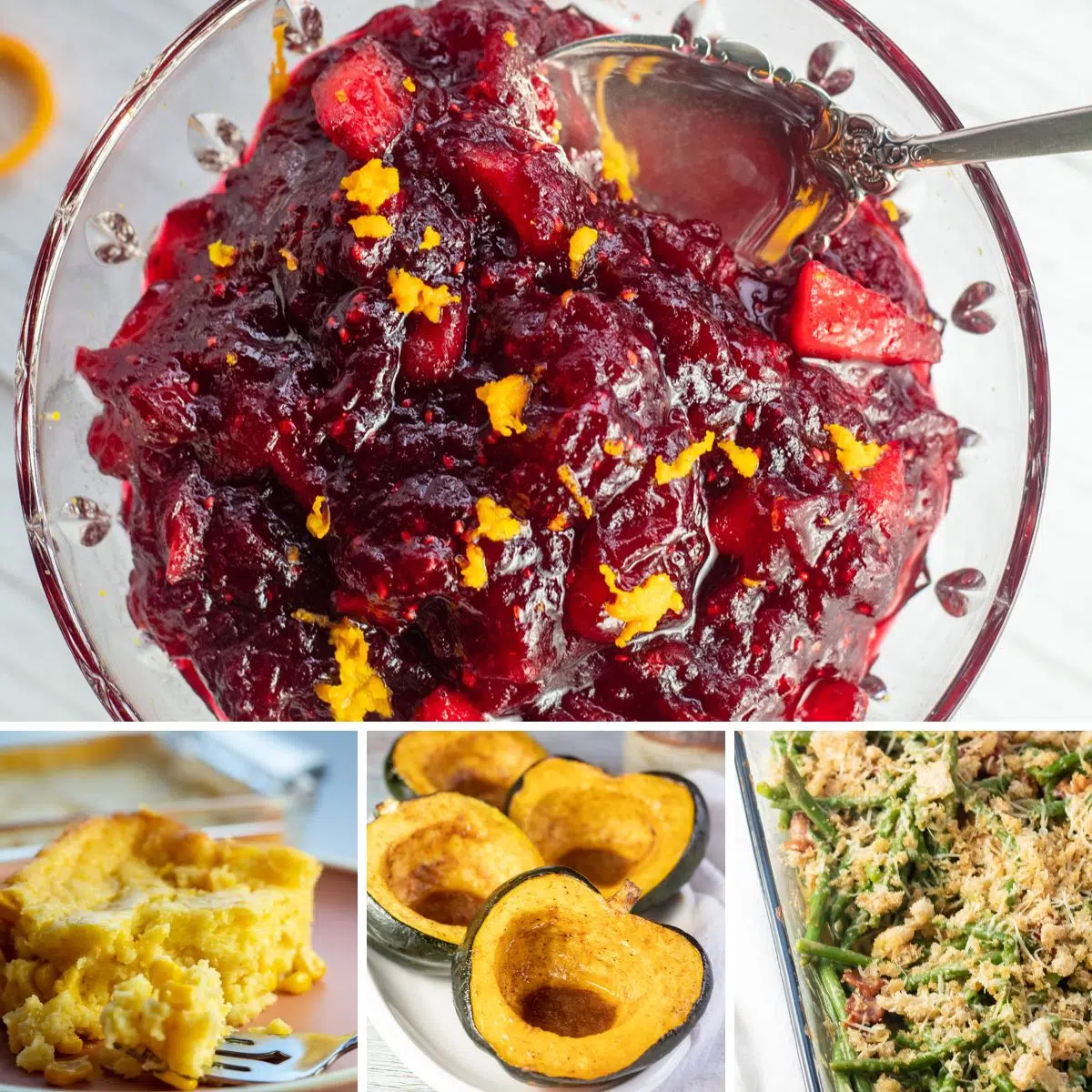 Jump to:
Whether you're a pro at hosting Thanksgiving dinner and holiday parties or giving it a try for the first time this year, you're sure to find my ultimate guide to planning Thanksgiving a help! Don't forget to safely thaw your holiday turkey early, too!
1. Bacon Cheddar Green Bean Casserole
Green bean casserole is a classic Thanksgiving dish that has a permanent spot on my holiday table! This recipe adds bacon and cheddar to truly enhance the flavor!
To make this tasty dish ahead of time, prepare it as directed (except for the bacon and fried onion topping), wrap it securely, and place it in the fridge. In the morning, when ready to bake, add the toppings and pop it in the oven!
2. Honey Roasted Acorn Squash
If you've never made acorn squash, now is the time! This sweet and savory side pairs perfectly with practically everything.
To prepare this recipe in advance, simply prep your acorn squash by cutting it and removing the seeds. You can keep it in the fridge until you're ready to bake it!
3. Easy Stuffing
What is Thanksgiving dinner without stuffing? Everyone includes stuffing in their holiday menu, so let me help you out with an easy recipe you can make ahead of time!
For this recipe, you can truly do all of the work beforehand. Go ahead and prepare the recipe as written and stop before placing it into the oven. Instead, keep it covered in the fridge and it will be ready to bake on Thanksgiving!
4. Baked Sweet Potatoes
To save yourself some precious oven space on Thanksgiving day, you can go ahead and completely bake these sweet potatoes the day before! Simply let them cool entirely and place them in an airtight container in the fridge.
Once ready to heat them back up, put them in a baking dish covered with foil and bake them in the oven at 400°F (205°C) for 10-15 minutes!
5. Baked Macaroni & Cheese
Macaroni and cheese is an iconic comfort food staple. For this cheesy and gooey side dish, follow the recipe as written all the way up until putting it in the oven.
Instead of baking, cover it with a lid or some plastic wrap and keep it in the fridge until you're ready to finish it. Then, finish the directions for how to bake it! Voila!
6. Parmesan Roasted Mashed Potatoes
Mashed potatoes belong on every holiday table, and these Parmesan roasted mashed potatoes are the best kind!
Go ahead and boil your potatoes and mash them ahead of time. You can even get the entire casserole dish prepared (minus the topping) and just keep it covered in the fridge. When you're ready to finish it up, add the Parmesan topping and bake it like normal!
7. Turkey Gravy
Yes, you can even make your gravy in advance if you have some drippings already, or swap some rich butter in for your fat! Go ahead and make it per the recipe or with a minor substitution.
Once it is done, let it cool completely and then store it in the fridge in an airtight container. On Thanksgiving day, pour it into a saucepan, add a splash of broth, and then warm it up over medium-low heat!
8. Cauliflower Mac & Cheese
This healthy alternative is still just as gooey and cheesy as your typical macaroni and cheese! When you taste this dish, you'll immediately forget that there isn't even pasta in it.
You can easily prep this side dish in advance by completely assembling it but leaving off any toppings. On Thanksgiving, add your toppings and bake it in the oven!
9. Jiffy Corn Casserole
Corn casserole is a holiday side dish staple in my house! It is so creamy, sweet, and incredibly delicious!
You could prepare this casserole the day before and keep it in the fridge until you are ready to bake it. Additionally, you could go ahead and bake it ahead of time and then just reheat it on Thanksgiving!
10. Mashed Sweet Potatoes
Mashed sweet potatoes are a rich and creamy treat that both kids and adults enjoy! You can use this recipe to completely replace sweet potato casserole, or just go ahead and serve them both!
Either way, this tasty dish can be made entirely ahead of time (and even frozen!) Just warm it up on the stove and you're ready to eat!
11. Zucchini Squash Casserole
This veggie dish is the best way to use squash and zucchini! It has a delicious cheesy garlic sauce and is topped with some crunchy Panko breadcrumbs!
To prepare this yummy side dish ahead of time, completely assemble and prepare the casserole but leave off the breadcrumbs. Store it in the fridge, and then add your breadcrumbs before baking!
12. Honey Glazed Carrots
These mouthwatering honey-glazed carrots are a wonderfully sweet veggie dish that everyone will love! It pairs perfectly with absolutely everything and you can make it the day before!
Just reheat these tasty carrots in the oven on the big day.
13. Balsamic Roasted Brussel Sprouts
The balsamic and honey combination on these brussel sprouts brings a sweet and tangy flavor that is absolutely delightful! You can go ahead and make this tasty veggie dish before Thanksgiving, but I would try to do it the day before only, and not any sooner.
14. Creamed Kale
This cheesy, creamy, side dish is super easy (and quick) to throw together. However, you can still make it ahead of time! In fact, you can store it in the freezer for up to 3 months!
Just make sure to let it thaw in the fridge overnight and then just warm it up in a saucepan on the stove when you're ready!
15. Apple Cider Cranberry Sauce
This homemade cranberry sauce is a thousand times better than anything you'll get out of a can! This sauce can be entirely made in advance and stored in the fridge. Just pull it out and it's ready to serve- no heating up required!
16. Mashed Potato Casserole
My tasty make ahead mashed potato casserole is delightful in more ways than one! Not only is it ridiculously tasty to begin with, but it is easy to make in advance too!
Want another reason to whip up a batch of this rich and delicious potato side dish? It's a wonderful use of any leftover mashed or baked potatoes!!
These side dishes are sure to help you get a great head start on all of your holiday cooking! Leave a comment down below and let me know which one you'll be adding to your holiday menu!
🍂 More Thanksgiving Recipes
See more Thanksgiving →
📖 Recipe Card